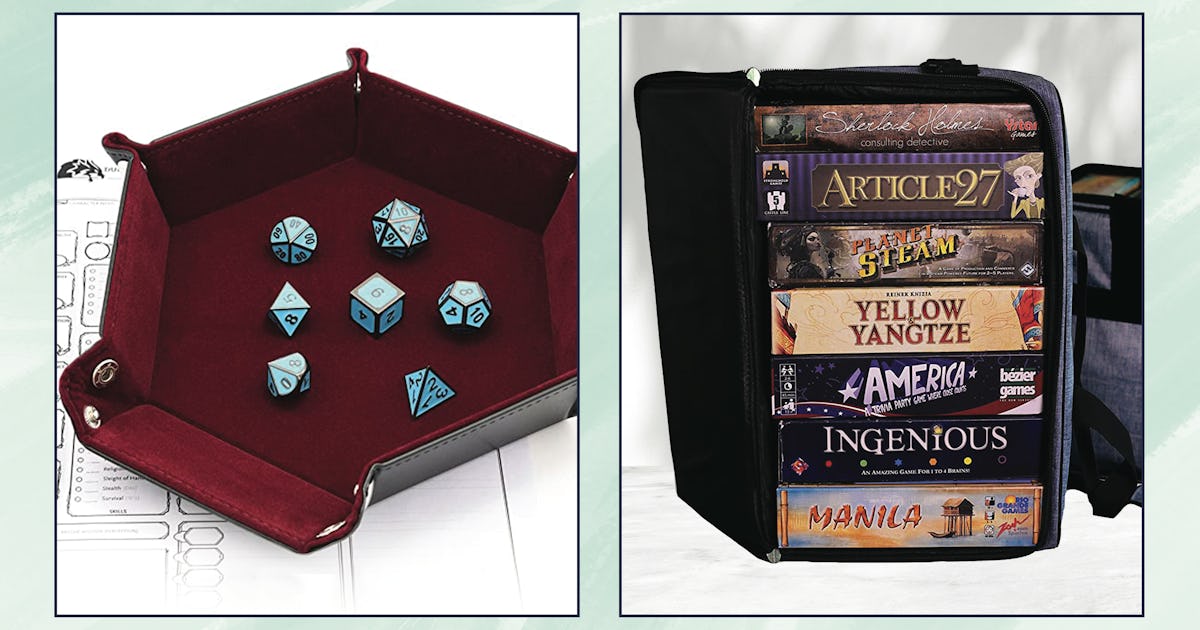 There are so many different board games to choose from, whether they're simple classics, collaborative games, or cutthroat ones that put your strategic skills to the test. Whichever games you favor, the best board game accessories can make set up and storage easier while making the game itself run smoothly (lost tokens, anyone?) so you can focus on the fun. Below you'll find an assortment of gaming extras and for easy shopping, they're sorted into three categories: tabletop accessories, board game upgrades, and storage.
Depending on which board game you're playing, you might appreciate a curved card holder that lets you see your full hand or colorful, tiny bowls to organize tokens. A velvet-lined tray with tall sides will keep dice from tumbling off the table with every roll. Similarly, a game mat will keep the board from sliding around the table.
You'll also find some neat board game upgrades like metal coins, colorful meeples to use as tokens, and some very cool glow-in-the-dark dice. And to optimize your lighting, there's a portable LED lamp that's perfect for late-night games.
As for storage, I've included several options for collecting individual pieces, as well as a cushioned card carrier and individual sleeves. If you take your game collection over to friends' houses, there's a versatile backpack that will make transport easier and keep your board games protected.
I'm willing to wager a stack of Monopoly money that more than one of the best board game accessories will catch your eye. Take a look below.
Tabletop Accessories
1. A Set Of Durable Melamine Bowls For Playing Pieces
These colorful bowls can be used for keeping tokens and other playing pieces organized during a game. Made from melamine, the bowls have a 3.38-inch diameter and are sturdy but lightweight, and they're also dishwasher-safe. The cheerful bowls have a near-perfect 4.8-star rating on Amazon.
One reviewer's take: "These are AWESOME for putting game pieces in, like coins and life tokens, etc, while gaming! Makes it easier to pass them around to people and keeps it organized."
2. A Folding Dice Tray With A Velvet Lining
This collapsible tray will keep dice from flying off the table during enthusiastic rolls. The tray has an 8.07-inch diameter and the sides are 1.77 inches tall when folded. It also has a faux leather exterior and a soft velvet lining that keeps sound to a minimum. The hexagon-shaped tray has six snaps on the corners and lies completely flat for storage.
One reviewer's take: "I bought this to use with my new metal dice to protect the table and it worked perfectly as described. Well made, quality product."
3. This Curved Wooden Card Holder
Sort your cards and keep them private with these curved card holders. Each wooden holder has a soft cloth bottom to protect your furniture and keep the holder from sliding around the table. The slots are approximately 13 inches long and can fit more than a dozen partly overlapping cards at a time.
One reviewer's take: "These card holders are lightweight, but sturdy. They have a nice felt bottom. They fit many cards without ever falling over. The cards fit loosely, so it's easy to take cards in and out. They take up very little room in your cabinet, which is a plus for me. Great price for 4 holders too."
4. These Silicone Bowls That Fold Flat For Easy Storage
Made from silicone, these flexible bowls have corner snaps and can be folded flat between uses. They also come with a handy storage bag. The bowls are about 4 by 4 inches when folded and 6 by 6 inches when flat. Another well-loved board game accessory, the bowls have a 4.8-star rating on Amazon.
One reviewer's take: "Such cool trays, I love that they store flat. I can easily assemble and they really help to keep my gaming area clean. I would recommend to any gamers out there."
5. This Nonslip Game Mat
Protect your table and keep your board game in place with this nonslip mat. The mat measures 32.6 by 32.6 inches and has a soft synthetic fiber top and grippy rubber bottom layer that prevents sliding. Plus, it comes with self-fastening loops for easy portability and storage.
One reviewer's take: "It works great for playing solitaire cards on dining room table that is made of wood. It saves the finish and keeps the cards from sliding."
Board Game Upgrades
6. These Glow-In-The-Dark Dice
These glow-in-the-dark dice will be easy to spot during a late-night game or if they end up under the couch. You'll need to charge them either under the sun or with a bright flashlight. Each pack includes 10 dice, so you can use two at a time and rotate with the remaining ones once they start to dim.
One reviewer's take: "These are great! Slightly smaller than standard dice and a little lighter […] Holds glow for about 15 to 20 minutes and takes about 10 seconds to recharge."
7. A Set Of Colorful Game Pieces
This set of game pieces includes 32 pawns in eight bright colors. The plastic pawns are especially handy for replacing lost pieces in old board games or adding more players to your favorite games. The pieces stand about 1-inch tall and come with a small storage box.
One reviewer's take: "Perfect back up set for all the pieces that go missing and I prefer it to what came in the original set[.]"
8. These Metal Coins That Can Be Used As Currency Or Tokens
Though made for playing Scythe, these metal coins can be used to swap out paper money or tokens in any game. The set includes 80 coins in five denominations, each with a unique design, color, and size. Plus, the coins have an impressive 4.9-star rating on Amazon.
One reviewer's take: "These are the nicest metal coins for board games that I've found. I bought them for Scythe but use them for just about every game! Nice and heavy, they feel and sound great in the hand and look spectacular […]"
9. A Set Of Wooden Game Figure Pieces In Metallic Colors
Another fun swap for traditional playing pieces and tokens, these wooden meeples, aka tiny human figures, come in eight metallic shades, like rustic bronze and sterling silver. If you prefer traditional game board colors, these meeples also come in 50-packs of blue, green, yellow, red, and black pieces.
One reviewer's take: "We've had Carcasonne for several years now and as happens when you take your game places and you have many players, we started missing meeples. This was a great, inexpensive, way to replace the lost meeples. The colors are great. The quality is very nice. There aren't any rough edges or nicks or bad paint jobs. They will do the job quite well hopefully for years and years to come."
10. This Portable Desk Lamp For Better Lighting
Want to upgrade your game night lighting? This LED desk lamp fits anywhere on the game table and folds for easy storage. The lamp measures 14 by 11.2 inches and can be powered via USB or AC adapter. The sleek lamp has a touch sensor so you can adjust the light to one of three brightness levels. The angle of the light is also adjustable by 230 degrees.
One reviewer's take: "I love this lamp. [It] lights up my entire room even on the lowest setting. Really light and easy to place anywhere […]"
Board Game Storage
11. These Silicone Bands For Keeping Game Boxes Closed
Keep your game boxes secure with these colorful X-bands. These silicone bands can stretch to 18 inches and will fit most board game boxes. The band's unique shape grips boxes at all four corners so there's no chance of one slipping off.
One reviewer's take: "I love these bands.They are perfect for holding board game lids in place and they prevent the contents of the games from coming out […] I love that there are a variety of colors so I can match or coordinate with the color of my game boxes […]"
12. An Assortment Of Clear Baggies For Storing Pieces And Tokens
This set of resealable plastic baggies is a great way to keep pieces, tokens, and pawns organized. Each order includes six sizes ranging from 1.5 by 2 inches to 3 by 5 inches. The bag's sealing strip is airtight, and the bags themselves are pierce-resistant so they won't be damaged by sharp, heavy metal pieces.
One reviewer's take: "This assortment of plastic bags is great for organizing and storing board game pieces. I am an avid board gamer and very picky about keeping board game inventory separated and labeled so games can be setup and taken down quickly and efficiently. The choice of bag sizes ensures that most, if not all, the pieces in the game have a bag that holds them. While the smaller sizes are not used as much, the price for the collection is very attractive."
13. This Storage Box With Adjustable Compartments
For customized game piece storage, this transparent box features 36 compartments with adjustable horizontal dividers. The bin is 10.8 inches long by 7 inches wide by 1.8 inches tall and has durable latch closures that won't pop open. Each order contains two boxes.
One reviewer's take: "Works perfect for storing/organizing my gem beads and findings. Sturdy, great size, compartments are adjustable. Already got another set."
14. This Playing Card Holder With A Protective Lining
This zippered card case can hold up to 630 standard playing cards and has five removable dividers to keep your decks organized. It has a hard protective shell, soft interior lining, and a convenient carry strap. The card holder measures 8.5 by 4.4 by 3.5 inches.
One reviewer's take: "Case is awesome! Sturdy, keeps cards organized and protected, and not oversized or awkward to carry around. The case has 5 dividers (which can be placed anywhere in the case using its hook and loop closures) to divide up cards if you feel the need for it. They also hold cards in place if the case is not full […]"
15. A Pack Of Protective Card Sleeves
These polypropylene card sleeves are durable yet thin and easy to handle. Measuring 66 by 91 millimeters, they're sized for standard cards. Their nonslip, non-glare surface won't hinder shuffling or playing while protecting cards from wear and tear and spills. The dual-surface card sleeves are transparent on one side and textured matte on the other, which gives the card a nice grip.
One reviewer's take: "[S]ome of the best sleeves I've ever used! They are durable, very readable, perfectly uniform […], and the textured side strikes a nice balance between stopping sliding while playing but still allowing you to shuffle easily […]"
16. This Board Game Backpack
Perfect for storing (and carrying) board games, this water-resistant bag is padded on all sides to protect game boxes. The bag is perfectly sized for standard 12 by 12-inch board game boxes, but can also accommodate other sizes and has an outer pocket for game accessories. It can be worn as a shoulder bag or backpack, carried with the padded handle, or attached to your luggage. In addition to this gray version, it's also available in red and green. Plus, this popular accessory has a near-perfect 4.9 rating on Amazon.
One reviewer's take: "This bag is absolutely amazing! First of all the quality of the fabric, zippers, backpack straps are all extremely durable. It looks great as well […] Currently it's made over 20 trips and it still looks like I just bought it[!]"