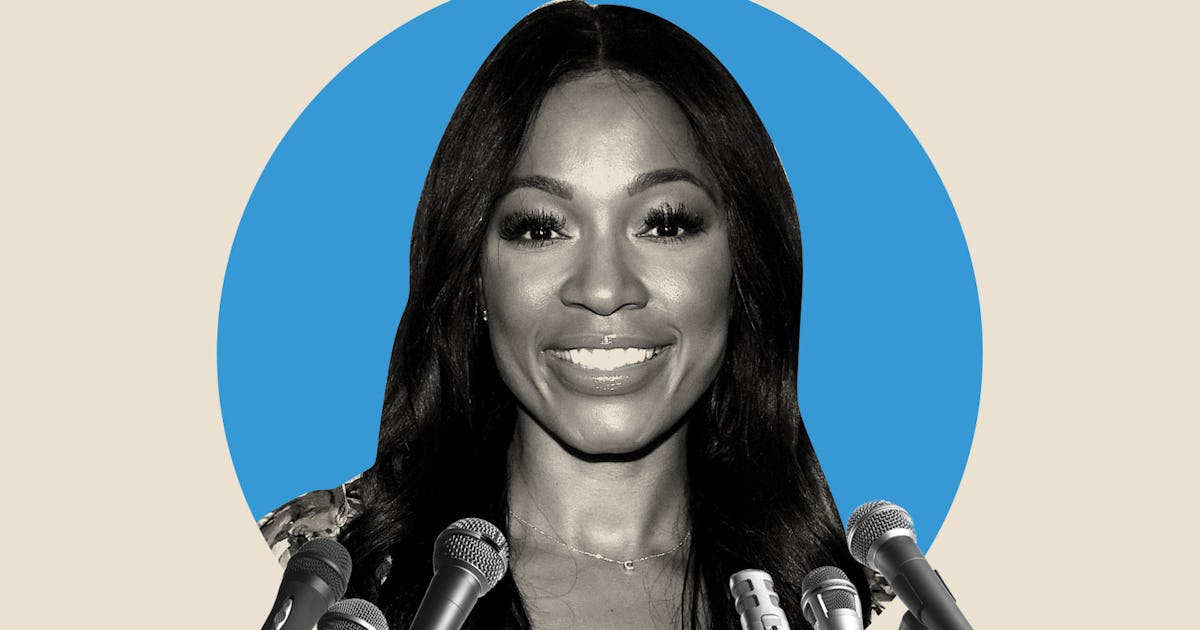 At 22 years old, Cari Champion packed her clothing into suitcases, buckled into a black Nissan Altima, and embarked on a five-day road trip east. The Los Angeles native had landed a job as a broadcast reporter in a small West Virginian market, nearly 2,500 miles away. She'd recently graduated from the University of California Los Angeles (UCLA) and was leaving her hometown. She didn't know what was in store, but knew she wanted to tell stories.
She describes her arrival to West Virginia as "travel[ing] back in time," exemplified by when a local politician asked Champion if she wanted to meet "her colored lady." "West Virginia was a very shocking place for me," Champion tells Bustle. "The conversation wasn't mean-spirited. … It was [just] not Los Angeles." Over the next 20-some years, as Champion traversed through U.S. television markets — from West Virginia, to Georgia, to Florida — she noticed a trend: The broadcast industry wasn't telling Black stories well. "I always thought that there were images of Black people that weren't fair on television," says Champion, now 46. "I used to see those images and say, 'Well, that's just not accurate.'"
Racial bias in news coverage is a long-standing issue. A 2017 study by Color of Change found that media across the country consistently overrepresented Black families as poor or engaged in criminal activity, and outlets in minority-majority cities have historically had overwhelmingly white staffs.
Throughout her career, Champion has been working to correct these problems, most recently at ESPN, where she hosted big-ticket shows like SportsCenter. Last year, she left the network to co-host a no-holds-barred talk show with Jemele Hill, a fellow ESPN alum, and in March, launched a podcast, Naked with Cari Champion. She's going back to her storytelling roots, she says, which expand beyond sports. Here, she talks to Bustle about the advice that's guided her cross-country journey.
How did you decide you wanted to talk to people for a living?
I've always wanted to be a storyteller, since I was a little kid. I saw Oprah on TV and said, "That's exactly what I want to do."
What's something you learned early in your career that you still use today?
The idea of being interested in someone's background, where they grew up, what led them to today, what steps they took. My very first job was in West Virginia, and I started with the basics — the who, what, when, where, and how — and it never left me.
What's the most rewarding part of your job?
I grew up in California, and the images I saw of Black people on television weren't fair. They were very generic, broad strokes of Black people committing crimes. And I thought to myself, that's not really fair. I remember taking a communications class in college, and one of my professors said, "The power of media is unlike any other thing, [and] I suggest you take that responsibility seriously." I knew then it was important for me to tell stories that were helping others.
Tell us about one of the biggest challenges you've overcome in your work.
There's this idea that if you're Black, you can only be one thing, and it's just not true. People know me in sports [reporting], but I've always been a general-assignment reporter. As a result, [on] this podcast, Naked, you see me talking about wildly different things and being extremely vulnerable.
What's the worst career advice you've been given?
The worst piece of advice that I ever received was from two different men. One told me my nails were too bright for television, and the other told me my heels were too high. I mean, come on.
And the best?
The best piece of advice I've received was from a man who I consider my mentor. He said, "Cari, all you need to do is listen. That is the telltale sign of a great interviewer." And while it [sounds] simple, it's so hard to do.
This interview has been edited and condensed for clarity.