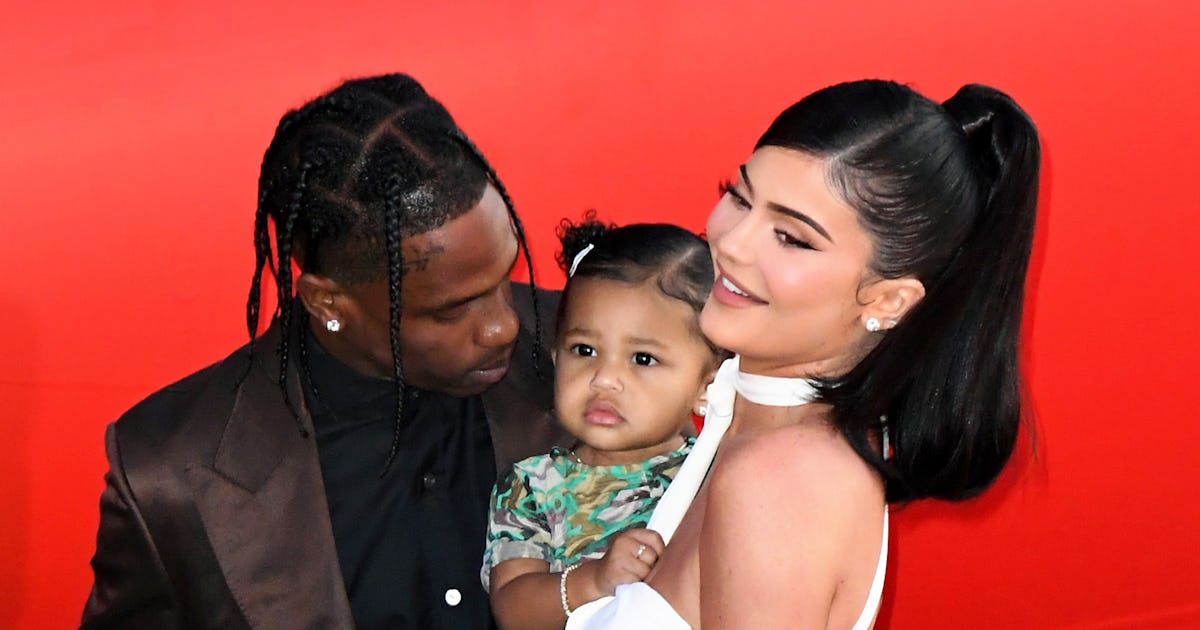 The day for dads is here, and celebrities are celebrating. Numerous stars are taking a timeout from their Father's Day activities to pay tribute on Instagram to the special fathers in their lives. Some, like Kylie Jenner and Gigi Hadid, wrote sweet messages to their children's dads, while others, like Dan Levy and Kate Hudson, shouted out their own fathers.
The social media love fest for dads has been truly sweet this year. Mandy Moore honored her husband, Taylor Goldsmith, on his first Valentine's Day with a lengthy message, including telling him that he was "always destined to be a dad." On the other end of parenting experience spectrum, veteran dad (and former President) Barack Obama got thanks from wife Michelle Obama, who celebrated all dads, but him in particular. "Our daughters couldn't have asked for a better role model," she wrote in part. "We're so lucky to have you in our lives."
Dads themselves also had people to honor. Jimmy Fallon posted a hilarious video of his daughters in some less cooperative moments, captioning it, "Happy Father's Day to all of the dads out there." Kevin Hart also shared a video, but his previewed an upcoming Red Table Talk in which he and Will Smith sit down and discuss fatherhood. "Happy Father's Day fellas….Have a beautiful & blessed day," he wrote in part.
The celebrity Father's Day love continues, ahead.
Kylie Jenner
The Kylie Cosmetics founder celebrated ex(?) Travis Scott with a not-so platonic-looking post.
Gigi Hadid
New mom Gigi Hadid made sure to mark Zayn Malik's first Father's Day. She wrote that their daughter, Khai, "is so lucky to have a baba who loves her so much & does anything to see her smile !!" She also had a separate post for her dad, Mohamed Hadid, and highlighted how much she loves seeing him be "the sweetest" grandfather.
Bella Hadid
Mohamed Hadid also got love from his daughter Bella Hadid. She noted that he makes her "laugh more than anyone in the world."
Ciara
Celebrating her NFL star husband, Russell Wilson, Ciara wrote that he shows her "the power of God's love" through his love for their children.
Jimmy Fallon
The Tonight Show host celebrated his fellow dads. They probably understand the struggle of having their jokes rejected.
Mandy Moore
Her post was one special part of Taylor Goldsmith's first Father's Day. The This Is Us star also honored her own dad and shared how great it has been to see him "step into his role as a grandpa."
Kate Hudson
Kate Hudson celebrated dad Kurt Russell, calling him "our great loyal protector," among other glowing descriptors. She also remembered her partner, Danny Fujikawa, in another post, calling him "the most brilliant father."
Michelle Obama
Alongside a throwback photo of their time in the White House, former First Lady Michelle Obama celebrated her family's first guy.
Dan Levy
Keeping it short and sweet, Dan Levy called his dad, Eugene Levy, "a great one."
Kevin Hart
The Fatherhood star made sure to celebrate the holiday and plug his upcoming chat with Will Smith.
Cardi B
The rapper shared her love for "daddy shark" Offset.
Chris Pratt
A dad himself, Chris Pratt honored his brother, cousin, and, of course, his father.
Gal Gadot
Gal Gadot wrote of having "won the jackpot" with her husband, Yaron Varsano.
Miley Cyrus
The singer and actor celebrated her "LEGEND" of a dad, Billy Ray Cyrus, and thanked him for teaching her "the true meaning of a mullet!"
John Legend
Showing a photo of his father on the Voice set, the EGOT winner shared the lessons he's learned from his (very stylish) dad.
Chrissy Teigen
Legend's wife, Chrissy Teigen, made sure to recognize him. "To our everything, we love you forever," she wrote as part of her caption for a sweet snap of him with their two children.
Dua Lipa
Dua Lipa called her dad "the coolest" in her post.
Lily Collins
Even in Honfleur, France, Lily Collins showed she was able to "find a little piece" of dad Phil Collins.
Kris Jenner
The Keeping Up With the Kardashians matriarch shared a collage honoring the many fathers in her large family.
Kim Kardashian
Like her mom, Kim Kardashian wanted to celebrate her family's dads.
Happy Father's Day!