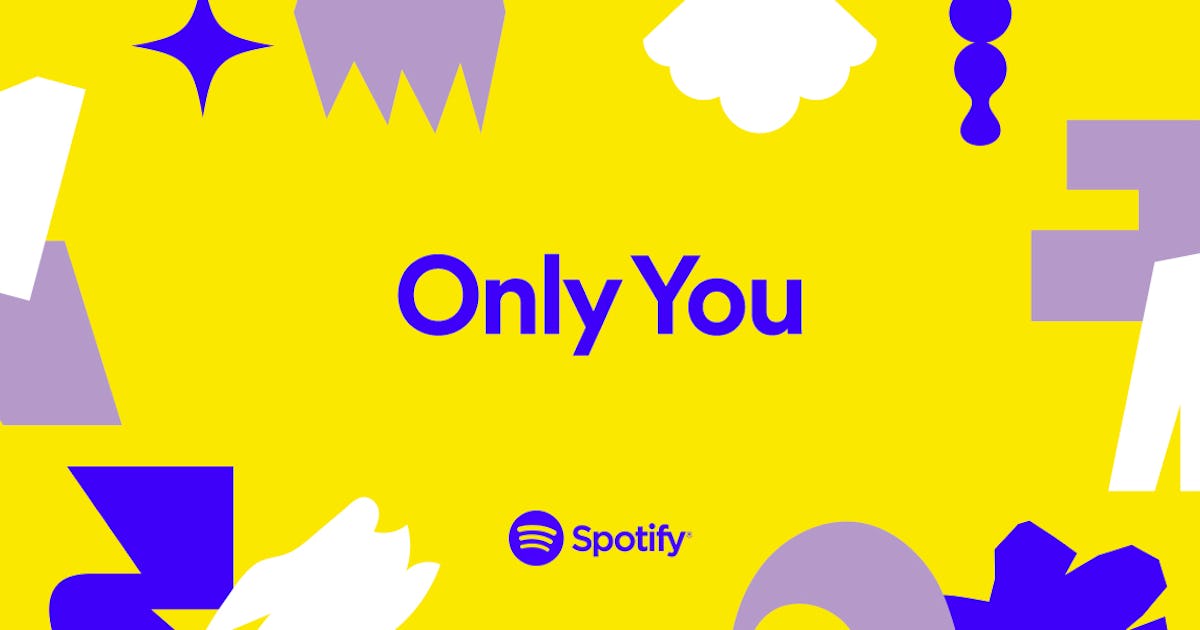 We wait all year long for Spotify to release our annual "Wrapped" stats — you know, the breakdown of the songs, artists, and podcasts we've obsessed over the past year. Oh, and of course our curated personalized playlists from said stats. Well, I am happy to share that the music streaming platform giant now offers a new feature that — dare I say — is just as exciting?! Spotify announced the launch of its new "Only You" campaign, an in-app experience that celebrates how you listen. The experience is described as "Wrapped-esque" by the company, and not only is it a shareable feature, but it creates personalized mixes, according to set themes. And, there's some great news: They've got one for those astrology lovers out there.
Spotify's "Only You" campaign is focused on creating an individual and unique experience that aids the Spotify community in connecting with the music they love in an expressive way. Of course, with any new feature, you're going to need some detailed information, so I'm here to help you out. Here is your definitive guide to everything you need to know, and exactly how to use the new Spotify "Only You" feature.
How Does Spotify's "Only You" Feature Work?
The premise is simple —
Pop open the app and click "search."
At the top, it will feature the Only You experience, accompanied with the words, "Find out how you listen," click on that.
Stats will pop up about the Spotify community in a format — similar to the Story feature on Instagram — and it will offer a series of slides. It will then show you your range of music, followed by a series of other themes and interactive experiences while curating personal playlists.
When the experience is over, you have the option to share your personalized "Only You" experience on other social media outlets.
Note: Even after the campaign is over, you will still have access to all of your curated playlists. They will be available in the "Only You" hub.
I can confidently say that this new feature may know more about me than me. (You know when you think of something, and simultaneously, it appears in an ad on your phone? Well, the feeling you get here is pretty similar.)
What Is Spotify's "Blend" Feature?
Spotify knows there's nothing better than listening to your favorite artists with friends, so they have rolled out the "Blend" feature alongside "Only You." Currently in beta — an experimental app that has already been released — "Blend" allows for two friends to merge one another's music into one personalized playlist. According to Spotify, here are the complete instructions for how to use the feature:
Tap on the option, "Create Blend," which appears in the Made For You hub. This will only work on mobile.
Click "Invite" where you will be given the option to invite a friend of your choosing to blend with via email or messages.
If your friend accepts, Spotify will create a custom playlist based on the songs you both love, as well as recommend a few.
Curious about how the playlist was influenced? Tap the profile icons next to it, and you'll find out everything you need to know.
The experience will be updated daily.
What Do Spotify's In-App Experiences Discover About You?
The Only You in-app experience features six themes/interactive experiences.
Your Audio Birth Chart — Essentially an "astrologer" for your music taste, Spotify will generate three artists that are in accordance to 1) your sun sign, aka your most listened to artist over the past six months, 2) your moon sign, aka the artist that best portrays your vulnerable and emotional side, and 3) your rising sign, aka the artist that you most recently connected with. Spotify is just one of many platforms that have catered to the astrology uptick in interest. In 2020, Snapchat launched new astrology features that also created a personalized experience.
Your Dream Dinner Party — Choose three of the artists you would love to invite to your dinner party. Spotify with then curate a special playlist for each guest.
Your Artist Pairs — Your range of music will be on display with this experience. Did you listen to Taylor Swift last night and then some '90s rock? If so, this one is for you.
Your Song Year — Spotify will show you how your music choices reflect what time periods you listen to.
Your Time of Day — Are you an early bird? Or a night owl? You're about to find out what music you listen to at different times of the day.
Your Genres/Topics — End the experience with a personalized look at what music and podcasts you have listened to that are unique to you.
With Spotify's "Only You" experience, users are able to interact and learn about what makes them them… musically, that is.. It's a whole new way to experience and learn about your music taste. Happy listening!