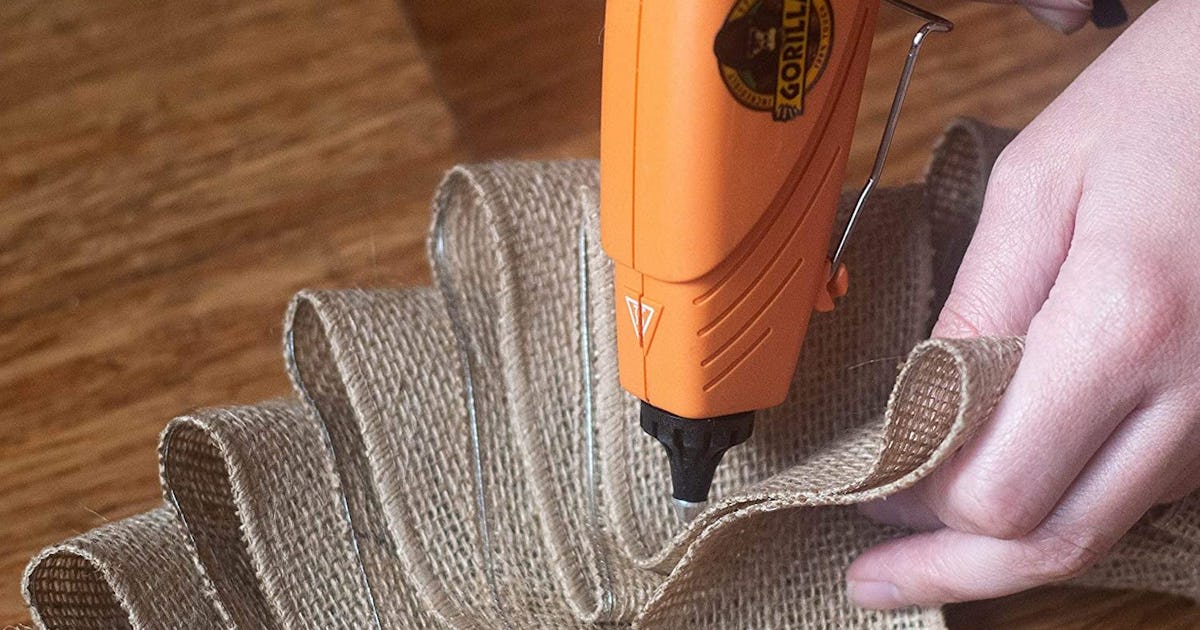 In theory, a hot glue gun is a simple purchase. In actuality, though, there are a surprising number of factors that play into choosing the best glue guns for crafts. In order to find the ideal pick for you, you should consider both the size of the glue gun as well as its heat level.
In this case, size doesn't just refer to the overall dimensions of the glue gun — although that is important. (A larger gun can usually melt more glue at once, while a smaller gun is typically better for small hands and is much easier to store.) That said, the diameter of the holder is also important; different hot glue guns take different hot glue stick sizes, and while all of the below options come with a few to get you started, you'll eventually have to buy replacements.
Heat level is another important factor, and most are divided between low-temperature and high-temperature glue guns: The former usually heats up to around 250 degrees Fahrenheit, while the latter gets to roughly 380 degrees Fahrenheit. The heat level will dictate the type of hot glue sticks you'll need, as well as which types of materials you can bond. Low-temperature glue guns are less likely to cause burns (so they're better for children) and are capable of gluing lightweight materials like ribbon, foam, foil, and thin fabric. High-temperature guns, however, can often bond everything from plastic and heavy fabric to wood and metal. Some models, like the first option below, offer two heat settings, so you get the best of both worlds.
Chosen using feedback from real reviewers, these are the five best glue guns for your next crafting project, and they come in all sizes and temperatures.
1. The Overall Best Glue Gun For Crafts
The Gorilla Dual Temp Mini has nearly 20,000 reviews and a 4.7-star rating overall, and it's easy to see why: Even though it's small for storage and convenience, it's surprisingly powerful. Thanks to its two heat settings, it qualifies as both a high-temp and a low-temp gun, so it works on a huge range of materials. It also heats up in roughly 45 seconds, is impact-resistant, and has a built-in stand, not to mention an easy-squeeze trigger and a precision nozzle. Each order comes with 30 weather-resistant, Gorilla-brand glue sticks.
Heat level: low temperature and high temperature
Compatible glue sticks: 0.27-inch diameter
One reviewer wrote: "This is the best little glue gun I have ever used. Small but mighty with low and high settings. Comes with a LOT of glue. Great bang for your buck. I won't use anything else ever again."
2. The Best Budget Hot Glue Gun
Looking for a bargain? Despite its $6 price tag, the AdTech Mini glue gun heats up to high temperatures, has a built-in stand, and comes with 10 multi-temp, clear-drying glue sticks. However, despite the low price, the exterior is still made from durable materials and the entire gun is covered by a money-back warranty. Reviewers also rave about its precision tip, resistance trigger, and ease of use — but because it's so compact, the weight of the cord may cause it to tip over if you're not careful.
Heat level: high temperature
Compatible glue sticks: 0.28-inch diameter
One reviewer wrote: "It works and it was cheap. […] I can load glue sticks one handed which is nice. I didn't have a problem with excess dripping out in between uses. It was a good value for the price I paid and it even came with 10 glue sticks."
3. The Best Heavy-Duty Glue Gun
In terms of corded hot glue guns, the CCbetter gun is one of the more expensive options — but according to reviewers, it's "worth the price" if you're doing heavy-duty jobs. Why? Its 60/100-dual-watt design works for low-heat materials, but also reaches extra-high temperatures, so it can cover everything from DIY crafts to small industrial jobs. It's also made from fire-resistant, thermal-insulated materials to prevent burns, and it has a safety switch, ergonomic grip, precision nozzle, and built-in LED indicator. Last but definitely not least, the stand is sturdy and hands-free, and it comes with 12 high-quality glue sticks that dry clear.
Heat level: low temperature and extra-high temperature
Compatible glue sticks: 0.39 to 0.43-inch diameters
One reviewer wrote: "I love this thing, I've repaired many things with it. This glue gun gets so much hotter than the little Walmart store craft ones. Makes a more permanent bond. This is worth the price."
4. The Best Low-Temp Glue Gun
If you're shopping for a child (or if you're looking to minimize the danger of potential burns for yourself), opt for the AdTech ultra low-temp cool tool. With its 6 volts of power, this glue gun runs roughly 75 degrees Fahrenheit cooler than standard glue guns, making it work especially well for thin fabric and scrapbooking papers. It also has a built-in stand and comes with 10 low-temperature glue sticks, plus it's compact for easy travel and storage.
Heat level: low temperature
Compatible glue sticks: 0.28-inch diameter
One reviewer wrote: "I taught my 8-year-old daughter how to use my glue gun and she did fine with it but I worried about burns. This solves the problem! No exposed metal tip and low-temp help take away my worries."
5. The Best Cordless Glue Gun
Most glue guns on the market have wires that plug into your outlet, but if you'd rather not be restricted, the Ryobi One+ glue gun is cordless, so you can take it anywhere. The battery is not included, but it works with the 18-volt lithium-ion battery that works with Ryobi drills, lawn equipment, and more. (If you don't already have one, you can get this set, which comes with two rechargeable batteries and a charger.) In terms of the gun itself, it can run for over three hours straight on a single charge, has a comfortable grip, and has earned a near-perfect 4.8-star overall rating because of its precise-control trigger and fine tip. It also comes with three multipurpose glue sticks.
Heat level: high temperature
Compatible glue sticks: 0.43-inch diameter
One reviewer wrote: "Makes it so much more useful because of it being cordless. I've already fixed [three] odd ball thing's that I would've never bothered to do with a corded one. Now I look for things to fix and this gun performs flawlessly. It's one of those tools that you should've bought a long time ago."