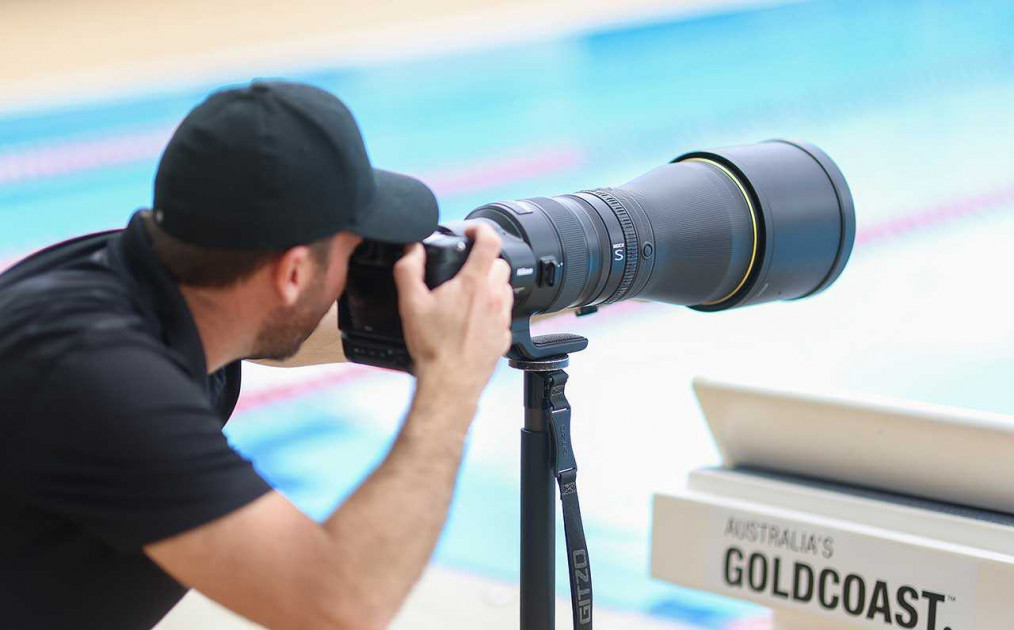 The NIKKOR Z 600mm f/4 TC VR S is a brand new super-telephoto prime lens for Nikon Z-series mirrorless cameras.
Featuring a built-in 1.4x tele-converter – the same as the Z 400mm f/4 – the focal length can be extended to 840mm. You can then also add Nikon's optional 2x teleconverter, providing a focal length of 1680mm.
With a SSVCM AF motor for quiet and fast auto-focusing, the Nikon Z 600mm also offers 5-stops of vibration-reduction, increasing to 5.5 stops when used with cameras that have Synchro VR (Z9, Z7 II, Z6 II).
This lens has the very latest Meso amorphous anti-flare coating, is fully weather-resistant, and is aircraft cabin-friendly, fitting into most aircraft lockers.
There are lot of external controls, including a memory recall button, 2 function buttons, and a control ring.
Weighing in at 3.2Kg, the Nikon Z 600mm is 20% lighter than its DSLR predecessor.
A high-quality case, lens hood and strap are included in the box.
The NIKKOR Z 600mm f/4 TC VR S will be priced at £15-16000 when it goes on sale on November 24th 2022.
Nikon UK Press Release
THE NIKKOR Z 600mm f/4 TC VR S PROFESSIONAL SUPER-TELEPHOTO LENS
WWA: 2nd November 2022
Sales start: 27th October 2022
RRPs: NIKKOR Z 600mm f/4 TC VR S– £ 15,499 (UK) | € 17,999 (ROI)
London, United Kingdom, 2nd November 2022: Today, Nikon expands its range of professional super-telephoto lenses with the NIKKOR Z 600mm f/4 TC VR S. With its built-in teleconverter and next-level AF performance, this super-telephoto prime lens is a powerful choice for sports and wildlife photographers. High-performance optics ensure consistently stunning image quality whether shooting at 600 mm—or at 840 mm with the built-in 1.4x teleconverter activated.
From high-speed motorsport to unpredictable wildlife, photographers working in demanding situations will reap the rewards of this super-telephoto lens on every shoot. The Silky Swift focusing system delivers phenomenally fast and incredibly quiet autofocus with spot-on subject acquisition and tracking. And Nikon's class-leading anti-reflective Meso Amorphous Coat effectively combats ghosting and flare even if shooting scenes with multiple direct light sources in the frame. Powerful in-lens VR offers up to 5.5 stops of compensation for steady shots in
any situation, while customisable controls allow exceptional operational versatility. Photographers who need more reach can instantly engage the built-in teleconverter without adjusting their shooting posture or taking their eyes off the main event.
The NIKKOR Z 600mm f/4 TC VR S is perfectly balanced, with the centre of gravity positioned in the middle of the tripod foot for more stable operation and less strain on the posture whether shooting mounted or handheld. Tough environments are all in a day's work thanks to full weather sealing, and this super-telephoto lens also boasts an impressively lightweight build. Its dimensions are even compact enough to fit in a kit bag that will suit most cabin-baggage requirements.
Dirk Jasper, Product Manager, Nikon Europe says: "Like its sister lens (the 400mm f/2.8 TC VR S), the NIKKOR Z 600m f/4 TC VR S professional super-telephoto lens packs Nikon's most advanced optics and focusing technology for a performance that's second to none. From the toughest locations to the most unpredictable subjects, you'll nail the shot, no matter what."
Summary of key features: NIKKOR Z 600mm f/4 TC VR S Built-in 1.4x teleconverter: a flick of a switch on the right side of the lens is all it takes to engage the teleconverter and transform this 600 mm f/4 prime lens into an 840 mm f/5.6 lens. Unwavering AF: autofocus is powered by Nikon's Silky Swift voice coil motor and an optical ABS encoder, which detects and communicates lens position with absolute accuracy. Exquisite detail: sharpness is outstanding across the frame, even when shooting wide open, and bokeh is beautifully smooth and rounded. Powerful in-lens Vibration Reduction: gives a 5.0-stop advantage, and a 5.5-stop advantage when using a Nikon mirrorless camera that supports Synchro VR. 1 Meso Amorphous Coat: combats ghosting and flare by eliminating incidental light coming from both diagonal and vertical directions. Tough: sealing around all moving parts and the lens mount keeps dust and moisture at bay. Nikon's fluorine coating protects the front element.2
Balanced: the lens' centre of gravity is towards the middle of the tripod foot for more stable operation and less strain on the posture.
Customisable: functions can be assigned to the Fn ring, as well as to the Fn buttons, focus ring, and silent control ring. Save focus distances to the memory-set button.
Cabin-friendly: compact and lightweight enough to fit into a kit bag that will meet the carry-on requirements of most airlines.
Compatibility: supports use of the Z TELECONVERTER TC-1.4x and Z TELECONVERTER TC-2.0x.
FOOTNOTES: 1 Based on CIPA Standards, in-lens optical VR achieves 5.0 stops of compensation (or 5.5 stops with Synchro VR) in NORMAL mode. This value is achieved when attached to a mirrorless camera equipped with a 35mm-film-size image sensor. 2 The lens is not guaranteed to be dust- and drip-resistant in all situations and under all conditions.
DISCLAIMER: Camera firmware must be updated to the latest available version before using the NIKKOR Z 600mm f/4 TC VR S.
Image Gallery
Click on a thumbnail to see the full version.
Your Comments