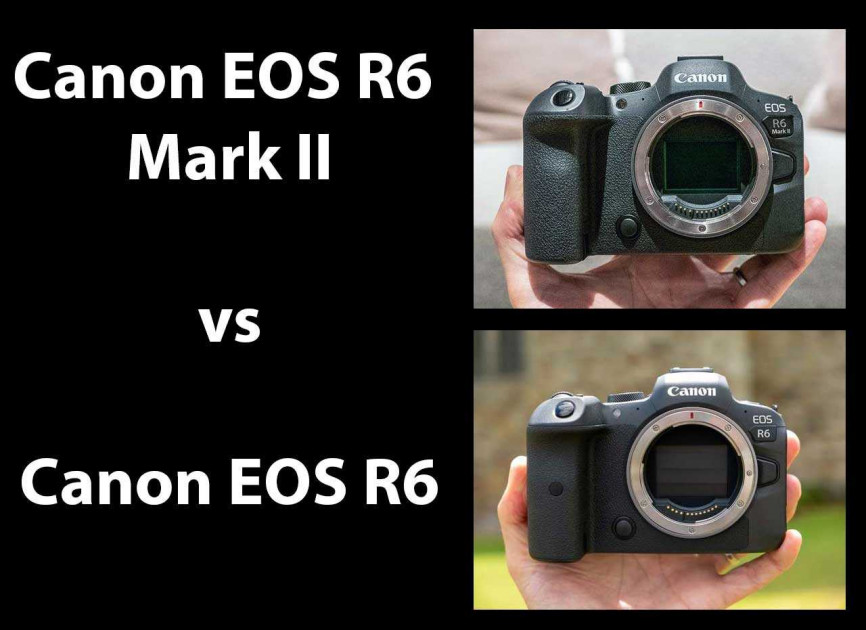 Two years is a long time in the world of digital cameras, especially the mirrorless market, so what exactly has changed since 2020 with the release of the EOS R6 Mark II, and is the older model still worth considering?
We're bringing you this in-depth head-to-head comparison between the new Canon EOS R6 Mark II and its predecessor the EOS R6 to find out what changes and improvements have been made to the 2022 version.
You can also read our detailed Canon EOS R6 review to find out exactly what we think of that camera.
Sensor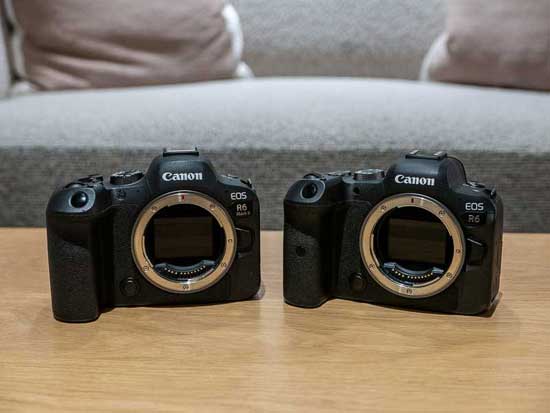 The original EOS R6 has a 20 megapixel sensor that's very similar to the one found in the flagship EOS-1D X Mark III DSLR camera.
One of our concerns with the sensor inside the Canon R6 is whether or not it was of high enough resolution for its general enthusiast target market, especially if you like to heavily crop your images in post-production.
Canon obviously agree, as the new Mark II version now sports a 24.2 megapixel CMOS sensor that offers a 20% increase in resolution compared to its predecessor.
ISO Speed
Despite the resolution increase, Canon are claiming that the R6 II offers the same low-light performance as the Mark I version.
So on both models, the ISO range runs from 100-102,400, which is actually one stop more than the flagship EOS R5. This can be further expanded up to ISO 204,800 and down to ISO 50.
Video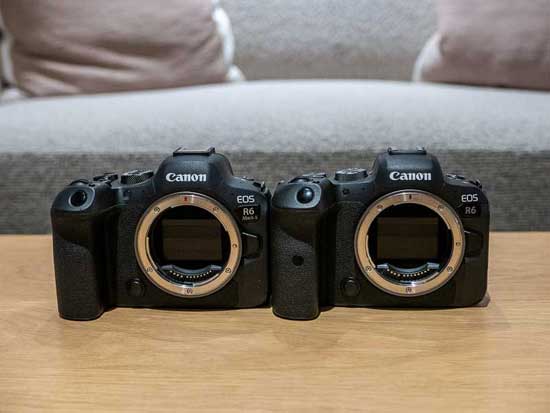 The Canon EOS R6 can record 4K video up to 60p in 10-bit, achieved through oversampling from 5.1K.
The camera can record internally in 8-bit 4:2:0 H.264 or 10-bit 4:2:2 H.265 and supports the Canon Log profile.
Slow-motion footage is also available with AF support using Full HD at up to 120fps.
The Canon EOS R6 can record 4K video up to 60p in 10-bit, achieved through oversampling from 6K, promising slightly better quality.
It also ups the ante somewhat by offering 6K/60p ProRes Raw recording, but only externally via HDMI rather than internally.
1080p slow-motion recording is also available with AF support, but the maximum frame rate has been increased up to 180fps on the new model.
There's also no longer a 30-min time limit on recording as on the original R6 and Canon claim that rolling shutter has been reduced.
Cleverly, if the camera is set to Face-only AF and the tracked subject exits the frame, it won't automatically then focus on the background, instead re-focusing on the face when it reenters the scene.
The Mark II R6 also offers several new video features like focus breathing correction, a false colour exposure aid, a 3/5 second pre-recording function, CLog3 profile, and a quick control screen just for video.
Autofocus
The new R6 II has a very similar auto-focus system to the flagship EOS R3 sports camera, with improved AI tracking that can now additionally recognise horses, aircraft and trains.
On the original R6 subject tracking only worked for humans, dogs, cats and birds.
The new model now features a special auto-select mode for subjects, plus the same Flexible AF mode from the EOS R3, and eye tracking now functions in all AF modes.
Both cameras can focus in light levels as low as -6.5EV (when used with an F1.2 lens).
Burst Shooting
The EOS R6 offers continuous shooting at up to 20fps with the silent electronic shutter or 12fps with the mechanical shutter, both with full auto exposure (AE) and auto focus (AF) tracking.
The EOS R6 II can still shoot at 12fps with the mechanical shutter, but doubles the rate with the electronic shutter to 40fps, thereby offering the fastest burst shooting in its class.
The buffer is 190 JPEGs, 140 Compressed Raws, or 75 Uncompressed RAWs, and the camera's maximum shutter speed is 1/16,000th second when using the silent electronic shutter.
There's also a new Raw burst mode in which the camera can shoot at 30fps with 0.5 seconds of pre-capture built-in.
Body and Design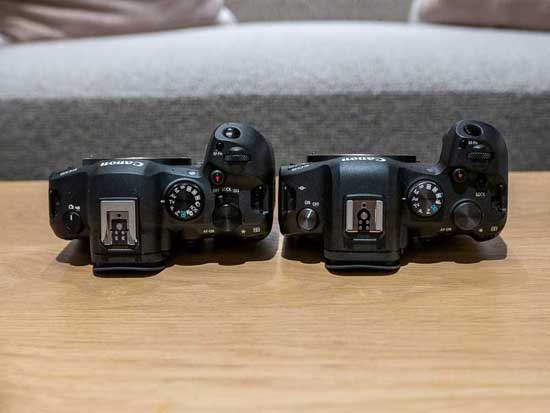 The Canon EOS R6 Mark II is virtually identical to its predecessor – you'd be hard pressed to tell them apart from a cursory glance.
There's a new On/Off/Lock switch on the right hand side of the top-plate, and a new Camera/Movie switch over on the left.
The multi-controller on the rear has been subtly redesigned, and Canon's latest multi-function shoe has been implemented.
Otherwise you'll feel instantly at home with the Mark II version if you're upgrading from the original R6.
IBIS
The original R6 was the first ever EOS series camera to incorporate 5-axis In-Body Image Stabilisation (IBIS).
Its intelligent stabilisation system provided an incredible 8-stops of stabilisation with some lenses, allowing you to hand-hold the camera for up to 4 seconds and still get critically sharp results.
The new Mark II has a brand new 5-axis IBIS unit that continues to provide up to 8 stops of IS.
Viewfinder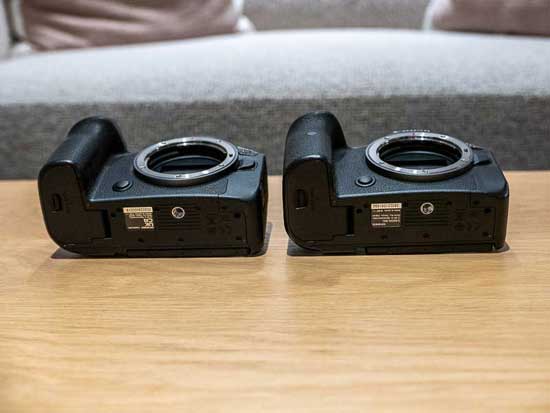 Both the Canon R6 and R6 II have a 0.5inch 3.69 million dot electronic viewfinder (EVF) that operates up to 120fps for minimal lag when shooting fast-moving subjects.
The new model now incorporates a special OVF simulation mode, similar to the one of the EOS R3, which uses HDR technology to simulate a more "real-world" view of the scene.
LCD Screen
Both cameras use the same 3-inch, 1.62 million dot, vari-angle LCD screen which tilts out to the side and faces forwards for more convenient vlogging and selfies.
Memory Cards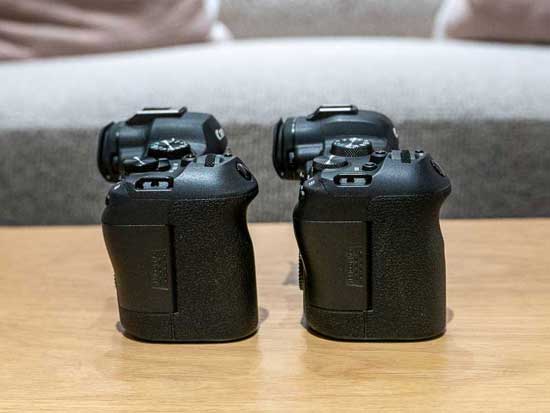 Both models support two SD UHS II cards via dual slots, with the ability to record to both cards simultaneously.
Battery Life
The R6 Mark II continues to use the same LP-E6NH battery as the R6, but Canon have managed to extend the battery life.
This offers CIPA rated battery life of 380 shots when using the EVF and 510 when using the LCD screen on the R6, increased to XXXXXXXXXXXX on the new model.
Connectivity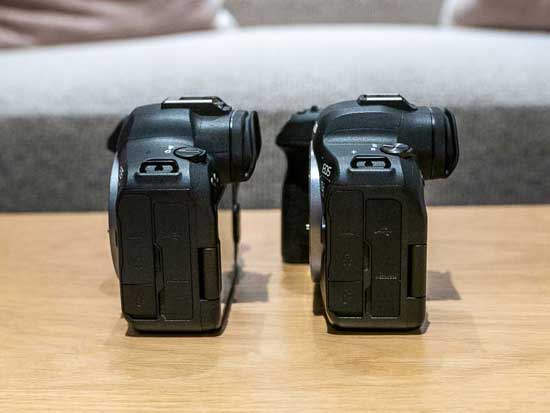 With built-in Bluetooth and 2.4Ghz Wi-Fi, the EOS R6 can be easily connected to a smartphone and networks allowing high-speed file sharing and FTP/FTPS transfer.
Canon have made several improvements including both 2.4GHz and 5GHz wi-fi, Bluetooth 5.0 support, and the ability to operate as a webcam or use the camera for live streaming via UVC/UAC.
The new Camera Connect 3.0.0 app will be released at the same time as the new EOS R6 II to help facilitate these upgrades.
Shooting Modes
The Canon R6 II offers two brand new shooting modes – multiple exposure mode (JPEGs only) and a Panorama mode, as previously seen on the recently introduced EOS R7. It also offers in-camera focus bracketing which will be a big pull for many stills photographers.
Price
In the UK the Canon EOS R6 Mark II is priced at £2599 body only and in Europe it costs $2649.
The EOS R6 was priced at £2499.99 body-only in the UK and $2499 in the US when it launched in 2020, so commendably the price hasn't risen by too much.
Conclusion
The Canon EOS R6 Mark II is a solid upgrade of an already excellent camera, principally improving its burst shooting capabilities and auto-focus system along with 20% more resolution, more capable video and improved connectivity.
So what do you think? Would you choose the new Canon EOS R6 Mark II or its still very capable predecessor? Leave a comment below!
Your Comments