The LargeSense LS911 is definitely a camera that is not for everyone. It is well-suited to individuals who want to thoroughly explore large format photography or who already have experience working with large format camera systems. Either way, the venture depends on having a large budget.
That said, what it lacks in portability and cost, it more than makes up for in sharpness, clarity, and razor-thin depth of field capabilities. Images pop off the screen and the pixel peepers will see tack-sharp edges, flawless bokeh, and smooth noise that looks more like film grain than digital noise.
The founder of LargeSense, Bill Charbonnet, describes the camera and his work as such:
"Building a company to make a camera which has never been built before, for a market that has not existed before. Organizing a diverse group of people to work together to build these special new cameras on a tight budget."
Why carve out a new market of people who don't know they want a product produced under tight design constraints and on an extremely narrow profit margin? Why isn't this an unreasonable risk?
Simple: Size matters! Especially in digital photography.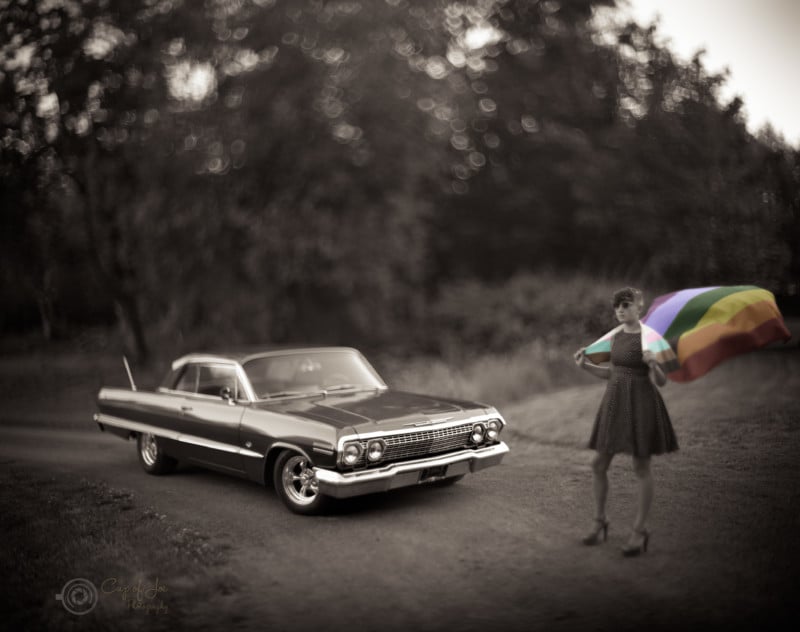 If the technical and financial caveats haven't scared you away, strap in. Our experience with the LS911 and the end product has been unlike anything in the photography world.
The video above was captured at 1/30 sec, ISO 2100, reduced to 50% speed, and shot with a Kodak Aero Ektar 305mm at f/2.5. Link to a single RAW frame from the video here.
We were able to connect with Charbonnet when we picked up the camera directly from LargeSense in Santa Clara, California. He's a quirky, tech-savvy guy who offered whatever personal support we needed to get up and going. We drove the camera up to our studio in Seattle and got to work.
The video above was captured at 1/30 sec, ISO 2100, reduced to 50% speed, and shot with a Kodak Aero Ektar 305mm at f/2.5. Link to the uncorrected 8-bit video can be found here.
LargeSense LS911's Notable Specifications:
9×11-inch monochrome CMOS sensor
75-micron pixel size
ISO 2100 or ISO 6400
Electronic shutter range from unlimited to 1/30 second
14-bit RAW, DNG or TIFF output
JPEG shooting is possible (untested)
3888×3072 native resolution, files will be 3889×3073 with the interpolated line and column
Up to 30fps in video, full 14-bit RAW
Video saved as TIFF's, DNG's, CinemaDNG, JPEG's or h.264 at 8-bit
Built-in WiFi hotspot for remote control
On chip pixel binning at 1×1 or 2×2
Monochrome with no AA filter and no on-chip micro lenses
3.5mm jack for external cable release
Rolling shutter
Access to uncorrected sensor AD data (if you are into that sort of thing)
40 pounds
16x16x10 inches with no accessories
Since Nick has a background in large format photography, we were able to adapt his lenses and slide-mount assembly for use with the LS911. Because of our custom setup, it was easier to mount the unit upside down on the slide.
The camera itself is heavy and has a good clean build quality. All the buttons are sleek and the interface is intuitive.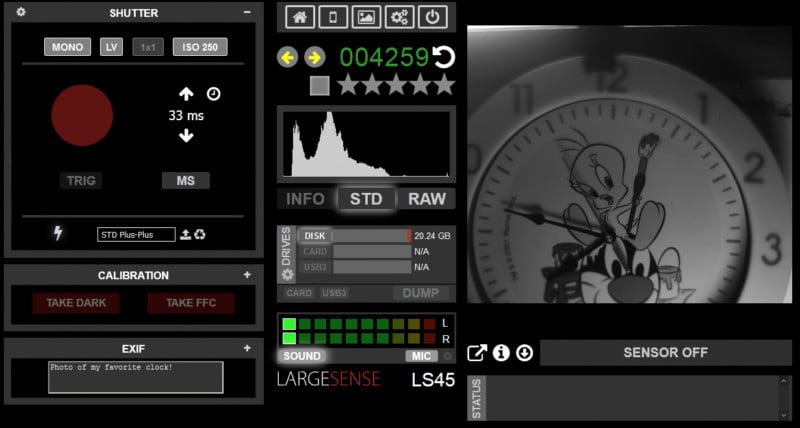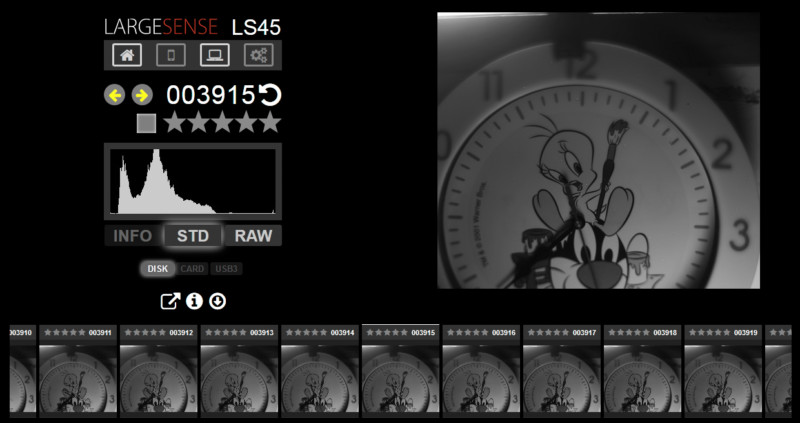 There are significant features that other (even traditional) camera systems lack, like on-chip pixel binning and the ability to capture dark frames and flat fields for extremely clean images. Shutter speed, iso, image size, image format, the total number of exposures (for video), and a few other settings are available all on the main screen.
The histogram is configurable and the image preview can be adjusted for contrast and brightness. You can optionally connect a tablet or mobile device to control the camera. The controls on the app are thru a sort of web interface but function well and have the same capabilities as the screen on the camera. It was nice to be able to add notes, focal length, etc. to the metadata while shooting. We would like the option to zoom while shooting video for doing critical focus work and have faster shutter speeds than 1/30 of a second. LargeSense says these features are coming in the newer firmware, so we'll see how they perform when they get released.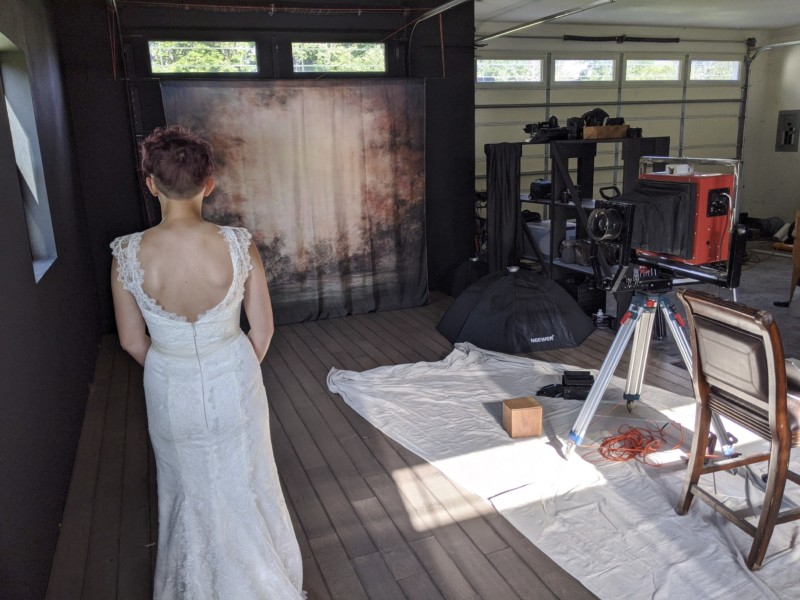 The LS911 has a CF card slot, a thumb drive USB port, and an internal one terabyte SSD capable of shooting at full 30 frames per second until you run out of space, though we only tested this out to about a minute. An important note is that the on-screen preview only updates two or three times a second so you don't get a live 30 frames per second video preview on the camera.
The camera does require a 120v power source, so you'll need an extension cord, inverter, or the like. The camera itself pulls about 300 watts when running and we were able to run it for an hour or so on a small 12v with an inverter.
The camera ships with an option for an on-chip IR cut filter or plain glass if you want the ability to shoot in infrared. We simply went with plain glass as we have pretty good stack of filters for shooting in different light spectra from UV through infrared.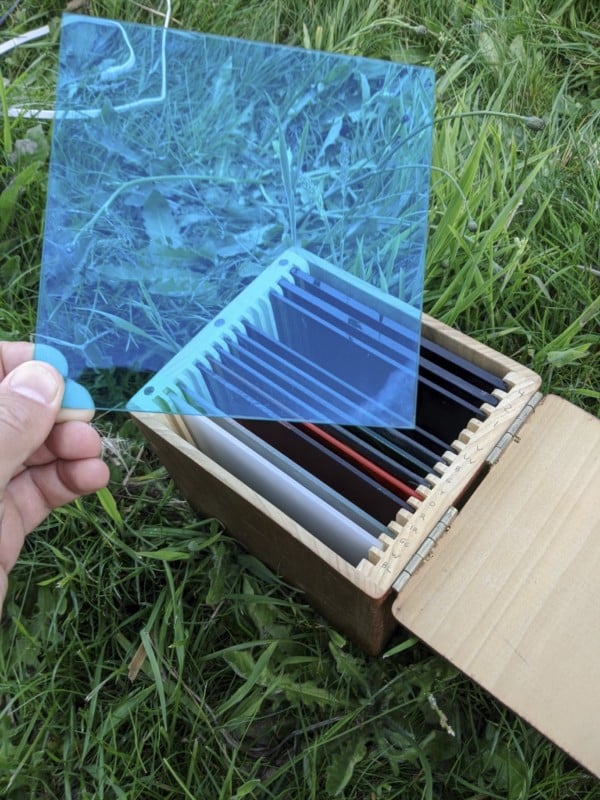 The sensor itself measures 9×11 inches which is assembled in four pieces. According to LargeSense the software interpolates one row and column of pixels in between the four smaller sensors. It's hard to tell by looking at the files but you can see the stitch line in certain situations if you look closely. Pixel peeping also reveals occasional faint horizontal lines when shooting high-contrast subjects. The phenomenon doesn't seem to be consistent, and it also isn't noticeable at full size.
The flash sync works well for triggering a flash via hot shoe or sync cable and syncs all the way up to 1/30 sec.
We took the LS911 out to do some night photography and we were very impressed. When we set up it was pitch black with no moon. We were excited to see clean images with short exposure times. You can even see the live view clearly at night which we've never been able to do with other camera systems without long test exposures.
We have used many camera systems, and our consensus is the cleanliness and clarity of the RAW files from night shots is hard to stop staring at. It's almost dreamy. Additionally, there doesn't seem to be a maximum exposure time. There is the expected minor salt and pepper noise with long exposures but it seems significantly better than smaller camera systems with similar exposure times.
You can also stack images in-camera, so you get one final long exposure from many short exposures. We did some tinkering to see if there was any gap between shots, but it appears to be completely seamless so you won't get any dotted lines on moving objects.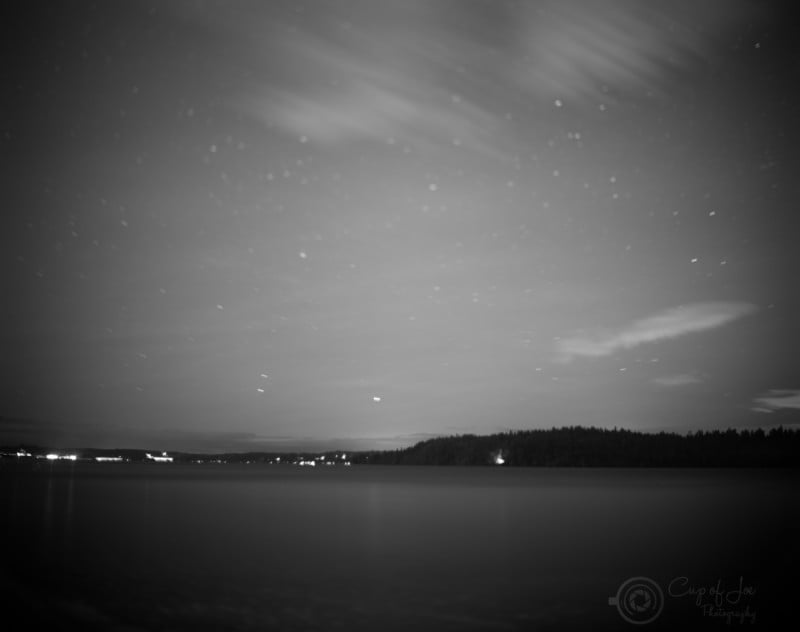 Charbonnet was very tight-lipped concerning testing and what is coming down the pipeline from LargeSense, but we know the following:
Future LS911 models will be "significantly lighter" and LargeSense is currently testing a color sensor that uses a unique color filter design that doesn't use dyes for the color pixels. Charbonnet wouldn't say if it was three layers like the Foveon or something else, but he did say they are testing out the color 4×5 now. LargeSense also has a monochrome 4×5 camera for purchase as well as, of course, the 9×11.
Pros:
Produces images with clean and deep tonality, even at night that is not possible with smaller formats because of the large capture area.
Capable of rendering shallow DOF to achieve the in-camera "vintage" look.
A true black and white sensor.
Outputs slightly better than 4K RAW video.
Connecting to the camera via wireless using a phone or tablet is simple and handy.
Cons:
There is no doubt about it, the LS911 is heavy and expensive (current model is $106,000, Gen II will cost $85,000)
The model we got is about 40 pounds, although newer models will be lighter.
Shooting is all manual: no autofocus, no auto exposure, no auto ISO.
Must have a 300W 100VAC-240VAC source
Currently, the fastest exposure time is 1/30 of a sec.
Overall, the LS911 is big and bulky to be expected but functions well and produces beautiful RAW files. It is exciting to shoot with and we haven't felt limited as on some other camera systems. Everything fits together nicely even without our modifications and the interface is intuitive.
If you have experience shooting with large format or have always wanted to and have a decent budget, this camera is definitely for you. We wouldn't be surprised if we start seeing this used for high-end cinematography. With a 9×11-inch mirrorless sensor available to consumers, we may see bellows and vintage glass parading in parks and cities around the world very soon!
---
About the authors: Richard Brown is an American Photographer whose roots are steeped in film. In his early childhood, Richard lived in Chinhae, South Korea near a US Navy base. His first camera was a 35mm point-and-shoot which he used to capture one of the 88′ Olympic torchbearers. In high school, Richard was placed on yearbook staff and worked in the darkroom. He was gifted a briefcase Russian enlarger which he used frequently in his free time. In 1995 on a UK trip, Richard challenged himself to use an Argus brick the entire trip. He also traveled and photographed in Kuwait, Bahrain, Saudi Arabia, and across the United States. Richard then became a cast member at Walt Disney as a Photographer. Richard continued with his photography passion as a manager of a photo lab at Eckerd during the film SLR changeover. Richard has used many camera formats over the years. Richard continues his journey through the many changes that technology brings and considers himself an Apprentice of the Arts. Richard enjoys traveling with his gigapan and capturing the natural beauty of the PNW.
Nick Spiker is an American professional landscape photographer best known for incorporating invisible portions of the electromagnetic spectrum into his work. Nick's passion for photography began as a child as he accompanied his father on various photography expeditions, including many shoots for National Geographic Adventurer. His mother cultivated this passion by providing Nick with access to the first editions of Adobe Photoshop. He dissected photography—both analog and digital—to its basic roots, becoming a master of light and color dynamics, optics, perspective, and perception. Nick uses his creations to reveal a world filled with beauty and clarity by using a precise balance of contrast and color in his images that can only be achieved by carefully selecting various spectral filters. Nick captures near-infinitesimal detail in his images and reveals the unviewable by translating infrared and ultraviolet channels to the visible spectrum. Nick will traverse any terrain in any weather at any time to capture the perfect image. Hiking 40 miles in subzero weather under the night sky with custom camera equipment is when Nick feels the most alive and inspired.
---
Cup of Joe Photography is a Seattle-based partnership that focuses on unique capture methods and special effects. Cup of Joe proudly supports the LGBTQIA community. Richard and Nick enjoy tinkering with anything photography-related. Richard and Nick are very serious when it comes to coffee — both Richard and Nick roast their own beans every morning.