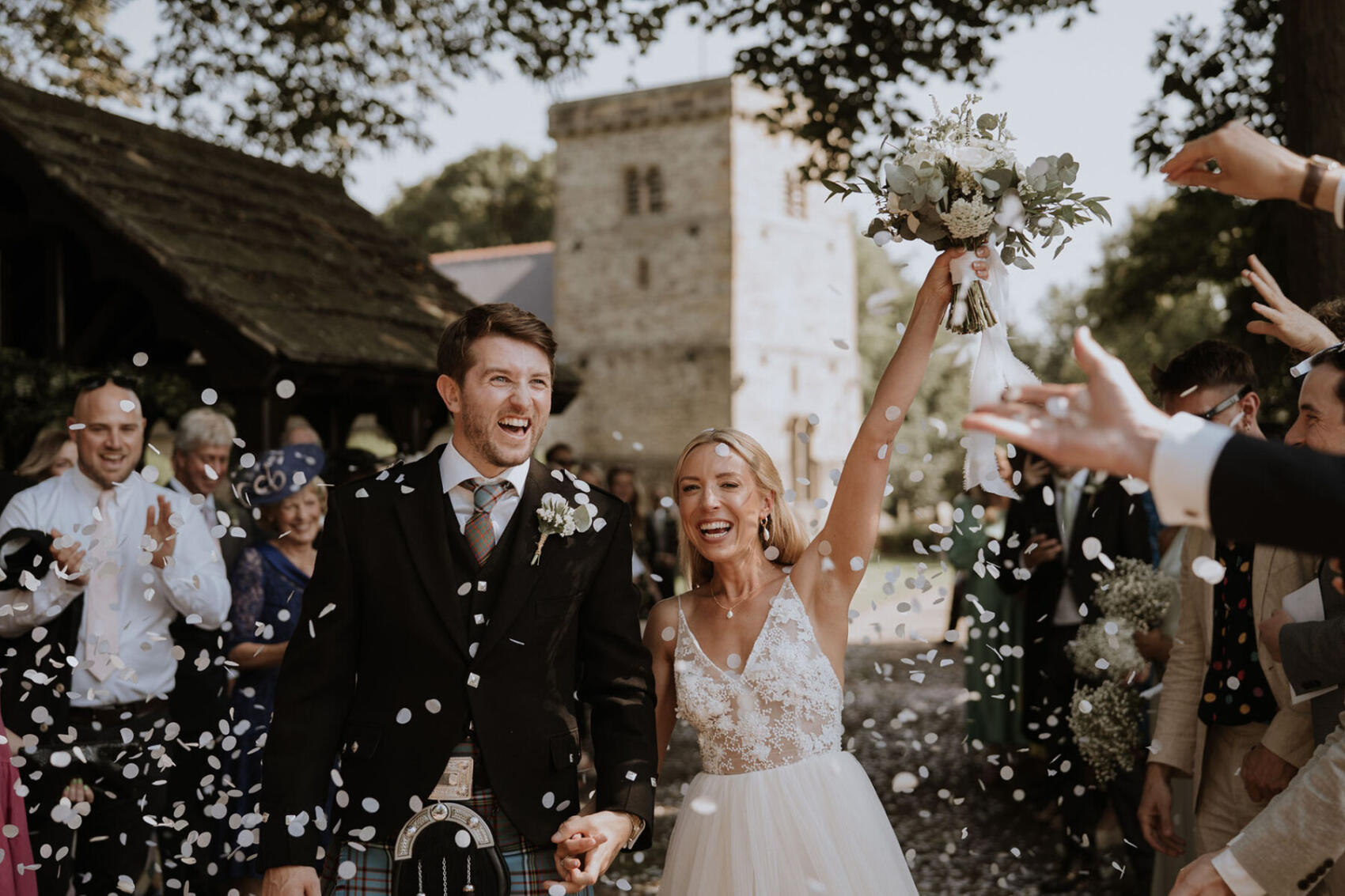 A very happy new year to you darlings! I hope that entry into 2023 provides a soft landing, and that the next 12 months bring you happiness, health and many moments of joy.
I also hope that you're browsing this, our first real wedding of 2023, from the comfort of your bed today. I have kept a special wedding aside to share today. One that supports a photographer whose work I adore, Georgina Harrison, and a talented independent bridal designer, Kerri of Kindling Bridal.
Flautist Hannah and Advertising Director Rich tied the knot on 12th August 2022, with a ceremony at St Michael and All Angels Church in Middleton Tyas followed by a reception at North Yorkshire's glorious Middleton Lodge.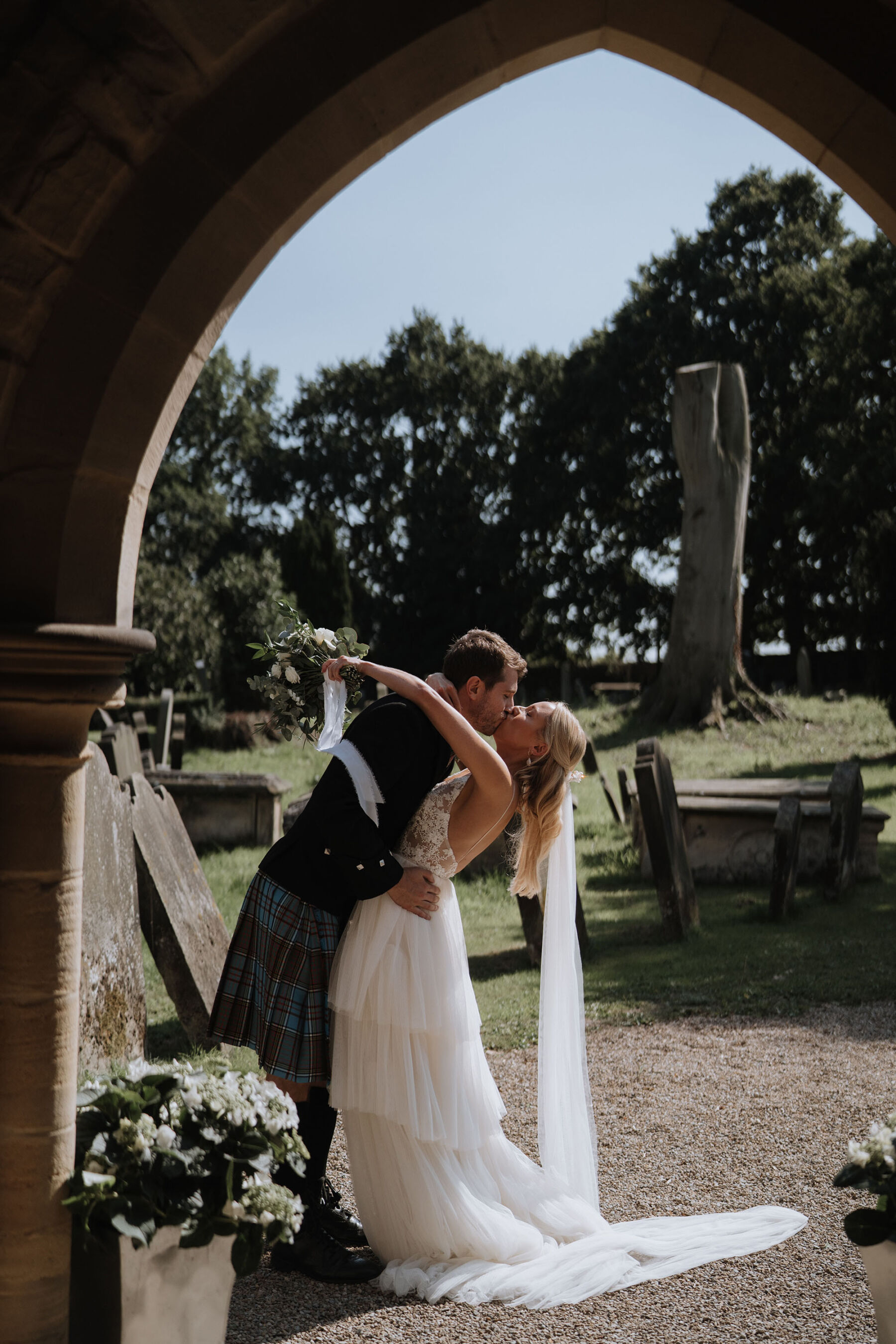 Middleton Lodge Party Vibe
We just wanted one big party! We really wanted it to be quite relaxed with an al fresco feel and always wanted a marquee with space to spill out. I had been inspired by lots of banquet style, Mediterranean weddings.
This was a bit of a risk in a Yorkshire summer but unbelievably, we had a heat wave with 31 degree heat and clear blue skies. We also didn't want the party to end at midnight and Middleton Lodge have an underground bar that can open until 2am so it was a no brainer!
I chose to plan and style our wedding myself, with the help of Rich, friends and some styling tips from my florist. I had the time to do this and I'm so glad I did as I really enjoyed the process of researching and creating something truly unique to us.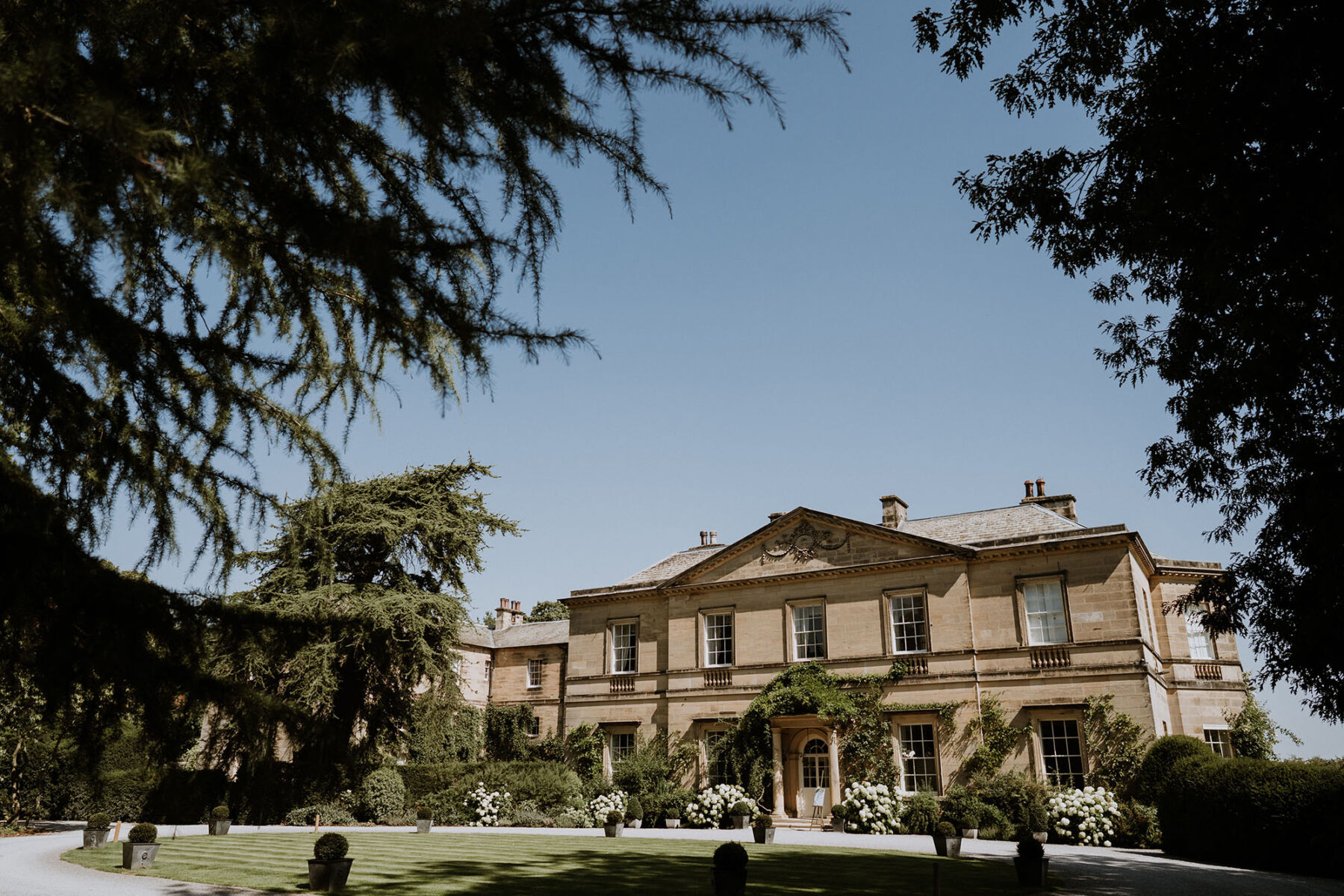 Accessories, Veil & Loeffler Randall Shoes
My jewellery was from Grace and Kin (I bought earrings or a bracelet for each of my bridesmaids). I also wore some gold, diamond studs lent to me by one of my lovely bridesmaids Lucy. I also wore a ring that has been passed down from my Nana to my Grandma, to my mum and then to me as a gift on my wedding day. I had a gold and pearl necklace and matching hoop, drop pearl earrings from Kiri and Belle. I saw these in Kerri's studio and fell in love. The necklace was made bespoke as I wanted a slightly smaller pearl.
I wore baby blue Loeffler Randall Camellia Heels (my friend from NYC brought them over for me as I couldn't get them in the UK). And I had a bespoke cathedral length veil made from the same tulle as my skirt and a silk bow for the evening. Both made my Kerri at Kindling Bridal.
My makeup artist was Amy George, who is unbelievably talented, kind, patient – and my makeup stayed on whilst sweating in 30 degree heat! My hair stylist was Carina Moore. She has been styling my hair since I was at school and a good friend of mine. She captured the relaxed, natural look I was after perfectly.
My perfume was Byredo Gypsy Water. I bought this when I lived in Australia for a year with Rich and it reminds me of a very fun time in my life. I also bought Rich Byredo Sunday Cologne to wear on the wedding day.
A Kindling Bridal Wedding Dress
Without a doubt, my favourite part of planning the wedding was working with Kerri at Kindling Bridal, to design my bespoke wedding dress. I came to her after many visits to dress shops in London and in Yorkshire. I had tried on so many dresses but had never quite found one that felt right.
I knew what I wanted but couldn't find the perfect dress so after lots of research I contacted Kerri to see if she would be able to make something.
I sent Kerri some pictures of the sort of thing I was after and a budget then I went to visit her at her studio. We immediately clicked and she sketched me up a dress that was exactly what I had imagined.
I knew then that I had struck gold with Kerri! Working with Kerri was an absolute dream. I had lots of crazy ideas, as well as being very indecisive but she helped me to have confidence in the decisions and came up with solutions to any problems.
I must have tried on at least 40 dresses and lots were beautiful but I didn't feel like they were 'me'. I wanted something completely unique and quite detailed that felt both timeless and modern. I loved parts of dresses I tried on but never the dress as whole.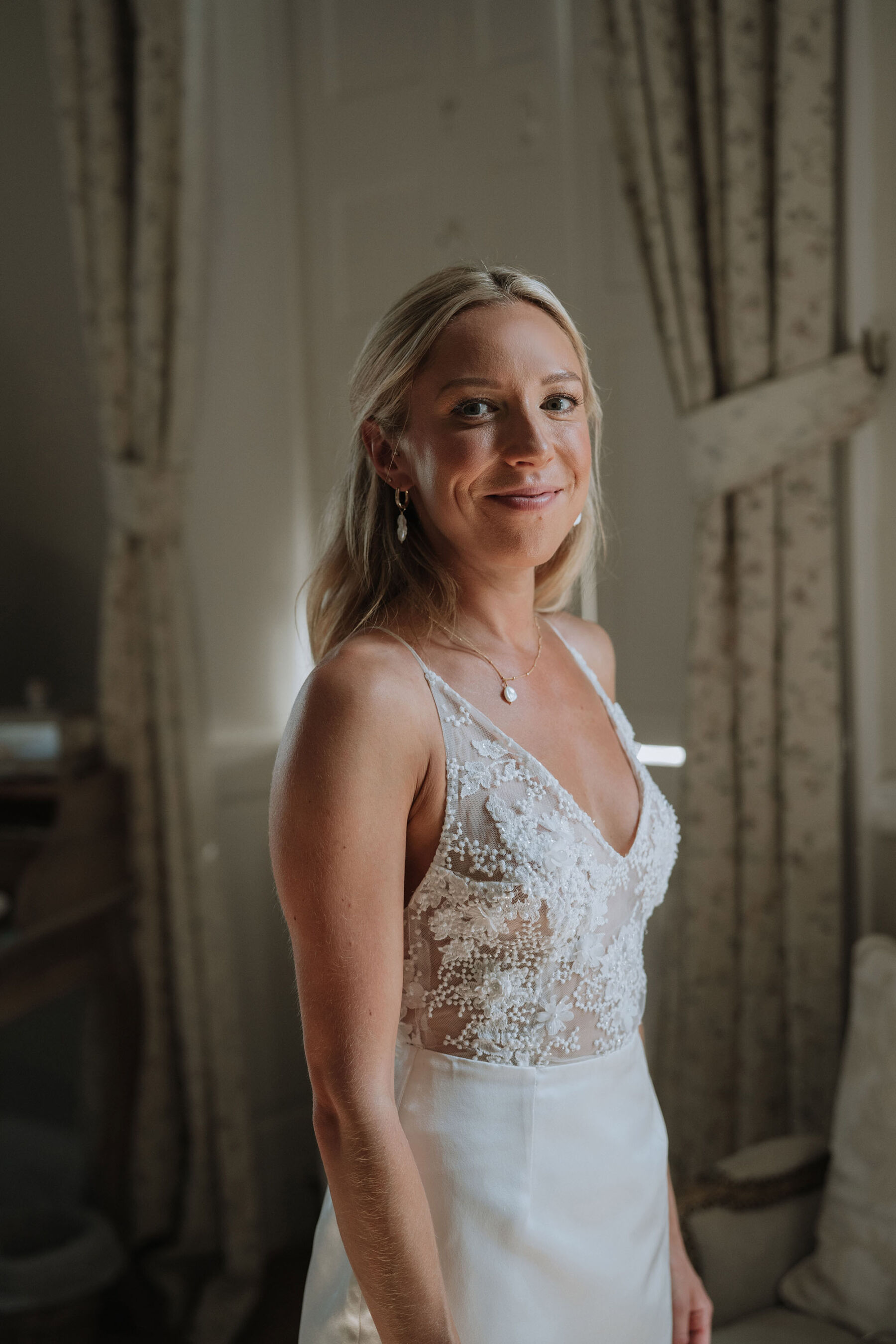 The thing I loved most was that I got two dresses in one! I always wanted to change into something more fun for the later part of the evening and Kerri came up with the idea of a detachable skirt that then revealed a mini dress underneath. It was absolutely perfect – and a lot easier to dance in!
Gypsophila Bouquets
Our florist was Felicity from Briar House Flowers. I was pretty relaxed about these and happy to be led by Felicity.
My colours were green and white and I wanted the bouquets to be loose and relaxed with a bit of a wild feel. I love hydrangeas so they featured a bit (both as plants in pots outside the church and in the bouquets). We included thistles in the button holes as a nod to the Scottish element.
My flowergirl, also my niece, Posy, wore Elfie London and my bridesmaids wore dresses from Pretty Lavish.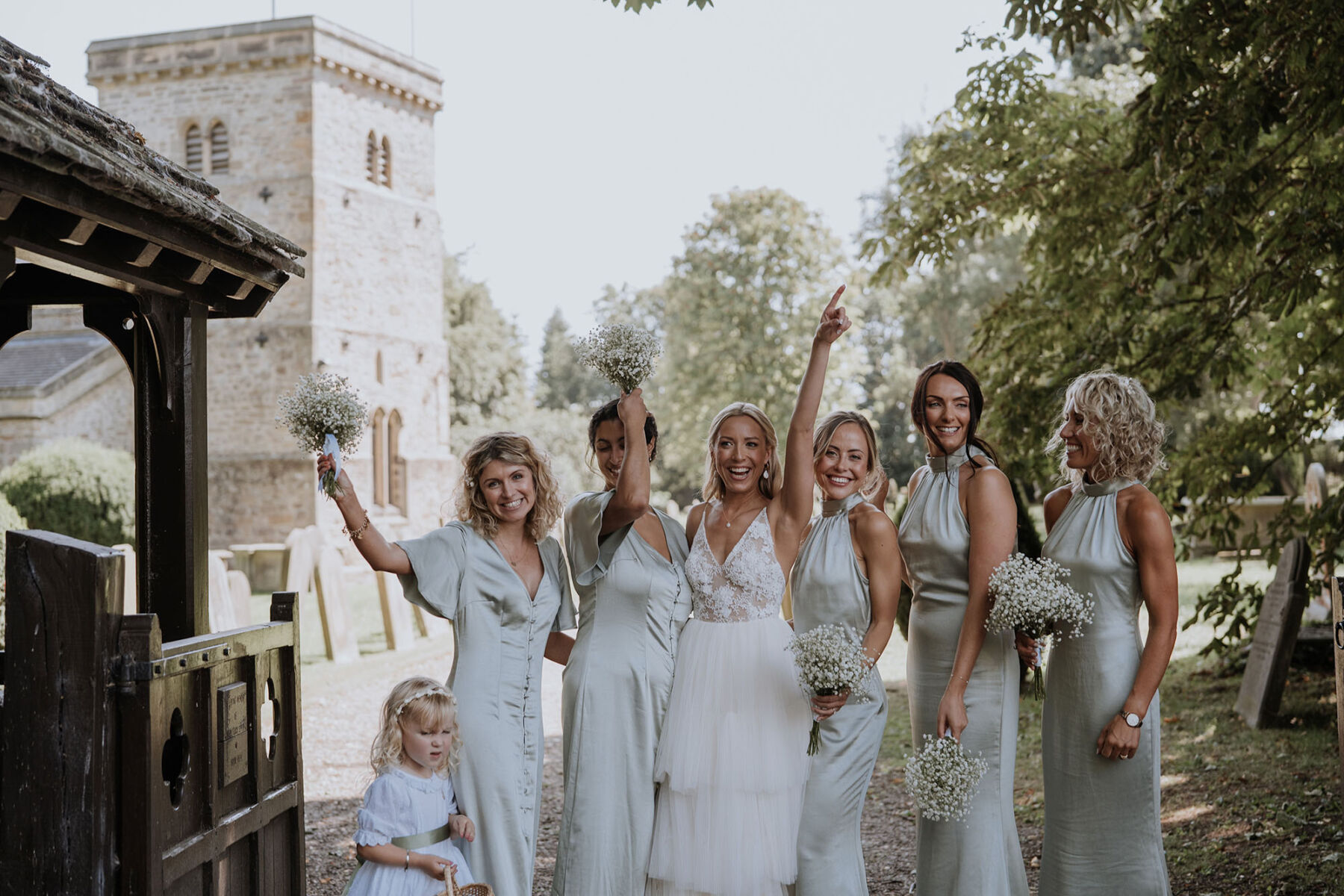 The Ceremony
My Dad drove me to the church in my Mum's Audi TT convertible and Rich drove us back to Middleton Lodge after the ceremony in the same car.
My friends George Hoult (cello) and Finn Downie-Dear (piano) played me down the aisle. They are both extremely talented professional musicians who I'm lucky to call my friends! They played Saint-Saëns – The Swan. A piece of music I have loved since I was a child.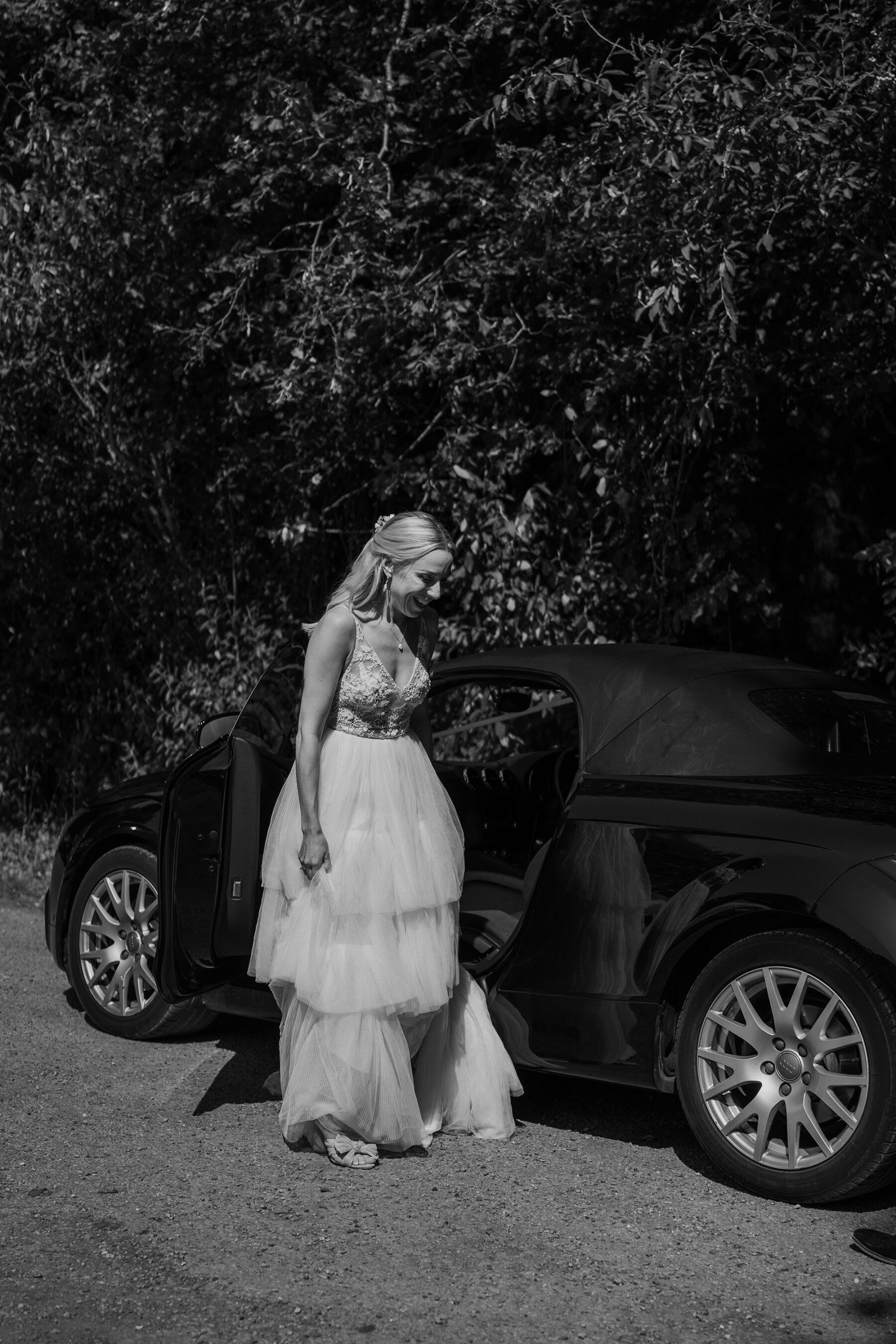 During the signing of the register, my good friend Olivia Warburton (Soprano) performed two songs with Finn accompanying on piano. She performed Fauré's Après un Rêve and Ave Maria by Bach/Gounod.
It was stunning to hear these performed in such a beautiful church and all our friends and family were blown away by our talented friends.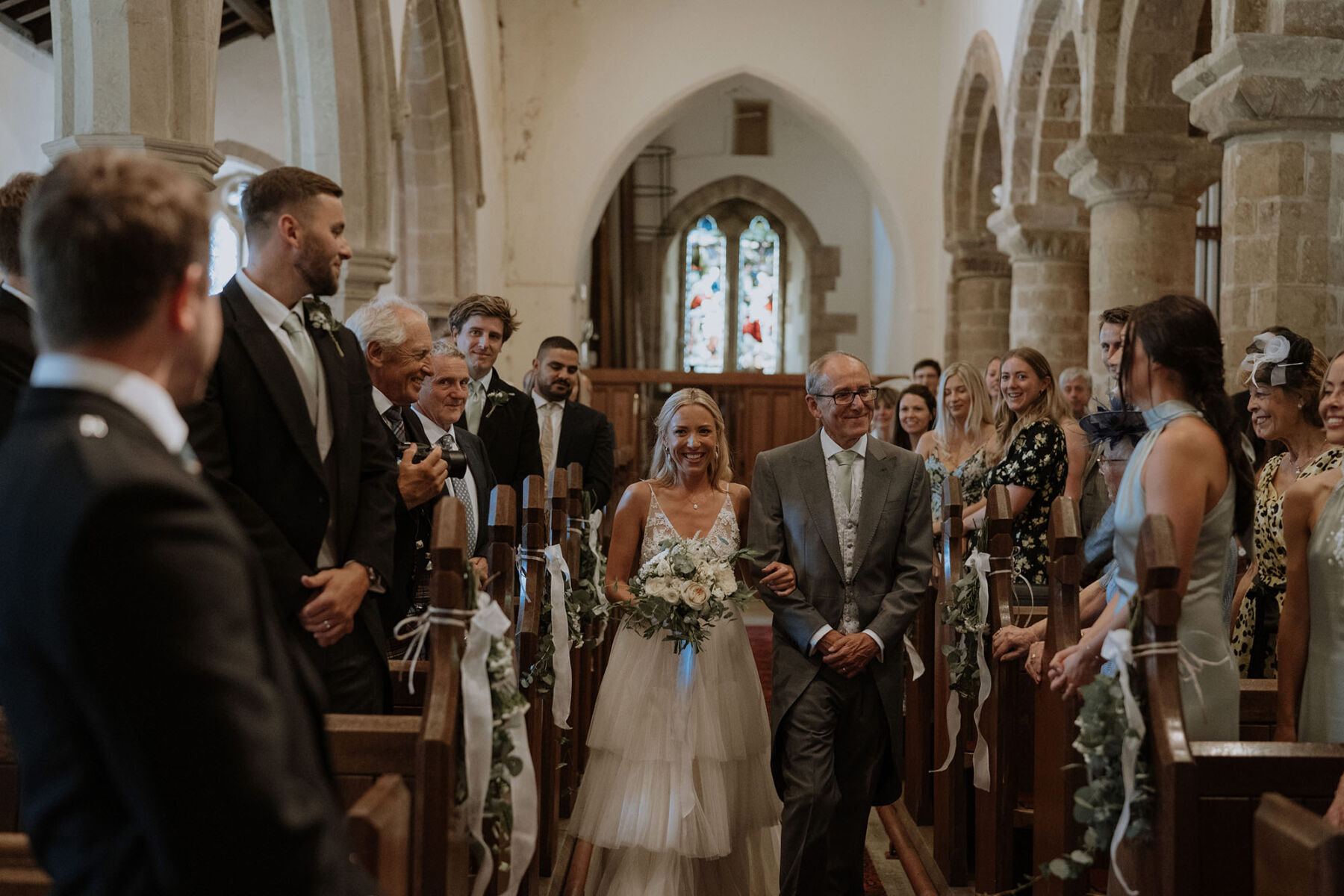 Photography by Georgina Harrison
Our photographer was Georgina Harrison – she was an absolute dream! I did a lot of research into photographers as I historically hate having my photo taken and the thought of someone doing this all day made me feel quite nervous. I was looking for someone who would capture candid, natural shots with a fun and modern style.
I really love the fine-art, editorial style too. Georgina fitted the brief perfectly.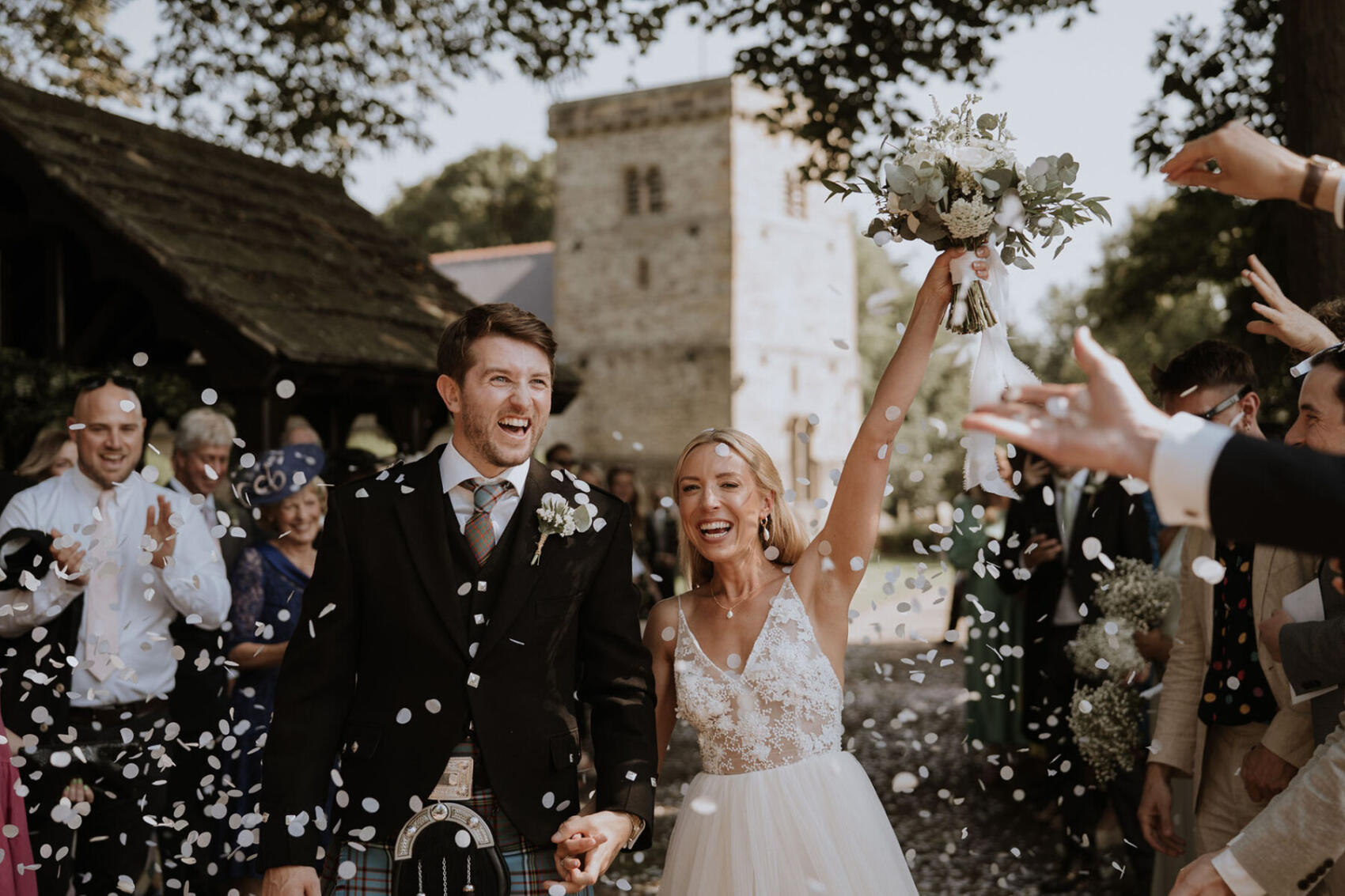 After we had a chat I knew she was the right fit for us as she seemed so relaxed but like she would also give us lots of direction and a bit of hand holding.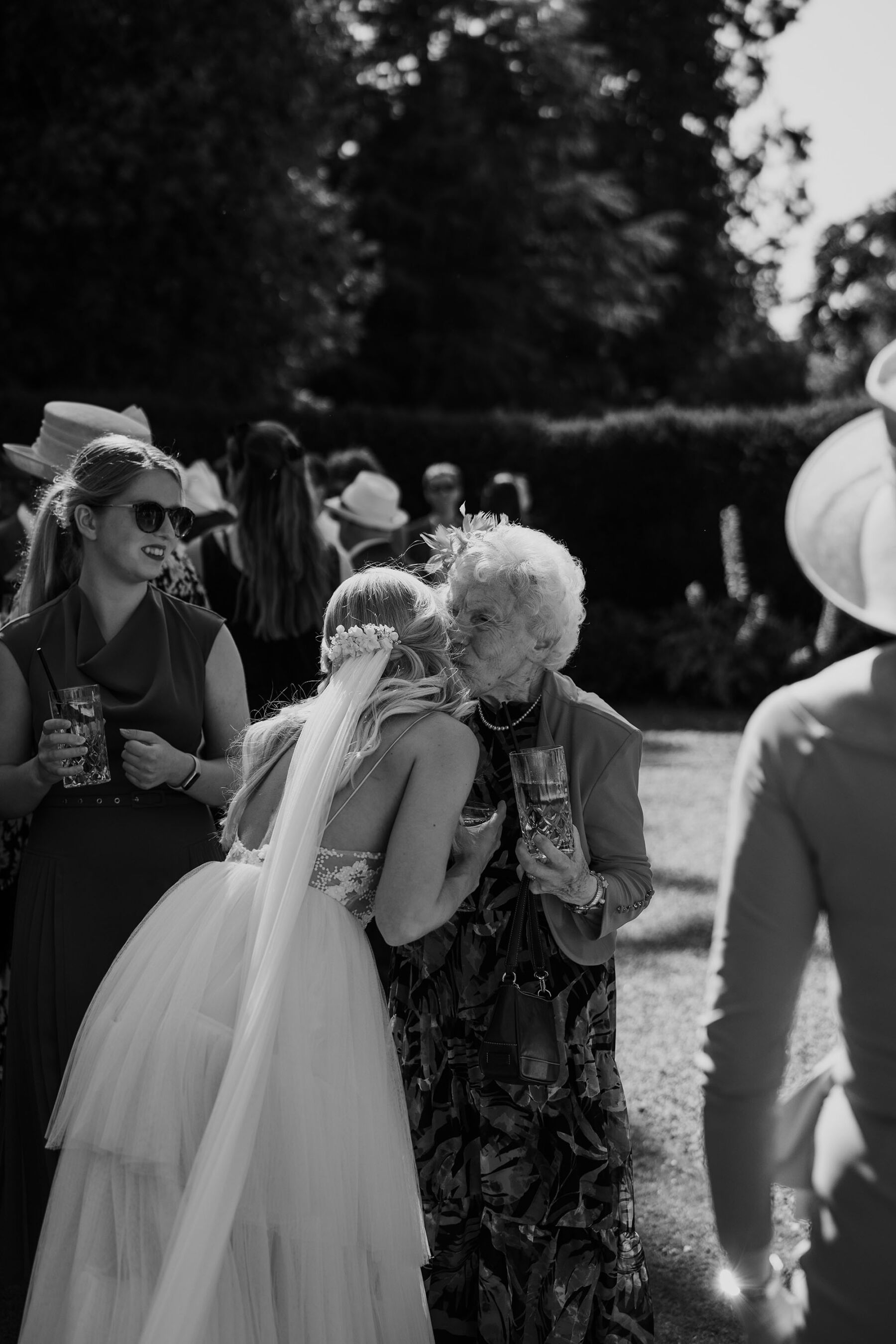 On the day, we were blown away by Georgina. She took charge in a way that we really needed and we felt in completely safe hands. The shots were better than we could have ever expected and she perfectly captured the vibe and atmosphere of the day. She was everything we wanted and much, much more! It felt like we had a friend with us the whole day.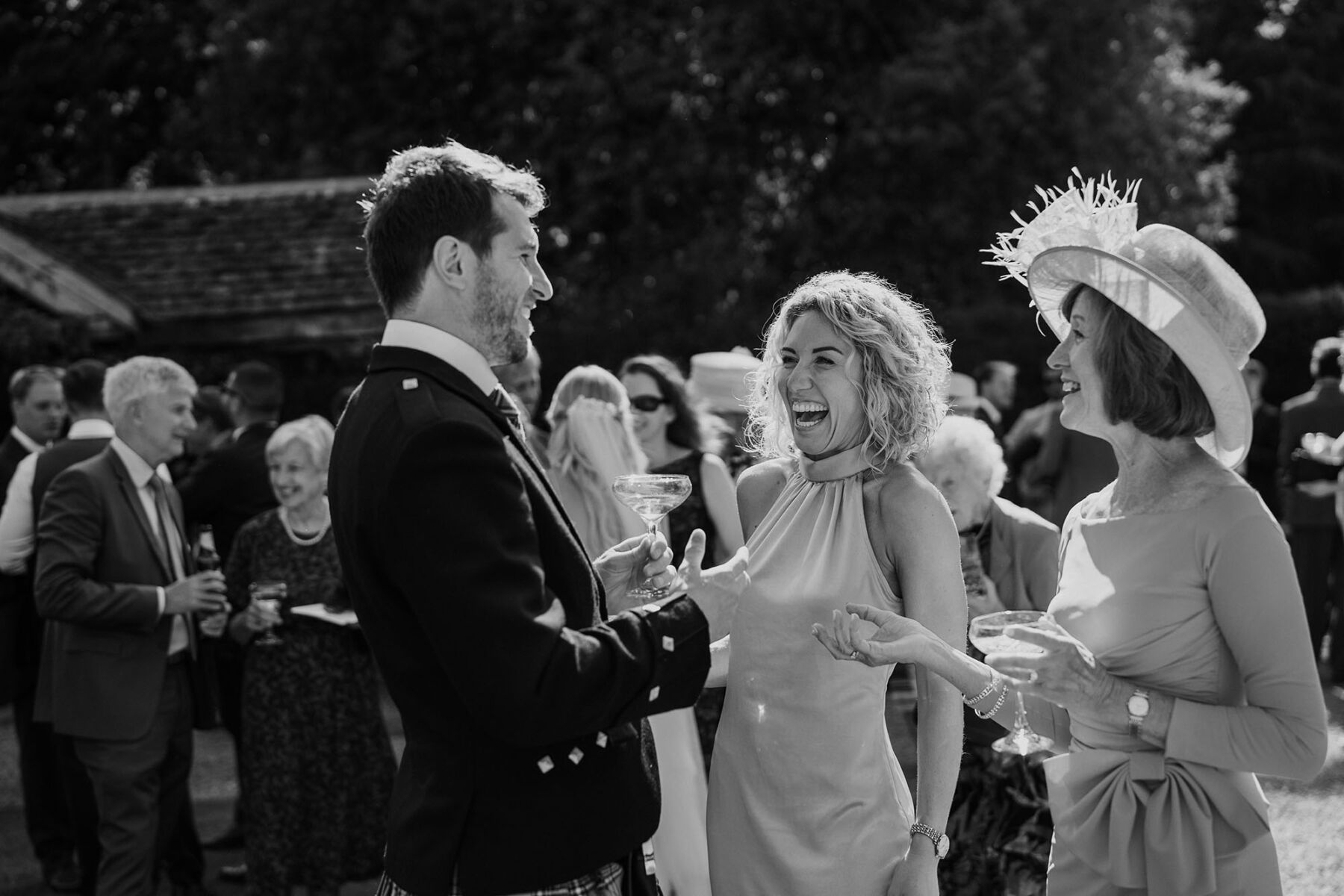 Reception, Detail & Decor
We made the cellar bar into a kitsch disco for the karaoke – balloons, streamers, a backdrop of a disco ball projected onto the wall, props such as wigs, hats, sunglasses, glows ticks, inflatable instruments.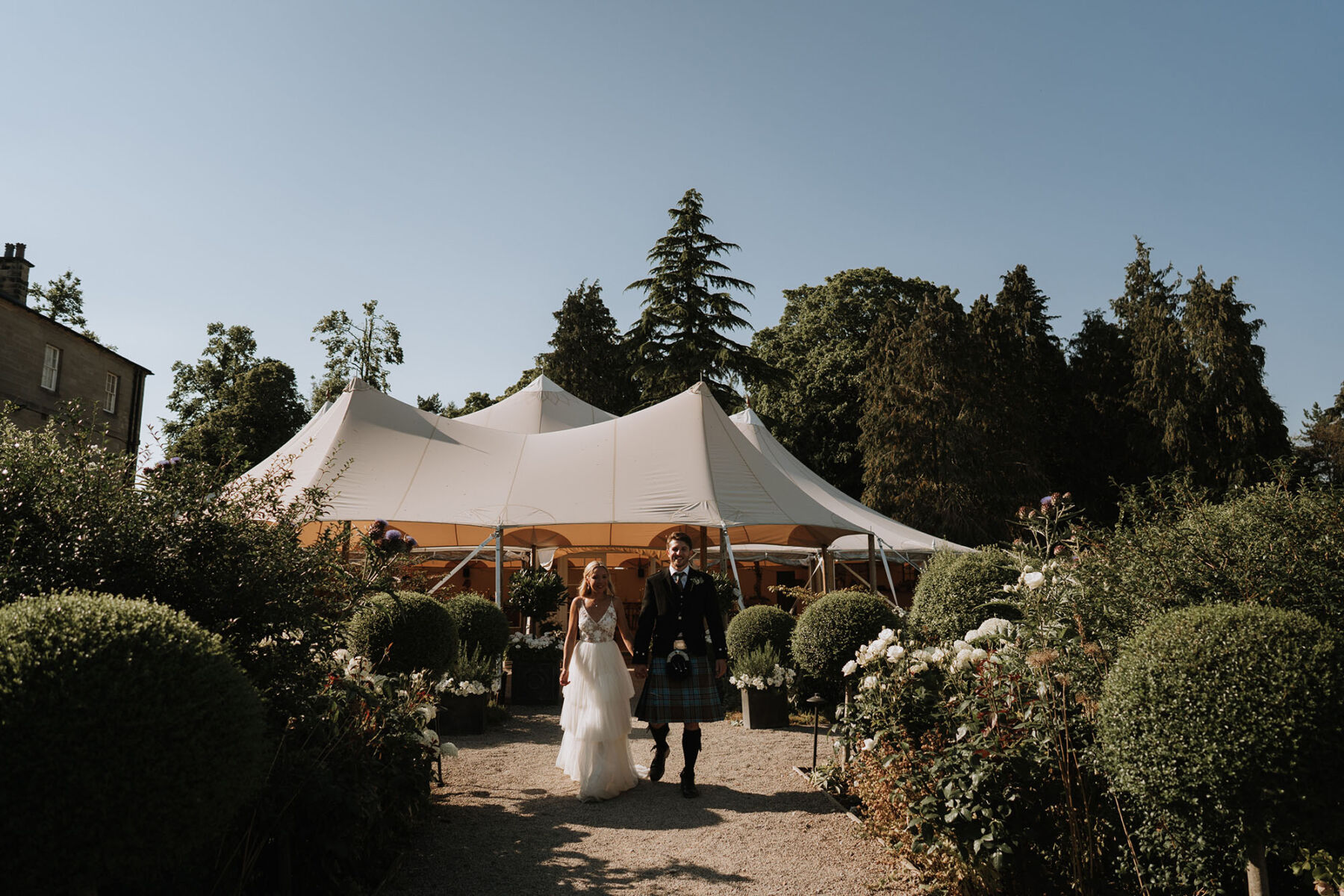 Our Master of Ceremonies and good friend was our compere – we dressed him in a red, sequinned top hat and bowtie. We had miniature trophies for the best performances!
Rich's Best Man generously designed our order of service and table plans, and our place cards were by Peachy Prints on Etsy.
Cakes were made by a local baker called Hannah Whitaker and kindly decorated by Rich's talented sister (and my bridesmaid) Joanne.
How They Met
We met at a Christmas jumper party at a mutual friend's house party 9 years ago. I actually don't remember meeting Rich but woke up the next day to about 12 missed calls from an unknown number, much to Rich's embarrassment. My friends coerced me into going on a date with this mystery man and the rest is history! I also turned up an hour late to our first date so we're both pretty impressed we made it this far.
Rich proposed to me on a road trip to Scotland in 2021, nearly 8 years after we met. We were staying at The Torridon (somewhere I had dreamed of visiting for ages). It was unseasonably fantastic weather so Rich and I went to a private part of the lake for a swim.
It is there (in my swimsuit on a rock) that he got down on one knee. I was so shocked and nervous I couldn't stop laughing!
Evening & Dancing
Our first dance was Sunny by Bobby Hebb, later transitioning into the Disco version by Boney M. We both love this song and you can't help but smile when it comes on. We've spent many a car journey belting this out together. We didn't want a traditional 'slow' dance so this was perfect. My bridesmaid and best friend Fra jumped up with the band when it moved into the disco version and smashed out the violin part in a sequin jumpsuit.
We hired the Manhattan Band (8 piece soul/funk band) for the dancing and a jazz duo (guitar and sax) from the same band for the drinks reception. This was provided by Function Central. They were absolutely incredible! The band was one of the most important things to us and we weren't disappointed. The dance floor was full all night.
In the evening we went down into the cellar bar and did Karaoke from midnight until 2am which was an absolute hit!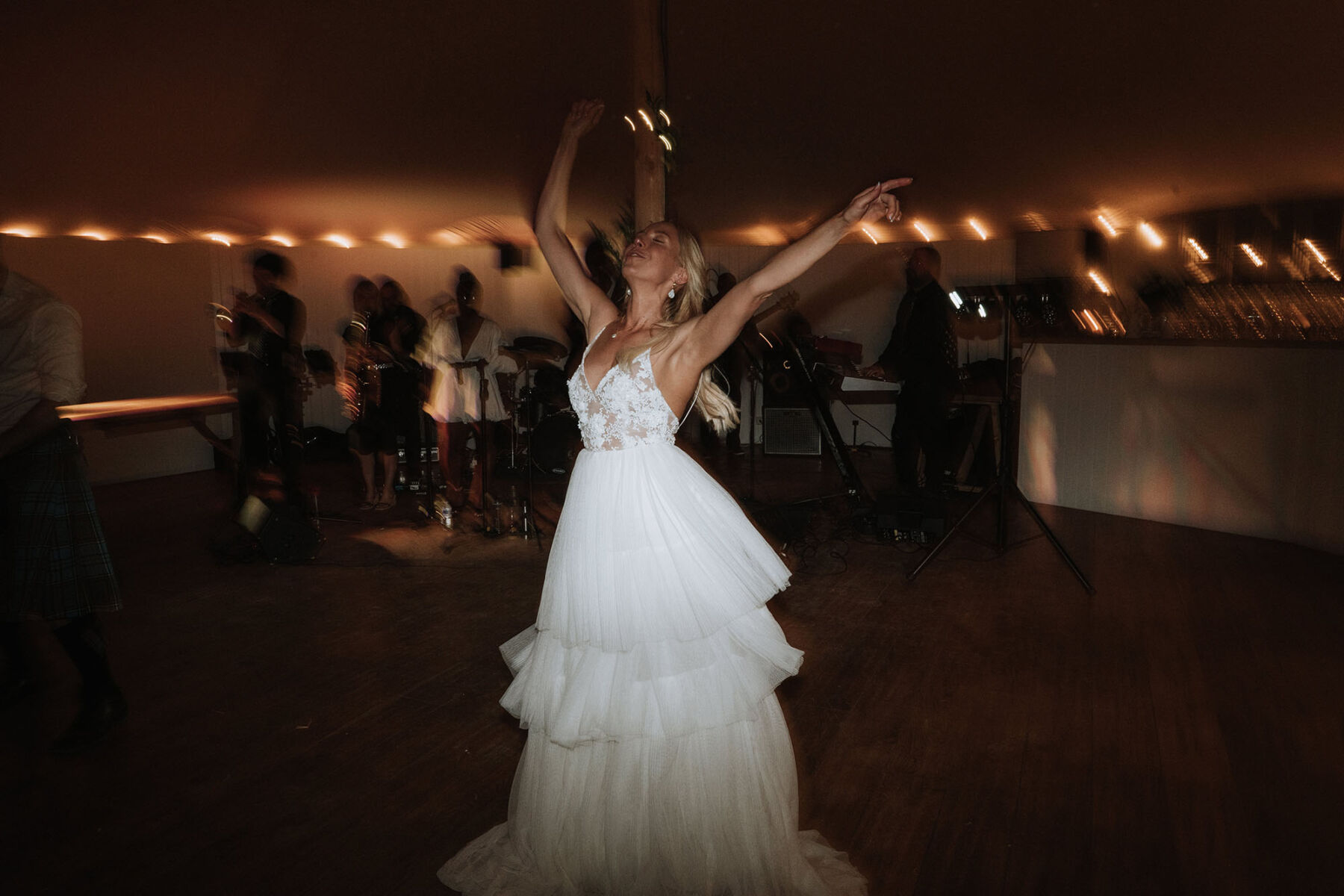 Words of Wedded Wisdom
We did have a budget and compromised on lots of things to stick as close to it as possible. We picked in season flowers, styled things ourselves, bought our own candles, vases, candlestick holders. We didn't hire any cars or a videographer. We sent out email invites and skipped favours. We tried to have flowers we could move from the ceremony to the venue so that they wouldn't be wasted.
We used lots of plants in pots that we could then keep and pass onto family members. But yes, we still went over budget!
It is easy to get hung up on wedding planning as being stressful and time-consuming but try to enjoy this time as much as you can because you probably won't ever have it again. Think about what you want and less about how you will please everybody there. Everyone is just so happy to be there celebrating, they won't even notice the tiny details you are likely to be worrying about.
On the day, try to take as much of it in, in the moment, as you can. It will fly by in a blur and there are so many amazing, special moments that need to be savoured.
If you are driving from the ceremony to the venue, try to do this just the two of you. This was the only time we had alone all day and it is so special to have this time, immediately after you are married to take in what you have just done!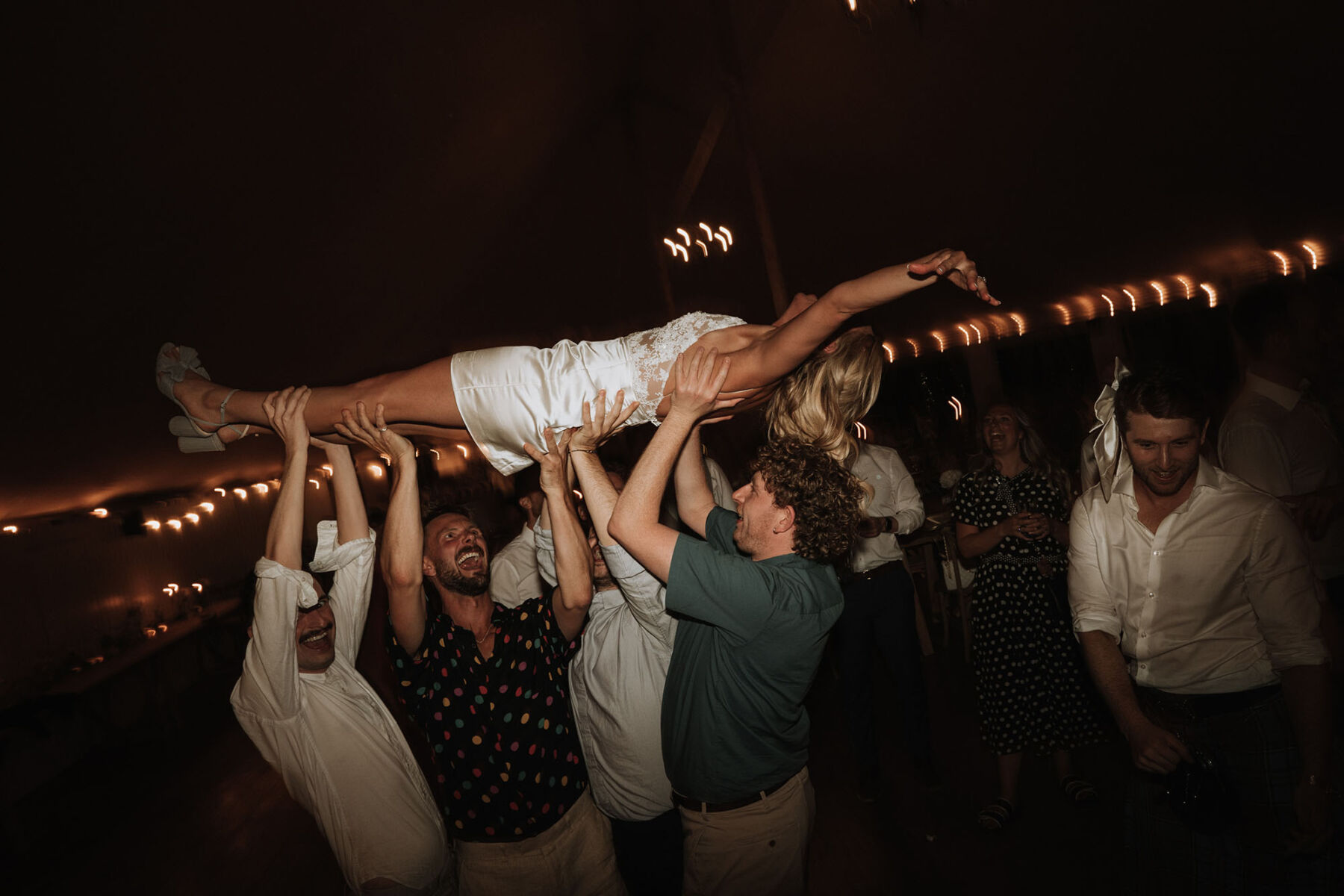 The only thing I wish I had was a recording of the speeches. We chose not to have a videographer for budget reasons but I wish I had asked a friend to record the speeches as it was all such a blur.
Have karaoke. You won't regret it.
And maybe turn down some of the shots people buy you!