Football is rarely just football and footballers are rarely just footballers. Pelé was a brilliant forward, a player of grace and imagination, of explosive pace and extraordinary balance, but that is not why his death on Thursday caused such a widespread sense of loss. Nor is it the three World Cups or the two Copa Libertadores he won. To respond to the question of why Pelé mattered with a list of attributes or medals is to miss the point: he mattered because of what he represented.
But to define what he represented is almost impossible, not least because, particularly once his playing career was over, his capacity to represent almost anything made him an advertiser's dream. He existed in a perfect commercial space, somebody of stature and charisma who was somehow also a blank canvas, capable of promoting almost anything, from Puma to Pepsi, Viagra to diamonds made by heating his own hair under extreme pressure.
That quality means Pelé meant almost whatever anybody needed him to mean. For my generation, slightly too young to have seen him play, he was always the benchmark, the name that defined footballing greatness. "Pelé" was the player your gran who never watched football had heard of, the inevitable hero of Escape to Victory, the name that would be shouted across the schoolyard if anybody did anything especially brilliant.
And of course the name itself in that regard is hugely significant. Would we have been so keen to shout his name had he remained Edson? "Pelé" is memorable. It may be a corruption of "Bilé", a goalkeeper Pelé idolised when he was a child (his own name supposedly derived of an incantation used by the wise women of his village as they gathered around his crib by moonlight, trying to draw him from muteness) but it is perfect branding. Pelé sounds like a more exotic form of "play". It begins with an eruption of energy before moving swiftly into something more lithe and seductive.
Perhaps it is too much to say that with his death went also a lingering fragment of childhood innocence, but the passing of such a constant, of the first global football superstar, of the earliest of what, post-Qatar, it seems appropriate to think of as the Great Trinity, is a milestone to mortality.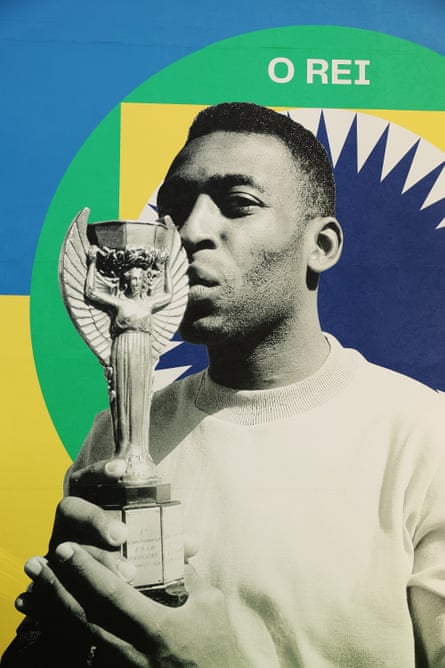 But you didn't have to be born as his career was winding down at New York Cosmos to see Pelé as representative of something purer. He was probably at his greatest in the two-legged final of the 1963 Libertadores, when he overcame brutal tackling to inspire Santos's 5-3 aggregate victory over Boca Juniors. But his most memorable performances, the displays that confirmed him in the affections of the world, came in the 1970 World Cup, a tournament that itself occupies a mythic zone in football's collective memory.
The Pelé legend needed that tournament. In 1958, he had been a 17-year-old coming into the team in the third group game and scoring six goals over the remainder of the World Cup, including two in the final. He was youth, he was joy, he was wondrous promise, but Didi and Vavá were the stars. In 1962 he was injured out of the tournament in the second game. He may have helped win two World Cups, but neither had been his World Cup.
In 1966, the footage of him being led away from the Goodison Park pitch, an overcoat draped over his shoulders, battered and beaten, kicked out of the World Cup by first Bulgaria and then Portugal, became emblematic of the turn football had taken. After the individualism that had characterised Brazil's successes of 1958 and 1962 (underpinned by the radical innovations of zonal marking and a back four as it was), England's victory was rooted in physicality and systematisation. The age of pressing had dawned.
Mexico in 1970 stood against that. It was the first World Cup broadcast by satellite and in colour. There was a magic to the yellow shirts and cobalt shorts, shimmering in the Mexican heat. Everything felt thrillingly modern: the ball, the Telstar, was named after the satellite, its black and white panels still the default for generic representations of a football.
Brazil had prepared by undertaking a Nasa training course. But tactically, Mexico was a throwback. The heat and altitude meant the constant running demanded by pressing had to be tempered. Individualism, a team in effect comprising five No 10s, the greatest of them the one actually wearing 10, for the final time, could thrive. 1970 was Pelé's tournament.
The sense of innocence wasn't just tactical. By 1974, João Havelange had succeeded Stanley Rous as president of Fifa and football was entering its era of commercialism. There was a naivety about 1970, when little was slick and not everything was up for sale, that would come to seem increasingly attractive.
But it was a strange kind of innocence. The Observer's Hugh McIlvanney wrote of Brazil's performance late on against Italy in the 1970 final as representing "a distillation of their football, its beauty and élan and almost undiluted joy … It was not hard to believe they were anxious to say something about the game as well as themselves."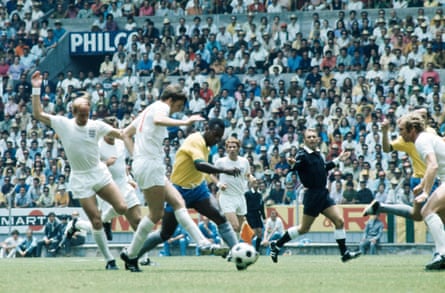 Yet here was a Brazil side that, though no real fault of its own, came to be used for propaganda purposes by the dictatorship of General Emílio Médici. "Mexico 1970" has become a shorthand for that ideal of football, yet Mexico in 1970 was run by the Partido Revolucionario Institucional, which practised torture and extrajudicial killing as a matter of course, and perpetrated massacres of student demonstrators in 1968 and 1971. The dark backdrop was largely ignored; there was an innocence even in the coverage.
And at the heart of those contradictions stood Pelé, the greatest player of perhaps the greatest World Cup, an emblem of something wholesome yet otherworldly, a powerful brand who would himself become in effect a walking billboard, for both products and, less volitionally, for a dictatorship.
The real Pelé? As his 1970 teammate Tostão observed, the real Pelé was the public Pelé, the private Edson long since refined out of existence. He was many things to many people but most of all, perhaps, Pelé represents innocence lost.