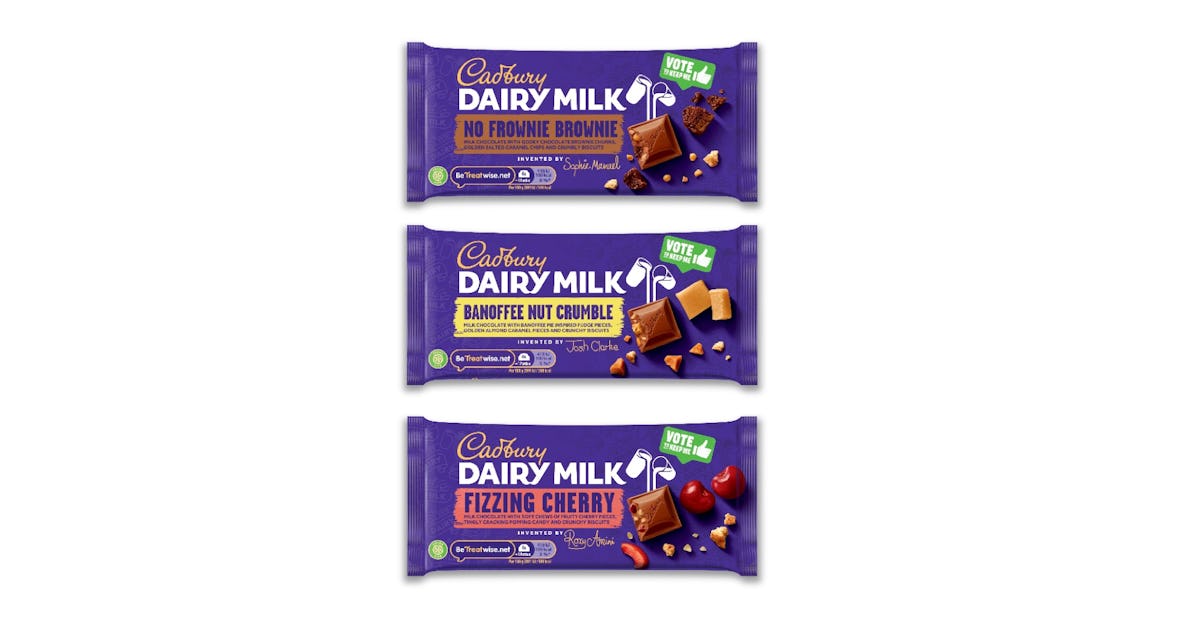 Cadbury is introducing three new flavours to its roster, and will be allowing fans a vote to make one of the delicious offerings permanent. That's right – the Cadbury Inventor contest is back, and it's requesting the assistance of chocolate fans everywhere.
Foodies will be able to choose between three new flavours: Banoffee Nut Crumble, No Frownie Brownie, and Fizzing Cherry, all of which have been created by members of the public.
First up is Banoffee Nut Crumble, which was developed by Josh, a 31-year old father from Birmingham. The bar is made using a delicious combo of milk chocolate with banoffee pie inspired fudge pieces, golden almond caramel pieces, and crunchy biscuits. Josh said he came up with the idea to combine all of his favourite desserts in this bar, which sounds like it could be a winner.
Next is 19-year-old Sophie's No Frownie Brownie, which as its name suggests is a milk chocolate bar with gooey chocolate brownie chunks, along with salted caramel chips and crumbly biscuits. The Scotland native invented her bar as an ode to her mum's favourite baked good: the humble brownie.
Lastly in the line up is Fizzing Cherry: a fruity delight made by 34-year-old civil engineer Roxy, who wanted to make cherries a year-round favourite, rather than just a summer fruit. Her chocolate features milk chocolate with soft cherry pieces, tingly cracking popping candy and crunchy biscuits.
Those wishing to declare their winner will have until September 5 to do so. Simply cast your vote at cadburyinventor.com and await the results later in September.
Each bar of chocolate costs £1.49 and is available at all major retailers plus cadburyinventor.com