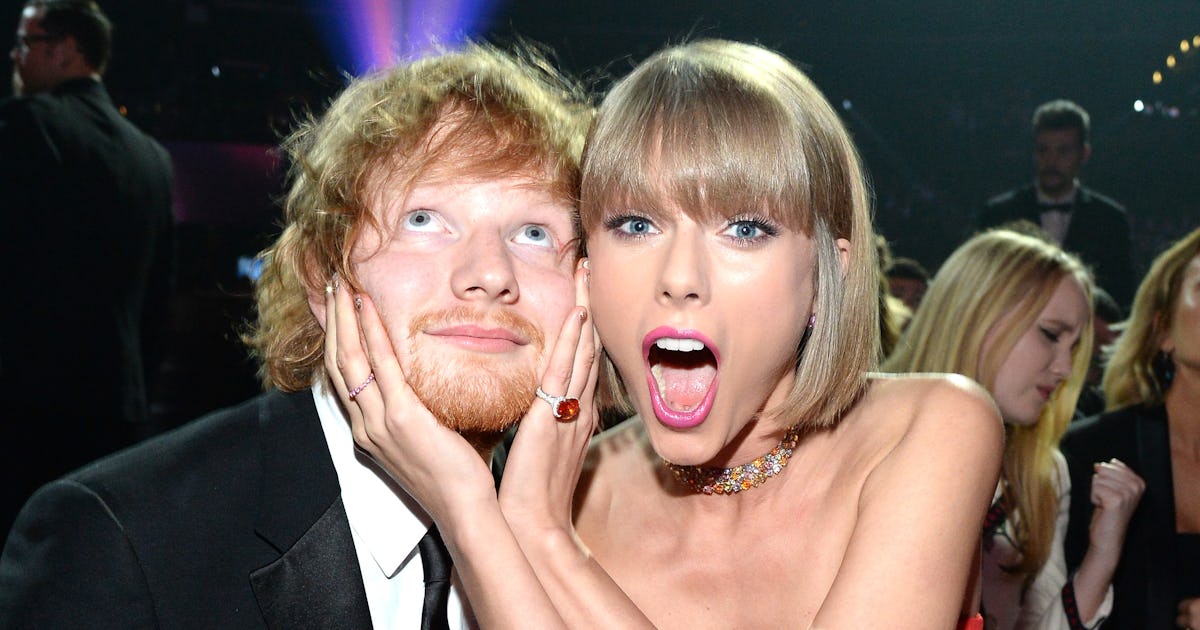 Ed Sheeran's glittery vampire alter-ego has officially received the Taylor Swift seal of approval. The prolific pop star praised her long-time friend and collaborator via Instagram stories, reposting a clip of Sheeran from his new "Bad Habits" music video and captioning the story, "It's Ed and it's glitter so it's a yes for me." Swift and Sheeran have famously been tight since 2012 when they started their co-writing journey together, and they have been making hits together ever since (Siri, play "End Game" by Taylor Swift featuring Ed Sheeran).
But it's not all work and no play — the pair surprisingly have a deeper relationship than just making music. In true supportive friend fashion, Swift played wing-woman to Sheeran back in 2015. "Well, our anniversary is her 4th of July party," Sheeran once said about his wife Cherry Seaborn, who he started dating at Swift's infamous Independence Day party in Rhode Island. "I went to Taylor's 4th of July party. I was texting [Seaborn], and she was like, 'I'm in Rhode Island at a 4th of July party,' and I was like, 'So am I.' I kinda said to Taylor, 'Can I invite one of my old schoolmates?' The rest is history."
This is not the first time Swift has enthusiastically shared her support of Sheeran's music, and it's likely she got her ears on the track long before fans did. Back in 2016, in a now-deleted Instagram post, she put their BFF connection on full display, while acknowledging his behemoth hit "Thinking Out Loud." In the caption, which she wrote for his birthday, she said, "Looking back on the highlights of my life, there's a moment I'll never forget from a day in London about two years ago. My friend Ed Sheeran met up with me in this little shop where I was buying ballet shoes. He walks in and says, 'You have to hear this new song. I think it's the best one I've ever written.' And then, as usual, he pulls out his phone and gives me headphones. I sat there on a bench in that store and heard 'Thinking Out Loud' for the first time."
The tear-inducing post continued: "Little did we know it would go on to be first dance song at countless weddings all over the world, become Ed's biggest hit, and eventually go on to win him Song of the Year at the 2016 Grammys. Ed and I had been on tour together all year on the Red Tour and we saw each other almost every day. I lived for the moments he would burst into my dressing room with a new song to play me. It happened so often that it became normal, and I don't think he ever knew how much it meant to me that he wanted me to hear his songs first. I don't think he ever knew how inspired I was by his drive and passion to constantly create new art."
"Bad Habits" is Sheeran's first single since the release of 2019's No.6 Collaborations Project, and fans seem on board for what promises to be a new era from the global star. In the dark and humorous music video for the track, Sheeran rocks a bright pink suit, glitter around his eyes, and bright white fangs, as he takes on the night with a crew of ghouls, before morphing back into himself the next morning.
"Feels great to be back with my new single," Sheeran shared in a statement. "I wanted the video for 'Bad Habits' to play on the nature of habits in a fantastical way so I decided on vampires. It was mega fun getting into character except for the heights (that wasn't so fun)."