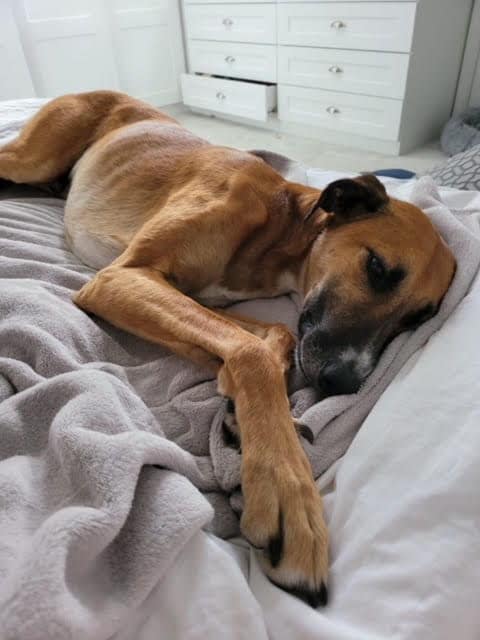 Hello, everyone! My name is Rufus and I am a delightful 18 month old male Lurcher. I am neutered, microchipped and vaccinated. I have been my foster family's first charge and they say that I have been a 'model foster first' (I suspect they are talking about my gorgeous looks as well as my temperament!). Before you fall in love with my gorgeousness, please read the following criteria which is essential in finding me my perfect furever home: I need someone who is home most of the day (I would not like to be left more than 2/3 hours). I need to live with another confident and playful dog as I thrive in their company. I need a good-sized, secure garden where I can do lots of zoomies! I can live with children over 5 years. I cannot live with cats.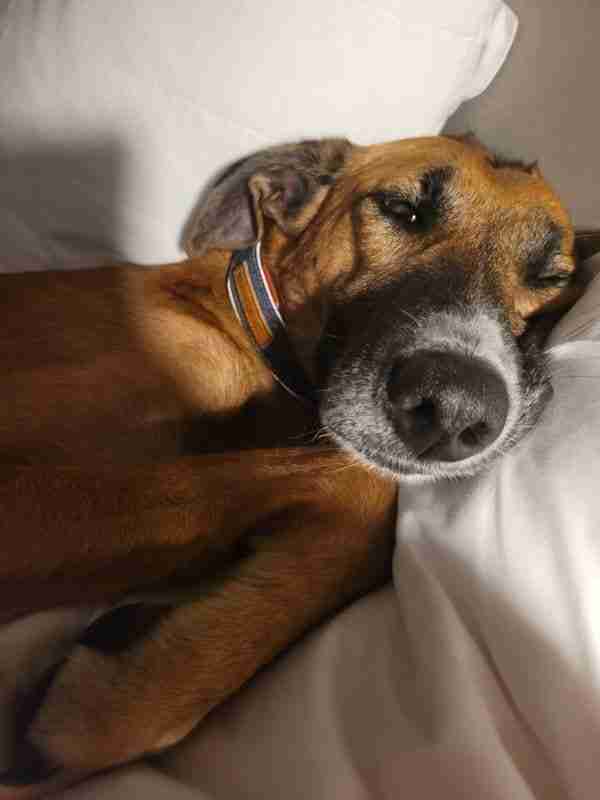 All potential adopters need to live within 60 minutes of our rehoming centre in Dartford. Now that you know the essentials, let me tell you all about myself! I am the most laid-back dog you could meet. When I am resting in one of my many sleeping spots, you can touch me, play with my paws, my ears and I will not move because I am too busy chilling!! That is not to say that I am always Mr. Relaxation though: I LOVE to play!
I loves doing zoomies in the garden and regularly go out there of my own volition to run and leap about like a loon!! My foster parents say that I am really entertaining! When I have worn myself out, I go back to chilling in the sunshine. I also love grabbing my ball and playing with it. I have not met children in the foster home but my foster family think that I would love a game of footie with older children. As I am a bit of a giddy, boisterous muppet in play, I probably would knock over tiny humans over without malice, so a home with older children would be more sensible (12+).
I have been living with a gorgeous Staffy girl in my foster home and I love playing with her. In fact, my foster family say that I copy some of her behaviour which is really funny to watch! I absolutely ADORE other dogs and want to engage with every single one that I meet! It would be really beneficial for me to have another playful friend in my new home.
I am really good on the lead and do not pull, unless I see another dog and then I want to PLAY! If the other dog is off lead, comes up to me and wants to engage me in play, I would happily bound off with them! However, as I'm still a bit of a doofus about responding to my name (Rufus the Doofus), my foster family have not done any formal recall training yet. Therefore, in order to manage these excitable situations at the moment, I am best walked on a short lead so that my foster family can control my giddiness!! However, in calmer situations, I have been walked using an extendable lead to give me more freedom (and I trot like a pony!).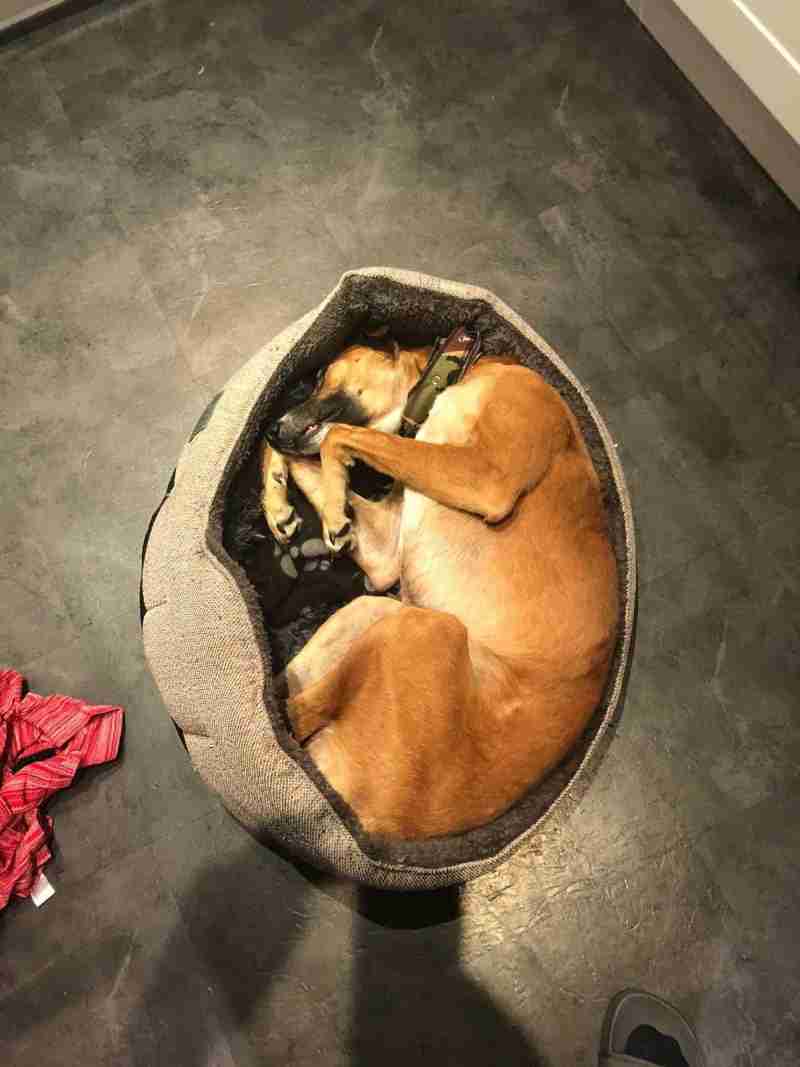 My foster family say that there needs to be careful management and understanding that if I see something of interest, I am focused on it and would be off to investigate (and this includes potentially scaling a 6 foot fence!). Therefore, I cannot be let off-lead until my recall is as solid as possible and I need a secure garden with at least 6ft fencing.
I absolutely love being with my 'fam' and follow my foster mummy like her shadow. However, as long as there is 'someone' with me whilst I'm napping on the sofa, I'm happy to be with them. When I want attention, I will walk up to you and stand there until you pet me. I LOVE my chin being scratched and I quite like having snozzle kisses from my foster mummy!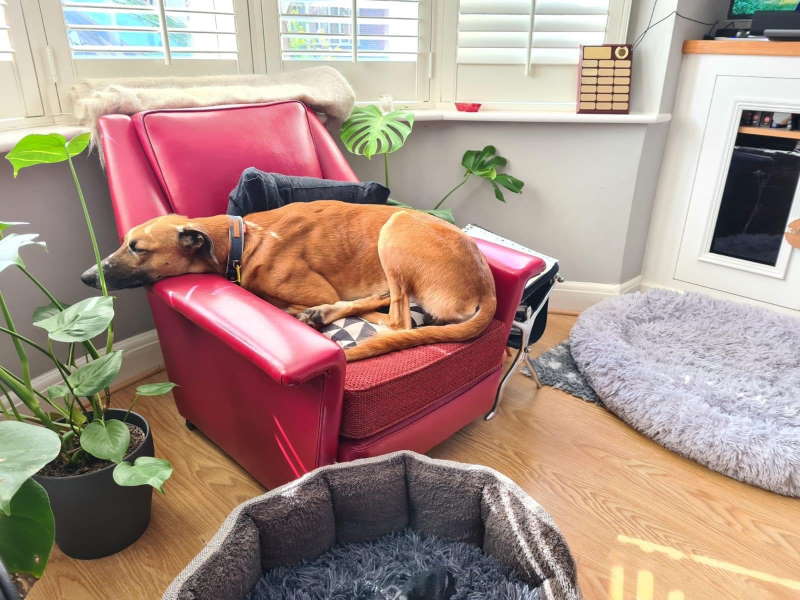 Talking of furniture, if there is a bed, sofa or chair close by, blink and it's mine!! If you have an issue with 'dogs on the furniture', I am not the right doofus for you! In true sighthound-fashion, I love to sprawl out and get comfortable so don't expect to have much room left! However, I have been known to curl into a ball on occasions in my foster sister's bed.
My foster family say that I do not seem to have much of a prey drive (which is untypical of my breed!). I have seen small dogs, cats, ducks, birds, little children and I do not pay any attention to them. However, based on my sometimes giddy nature, my friends at SEDR think that I would be a little too much for a cat.
My foster family tried to introduce me to sleeping in the kitchen in my crate (the crate door was open but the kitchen door was closed). Whilst I seemed content for the first few nights, on the third night, I started singing the song of my people, my foster family gave in and gave me the run of downstairs (and the sofa!) which I loved! They tried to contain me again the next night but call me 'Houndini' because I opened the kitchen door!! ? Therefore, whilst I probably would sleep in a designated place with time and patience, I prefer 'free-range' sleeping.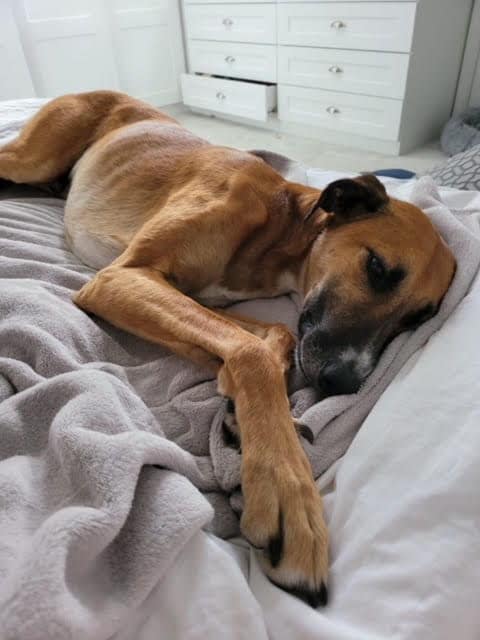 I have been largely successful with house-training but have had two 'incidents' in my foster home. The first time, my 'fam' were not home so I got a little confused about where to pee. However, on the second occasion, I 'watered' my foster parents' plant in their bedroom (it looked dry! Honest, Guv!). Therefore, the fam keep a watchful eye when I wander off on my own.
My foster mummy says that I am the nosiest dog that she has ever met. I stick my nose everywhere and want to smell EVERYTHING!
I love my food but do not leave it in my reach or 'Bye Bye' cheese sandwich! I have happily jumped up on the kitchen counter and ate my foster sister's dinner (as well as my own!). Tee hee! However, I have shown no aggression whatsoever around food.
My foster mummy says the following about me:
Everyone who meets this boy loves him, our friends, family, other dog parents, the vets: he really just has the perfect temperament. He is gentle, calm, affectionate and so funny. Whoever gets to give Rufus a Furever home will be very lucky indeed.
Therefore, if you think you can offer me, Rufus the Doofus, a perfect furever home, please fill in a rehoming form.
Now, it's time to do a zooooooomie!