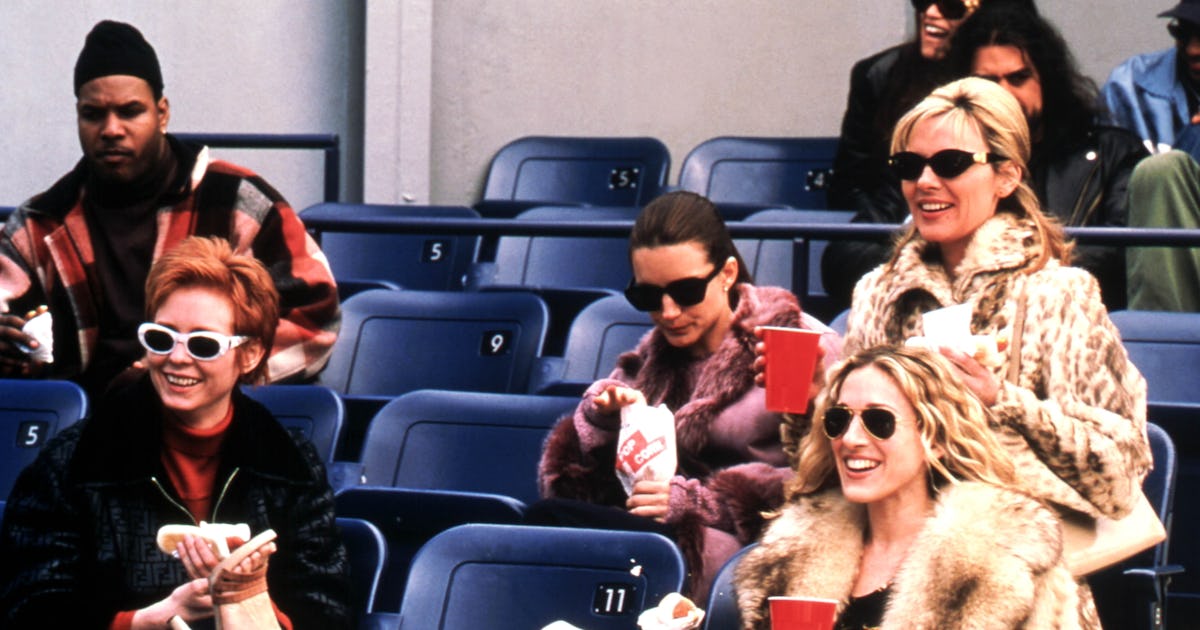 The Sex and the City reboot probably won't air until late 2021, and when it does it has some big shoes to fill. The original series, which ran on HBO over six seasons from 1998 to 2004, has already spawned two commercially successful movie spin-offs — the first grossed $415 million worldwide, while the latter managed $294 million — though this time the show has to cope without the return of Samantha, played by Kim Cattrall. Much ink has already been spilled about whether the show can do so effectively (some think yes, others say no), but perhaps it doesn't matter either way; there are plenty of great shows like Sex and the City on Netflix that serve the show's quintessential blend of friendship, glamour, and romantic mishaps.
On this list you'll find other shows written by SATC creator Darren Star, who was little involved in the final few seasons of the HBO original and found the resolution with Carrie marrying Mr Big rather unsatisfying. "I think the show ultimately betrayed what it was about, which was that women don't ultimately find happiness from marriage," Star said in The Kindle Singles interview. Besides that, there's plenty of friendship drama, A-plus fashion and yes, lots and lots of sex.
Emily in Paris
This Netflix original series was created by Star, so in many ways it has a very similar vibe. It stars Lily Collins as the titular Emily who moves to Paris to take a new PR job. She's woefully out of place in her new city, and she's also kind of oblivious to how ridiculous she is — not at all unlike Carrie. If you loved the Paris episodes of SATC, then you'll love that this whole series takes place in the romantic city, and you'll also love that the fashion is particularly jazzy, since it was costume designed by Patricia Field. In fact, Field told Fashionista in an interview that, "For me, Emily in Paris in certain ways was an elongated version of Carrie in Sex and the City. It's about an American in Paris. Paris is the place for passion. Paris is exciting." In fact, so enamored is Field with her new gig that she will not return to work on the SATC reboot so she can focus on the costumes for Emily in Paris season 2.
New Girl
If Emily in Paris strikes the fashion note from Sex and the City, Fox's New Girl's strikes a different note entirely. Instead of four successful ladies living their dreams in NYC, this is a cast of roommates who are trying to survive and thrive in Los Angeles. Yes, Jess (played by Zooey Deschanel) wears some cute dresses and headbands, but at its heart this is a show about friendship, love, sex, and the sacrifices one makes to keep all those things in one's life. It's also laugh-out-loud funny, thanks to Deschanel's brilliant co-stars Jake Johnson, Max Greenfield, Lamorne Morris, and Hannah Simone. There were seven seasons in total, running from 2011 to 2018, so there are 146 hours to work through, including a will-they-wont-they finale that fans of Carrie and Big will enjoy.
Girlboss
If you've ever rewatched Sex and the City, then you've probably noticed that Carrie is quite an unlikeable lead character, even though you root for her and want her to win. Well, so is Sophia in Girlboss, except unlike in SATC, this was far more intentional. "I think that's sort of the point to the show, to be honest with you," said Britt Robertson, who played Sophia for the show's one season run on Netflix, in a previous interview with Bustle. "She's not a traditional female heroine. But, you know, I think it's all fair. You can feel however you want to feel about the character." Sophia is a fashion entrepreneur who finds herself jobless, broke, and behind on her rent, until she buys a jacket on eBay and turns a stunning profit ($9 to $600, if you must know). She then sets up her business and, well, it turns out she's kind of a sh*tty person. However, it's still a super fun watch if you just accept that you're going to be yelling at your TV when she keeps messing up.
Grace & Frankie
If Sex and the City had kept going and we watched the characters grow old together, it may well have turned into the titular characters of Grace & Frankie. The Emmy-nominated Netflix original follows the aftermath of two women's marriages falling apart when their husbands, who are also work colleagues and best friends, leave them for each other. What comes next is an unlikely but sweet friendship between the uptight Grace (Jane Fonda) and the hippy Frankie (Lily Tomlin). Together the two commandeer the beach house which the two couples previously shared, turning it into their own domain, where they date cute, younger men and eventually create their own lube and launch a vibrator line for seniors. Is that not absolutely something that Samantha would do? Watch all six seasons on Netflix — the seventh and final season is delayed as filming was halted due to COVID-19 — to find out.
Schitt's Creek
Here is a show where the fashion game is totally on SATC's level, though it's a little less earnest in how it's talked about on the show itself (yes there will be cooing over clothes, but there will also be mocking about said cooing). Nevertheless, style is still a big part of the show's six season run, which saw them nabbing nine Emmys in their final season. "Wardrobe is probably the most important element in storytelling, outside of actually writing," WWD quotes Dan Levy as saying in a behind-the-scenes special. In the same interview we also learn that Daphne Guinness served as the inspiration for Moira Rose's style, played to Emmy-winning perfection by Catherine O'Hara (who also personally suggested all the wigs), while Annie Murphy's character Alexis Rose wore a mixture of Isabel Marant, Celine and Chloé. Besides the fashion, the show focuses on yet another cast of unlikeable characters that you just can't help but love despite their many, many flaws. Sound familiar?
Girlfriends
This eight-season show came out in 2000 — just two year's after the release of the first season of Sex and the City — and it has a ton of similar themes. Set in Los Angeles, it shares the stories of a group of Black women as they navigate friendship, love, and career with each other by their sides. Among the cast is Tracee Ellis Ross, who earned a BET Comedy award in 2005 for Outstanding Lead Actress in a Comedy Series thanks to this show. There are some 172 episodes of the show from its 8 year-run, which was partly shaped in reaction to the limitations of SATC. "When I saw Sex and The City, I didn't see myself represented," show runner Mara Brock Akil told Vibe in 2015. "Also, the type of shows that were on for black people were more like family sitcoms. I wanted to do sophisticated [shows] for young adults."
Grey's Anatomy
At first glance, Grey's Anatomy might appear to be a category in its own right, but when you break it down it's another show SATC fans will like. If you haven't already watched it, what have you been doing instead? And even if you have watched it, with 16 seasons to go through, a re-watch will probably uncover storylines you totally forgot about. Plus, for fans of the sex in Sex and the City, the Emmy-winning show has plenty of steamy hookups and nicknames for love interests (McSteamy and McDreamy, anyone?). Plus, there are lots of close friendships — this is the show that coined the expression "my person" — and a dose of heart-racing medical drama. Everything a good TV series needs.
Girlfriend's Guide to Divorce
Self-help author Abby (Lisa Edelstein) sees her career falter when she announces that she and her husband are separating. Good thing she had a great group of friends to turn to when the going gets tough. Like Sex and the City, Girlfriend's Guide to Divorce was a book first, namely The Girlfriends' Guide series written by Vicki Iovine. Ironically, Iovine never actually wrote about divorce — her books were more about motherhood — though that didn't stop the series clocking up a five season run with Girlfriends' Guide to Freedom, Girlfriends' Guide to Bossing Up, and Girlfriends' Guide to Ever After in seasons three, four, and five, respectively.
Bridgerton
Gossip, romance, betrayal, steamy sex scenes — Bridgerton is just a period drama version of Sex and the City. Like Sex and the City, which was inspired by the columns of Candace Bushnell which had been assembled into an essay collection from which the show takes its name, Bridgerton has its own literary inspiration courtesy of Julia Quinn. The first season of the show was based on Quinn's book The Duke and I, and tells the story of scheming mothers and marriage through the experience of Daphne Bridgerton (Phoebe Dynevor), a young woman who needs to get married soon, and Simon Bassett (Regé-Jean Page), the Duke of Hastings. The show, which is set in Regency England, is produced by Shonda Rhimes, and features the kind of hot and heavy scenes Samantha would be proud of. There's currently only one season of the show on Netflix, but the second is already in production. You just know if this show came out in the SATC-verse, Charlotte would be totally obsessed with it.
Jane the Virgin
Okay, this show is a little more dramatic than SATC ever was, since it borrows from the telenovela style of storytelling. The starting premise is that Jane, a 23-year-old virgin from Miami, falls pregnant after she is accidentally impregnated by her gynaecologist. But it has one of those classic Big or Aidan-esque TV love triangles that will divide you and your friends between those who think Jane (Gina Rodriguez) should end up with Rafeal (Justin Baldoni) or Michael (Brett Dier). Full warning: your opinion will even switch between episodes and you too may well become hooked like Miranda became to Jules & Mimi, a sadly-not-real British sitcom.
Easy
Sex and the City was mostly about sex (duh), and so is Easy. The three-season series created by Joe Swanberg is made up of star-studded anthology episodes set in Chicago, like the infamous Season 1, Episode 6 where Orlando Bloom and Malin Akerman play a couple looking for a threesome to shake things up in the bedroom. If you found SATC a little too heteronormative, then Easy offers a much more inclusive look at sex and relationships with queer couples featuring outside of the Gay Best Friend trope. Other episodes star Dave Franco, Marc Maron, Jake Johnson, Gugu Mbatha-Raw, and more.
This article was originally published on