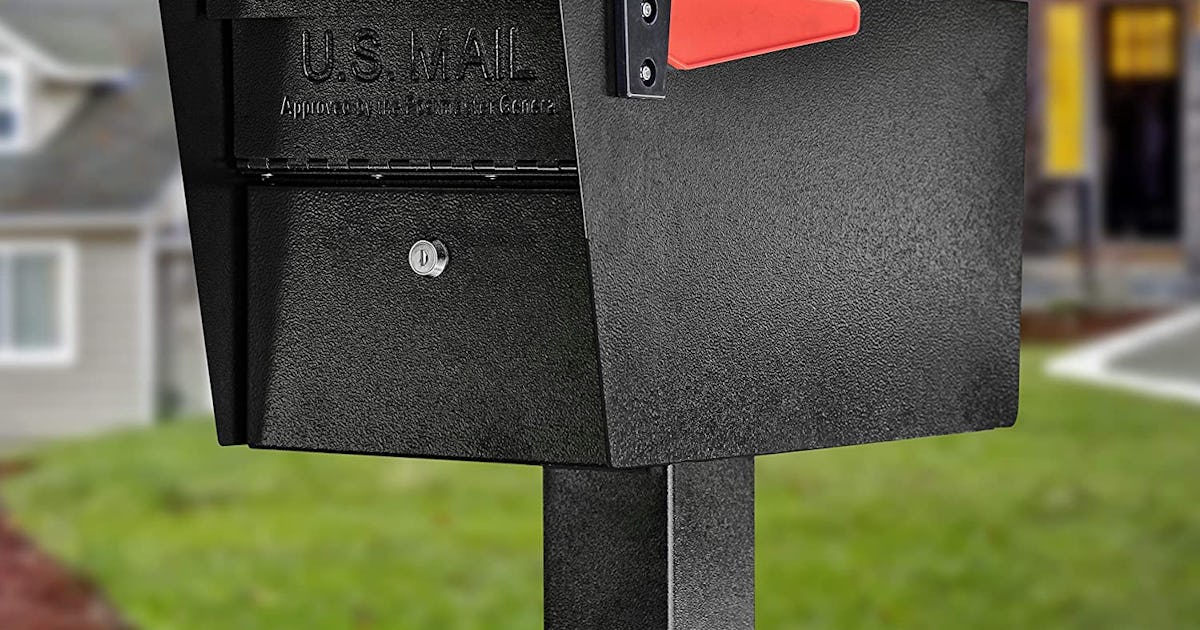 A good anti-theft mailbox provides extra peace of mind when you're expecting important letters or parcels. Made from sturdy materials like galvanized steel and cast aluminum, the best locking mailboxes are outfitted with features like baffle doors to prevent fishing and magnetic closures to seal out moisture. They're available in both post- and wall-mounted options, and some use combination locks instead of keys.
The first consideration: Where do you plan to place the mailbox? Standard curbside boxes secure to posts that you can position in the ground, while mounted mailboxes sit flush against a flat wall. Curbside security mailboxes have more interior capacity, and the larger slots can also accept a wider range of mail — and some can even accommodate packages. Since these slots are bigger, you'll want to look for magnetic closures that keep out rain, as well as baffle doors that prevent fishing (similar to the shields you encounter at a post office drop box). One thing to note: Curbside boxes tend to be pricey, and oftentimes you'll have to purchase a post separately. Wall-mounted mailboxes, on the other hand, have less capacity, but if you check your mail frequently and aren't concerned about packages being locked away, they're a much more affordable choice. And although they may not have upgraded features like baffle doors and magnetic closures, the incoming slots are generally too narrow to necessitate them.
For the most part, the best locking residential mailboxes come with multiple keys, but you can also find styles that use combination locks, which allow you to give the code to anyone you like — and then change it as needed for security. One last thing: Curbside looking mailboxes need to be United States Postal Service-approved (wall-mounted models do not, but you will need approval if you're switching from a curbside to wall model). For convenience, all of these are USPS- or Post Master General-approved. With all that, these are the best locking mailboxes on Amazon.
1. The Overall Best
Boasting an impressive 4.8-star overall rating on Amazon after more than 5,000 reviews, the Mail Boss Mail Manager is made with durable galvanized steel to reduce pry points. The incoming slot is large enough to accept parcels like mail bundles, magazines, and padded envelopes, but the baffle door prevents fishing while the magnetic closure seals out rain and snow. This mailbox has a red outgoing mail flag on the exterior, along with a concealed clip on the interior, so your mail carrier can pick up outgoing envelopes when making deliveries. According to reviewers, the door must be in the locked position to remain closed, a helpful feature that ensures the mailbox will always be locked behind you.
The USPS-approved Mail Manager comes with three keys and can be mounted on any standard 4-by-4-inch post. For convenience, you can purchase an in-ground post or surface-mounted post from the Mail Boss store on Amazon.
Helpful review: "Having worked in the stamped steel industry for the past 32 years, I can say this product is one of the most well-built locking mailboxes on the market. […] Love the box, four neighbors ordering the same to resolve mail theft, a huge problem today."
Interior dimensions: 18.6 x 10.75 x 11.25 inches
Mail slot dimensions: 10.2 x 3.5 inches
Available colors: black, bronze, granite, white
2. The Runner-Up
Another highly rated pick, the Oasis 360 mailbox from Architectural Mailboxes shares many of the same specs as the above option, but with a more traditional aesthetic and an extra feature: a double locking door design, which allows you to retrieve your mail from both the front and the back, using the same universal key. Constructed from heavy galvanized steel with a powder-coated finish that resists corrosion, it has a built-in magnet that keeps the pull-down slot closed and a baffle door to prevent fishing. However, because of the curved incoming slot, it only accepts packages of smaller dimensions. (For reference, it can accommodate flat packages measuring 9.5 by 12.6 by 1.5 inches, or thicker and more compact packages measuring 9.5 by 3.5 by 2.5 inches.) Like the above option, it has a mail flag with a concealed interior clip for outgoing mail.
This USPS-approved box is pre-drilled with 4-by-10-inch mounting holes and reviewers recommend checking your existing post compatibility first — or simply buying the brand's matching post on Amazon.
Helpful review: "We decided to go with a new locking mailbox after our neighborhood started having mail thefts and I had a prescription stolen out of ours. This is more secure than other I looked at, its mail slot is designed so there's no way a hand can get past it like other designs we looked at […] It has a nice lock on it and it's a heavily-made box made with galvanized steel. It's a good secure mailbox and large enough to hold your mail while you're away on vacation. Good looking too!"
Interior dimensions: 11.3 x 11.5 x 20 inches
Mail slot dimensions: 9.5 x 2.5 inches
Available colors: black, pewter, rubbed bronze, white
3. The Best Wall-Mounted Locking Mailbox
A budget-friendly pick that doesn't require a post for installation, Gibraltar's wall-mounted mailbox has a slim design that makes it ideal for holding mail that's checked frequently. Constructed from rust-resistant galvanized steel, the box's locking compartment and mail slot are hidden under a hinged lid, giving it a discreet appearance that also protects mail from the elements. The box's incoming slot is large enough to receive standard envelopes, magazines, and small padded mailers, but it won't be able to accommodate packages or larger pieces of mail. Some other things to keep in mind: Unlike the two previous options, this one doesn't have an outgoing mail option, and there's no baffle door — although the narrow size of the slot means there's minimal risk of fishing.
This box attaches to any flat surface via the two included screws, and two keys are included to open the lock.
Helpful review: "My son was having his mail stolen and this put an end to it. It's good sized and the locking mechanism is a great deterrent. He hasn't had a problem since."
Interior dimensions: 4 x 8.6 x 10 inches
Mail slot dimensions: 8.5 x 0.8 inches
Available colors: black
4. The Best Keyless Locking Mailbox
If you'd rather not worry about losing the physical key to your mailbox, this mounted option has a combination lock instead. The mailbox comes with instructions for setting your own three-digit code, which can be shared with multiple people and changed as often as you like for security purposes. A turning knob opens the hook-shaped lock and allows you to pull down the front panel for easy access to your mail. The box's incoming mail slot measures 1 by 7 inches, making it a good option for standard envelopes and small parcels — but not packages. A viewing window allows you to see when you've got new mail, but there's no outgoing mail feature, magnetic closure, or baffle door.
The mailbox installs to flat surfaces via pre-drilled holes on the back of the mailbox, using included mounting screws. Though the galvanized steel box is powder coated to resist rust, it does have ventilation holes, which means it's best positioned under an overhang or other protected area to prevent water damage to mail. If you like this mailbox — but prefer to forego a combination lock — it's also available in options that utilize a key.
Helpful review: "Simple and elegant. Looks good on our facade. Combination lock is very convenient – no losing keys."
Interior dimensions: 12.6 x 8.5 x 3.5 inches
Mail slot dimensions: 7 x 1 inches
Available colors: black, matte black
5. The Best Locking Mailbox For Packages
If you travel frequently or do a lot of online shopping, the Package Master mailbox from Mail Boss has a similar design to the first pick but is sized to accept larger packages and hold more mail. The incoming slot is a full 4.5-inches tall to allow for thick parcels, but a baffle door prevents fishing. Made with galvanized steel, this USPS-approved mailbox has an anti-pry lock, magnetic doors to seal out rain and snow, and a flag and interior shelf for outgoing mail.
Also included are three keys, as well as reflective house numbers that can be affixed to the side or front of the mailbox for easy viewing. The base of the mailbox has a fast-track mounting plate for secure installation to any 4-by-4-foot post, and you can buy an in-ground post or surface-mounted post on Amazon.
Helpful review: "I get a lot of Amazon Prime shipments, and packages slip right into this box and sneaky hands can't snatch them out of this box. Lots of mail thefts in my area, so now I feel comfortable that my packages are secure. Love it."
Interior dimensions: 21.5 x 12 x 16.5 inches
Mail slot dimensions: not listed, but accepts packages up to 10.5 x 4.5 x 3.5 inches
Available colors: black, bronze, granite, white