One thing Andrew and I have made more of a priority lately is date nights. While I wish we could do a fancy dinner out every month, we do try to stick to a budget. So trying to find inexpensive date nights is always a win. During the summer there are great summer date ideas under $50 and I want to share our favorites!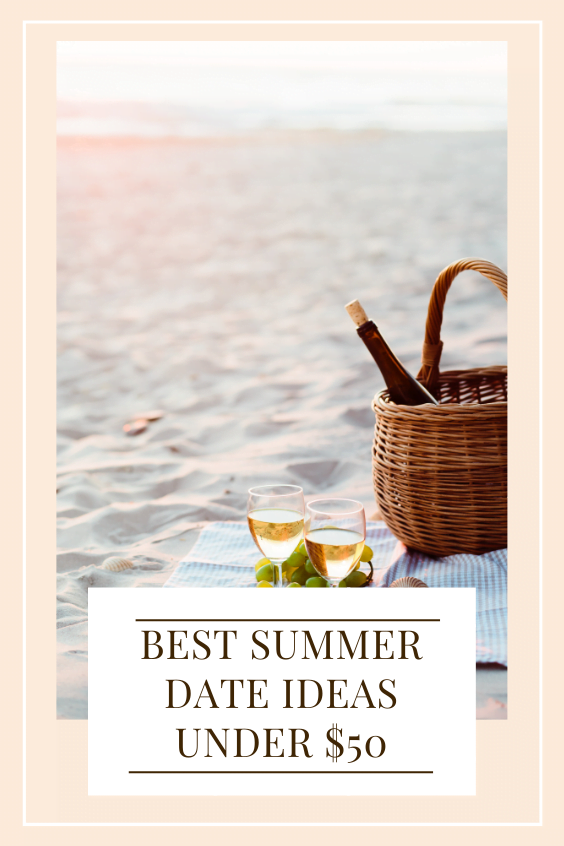 Summer Date Ideas Under $50
Go for a walk together- in your neighborhood or on a fun trail in your city or town
Check out the dollar theatre for bad (awesomely bad) summer movies- because who doesn't love to see superhero movies?
Sit outside and enjoy a treat- ice cream, a glass of wine, whatever sounds good!
Go fishing- I'm sure if I asked Andrew to go fishing he would be ready to go before I could put on my shoes.
Plan a picnic- Pick up food from somewhere or make it yourself! Even have a picnic in your backyard. Great opportunity to catch up and just enjoy being together without distractions.
Cook dinner together and watch a new to you both movie- We love to cook together and we love to watch movies so this is a fav.
Binge watch a show together– Feeling lazy? Cuddle up on the couch together and pick a new show to binge.
Go to the library or browse a book store- Reading is fun! Go grab a coffee and browse a book store or the local library.
Try a new restaurant- We love restaurants and Dallas has a summer event called Restaurant Week where you can go to fancy restaurants and have a prix fixe dinner for a really low price. I bet a lot of cities have this too! Not sure if they are doing this, everywhere with Covid but worth looking into!
Go to a local festival- Wine festivals, food festivals, music festivals- again some places may have these with certain Covid precautions.
Go to a movie in the park/outdoor movie/dive in movie- Dallas has a new outdoor rooftop drive-in that started during Covid and I am dying to try it out!
Go to a concert- Our local Arboretum has outdoor concerts all summer!
Watch fireworks together- Memorial Day, Independence Day, Labor Day… lots of firework opportunities!
Go to a waterpark/amusement park- When in doubt do something scary!
Obviously, there are a lot of other summer date ideas, but y'all this post was getting long! I would love love love to know what your summer date ideas are, so please leave your favorites below.
What are some of your favorite summer date ideas under $50?
This blog post was originally published in 2016 and has been updated for 2021.