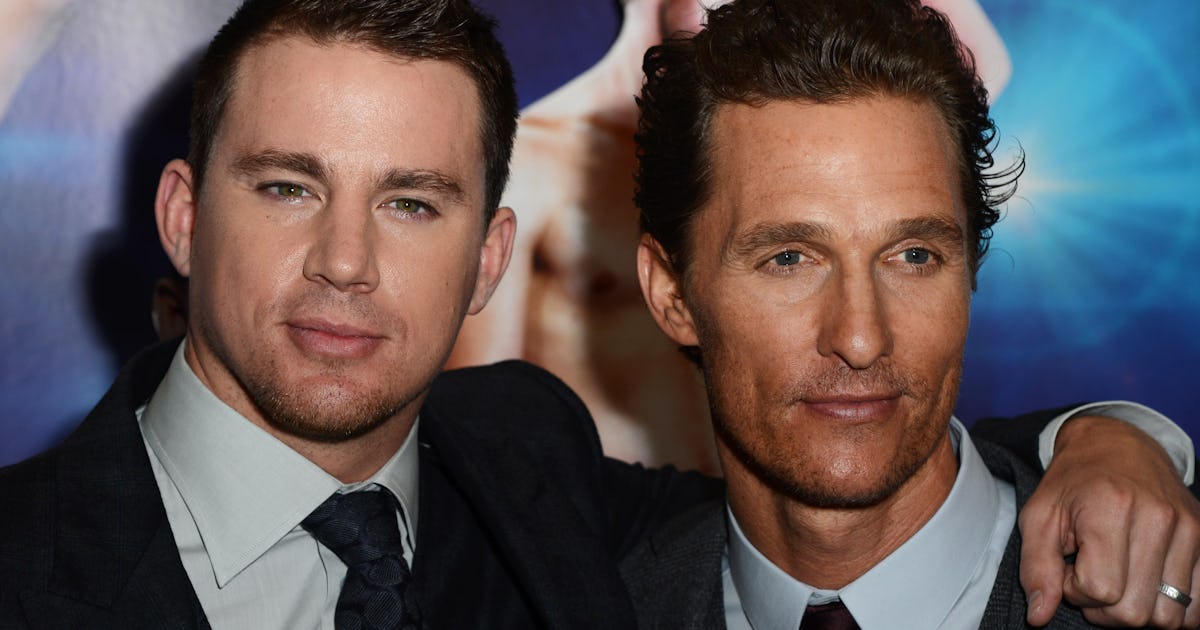 If you're a sexy movie fan, you're in luck: HBO and HBO Max expanded their roster of sultry movies. Spanning several genres, these steamy options are guaranteed to have some unforgettable scenes, so whether you prefer to watch an erotic drama, an LGBTQ+ film, or a raunchy comedy, here are 15 sexy movies available on HBO right this second. What qualifies as "sexy," you ask? Films with erotic intimate scenes, hot and heavy makeouts, and even raunchy vignettes made the cut.
With its range of options, this list of HBO's sexiest movies is sure to whet your viewing appetite. It includes classics from And God Created Woman, a '50s Brigitte Bardot French film, to a 2002 titillating thriller with a young Richard Gere. Rounding out the selection are more recent options about single women navigating the New York City dating scene (two of those, actually) and Endings, Beginnings, a racy story about a love triangle with Jamie Dornan, Sebastian Stan, and Shailene Woodley. If you prefer risqué films in the form of comedy, there are also some funny options like the now-classic Wedding Crashers and a movie about half-naked male strippers, um, stripping.
Excited yet? Here are the 15 sexiest movies on HBO and HBO Max that you should watch now.
The 40-Year-Old Virgin
Steve Carell plays Andy, the titular middle-aged virgin in the 2005 R-rated Judd Apatow comedy. When his friends David (Paul Rudd), Jay (Romany Malco), and Cal (Seth Rogen) find out about Andy's sexual inexperience, they team up to help him get laid. Of course, shenanigans ensue, made all the more entertaining by the film's many cameos. The star-studded cast also includes Jane Lynch, Elizabeth Banks, and Leslie Mann, and Carell, who emerged as a breakout comedic lead.
Endings, Beginnings
In Endings, Beginnings, a 2019 drama directed by Drake Doremus, Dornan and Stan make up two-thirds of a steamy love triangle that's completed by Woodley. Daphne (Woodley) is fresh off of a breakup and disillusioned by love — that is, until she meets both Jack (Dornan) and Frank (Stan) at a party. The men couldn't be more different, and yet she finds herself strongly attracted to both.
The Notebook
Based on the 1996 namesake novel by Nicholas Sparks, The Notebook isn't a sexy film per se, but the kissing scene between Rachel McAdams and Ryan Gosling achieved cult status for a reason (it even won Best Kiss at the 2005 MTV Movie Awards). A romantic classic, the 2004 film set in the '40s follows the heartbreaking story of star-crossed lovers Allie and Noah, whose differences in social class keep them from being together. Fun fact: McAdams and Gosling dated in real life, and he told GQ in 2007 that their actual love story was "a hell of a lot more romantic."
And God Created Woman
And God Created Woman is the 1956 French movie that turned then-largely unknown Brigitte Bardot into an international sex symbol. Bardot plays Juliette, a sensual 18-year-old orphan who scandalizes her guardians with her propensity for nudity. To avoid going back to the orphanage, she marries Michel (Jean-Louis Trintignant), though it's his brother (Christian Marquand) she's in love with. The romantic drama is ultimately a story about Juliette's affairs and the heartbreak caused by a beautiful woman desired by so many.
How To Be Single
Directed by Christian Ditter, How to Be Single follows the sexual exploits of four single women in New York: Alice (Dakota Johnson), who left her long-term relationship when she moved to the city; Robin (Rebel Wilson), a carefree spirit who enjoys sexual freedom; Meg (Leslie Mann), a doctor navigating feelings about commitment and motherhood; and Lucy (Alison Brie), who's earnest about wanting a relationship but hasn't found the right person yet. The characters have different romantic journeys, but there's one overarching message, according to Johnson in a 2016 Telegraph interview: "Women should love themselves and take care of their hearts and their brains and also not feel bad about having a good time or experiencing different people and dating people."
Magic Mike
Channing Tatum, Joe Manganiello, Matt Bomer, Matthew McConaughey, and Adam Rodriguez star as Tampa-based gyrating strippers in Magic Mike. Directed by Steven Soderbergh, the 2012 dramedy is loosely inspired by Tatum's former life as a stripper and has more than a few unforgettable striptease sequences. Tatum and McConaughey both garnered several nominations for their performances, and a sequel, Magic Mike XXL, followed in 2015.
Unfaithful
Adapted from the 1969 French film The Unfaithful Wife, 2002's Unfaithful stars Richard Gere and Diane Lane as a married couple. When Connie (Lane) meets Paul (Olivier Martinez), she begins a steamy, sordid affair with him. Her husband, Edward (Gere), gets suspicious and confronts Paul, resulting in an accident. Though the affair-gone-bad thriller directed by Adrian Lyne received mixed reviews, Lane was commended for her sensual performance.
Swingers
The movie that catapulted Vince Vaughn and Jon Favreau to stardom, Swingers follows aspiring actor Mike (Favreau, who also served as the film's writer), who can't move on from his recent breakup. Trent (Vaughn), his friend and ladies' man, takes Mike to Vegas to forget about his ex and teaches him how to pick up women. Directed by Doug Liman, the 1996 dramedy also stars Heather Graham as Mike's love interest.
Sex And The City: The Movie
In 2008, four years after the TV series finale, Carrie, Miranda, Charlotte, and Samantha got back together for a movie version of Sex and the City. There's not much sex for Carrie (Sarah Jessica Parker) in this one — she and Big (Chris Noth) are broken up — but, unsurprisingly, Samantha (Kim Cattrall) still finds herself in sexy situations, including fantasizing about her neighbor who takes outdoor showers. Also, Carrie's new apartment is pretty damn sexy in its own way.
Wedding Crashers
Owen Wilson (John) and Vince Vaughn (Jeremy) are the titular party crashers in this 2005 romantic comedy. It's wedding season, and the two run a con: faking their identities to have one-night stands with emotional women at weddings. When they break protocol by pursuing sisters Claire (McAdams) and Gloria (Isla Fisher) after the reception, the two are found out. Between the comedy of Jane Seymour and a jealous Bradley Cooper, Wedding Crashers is a hilariously chaotic classic.
King Of Staten Island
Another Apatow-directed movie, 2020's King of Staten Island is based on the life of Pete Davidson, who stars as Scott, a 24-year-old high school dropout who regularly gets high and hooks up with on-again, off-again girlfriend Kelsey (Bel Powley). When he's not too busy bumming at his mom's place in Staten Island, that is. It's a touching coming-of-age and coming-into-one's-own movie, and Davidson was lauded for his performance.
Closer
In 2004's provocative drama Closer, based on a play of the same name, Alice (Natalie Portman) and Dan (Jude Law) are happily in love until Anna (Julia Roberts) gets in the middle. Then, with the introduction of Larry (Clive Owen), the movie becomes a complicated love rectangle with a yearlong affair at the center. Both Owen and Portman received multiple nominations for their acting and won a Golden Globe each.
Fifty Shades Of Black
A spoof of Fifty Shades of Grey, the 2016 romantic comedy Fifty Shades of Black follows naive student Hannah Steale (Kali Hawk), who meets powerful entrepreneur Christian Black (Marlon Wayans). He then introduces her to the world of kink, and a BDSM-filled romance ensues. Lest you forget, this is a spoof, but the movie is full of slapstick jokes and is raunchy in an absurd way.
Gia
Angelina Jolie won a Golden Globe for her portrayal of the titular supermodel Gia Carangi in this 1998 biographical drama. Gia becomes a supermodel after being discovered by agent Wilhelmina Cooper (Faye Dunaway), but her later death plunges Gia into depression and drug abuse. She begins a romance with makeup artist Linda (Elizabeth Mitchell) until Gia's dark past resurfaces. The Michael Cristofer-directed film was well-received, and Dunaway also took home a Golden Globe for her role.
Lost And Delirious
Loosely based on Susan Swan's 1993 novel The Wives of Bath, the 2001 Canadian drama Lost and Delirious follows Mary (Mischa Barton) and her move to an all-girls boarding school. Here, she witnesses a blossoming lesbian relationship between roommates Pauline (Piper Perabo) and Tori (Jessica Paré) — until Tori's homophobic sister (Emily VanCamp) causes a breakup and a revenge-fueled accident. Film critic Roger Ebert gave it 3.5 stars and called it "a hymn to teenage idealism and hormones."
This article was originally published on