Photographer Markus Hofstätter discovered a family of swans and, over time, gained their trust enough to approach and photograph them. Eventually, he decided to do so with his large-format camera and an expired Kodak Readyload film.
Hofstätter, based in Austria, is primarily a collodion wet plate artist and teacher who focuses on portraiture. During the quiet periods of the pandemic lockdown, Hofstätter began taking long walks to Donauauen, a mixture of forest, swamp, and side streams of the river Danube.
During one of these walks, he discovered a family of swans with five babies, also called cygnets, and began bringing his DSLR with him thereafter. As time went on, the swans allowed Hofstätter to come closer, which led to him finding their hidden nest and also solidified his interest in wildlife photography.
As someone who has been shooting analog photography and has used medium and large format for quite some time, Hofstätter's first thought was to photograph the swans' nest on a collodion wet plate.
"I enjoy the haptics, deceleration, and limitation when shooting film," says Hofstätter. However, the lockdown restrictions at the time wouldn't have permitted that nor did they allow having a shoot assistant, which took collodion wet-plate out of the equation.
Instead, Hofstätter opted for the large format 4×5 Linhof Technika camera and a borrowed 400mm Tele Xenar lens. He also selected an expired Kodak Ektachrome E100S double-sided Readyload film and the rare Fuji FP100C peel-apart film. Due to the expiry date of the film, Hofstätter slightly overexposed the negatives.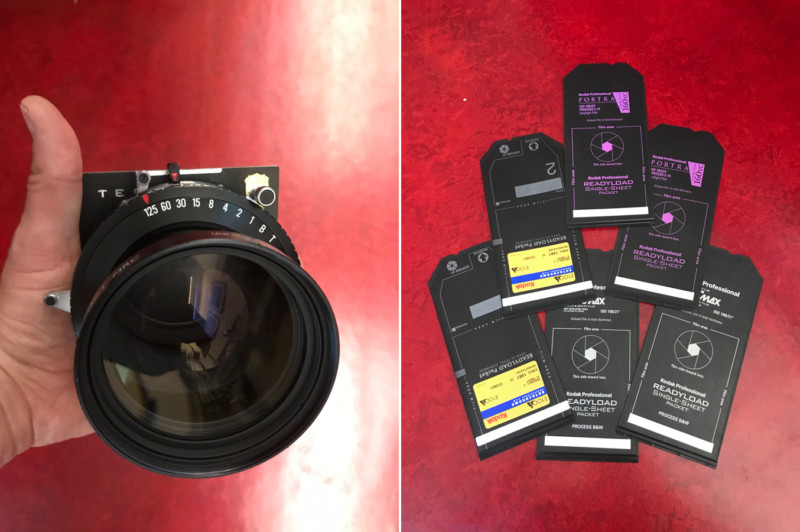 Although medium and large format might not be the first natural choice for wildlife photographers — even though it can create beautiful results — Hofstätter explained to PetaPixel that it can be a "perfect combination" if you don't shoot fast-moving animals.
Hofstätter has also tried to shoot wildlife with the medium format Mamiya 645 before, but the combination of manual focus while shooting wide open and handheld — seeing as he doesn't like to use tripods with this particular camera — made it cumbersome. For that reason, Hofstätter got himself Mamiya AFD II, an autofocus medium format camera. Although he didn't photograph the swan family with this camera on this occasion, it's a camera he has successfully used for wildlife.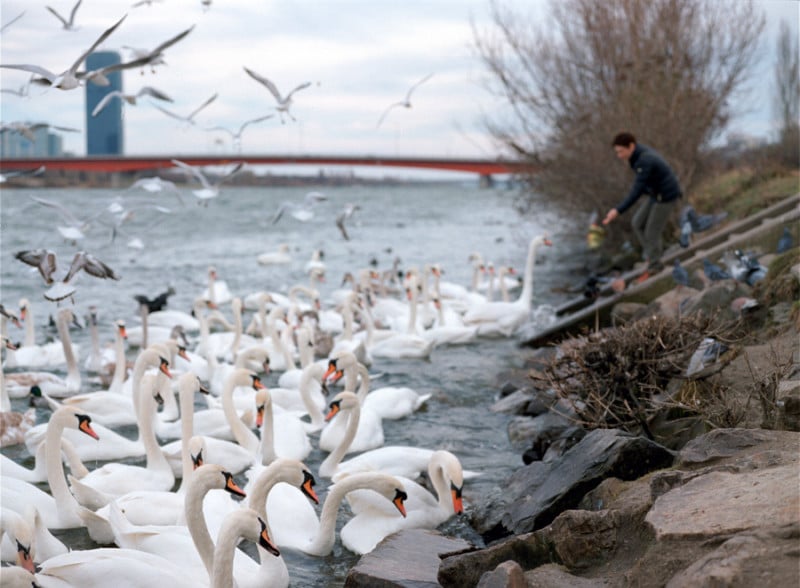 This time, shooting with Linhof Technika, he set up the frame on his ground glass, put the film holder in, and sat beside the camera to wait for the right moment to release the shutter with the cable release.
"It was mostly sitting and waiting and enjoying nature," he recalls.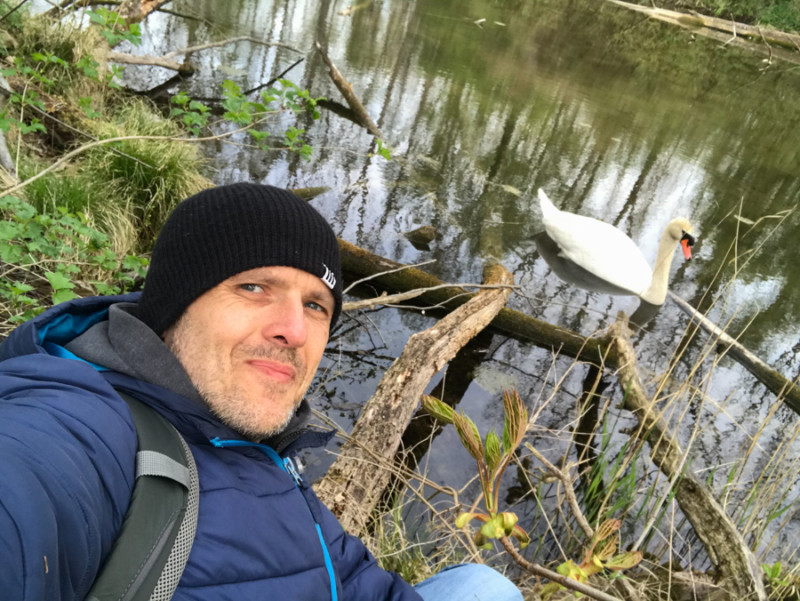 "On the first day I realized how sensitive these birds are about sounds. They know my voice and all my 'sounds' from a DSLR shutter to zipper and so on," Hofstätter says. "I didn't think that this silent shutter from the large format lens would surprise them in any way. But after the second picture, it was no longer interesting for them. Just dad came over to me and inspected my big Linhof tripod."
Photographing birds like swans, who can be protective and even aggressive at times, might seem a difficult and intimidating task. Hofstätter recommends approaching them — and any other animals photographed in nature — with respect and empathy but at the same time without any fear.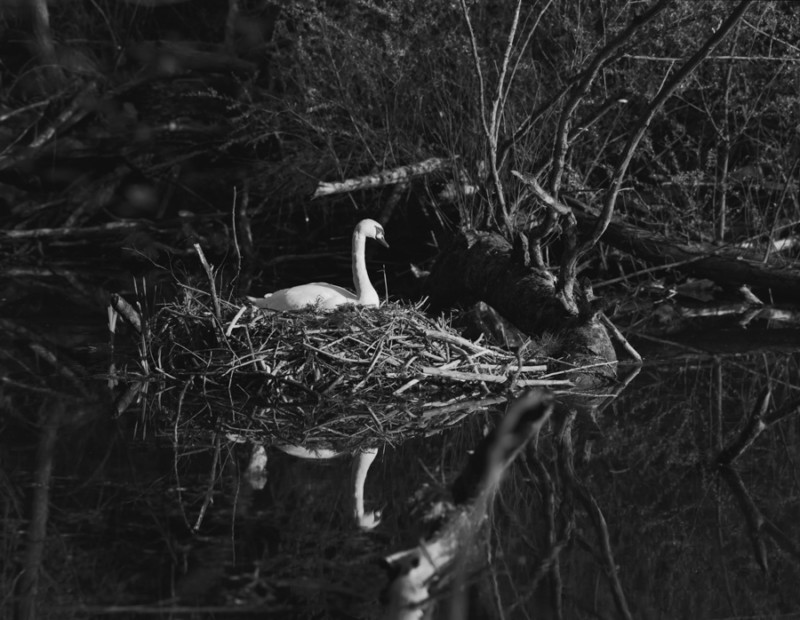 For example, Hofstätter noticed a different swan family and kept a good distance away while taking some photographs with his DSLR. When the time was right, he went to sit down by the water, whilst making himself as small as possible, with the swans approximately 30 meters (98 feet) away. The male noticed him and excitedly approached, while Hofstätter remained calm and softly spoke to him.
The male let out a short hissing sound in front of Hofstätter, proceeded to make a high-pitched sound directed to the female, which she repeated back, and then returned back to his family. A few minutes later, the whole swan family, including cygnets, approached Hofstätter, allowing him to enjoy a moment of closeness. Hofstätter didn't reach for a camera this time, nor did he allow any fear to wash over, which likely could have agitated the birds.
"I never feed them, because they have enough food there from nature. It would be bad for the environment, for them, and also can cause stress if birds are fighting for food," he says. "As a photographer, I don't want them to swim in my direction when I arrive, because they think I bring food. I want them to ignore me, like I am a tree. That's when I can take authentic images."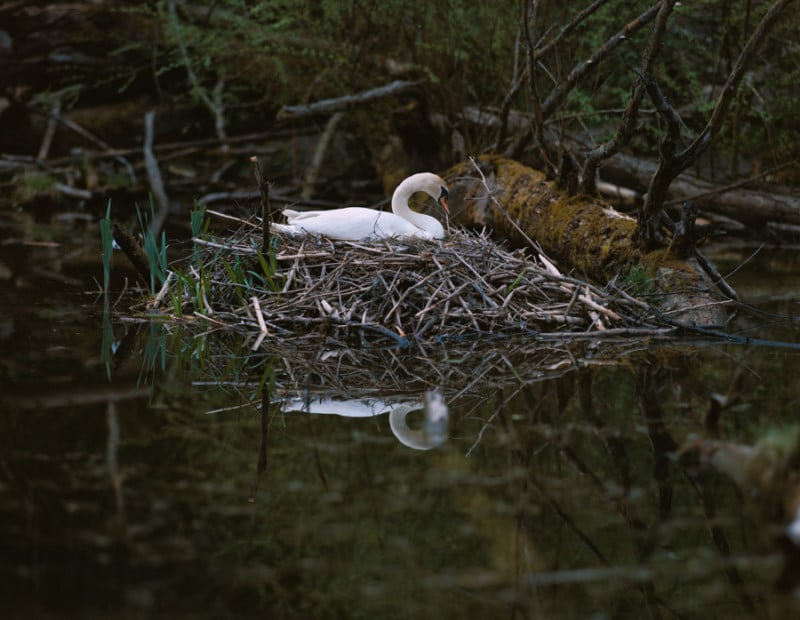 When it comes to the technical aspects of using the large format for wildlife photography, Hofstätter makes sure to write a checklist for things to bring — so he never forgets his dark cloth or other essentials, including drinking water — and ensures he's wearing appropriate clothing and has plenty of bags to protect his equipment. Photographing wildlife near bodies of water means often partially standing in water or rain, with the tripod also placed in dirt and water.
For photographers who haven't shot a special kind of film for some time, Hofstätter recommends doing a practice run at home to avoid mistakes which can be costly. Although, sometimes errors happen even for the experienced photographers, just like Hofstätter accidentally inserted the film the wrong which can be seen at the end of his YouTube video.
More of Hofstätter's work, including wet plate portraits, can be found on his website, blog, and Instagram page, while his prints can be purchased here.
---
Image credits: All images by Markus Hofstätter and used with permission.