A very, very happy Christmas to you, and all my love and congratulations to you if this Christmas has gifted you with the newly acquired status of 'engaged'.
In this lovely period that sits between Christmas day and New Years day, I want to share with you a slice of what we're all about here at Love My Dress; introduction to some exquisite wedding dresses, amazing designers, boutiques, editorials and real weddings. We exist to share beauty and connect brilliant businesses with couples planning weddings, and on that note, I want to tell you immediately about Edinburgh bridal boutique, Rachel Scott Couture, and their exclusive new collection of luxury wedding dresses from internationally renowned designer, Naeem Khan.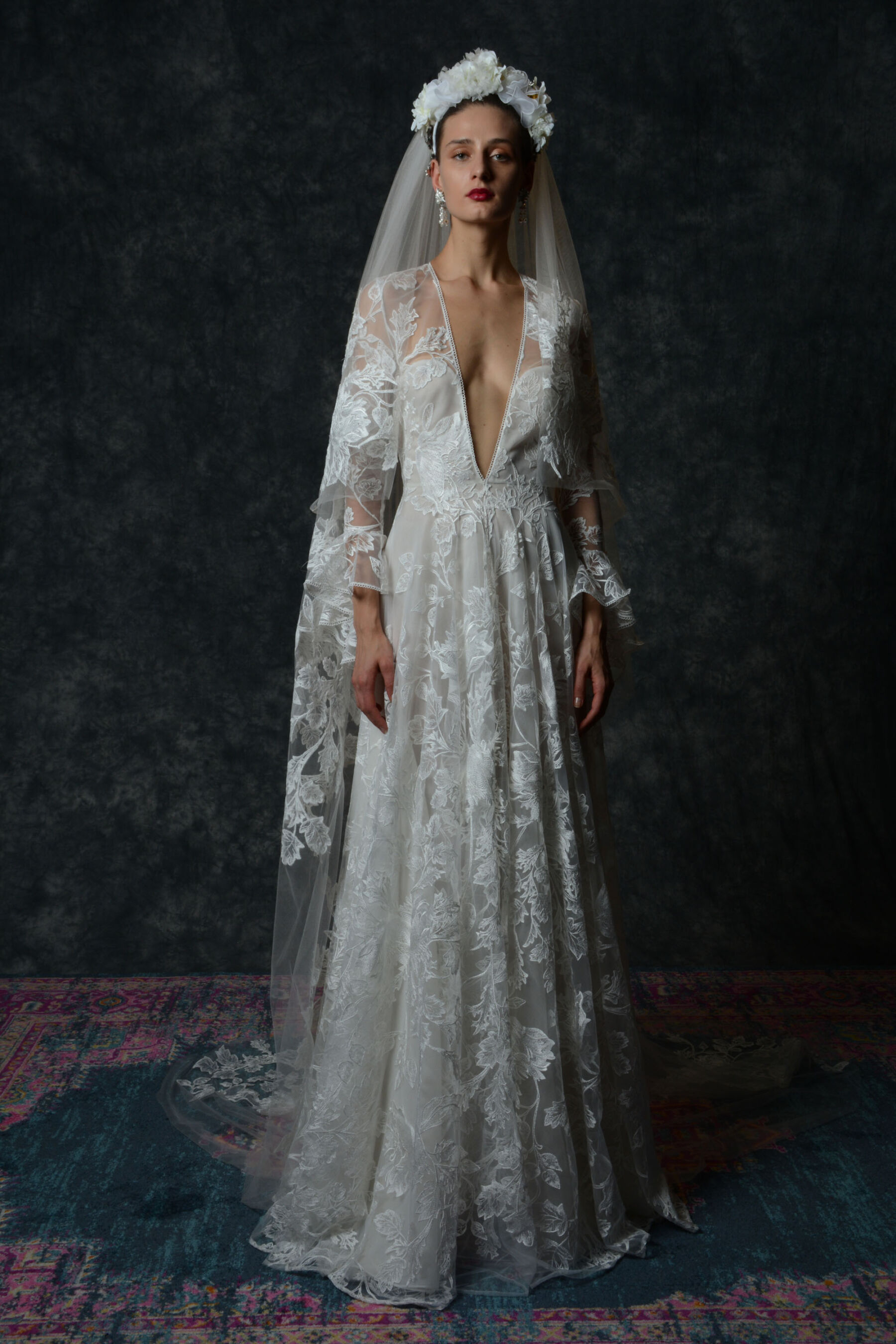 Rachel, please introduce Naeem Khan to our readers
Naeem Khan's work combines modern styling with traditional textile techniques that he learned from his father and grandfather in India, where they made ornate and intricate clothing for the Indian royal families. The outcome of which is quite unique and as a result Khan's work has adorned A-listers all over the world with the likes of Beyoncé, Jennifer Lopez, Taylor Swift, Michelle Obama, and even becoming a royal favourite with the Princess of Wales, Kate Middleton wearing his designs.
Naeem has an innate understanding of clothing and the power it has to transform us into the most iconic version of ourselves, something we repeat almost daily to our brides at Rachel Scott Couture.
Now based in New York, Khan had moved to the United States as a teenager to begin his career in design, becoming an apprentice to legendary American designer Halston at the age of only twenty.
It was here that Khan learned how to drape and cut fabric  to create clean, elegant silhouettes that he eventually merged with his familial knowledge of beautiful and intricate textiles to create what we see today, and what is now Khan's signature style.
Having grown up in Mumbai surrounded by beautiful art and culture, Naeem cultivated a vast knowledge of textiles under the watchful eye of his grandfather and father, both of whom designed intricate clothing worn by the Indian royal families.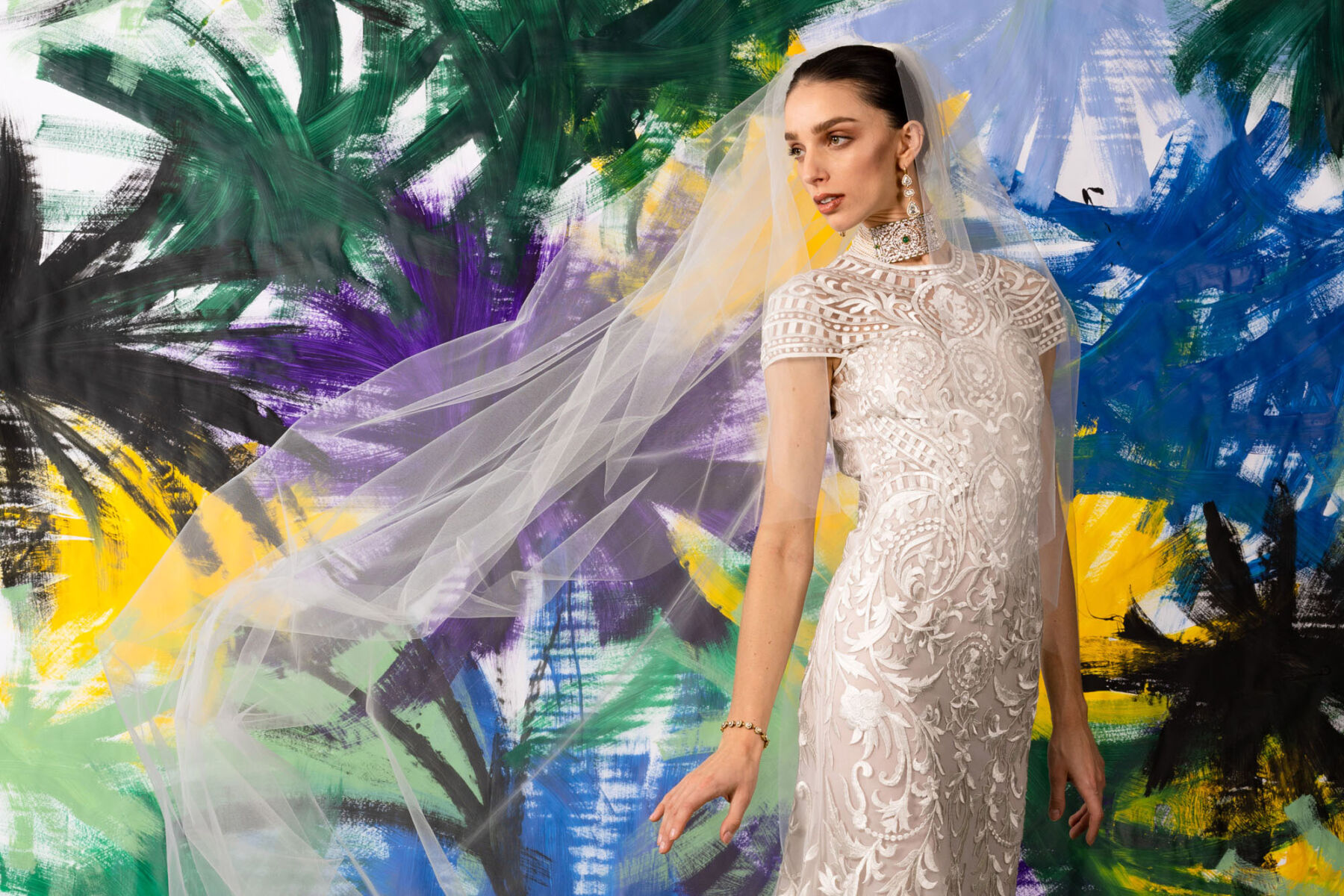 Now tell us about Rachel Scott Couture
We're 19 years in business and still retaining our reputation for being the go-to place for cutting edge bridal design and couture wedding-day tailoring in Scotland.
We constantly strive to bring new inspirational designers to the UK and choose all of our designers based on their quality and craftmanship. Then it's easy to focus on doing everything for our wonderful clients!
When we approach a new brand we really consider each designer partnership very carefully which leads to long term relationships that we value and trust. We believe in great design that stands the test of time, avoiding fads and trends that might come around in the fast fashion cycle, so that there is longevity in each iconic piece.
We want our brides to feel empowered and in the process we aim to redefine what luxury really means – for us it means inspirational, vibrant, creative, flexible, relaxed and non-judgmental.
What sets Naeem Khan designs apart from other bridal fashion designers?
Heritage. Khan has a unique perspective that comes from a long history in textiles with ancestral knowledge he has combined with modern minimalist garment design.
Integrity. The in house construction and studio means that they have full control over all of that intricate ribbon detailing and embellishment.
Naeem's designs embrace flirty, fun design and detailing but still remaining elegantly sophisticated. These are gowns for brides who love texture and embellishment, a little (or a lot) of glitz with a classic and timeless elegance.
We'll be launching his collection in store fully from early Spring 2023, with a series of preview launch events planned for early March 2023 which you will be able to find on our website and social media, and of course via Love My Dress.
I came from a very humble and stable home and my parents have been in the business of fabrics and hand embroidery for decades. I've stuck to my craft, because of the importance it holds in my family — making them who they are and making me who I am. I am thrilled to bring my designs to Rachel Scott Couture and I look forward to dressing many future Scotland brides. Naeem Khan
Are you able to provide a price guide?
At Rachel Scott Couture, we focus on the finest quality couture designers with prices ranging from £3000 and upwards. Our new Naeem Khan collections will range from £6000 to £16000.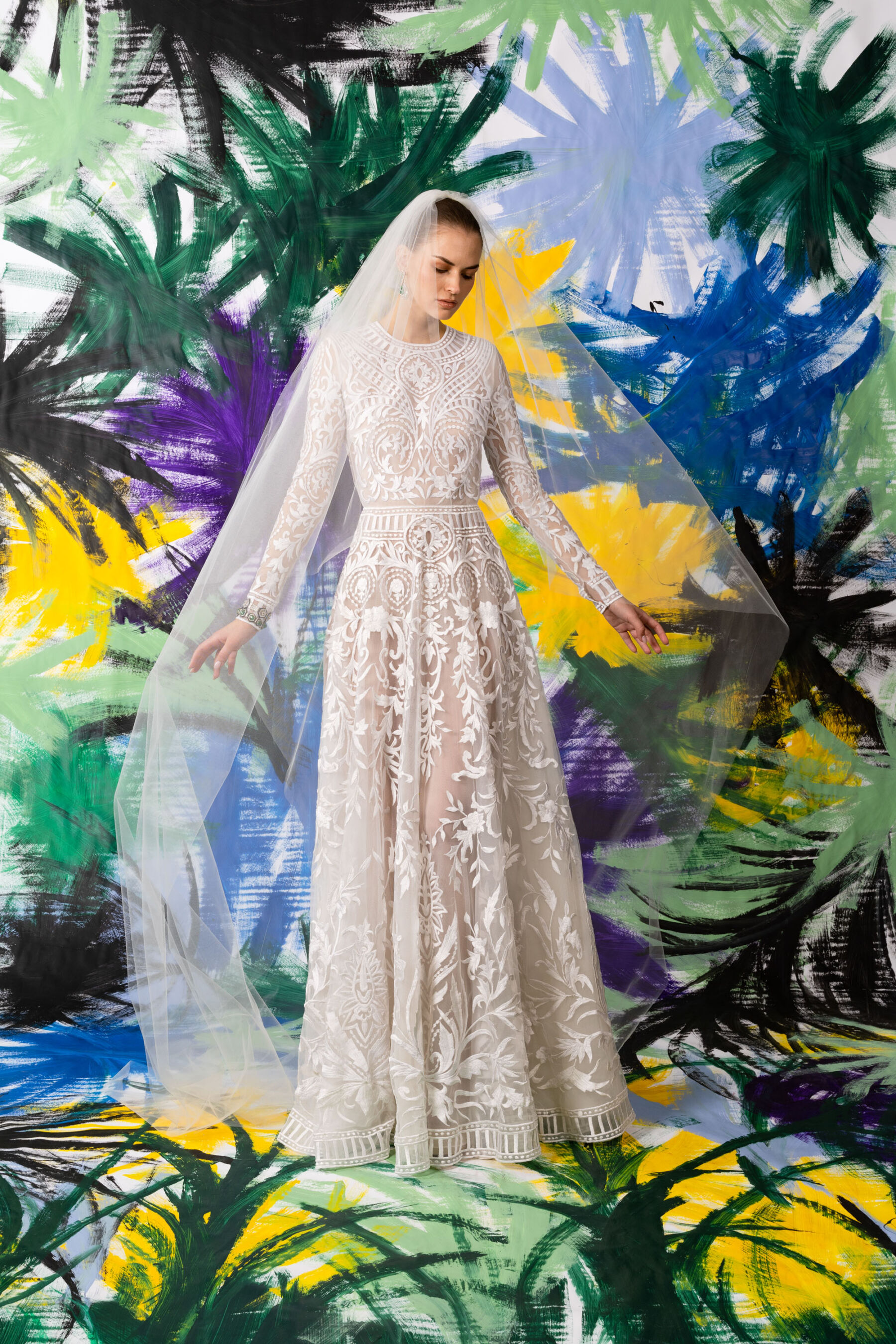 Tell us what brides can expect on visiting Rachel Scott Couture?
Genuine, honest and truly personal support, teamed with tailored advice given by bridal styling experts who are full of fabric, fibre and tailoring knowledge. Everything we offer is centred around doing the right thing for each individual, offering bespoke creative input to help each person find their own unique style, always doing so at their own pace. Using our patience, understanding and moral support to help a client discover their perfect confidence building outfit combination purely because it's right for them.
We like to avoid the jargon and keep things simple for our brides, we have the knowledge so our brides don't need to worry about it.
What advice would you give to brides setting out to find their wedding dress?
Think about the whole shopping experience, not just the dress – think about who you're trusting with the most important outfit you'll ever choose, don't compromise and don't settle on any aspect of it. We always consider quality and luxury from the inside out, not only in the dress construction but also in the responsibility we have for our clients wedding dress memories.
This is a once in a lifetime experience and you need to make sure you get the truly special, genuine experience every bride deserves from start to finish.
How can brides book an appointment or make an enquiry to try on any of these beautiful Naeem Khan gowns?
The designs you see on this page here today will be available to try on in March 2023 at Rachel Scott Couture. This is the first time the gowns have ever been available to try on for brides in Scotland.
To book an appointment, email hello@rachelscottcouture.co.uk or call 0131 556 1520 / 07791 880 251.
Rachel Scott Couture is located at 29b Dundas St, Edinburgh, EH3 6QQ, where a very warm welcome and relaxed environment awaits you. Book yourself to a new year treat and spend some time trying on some of the most beautiful wedding dresses in the world.
Naeem Khan at Rachel Scott Couture