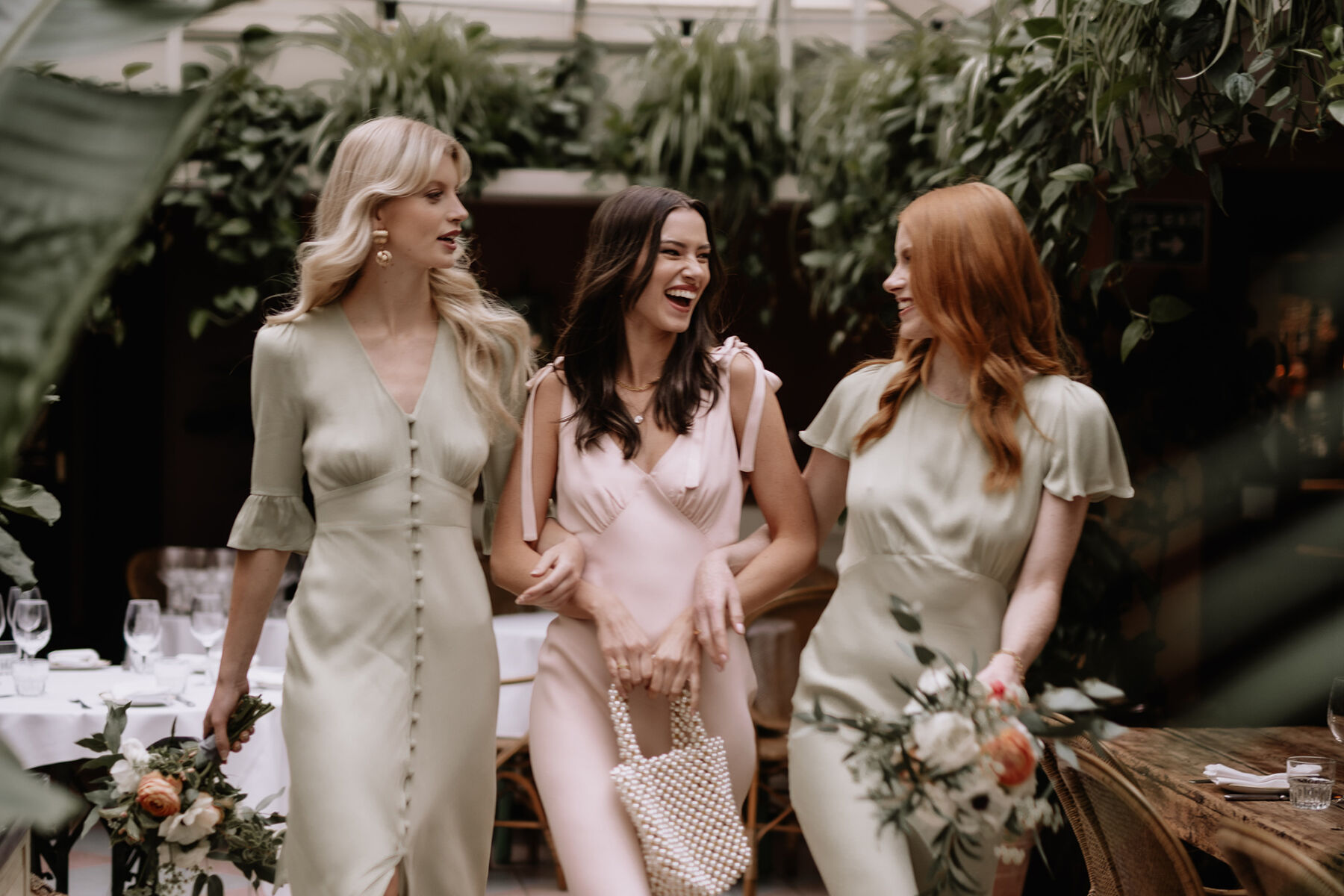 Looking for super flattering, beautifully made, stylish dresses, made especially for the modern bridesmaid with sizes ranging from an 8 to a 26? Then you need to be introduced to one of our very favourite British brands, the inimitable and brilliant, Maids To Measure.
Maids to Measure are the original British bridesmaid brand, founded by sisters Sinclair and India Sellers. With a brand new website, beautiful new Chelsea showroom and their frankly gorgeous new 'Ego Edit' satin collection that I'm lusting after personally, Maids to Measure should be top of your list for bridesmaid dress shopping, and today, after catching up with the founders, we're going to show you why.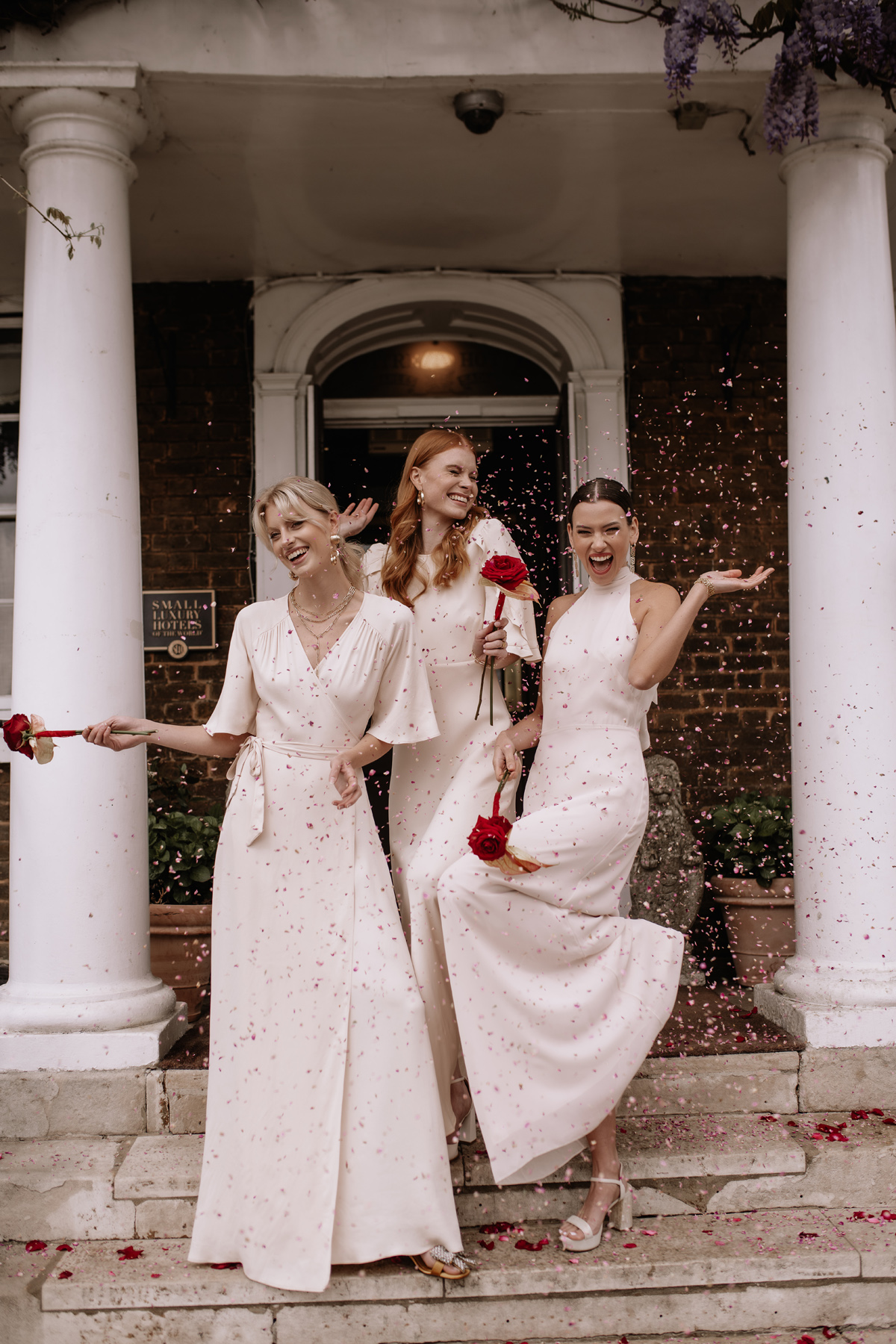 The Original Vision
We are a British bridesmaid brand called Maids to Measure.  Ten years ago, as sisters and inspired by our own personal experiences of trying to find the perfect bridesmaids dresses, we created our brand to fill a gap in the market where there were no British brands at all, and all the dresses on the market were made in China.
We wanted to create a brand where the dresses were designed and made in the UK, with a made to measure element.  As we've grown, we've evolved and the majority of our dresses are now ready to wear, but as a small company we're still on hand to style our bridesmaids and give them a unique, fun, enjoyable and personalised experience.
Styles For Everyone
We have a mix of classic and contemporary bridesmaids dresses – basically something for everyone. However, whilst all our dresses are different, they have been designed to all work together, so provide the perfect opportunity to mix and match, based on personal style and preferences.
Whether one of the girls like the chiffon and other satin, if the brides so wishes, the dresses look beautiful together and colours run across or compliment all collections.
Maids To Measure is the ideal brand if you want your girls to feel beautiful and comfortable as there's enough options for every bridesmaid to have something they love and that beautifully flatters them.
Introducing The Ego Edit
The Ego Edit is our latest collection. We've strayed away from our classic chiffon and crepe dresses this time and brought out a modern satin range that is incredibly flattering on all female body shapes and sizes.
This satin range has a more contemporary edge but also fits beautifully within our classics and more traditional designs.
We wanted to create a new design with a modern slant and worked really hard to find a beautiful satin that was flattering and beautiful to touch and move – a world away from the unflattering satin most people think about. We only use a very high quality and very beautiful matte satin fabric to create our dresses – which has the perfect weight to it, meaning it falls and moves really beautifully. It also has the subtlest stretch, which is superb for comfort and fit.
Body Diverse Dresses
As sisters, we are totally different shapes and sizes, which is a great foundation for a creative team as it means we are both looking at different issues and prioritise body diversity when designing our dresses.
Our satin dresses currently go up to a size 20, whilst our chiffon gowns go up to a size 26. We are working hard to add more sizes and colours as we expand this new and popular range.
On Sustainability
Sustainability is a journey for us and one that we are 100% committed to. We're gaining knowledge each day on how to create a more sustainably conscious brand and take real and genuine pride in our five 'P' pointers that guide everything we do:
1. Philosophy – Bridesmaids dresses are typically worn once and then pushed to the back of the cupboard. Here at Maids to Measure, we try to design dresses that are unique and special, that you'll want to wear again, multiple times to multiple occasions.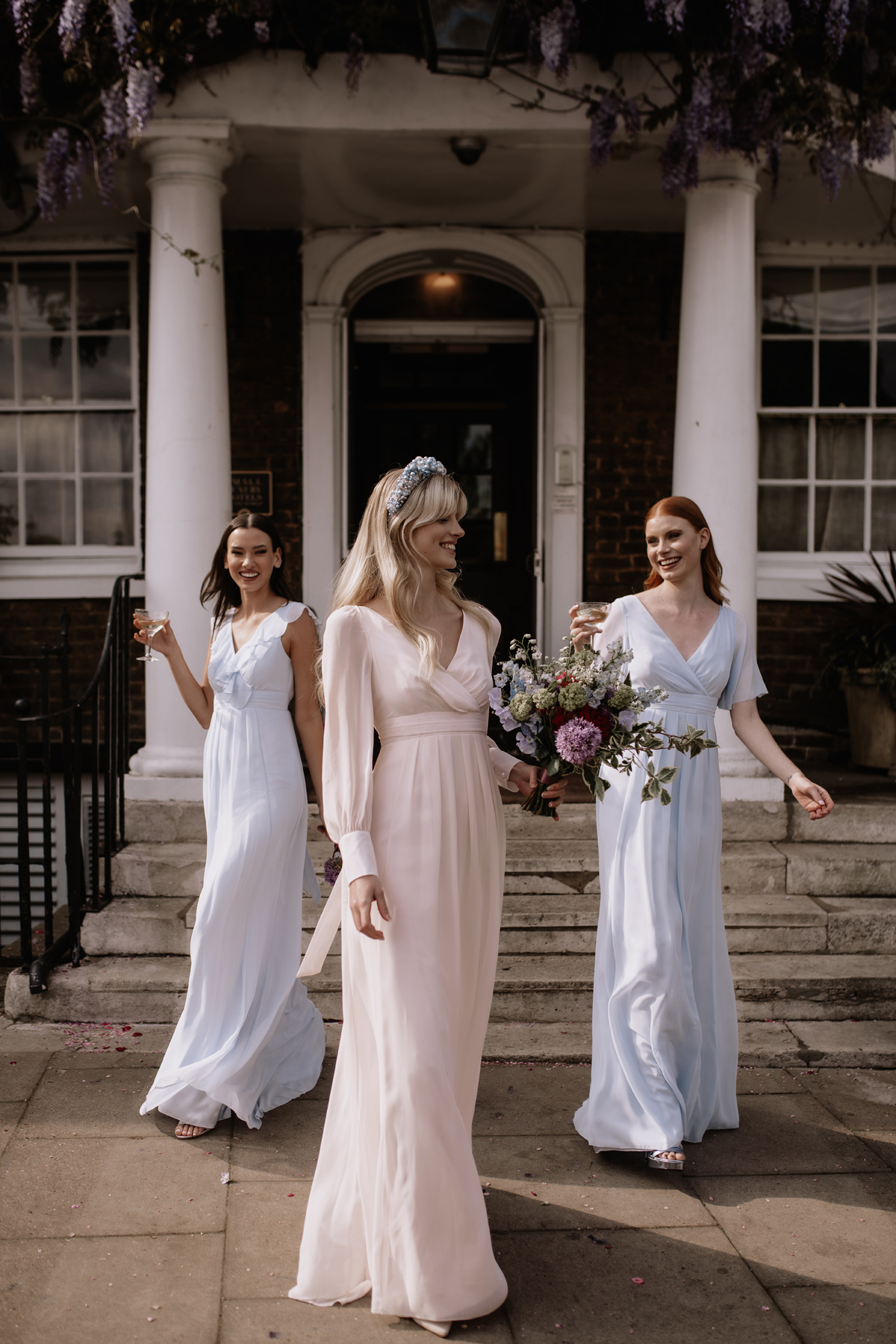 2. Production – Unlike most fashion brands, Maids to Measure dresses are made in the factories owned by our business partner, Dragon's Den's Touker Suleyman himself. Therefore we can ensure that everyone involved in the production of our gowns, have a safe, fair and equal working environment.
What's more the dresses are not mass produced, holding only small stock of each items. We only ever restock styles in super high demand to avoid any excess.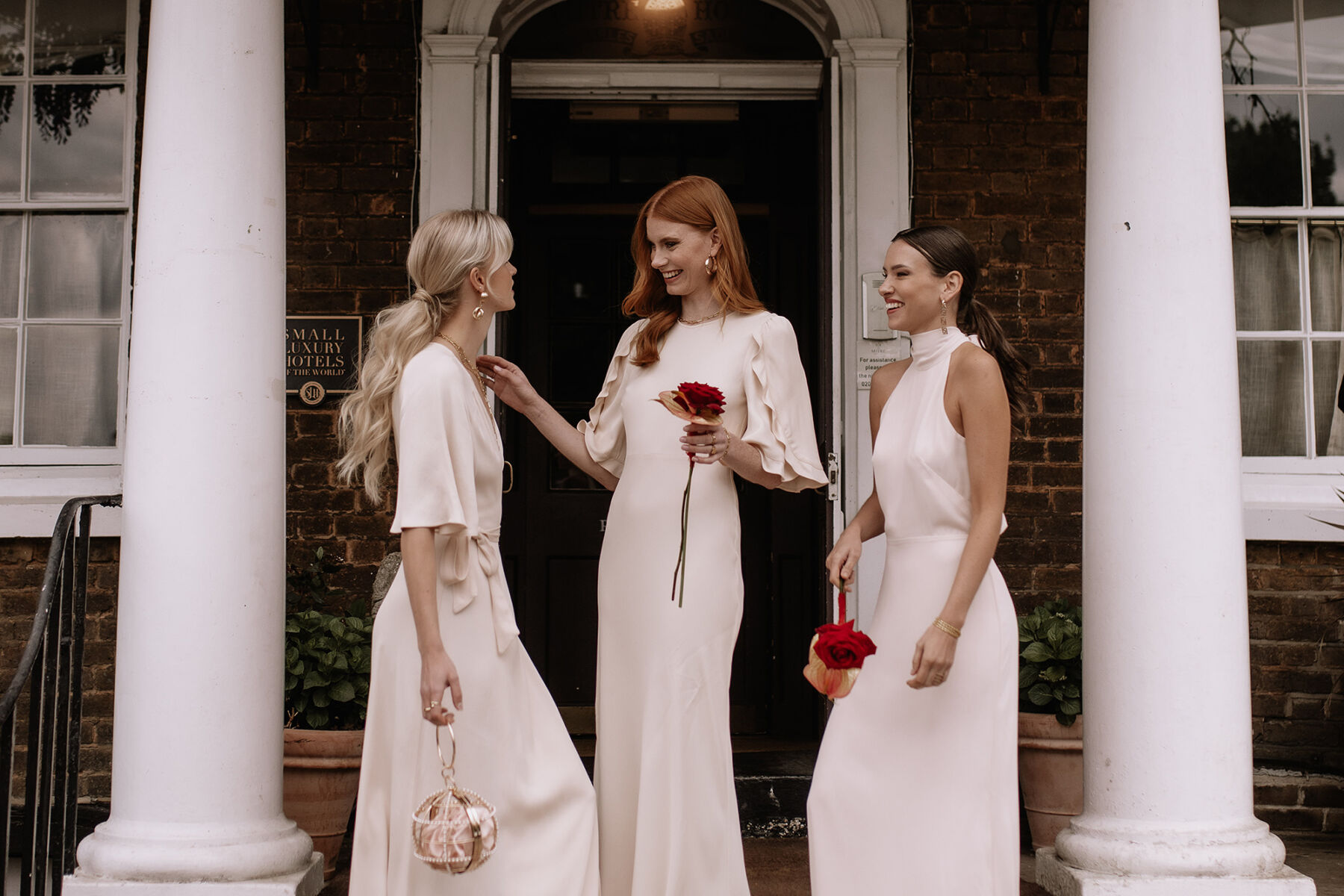 3. Packaging – recyclable/no plastic
4. Posting – We use Royal Mail because it is identified as the eco-friendliest delivery company, with lowest reported carbon emissions per parcel of any major UK delivery company, scoring 54.5  out of 60.
5. (Re)purposing  –  We ensure unsold items are never thrown away and make our best effort to ensure that our dresses find a new home, whether that's giving to charity or an off-price retailer. Wear, care, recycle.
We are conscious and we really do care about the impact of everything that we do.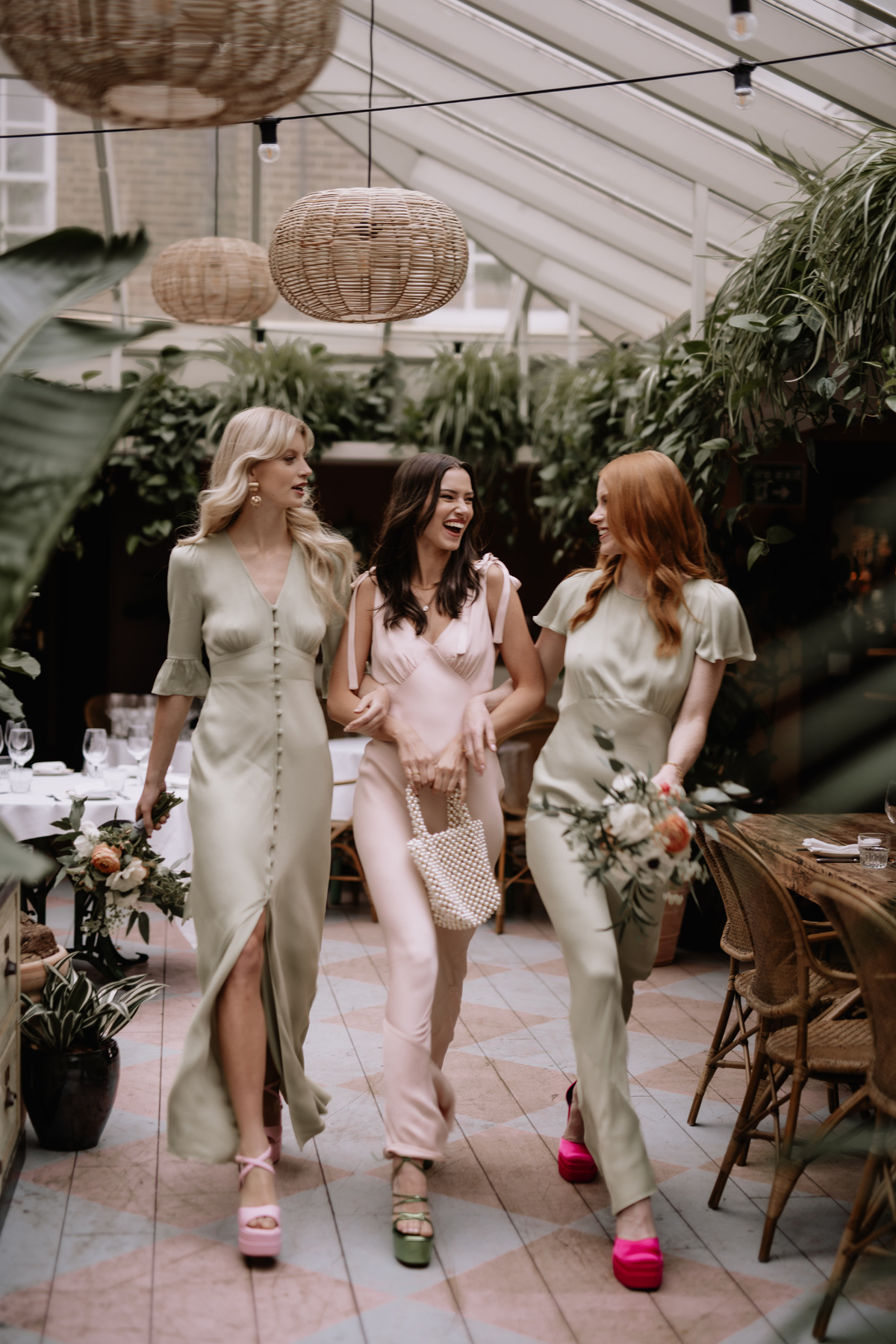 Favourite Frocks?
Sinclair's favourite is the new Margot, as a plus sized girl this shape is the dream, you can wear a normal bra and skims the hips. Also as a tall girl its nice to have a dress that's actually long enough.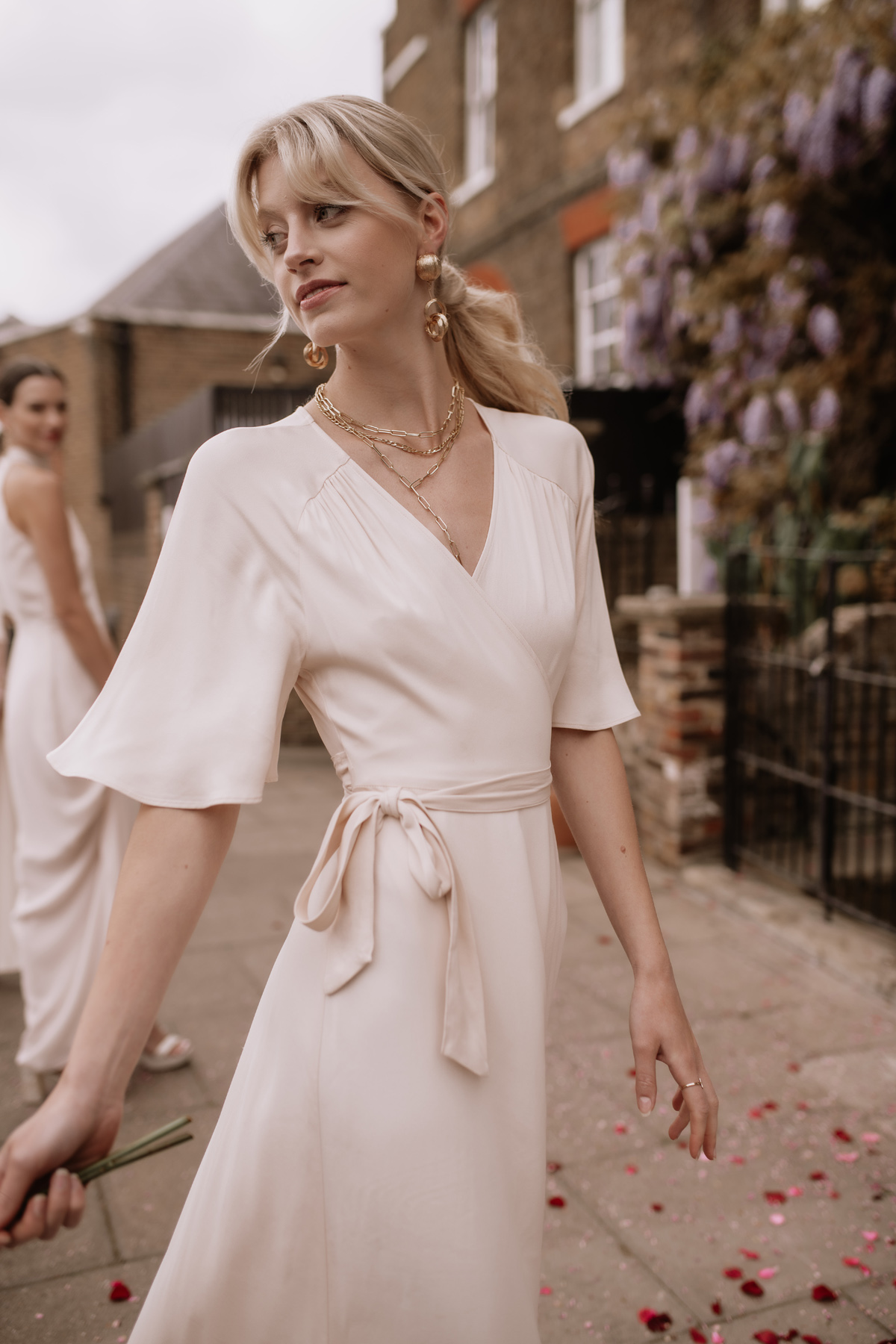 India's favourite is probably between the Daphne and Allegra. The Daphne is a stunning Dres with lots of buttons and a flute sleeve, equally the Allegra has a very cool square neck with a tie shoulder, the skirt is circular and so not clingy and super flattering.
Where are you located and how can bridesmaids try on your dresses?
We have just opened a new showroom in Chelsea, for the brides and her maids to come and have a fun trying on session. We are literally on the wedding mile on the Fulham Road, next door to Philippa Lepley and near lots of other well known designers and brands, so is the perfect one stop road of bridal bliss.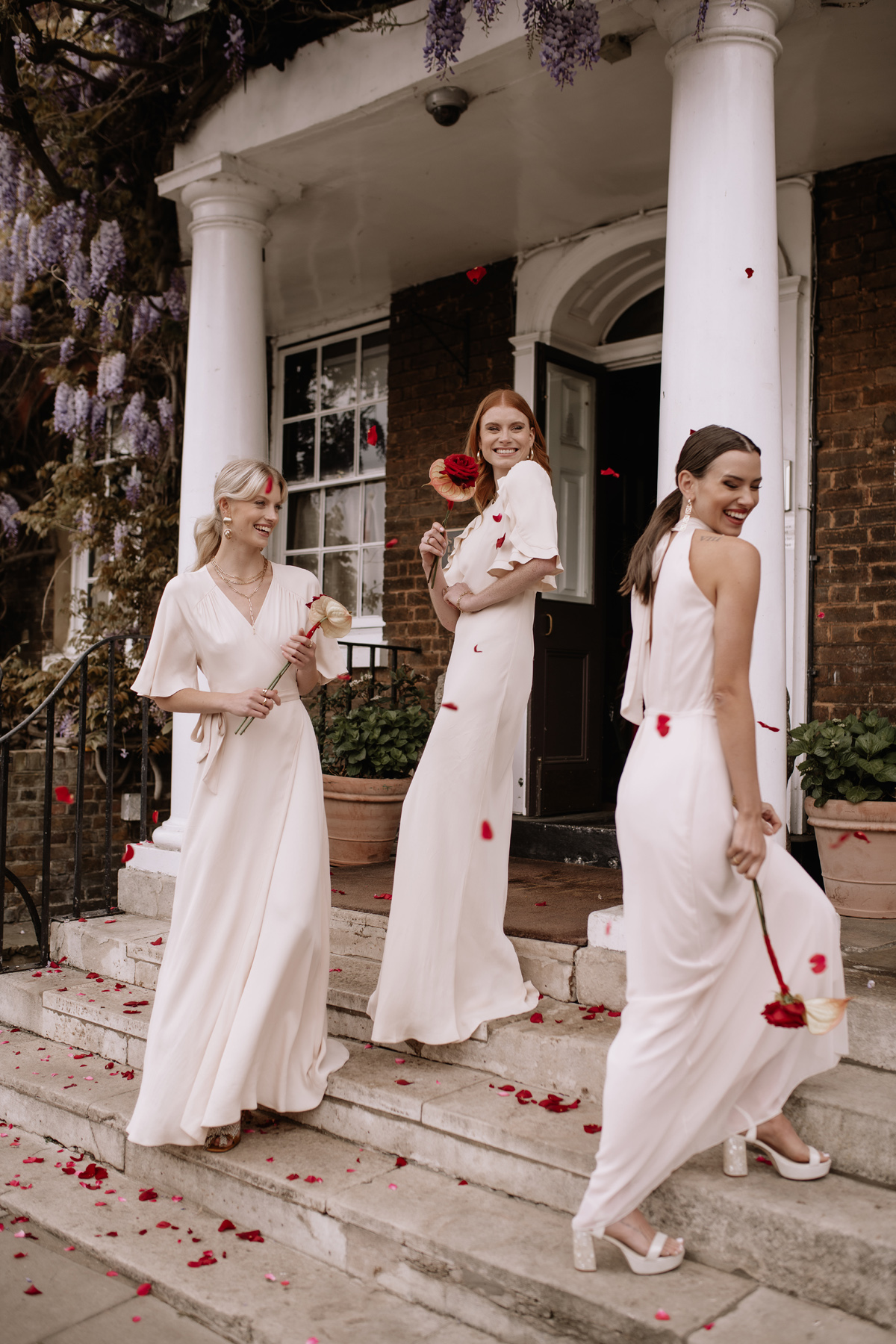 We love seeing our brides and having them have an epic and memorable time with us, it helps we're next door to a cocktail bar!
All the dresses are between £130 and £175 it was always important to us to have an affordable range of bridesmaid dresses but keeping the quality super high end.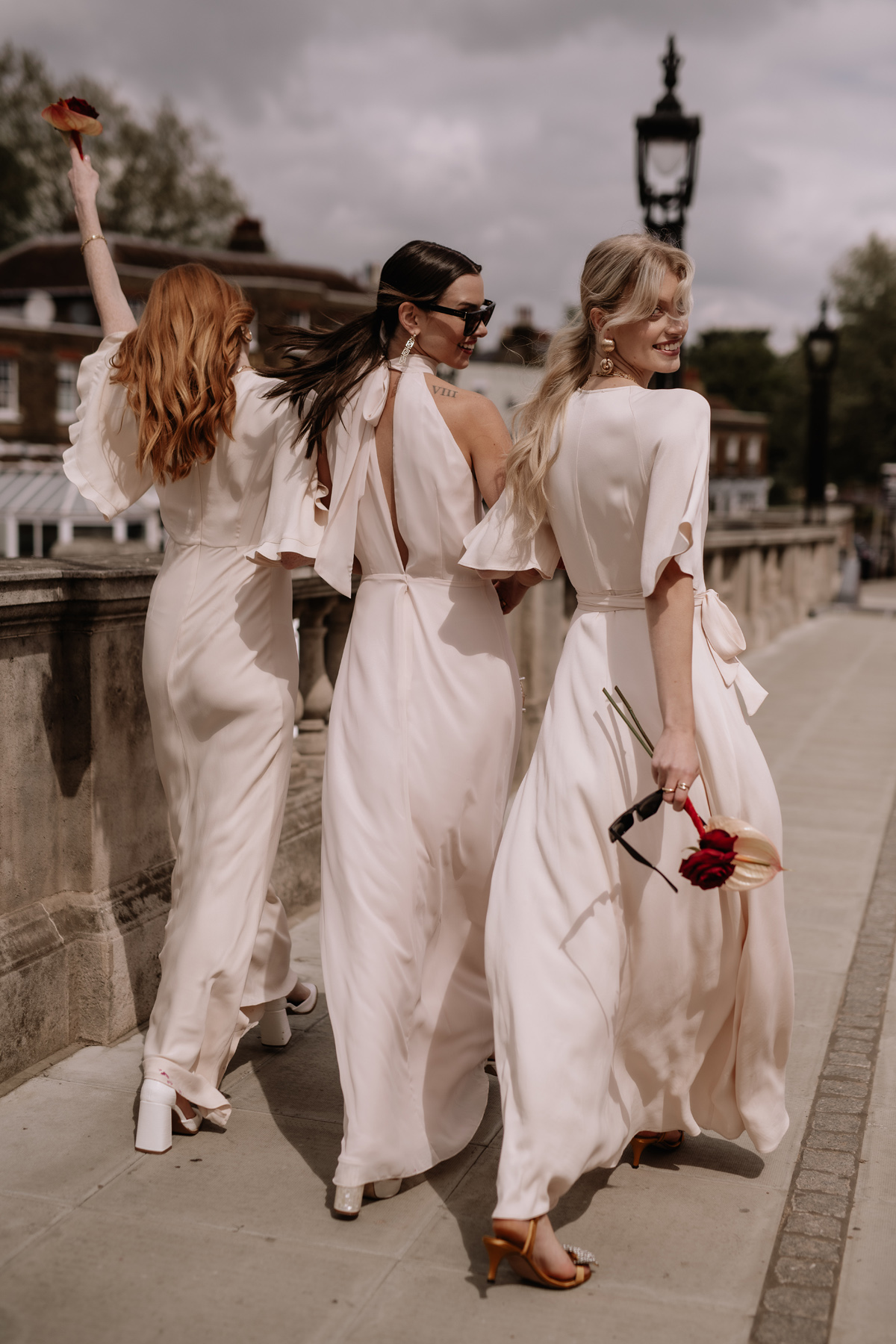 Our friends and talented designers, Freya Rose London (shoes) and Victoria Percival (accessories) have their showroom in the same building, so visiting our Chelsea showroom really is a one stop shop!
A Note From The Editor
I adore everything about this brand, it is size diverse and price accessible, but the best thing are the visionary women behind it. Sinclair and India channel all their authentic energy into their business and have created a brand that oozes vibrancy, spirit and femininity.
I am so encouraged to see the brand making big efforts to reduce waste and become more ethical and sustainable.
And if, like me, you're not located in or around London, you can always buy online and try at home.
Love Annabel x