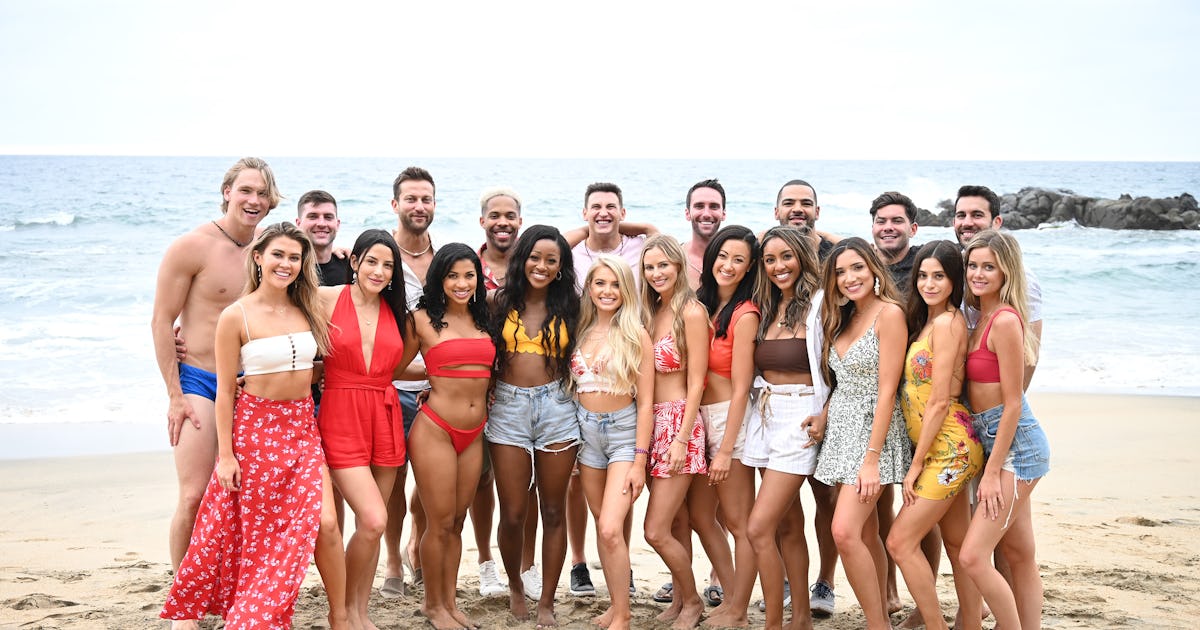 It's been nearly two full years since a beach full of Bachelor and Bachelorette alumni looked for love on Bachelor in Paradise. The last time the show aired, in 2019, no one knew a global pandemic would force the franchise to take a summer off in accordance with lockdown safety measures. But now with a Bachelor and Bachelorette season under their belts, ABC producers have perfected filming in a quarantined bubble and are determined to make BiP Season 7 happen, no matter what. Here's what to know about the upcoming season.
Who Is The Bachelor In Paradise Season 7 Host?
Well, BiP fans are reportedly getting Tommy Boy actor David Spade, rapper Lil Jon, former *NYSNC member Lance Bass, and Unbreakable Kimmy Schmidt star and seasoned Broadway performer Tituss Burgess as the "revolving cast of guests hosts" who will step in during Season 7 to replace Chris Harrison. The longtime host and executive producer stepped back from the franchise in February after his controversial interview with Rachel Lindsay. In the interview, he encouraged people to show Matt James's finalist Rachael Kirkconnell "a little grace, a little understanding, a little compassion" after photos of her attending a 2018 antebellum-themed party surfaced online. Both Kirkconnell and Harrison have issued apologies.
"To my Bachelor Nation family — I will always own a mistake when I make one, so I am here to extend a sincere apology," Harrison wrote in Feb. 11 statement on Instagram, adding that he should have been better "informed" before speaking on this particular topic. "While I do not speak for Rachael Kirkconnell, my intentions were simply to ask for grace in offering her an opportunity to speak on her own behalf. What I now realize I have done is cause harm by wrongly speaking in a manner that perpetuates racism, and for that I am so deeply sorry."
After Harrison announced that he would be taking an undisclosed amount of time away from the franchise, producers knew that they would have to find a new host — not only for Paradise but for Katie Thurston's season of The Bachelorette, which premieres on June 7. Fortunately, some Bachelorette fan favorites stepped up to the plate. "We support Chris in the work that he is committed to doing," ABC said in a statement released on March 12. "In his absence, former Bachelorettes Tayshia Adams and Kaitlyn Bristowe will support the new Bachelorette through next season."
This left loyal viewers of the franchise with only one question: Who would be taking Harrison's place on Paradise. And although Spade, for one, may seem like a random choice to take over the gig, the network actually selected him because of his devotion to the franchise. According to a Page Six report published on June 2, the SNL comedian is a Bachelor superfan who has built up social media following with his routine Bachelor commentary. Spade also notably spent plenty of time on the beach while filming Netflix's The Wrong Missy, so this co-hosting gig will mark his return to the sand. Whether Lil Jon, Bass, and Burgess consider themselves members of Bachelor Nation, however, is TBD.
The Bachelor In Paradise Season 7 Cast
Because of the show's hiatus, the pool of suitors for Paradise is twice its normal size — ABC executive Rob Mills said production is scouting a group of roughly 150 people. "How do you make that into 15 to 18 cast members? It's going to be really tough," he said. Ultimately, there are too many good picks. But whoever is chosen, they're bound to be a solid group of fan-favorites — Mills said Ben Smith and Bennett Jordan from Tayshia Adam's Bachelorette season are both top prospects, and Joe Park told Nick Viall on his podcast that if he's still single by then, he'd consider joining.
So far, it seems that Park is the only semi-confirmed member of the cast. After the anesthesiologist documented his COVID-19 vaccination journey on social media in January, Mills dropped a major hint that we would see him on Paradise. "We've got ourselves a vaccinated Paradisian!!" he tweeted. Otherwise, casting for the spinoff has reportedly been a challenge. In March, E! News reported that several members of Bachelor Nation declined offers to do BiP following the racism scandals. The insider added that ABC was "hoping to get Blake Horstmann, Tia Booth, and Becca Kufrin" on board.
While the official cast hasn't been announced, we do know a few Bachelor/ette alum who definitely won't be showing up. Season 25 lead Matt James told People in April that he and Tyler Cameron will not be looking for love on the upcoming season. "There's a negative chance I'll be on Paradise," he told the magazine. "There is a negative chance Tyler's on there as well. I think we're good on that."
According to Reality Steve, there are at least 30 contestants in paradise this season — though he notes that they likely won't all make televised appearances. From Peter Weber's Bachelor season, the blogger believes Kelsey Weier, Victoria Paul, Tammy Ly, Deandra Kanu, Maurissa Gunn, Mykenna Dorn, Alexa Caves, Alayah Benavidez, and Natasha Parker will join BIP. Contestants from previous Bachelorette seasons rumored to appear include Park, Noah Erb, Chris Conran, Ivan Hall, Chasen Nick, Kenny Braasch, DeMario Jackson, Ed Waisbrot, and Riley Christian.
While James made it clear he won't be seen, cast members from his season including Mari Pepin, Abigail Heringer, Jessenia Criz, Alana Milne, Chelsea Vaughn, Serena Pitt, Serena Chew, and "Queen" Victoria Larson may be featured, as well as Demi Burnett from Colton Underwood's season. Additionally, he claims Kufrin may become the first-ever former Bachelorette to appear on BIP, along with Booth and Kendall Long, her fellow castmates from Arie Luyendyk Jr.'s season — and "Grocery Joe" Amabile, Long's ex whom she met on Season 5 of BIP.
Finally, Reality Steve suggests that several men from Katie Thurston's ongoing Bachelorette season will appear in paradise, including Connor Brennan, Thomas Jacobs, James Bonsall, and Karl Smith.
Considering production on all Bachelor franchises is top-secret, contestants tend to lose access to social media during their time on the show. However, Reality Steve points out that this is no longer universally true as producers want to throw off viewers' predictions. So take it with a grain of salt, but most of the aforementioned contestants were inactive on Instagram for at least a week at the beginning of June, and the only ones whose IG pages have remained active for the entirety of filming are Kufrin and Brennan.
Where Will Bachelor In Paradise Film?
Typically, Paradise is filmed at Playa Escondida resort in Sayulita, Mexico, but Mills isn't sure that that will be the case for Season 7. "If people can get vaccinated, then maybe we're back in Mexico," Mills told Variety. "If not, maybe there is a bubble situation in Mexico. We will figure out something — I never know what will happen, but I feel very confident in saying that you will get Bachelor In Paradise next season." Per Insider, the season began filming in early June and will go on for three weeks.
When Will Bachelor In Paradise Season 7 Premiere?
Bachelor in Paradise will return on Aug. 16 with a two-hour episode airing at 8 p.m. ET.
This article was originally published on