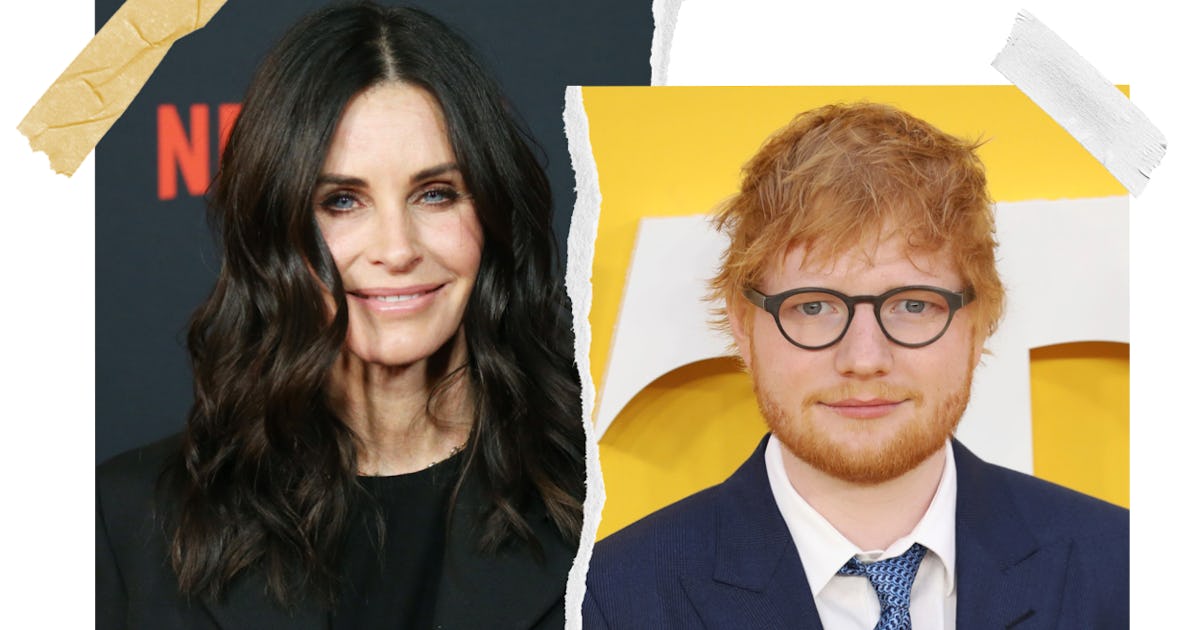 HBO Max's highly anticipated Friends reunion may be over, but Courteney Cox isn't done paying homage to the hit sitcom. On Sunday, May 30, the actor joined forces with singer Ed Sheeran to recreate an iconic dance scene between Ross (David Schwimmer) and Monica (Cox) from a Season 6 episode called "The One With The Routine." In the episode, the sibling duo tries to get the attention of the camera crew on the set of Dick Clark's New Year's Rockin Eve by performing a dance number they made up in middle school.
It's worth noting that Cox and Sheeran's version of "The Routine" didn't go quite as smoothly as Ross and Monica's. In the clip, which both stars shared on Instagram on Sunday, May 31, the two totally nailed the choreography until… they didn't. After shimmying past one another and breaking out dance moves that resembled "The Chicken Dance" and "The Sprinkler," Cox attempted to jump into the "Afterglow" crooner's arms. Unfortunately, she missed by a long shot and both stars fell to the ground.
"Just some routine dancing with a friend…" Cox captioned the clip on Instagram. Sheeran, for his part, shared the hilarious video on his feed as well. "Had a reunion of our own this weekend," he wrote before adding a series of hashtags that included "#friends4eva" and "#obviouslybetterthanross." But some Friends fans aren't convinced. "Ross can never be replaced," Instagram user @sarcastically_you wrote in the comments. "You should've done this with David," another fan wrote.
Although some people would've preferred to see Schwimmer performing "The Routine" instead of Sheeran, there were many fans — celebrities included — who were just grateful to be getting more content so soon after the release of the Friends reunion special. "This is EPIC," actor Kaley Cuoco commented. Queer Eye star Tan France agreed, calling their dance routine "amazing." Allison Janney took to the comments as well, asking Cox how long it took for them to learn (or re-learn, in Cox's case) the choreography.
The nostalgic clip arrived on social media just days after the reunion premiered on HBO Max. Earlier this month, Cox got candid about the special during an appearance on The Ellen DeGeneres Show. "It was so emotional," she told the host. "It's an unscripted reunion, but we got to be on Stage 24 for the first time, all of us, in like … 17 years." Cox said it was a particularly enjoyable experience for her because she has "the worst memory" and the cast reminisced on so many things that she had completely forgotten about.
Longtime fans of the series would likely agree that the reunion had many highlights, including a musical collaboration by Lisa Kudrow and Lady Gaga of Phoebe Buffay's lyrical masterpiece, "Smelly Cat." The cast also recreated some of the show's best moments by doing a table read and playing a reimagined version of Ross's trivia game from Season 4. Still, the most memorable moment may have been when Schwimmer and Jennifer Aniston admitted to crushing on each other IRL. "The first season, I had a major crush on Jen," Schwimmer said. "And I think at some point we were both crushing hard on each other." Aniston confirmed that the feelings were, in fact, "reciprocated."