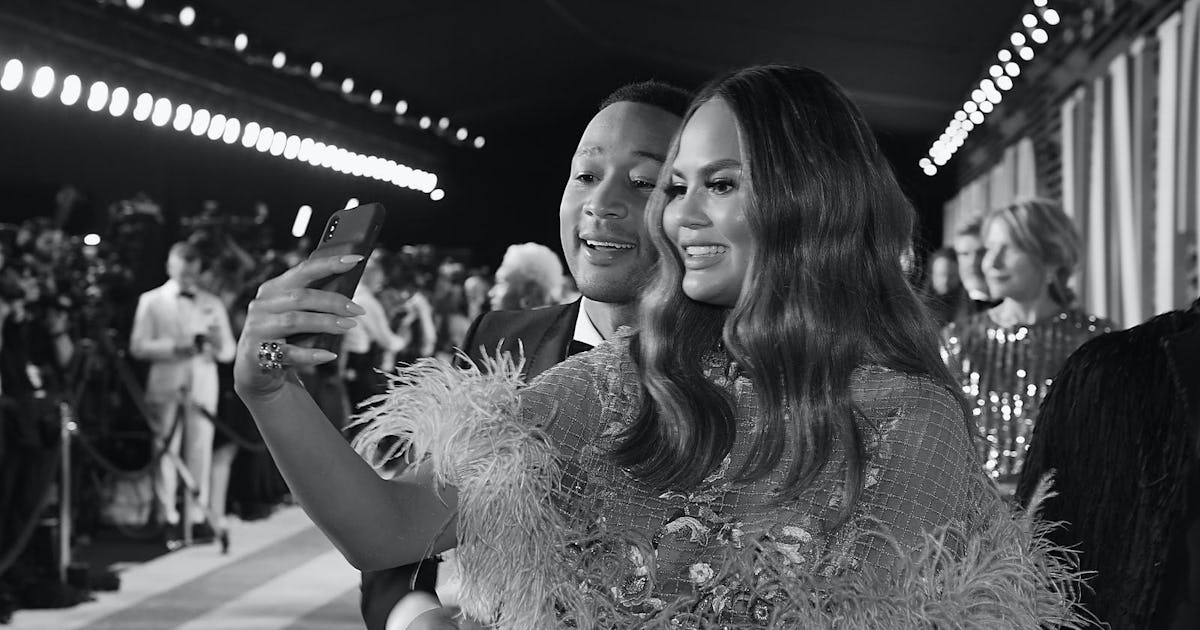 It's been a "VERY humbling few weeks" for Chrissy Teigen, who is currently embroiled in a cyberbullying scandal that's much bigger and more complicated than anyone suspected even a month ago. It all started in May, when reality TV star Courtney Stodden told The Daily Beast that the Cravings cookbook author tweeted hateful messages to them 10 years ago in 2011, including ones that encouraged Stodden to end their life.
"She wouldn't just publicly tweet about wanting me to take 'a dirt nap' but would privately DM me and tell me to kill myself," Stodden revealed. But Teigen wasn't the only one. Apparently, Joy Behar and Courtney Love were among the other "playground bullies" who targeted Stodden because of their 2011 marriage to Green Mile actor Doug Hutchison when he was 51 and Stodden was 16. "Some of the worst treatment I got was from women, and we're not going to get anywhere if we keep holding each other back," Stodden said.
Elsewhere in the interview, the Celebrity Big Brother star said that hardly any of the people who shamed them — with the exception of Perez Hilton — reached out to apologize. On May 12, however, Teigen took to Twitter to explain herself. "Not a lot of people are lucky enough to be held accountable for all their past bullsh*t in front of the entire world," she wrote. "I'm mortified and sad at who I used to be. I was an insecure, attention-seeking troll."
The 35-year-old model went on to acknowledge that the embarrassment she feels is "nothing" compared to how she made Courtney feel. "I have tried to connect with Courtney privately but since I publicly fueled all this, I want to also publicly apologize," she tweeted. "I'm so sorry, Courtney. I hope you can heal now knowing how deeply sorry I am." Before logging off, the author also made a promise to her fans. "I am so sorry I let you guys down," she continued. "I will forever work on being better than I was 10 years ago, 1 year ago, 6 months ago."
Stodden welcomed the apology but said she was skeptical of Teigen's intentions. "I accept her apology and forgive her. But the truth remains the same, I have never heard from her or her camp in private," the reality star wrote on Instagram alongside a screenshot that shows she was blocked by Teigen on social media. "In fact, she blocked me on Twitter. All of me wants to believe this is a sincere apology, but it feels like a public attempt to save her partnerships with Target and other brands who are realizing her 'wokeness' is a broken record."
Soon after the story made the rounds, Teigen was dropped from the Safely cleaning brand that she co-founded with Kris Jenner. Her cookware line also disappeared from Macy's, Target, and Bloomingdale's. Macy's didn't issue a statement about why the line was removed from the store's website. A rep for Target, however, told Page Six that the controversy had nothing to do with the products being taken off the shelves. "We made the mutual decision in December to no longer carry the cookware line, given our continued focus on brands we develop and that can only be found at Target," the spokesperson said.
Regardless of why Teigen's cookware was no longer being sold at these stores, several public figures supported this move. Right-wing pundit Candace Owens was "pleased" to share with her followers that Macy's was no longer carrying her items. On Saturday Night Live, comedian Pete Davidson joked that "getting Chrissy Teigen out of our lives" was one of the more positive things about the coronavirus pandemic.
Unfortunately, the drama didn't end there. On June 4, Teen Mom star Farrah Abraham opened up to Fox News about her own negative encounter with Teigen, who reportedly called her a "whore" that "everyone hates" in a tweet from 2013. "When I initially saw Chrissy Teigen make these comments I could tell she was a desperate music video groupie and model," Abraham said. "[At the time,] I just thought it was only with me and I ignored her because I don't behave like that. Now I see it's tons and tons of people."
Abraham went on to call Teigen an "unfit person in society" and told the outlet that she hopes the model gets help. "She does not need to target young women or other people. I hope she gets mental help and therapy," Abraham added. "I would definitely take out the alcohol. No woman should be treating other women like that." While it's unclear what steps Teigen has taken to protect her mental health, a Netflix spokesperson announced on June 4 that she "decided to step away" from her planned guest role on the coming-of-age comedy Never Have I Ever. According to the streaming service, the voiceover role "is expected to be recast."
After roughly one month of self-reflection, Teigen returned to social media on June 14 with another apology (above) that she published on Medium. "It has been a VERY humbling few weeks," the author wrote in her open letter. "As you know, a bunch of my old awful (awful, awful) tweets resurfaced. I'm truly ashamed of them." Teigen also said that she apologized to one person (Stodden) publicly, but that there are several others she owes an apology. "I'm in the process of privately reaching out to the people I insulted," she said.
Also in her letter, Teigen said that there is "no excuse" for her past behavior. "I was a troll, full stop. And I am so sorry," she wrote. "I was insecure, immature, and in a world where I thought I needed to impress strangers to be accepted." Going after celebrities on social media seemed like a relatively harmless way to do that, but it's clear now that her inappropriate and dangerous rhetoric caused people a lot of pain. "Now, confronted with some of the things that I said, I cringe to my core," she added. "I'll honestly get sharp, stabbing pains in my body, randomly remembering my a**hole past, and I deserve it."
If Teigen thought that her second apology would mark the end of her cyberbullying scandal, she was wrong. Shortly after publishing her letter, Project Runway star Michael Costello took to Instagram (in a since-deleted post) to call her out for leaving him with "deep, unhealed trauma" after she accused him of being a racist in 2014. One of the texts allegedly from Teigen that the designer shared said, "Racist people like you deserve to suffer and die." Costello claimed that these abusive messages left him with suicidal thoughts that he is still struggling with today.
"She apparently formed her own opinion of me based on a photoshopped comment floating around the internet which has now been proven to be false by Instagram and since taken down," Costello claimed in his lengthy social media post. He indicated that the doctored comment made it seem as though the designer used a racial slur when he did not. When he reached out to Teigen to explain that he was "the victim of a vindictive cyber slander," he said she didn't believe him. Instead, she allegedly told him that his "career was over and that all my doors would be shut from there on."
According to Costello, Teigen's behavior took an enormous toll on his career. "Throughout the next few years, I would book jobs only to be pulled off last minute with no explanation," he wrote. He said he would also receive texts and calls from friends who would tell him that Teigen and stylist Monica Rose would "threaten people and brands" that continued to work with him. This treatment only contributed to his worsening mental health, he added.
"I didn't see the point of living," he continued. "There was no way I can ever escape from being the target of the powerful elites in Hollywood, who actually do have the powers to close doors with a single text."
However, Teigen disputed Costello's claims in a statement from her team that she shared via Instagram on June 18. It described the screenshots the designer had shared as "fictional" and denied that Teigen had sent them. "Chrissy is completely surprised and disappointed by Michael Costello's recent attack," the statement read in part. Teigen added in her caption, "No idea what the f*ck michael costello is doing," and threatened possible legal action against him.
There was one unlikely star who came to Teigen's defense. After Costello wrote about the author, singer Leona Lewis recalled a time when the Project Runway star refused to dress her for a charity fashion show when she didn't fit into the sample size. "We all make mistakes, I know I have, but at this time I feel that when people apologize (Chrissy) and show sincere remorse and rehabilitation for their actions, we should embrace them and not try and kick them when they're down," Lewis wrote.
Teigen's husband, musician John Legend, also defended Teigen. On June 14, he reshared her apology on Twitter with some words of wisdom. "We are all more than our worst moments," he wrote alongside four heart emojis. On June 15, he gave TMZ an update on how his wife is doing amid the overwhelming amount of bullying allegations made against her. "She's doing great," he revealed. Then, on June 17, Legend tweeted that the exchange in Costello's screenshots was "made up, completely fake, never happened" and included "receipts."
At this point, Teigen's future depends mostly on whether she's able to right her wrongs. If she is reaching out to the victims privately as promised, she may be able to mend fences on a personal level. But in the court of public opinion, she will likely have a harder time. Regardless of how many years have passed since she allegedly sent those messages, urging people to take their own lives is a line that should never be crossed. And while she seems to be taking accountability for her past behavior, much of what happens next depends on two factors: Will brands want to work with her again? And more importantly, how many more victims are there?
If you or someone you know is experiencing suicidal thoughts, call the National Suicide Prevention Hotline at 1-800-273-8255 or text HOME to the Crisis Text Line at 741741. You can also reach out to the Trans Lifeline at 877-565-8860 or the Trevor Lifeline at 1-866-488-7386, or to your local suicide crisis center.
This article was originally published on