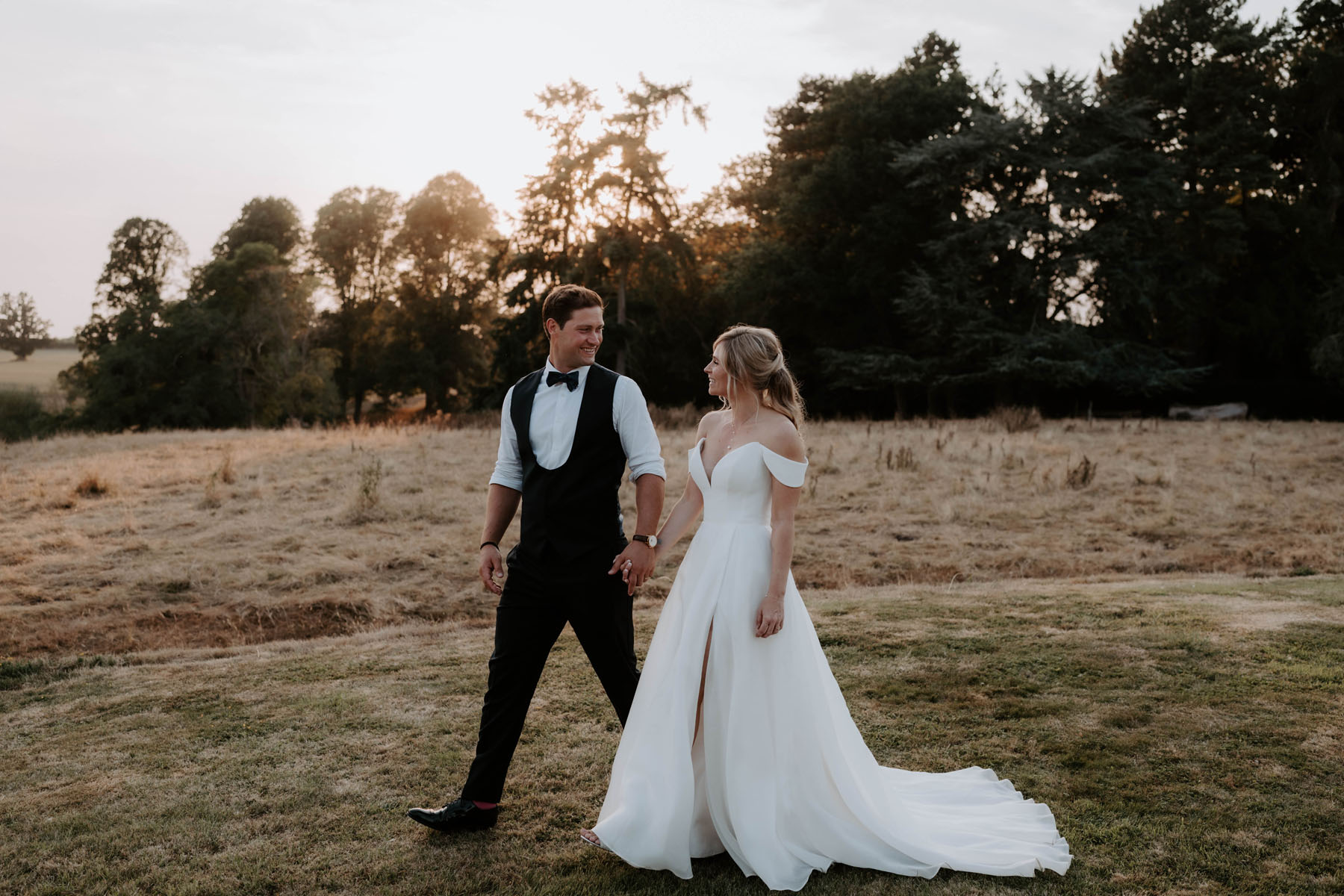 Lucy and Tom got married on 13th August this year at the beautiful Herefordshire wedding venue, Broadfield.
The couple set out to create a locally sourced wedding that supported small local businesses and the bride chose to wear a beautiful Suzanne Neville Gown from the wonderful Ellie Sanderson bridal boutique.
Of all the West Midlands country house wedding venues, Broadfield is one of the finest and we are incredibly proud to recommend this stunning location through the Love My Dress wedding directory.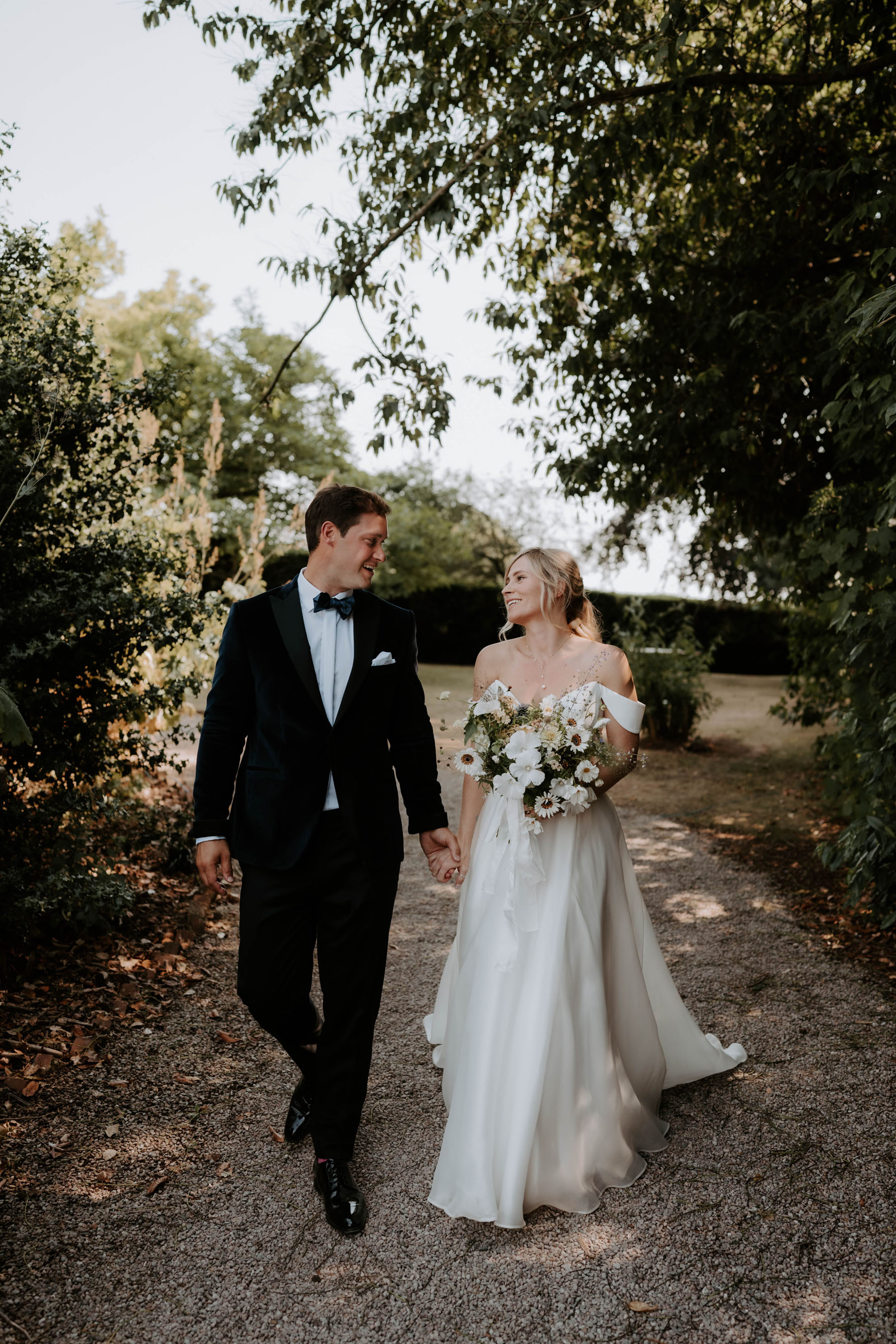 Broadfield Court, Herefordshire Wedding Venue
We got married at Broadfield Court in Herefordshire. We wanted a venue that ticked multiple boxes, including 2-3 day exclusive house hire, the ability to choose your own suppliers, accommodation for up to 20, capacity for our 120 guests and a beautiful countryside setting.
We were limited to venue viewings because of the pandemic, but Frances at Broadfield was kind enough to give us a video tour and as soon as we could meet her and the house in person, we were straight in the car on a 3 hour journey from Surrey.
We fell in love with the setting and hired West Country Marquees for the grounds.
A Suzanne Neville Dress
I wore a Suzanne Neville gown, from Ellie Sanderson. It was one of the first dresses I tried on and after making my way through 12 designers, another 40 dresses at 6 boutiques, I ended up back at Ellie's for the Calla dress.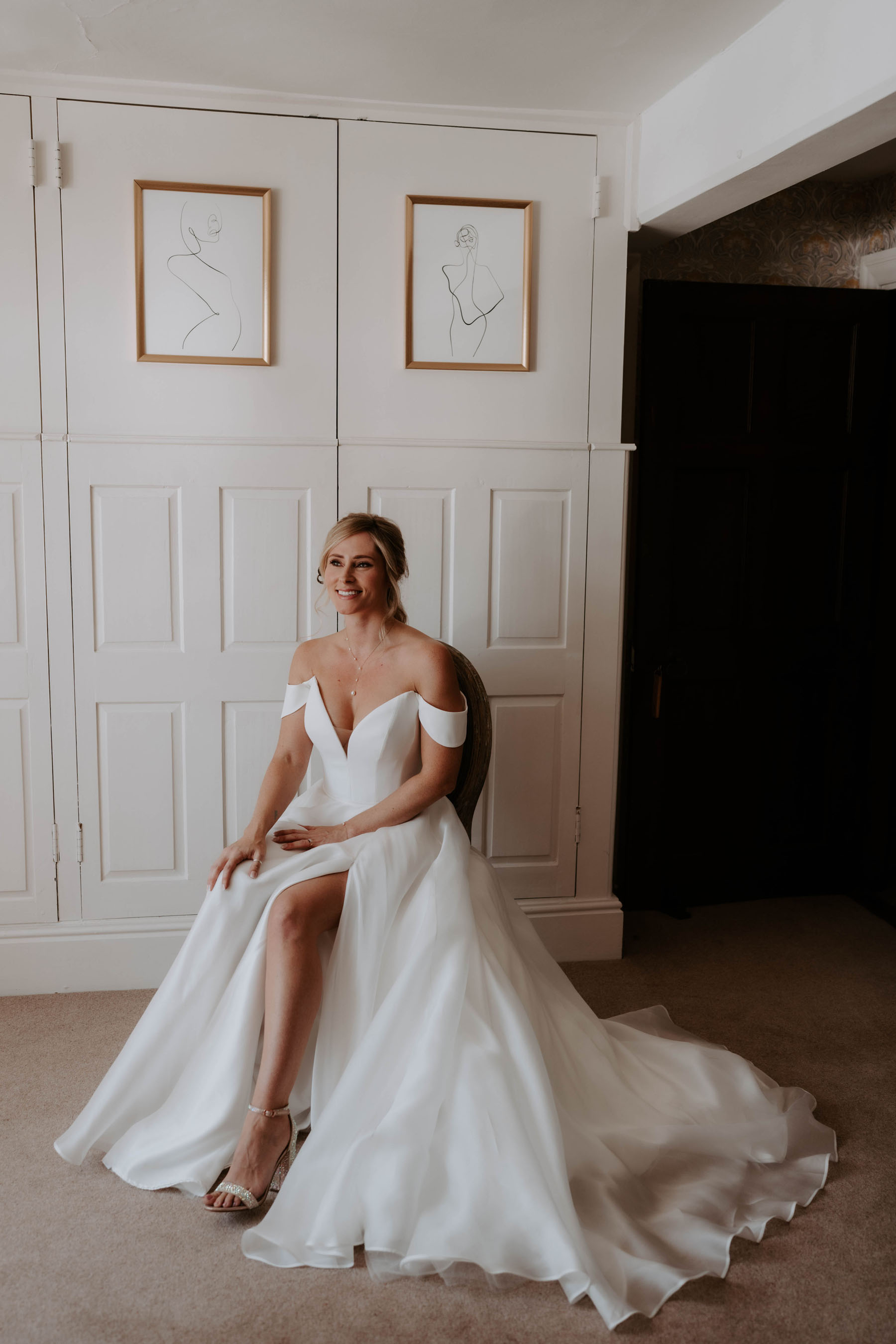 I loved how the dress made me feel, sophisticated, timeless and beautiful. Enhancing the parts of my body that I love the most.
Meadow Inspired Wedding Flowers
I originally had envisioned light blue with white detail for my colour scheme, we used Luna Bloom as our florist who grow their own flowers on the flower farm.
This along with the August drought meant that the blue theme wasn't overly achievable however by that time I was just so excited about our weekend and how it all came together that it really didn't matter and the floral display was still so beautiful I would describe the table centre pieces as a best of British meadow.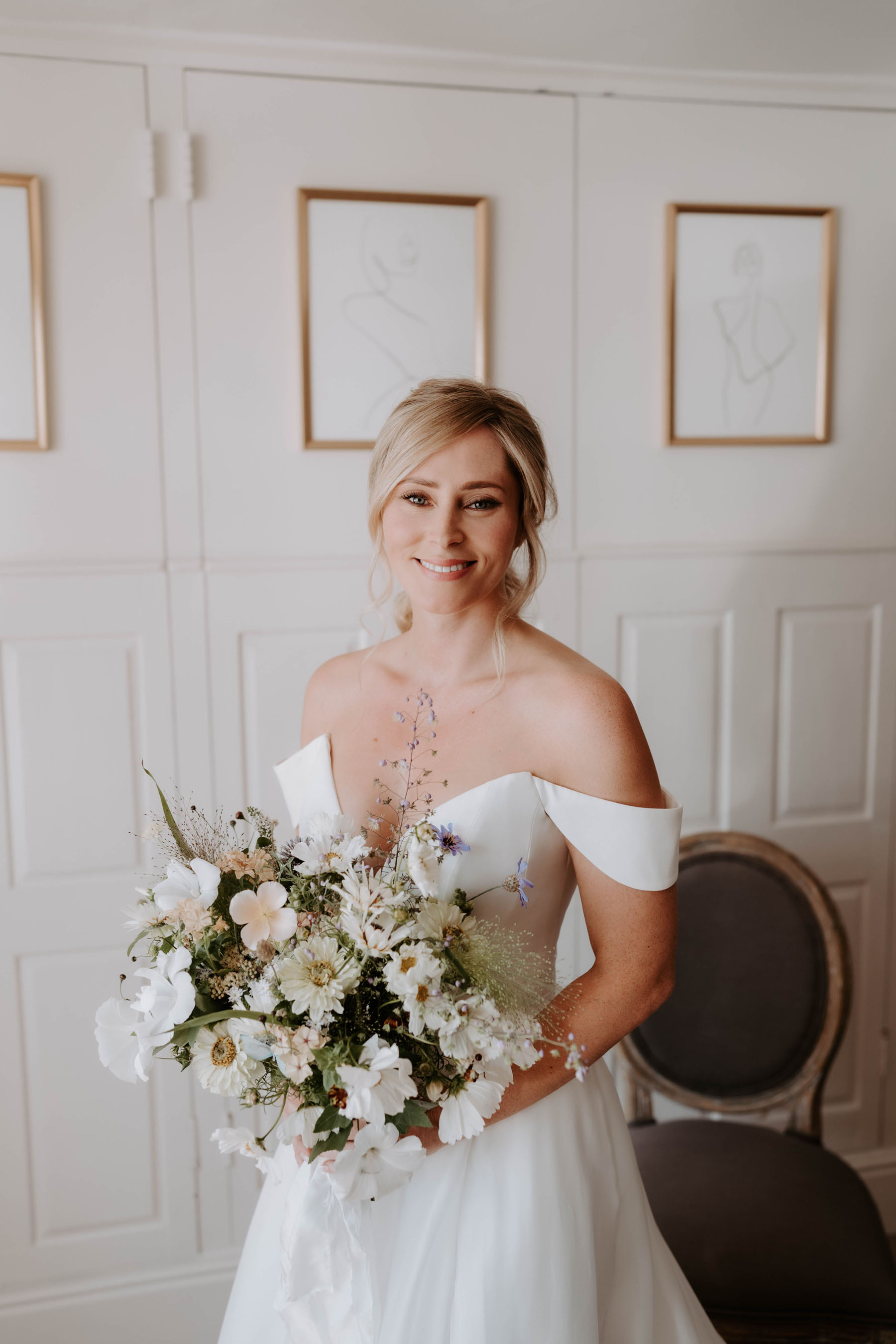 The Ceremony
My younger brother walked me down the aisle, to the sound of 'Sweet Child of Mine', sung by local acoustic duo, the Hey Yahs.
We wrote our vows to each other, I was so nervous reading mine and my hands were shaking so much that Tom had to hold the paper up in front of me whilst I held the microphone with both hands.
Sadly I didn't have the opportunity for my Father to walk me down the aisle as he died from Covid a year before, this made the day very difficult for all of us but I know he would have been watching down on us drinking a large glass of Red. It is also the reason why we postponed the wedding by a year giving us more time to grieve and prepare. The bride
Our rings were family heirlooms.
We had a reading delivered by my Sister-in-law, called 'The Art of Marriage', by Wilfred Arlan Peterson. It perfectly reflects what we both believe marriage to be and how we want to treat each other as husband and wife.
How They Met
We met in London on a dating app and fell head over heels for each other on the first date, we moved in with each other within a few months and got engaged the following year.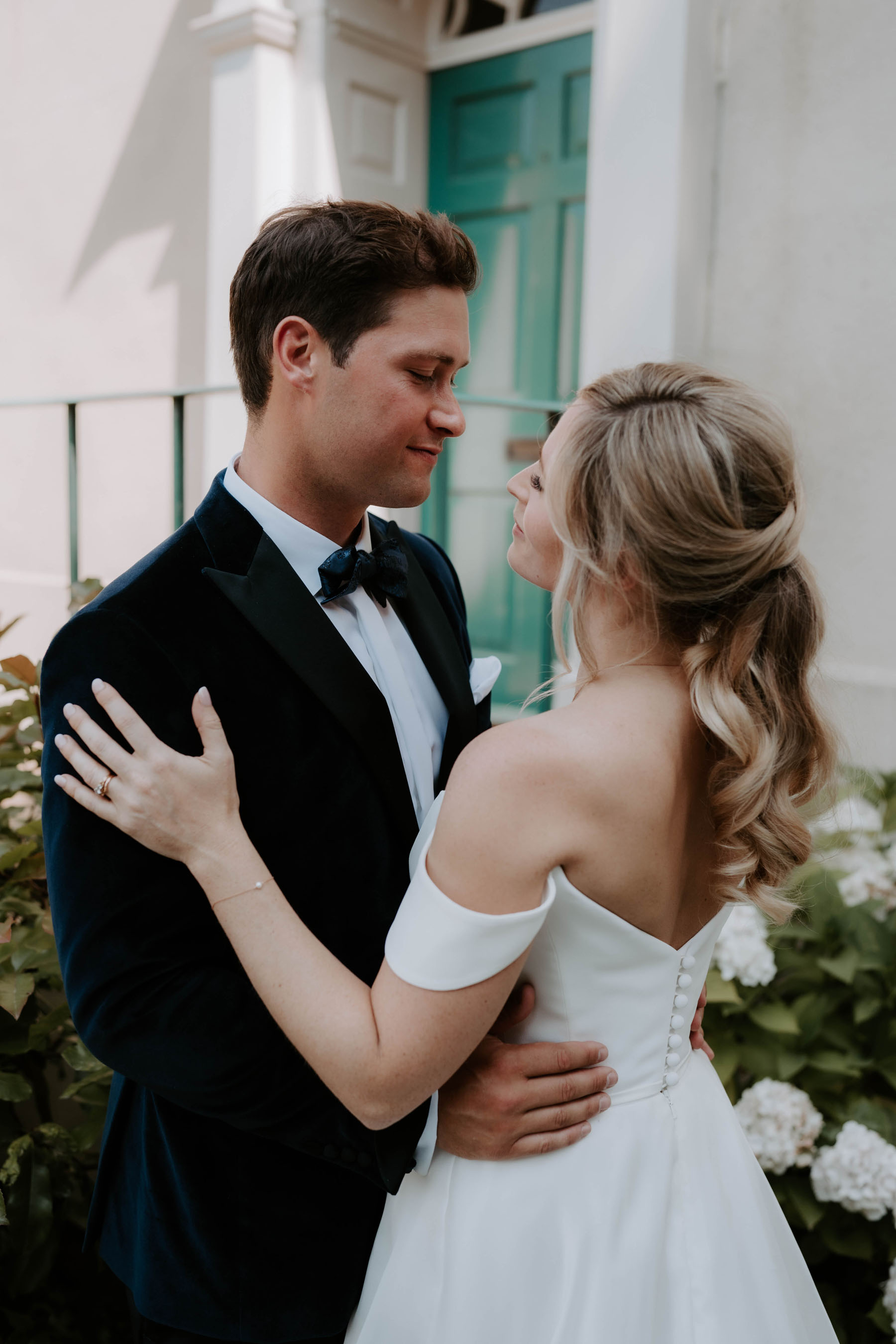 Everything just clicked and we were on the same page in our journeys through life.
Sadly we had to postpone the original wedding date due to Covid and ended up waiting over two years for our dream wedding but it was totally worth it.
A Locally Sourced Wedding
The style that we ended up with just grew from our love to keep things locally sourced, supporting small local businesses with an emphasis on bringing family and friends together for a big party so in the end the little style details didn't matter to us.
Halfway through the speeches my whole family, all 44 of them got up on the dance floor and surprised Tom and I with a dance to 'We are Family' by Sister Sledge.
It was a complete shock and put the biggest smile on everyones faces after my Mum delivered the Father of the Bride speech, the best timing and really lifted the mood
Evening & Dancing
We hired the Listen Up! band via Bands For Hire for dancing in the evening.
Our first dance was to 'Shape of You', by Ed Sheeran. We didn't practice the first dance but it turned out really well as if we were on a dance floor in a club – we really enjoyed ourself.
Words of Wedded Wisdom
Don't just think about THE day, think about the whole experience and plan for last minute time changes. Delegate jobs to people in advance so they know what they are doing and your list of things to do gets shorter.
Don't sweat the small stuff, some things may not go to plan but only you know what that plan was. Your guests won't have a clue and will just be enjoying the free food and drinks in the company of your loved ones.
Plan for an easy 'day after the wedding' and if that means adding to your budget it will be worth it.
The day after we invited everyone back to the marquee for brunch, so they could pick up their cars and properly say goodbye to family. We thought it would be a good cost saving exercise to put on the brunch ourselves but my poor mother in law spent all day in the on site catering kitchen, I was frantically making sure there was enough food on the table and I really couldn't relax like I should have been able to do. So I wish I had sourced a local caterer to take that worry and stress away.
Original budget was around 30,000 and we exceeded it by around 10,000. It got to the point where the extra 100 to 1000 didn't make a difference to make things extra special. It's also worth noting that was stretched across a three day weekend and included accommodation for 22 guests.