Fiona and Stuart got married on 4th May this year at Pollokshields Burgh Hall in the Southside of Glasgow, Scotland.
Fiona wore a simple and elegant Savannah Miller wedding dress, discovered at Anne Priscilla Bridal boutique, which reflected the simple, elegant and relaxed vibe of the day.
The couple got married in church then headed over to this magnificent building to ceilidh dance the nigth away with their friends and loved ones.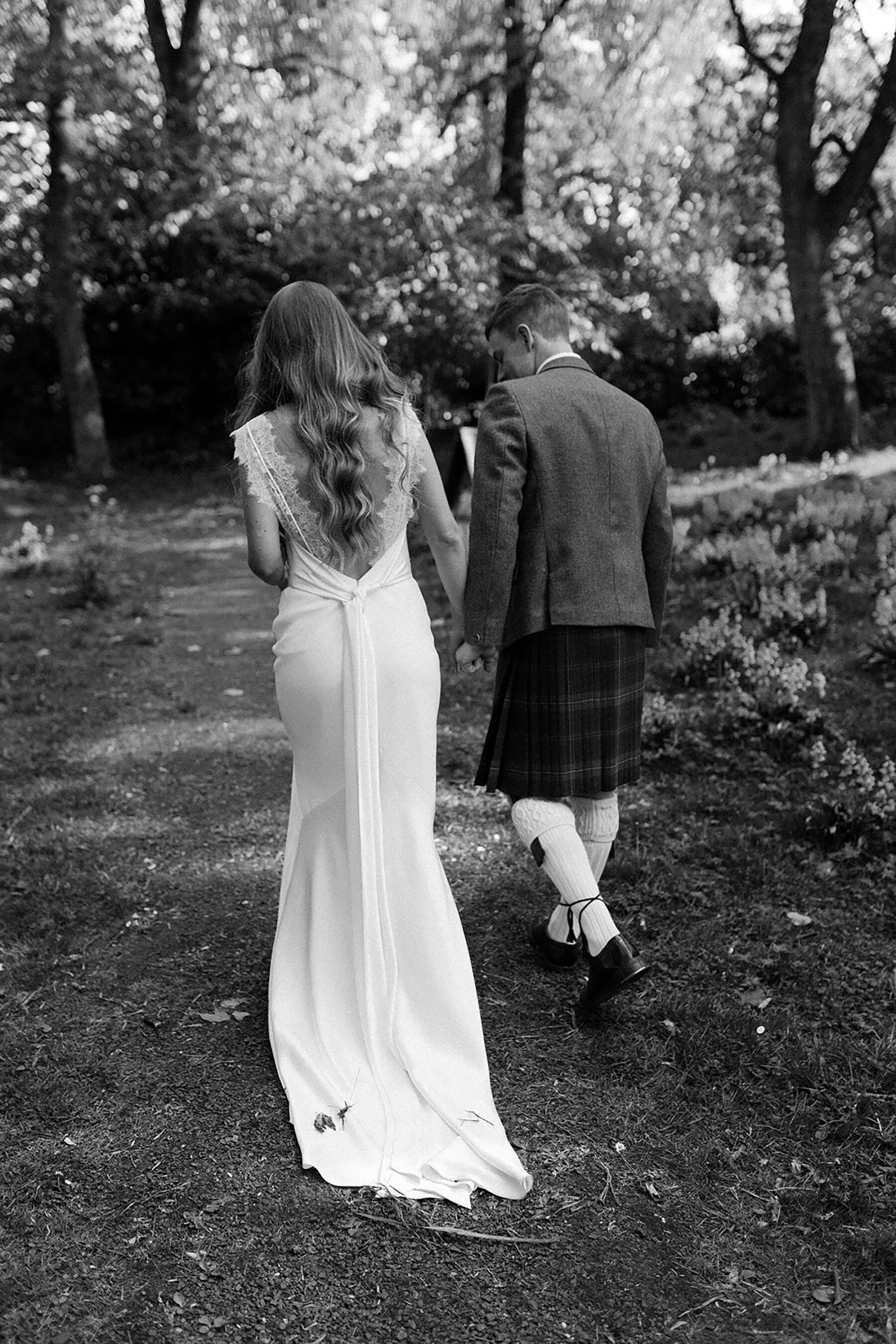 A Savannah Miller Wedding Dress
My dress was 'Alma', by Savannah Miller Bridal. I absolutely loved my dress. It was purchased from a boutique in Glasgow called Anne Priscilla Bridal.
I saw my dress online and it was the first one I tried on when I got to the shop – I immediately knew it was the one for me! I absolutely loved everything about it. It was very simple and elegant and my favourite detail were the Chantilly lace straps.
My auntie and uncle bought me my dress as a wedding gift, so I'll be treasuring it forever.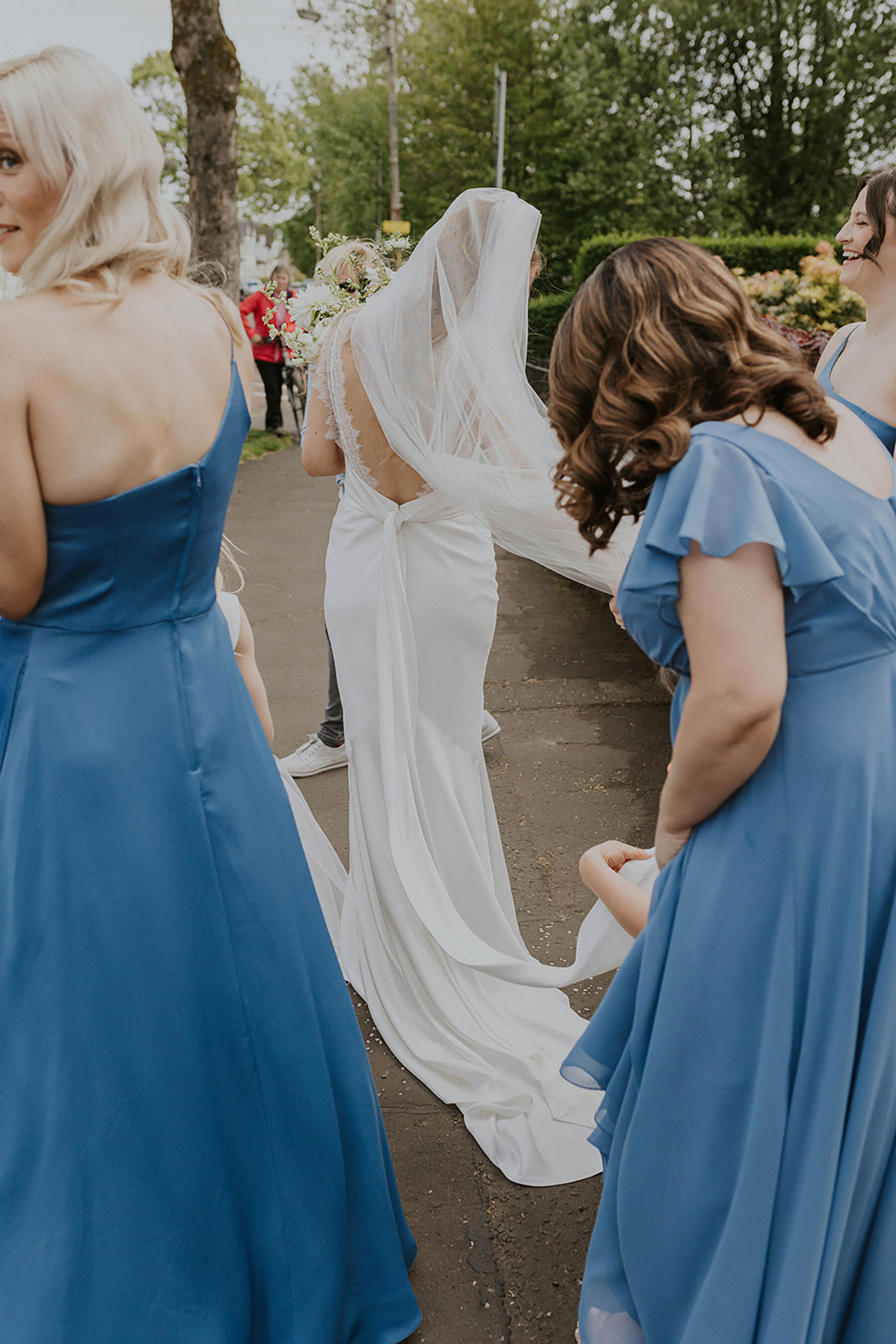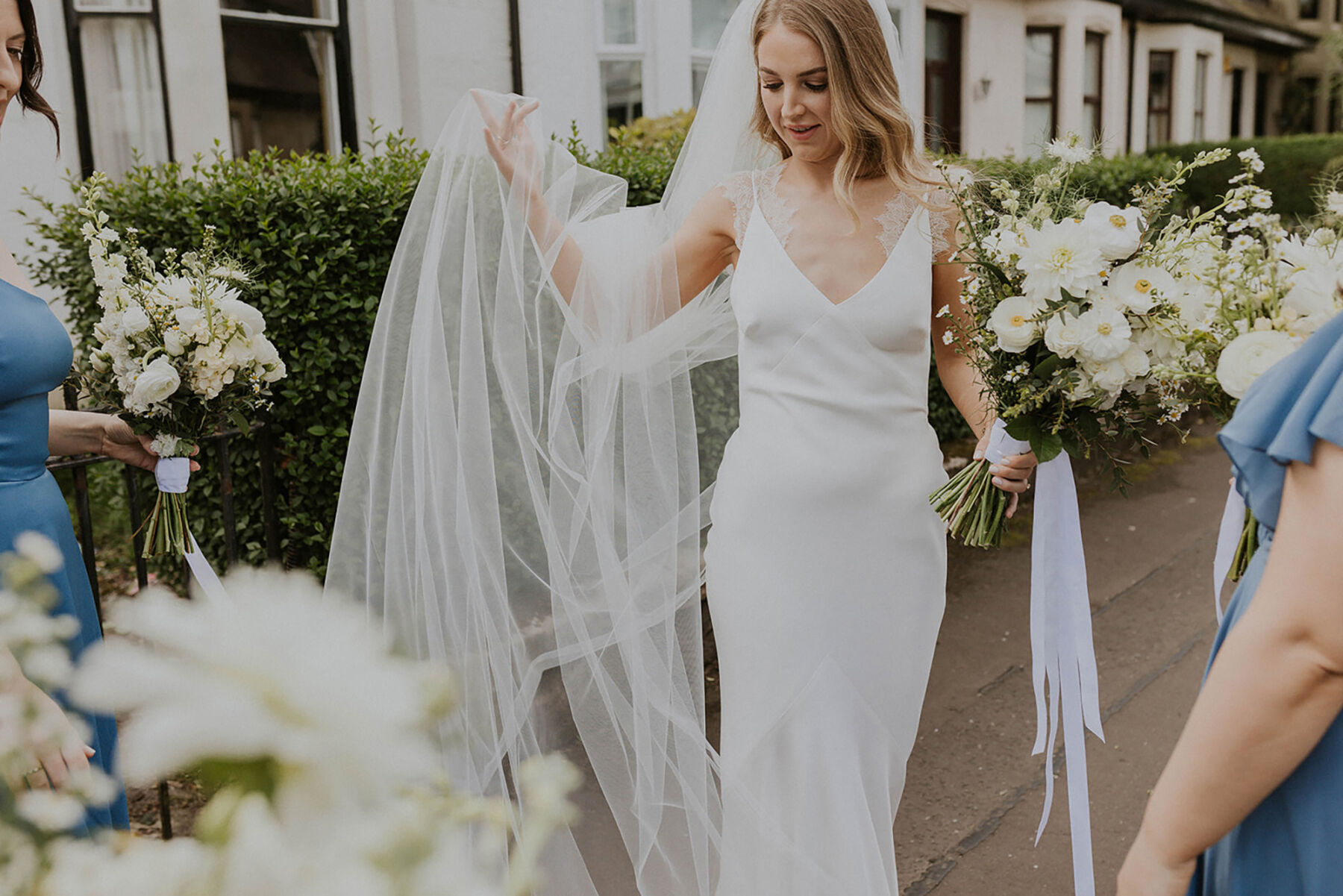 Flowers
We went to Wildthings Florist in Glasgow and Debbie created our amazing floral arrangements and bouquets. We went with a vague vision and she really brought it to life.
There was a mixture of white dahlias, ranunculus, September, nigella, white mathiola, Larkspur and white roses and camomile.
The Ceremony
My wee dad walked me down the aisle. I'm not sure who was more nervous. I had no idea what music I was walking down the aisle to as Stuart had wanted to arrange a surprise. My mum and I were big Abba fans, and nothing makes me happier than a bit of Abba.
So, Stuart hired a harpist to play Dancing Queen as I walked down the aisle. It was perfect.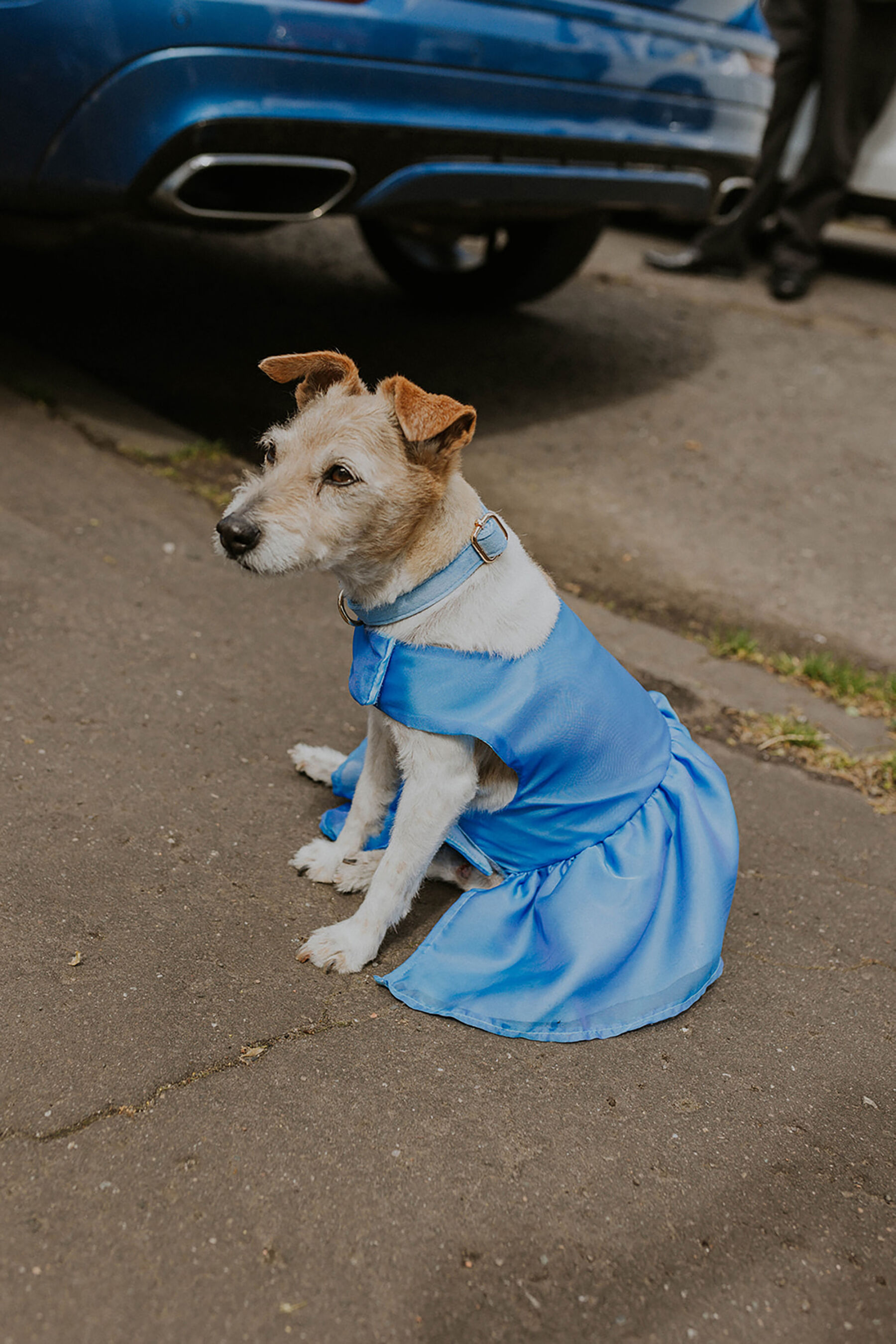 We had a humanist celebrant for our ceremony. Initially we had Alyson Stewart who wrote our ceremony, however sadly Alyson had a last minute emergency so she arranged for Linda Britton to deliver our ceremony. Both women were so lovely.
Photographer
We had Chloe David to take our photography. We both loved Chloe's wedding photography because it felt very natural and we really liked the more modern and candid feel of it.
She's just so talented. On the day, she really managed to make us relax and not overthink. We're both quite camera shy but she made it easy for us.
We especially liked that Chloe just grabbed us at different points of the day, rather than taking us away for a single lengthy photoshoot. We're over the moon with our photos. We would definitely recommend Chloe!
How They Met
We actually met on a dating App called Hinge! Very modern of us. We both knew quite quickly that this was something special.
We got engaged in September 2021. We were in the middle of a stressful mortgage application process, one evening Stuart walked me down to the site just to see the progress of the build and told me that we had in fact secured the mortgage.

I thought that was the best news EVER until I turned around to see him on one knee.
Stuart used my mum's engagement ring for the proposal (my mum passed away in 2019) so that she could be a part of it. It was really special.
We were engaged for nine months before we got married – we started planning our wedding pretty much straight away.
A Glasgow City Centre Wedding Venue
Our venue was Pollokshields Burgh Hall in the Southside of Glasgow, Scotland. We wanted a venue that had character and charm. We loved the stained glass windows and feeling of the main hall – there was something really comfortable and nostalgic about it.
We also really wanted a relatively city centre venue that would be easy to get to and from. Lastly – we needed something to fit our budget.
We hired Lauren from LG Wedding Services – she helped us with our timeline and kept us on schedule along the way. It was beyond helpful to have someone nudging us along the way.
Reception, Decor & Detail
We wanted our day to feel like us and to centre around things that were important to us.
We had a lot of Scottish traditions throughout our day for example. We didn't have a theme in terms of decor or colour schemes, after trawling through Pinterest boards and instagrams we opted for a bit of a less is more approach as there was already so much to think about.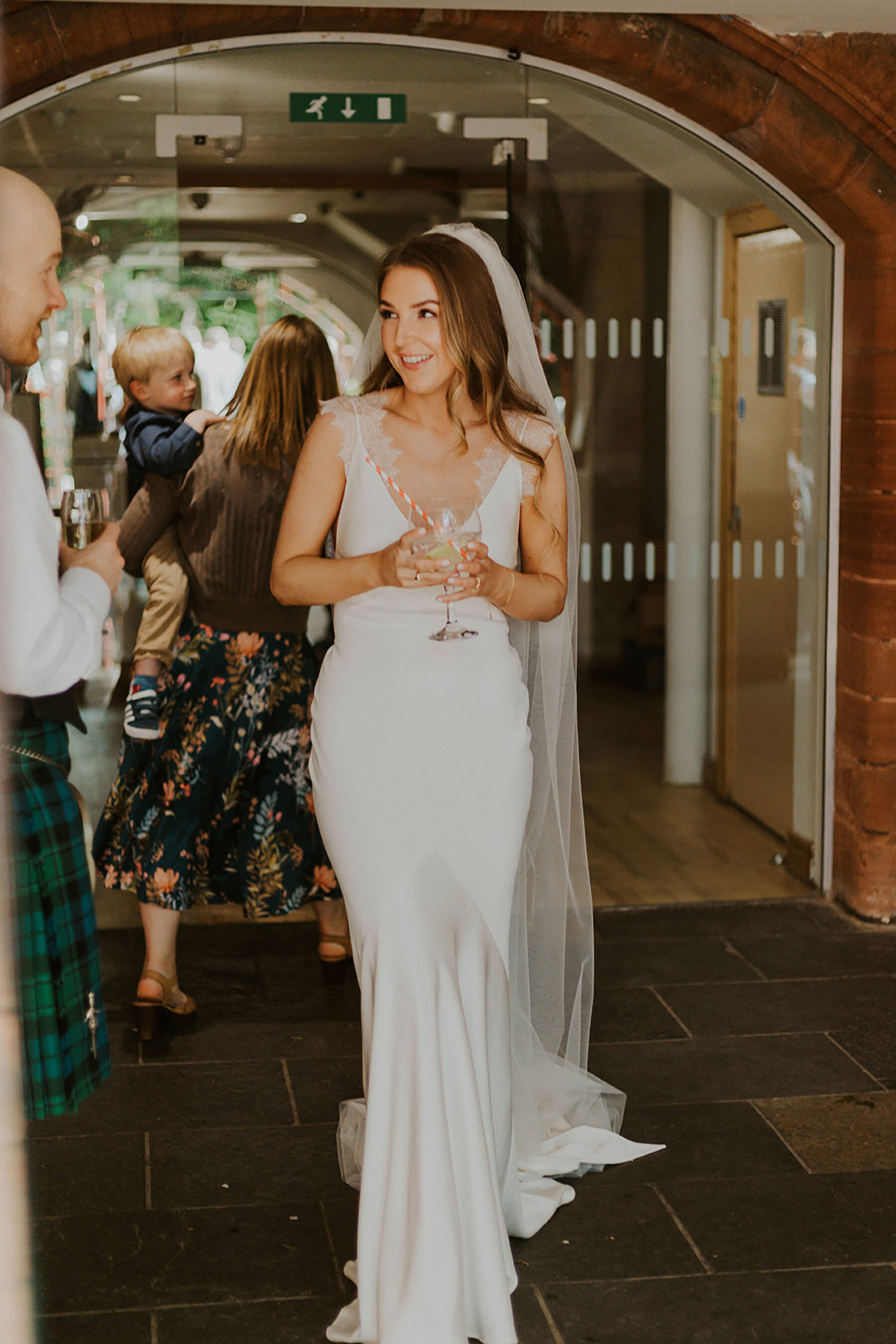 Simplicity was key to be honest. I tend to feel that less is more. We had the fairy light canopy with paper lanterns, and then a simple foliage arch. This was all provided by Make Believe Events.
We used Shotgun Catering and Events. We had sharing platters including charcuterie boards and roast dinner sharing platters. The food was absolutely amazing, there was so much of it and it was priced really reasonably. So many people commented on how good it was both of the day and in the months since! Couldn't recommend them highly enough.
We used a local hobby baker who was recommended to us by a friend. It was delicious and a fraction of the cost.
My best friend and bridesmaid helped me design all of the stationery and she very kindly organised and printed it all. We had little personalised envelopes with a lottery scratch card in them, we just thought it might be fun! For the kids, they all had a personalised colouring placemat, crayons and a toy.
Evening & Dancing
We took our first dance to a song called You & Me by Penny and the Quarters — we've both said this was actually our least favourite part of the day; dancing to this romantic song tipsy in our living room feels perfect, romantic and intimate, however, dancing to it in front of everyone we know… less romantic!
We followed this by having an upbeat song by the Proclaimers called 'I Want to Spend My Life With You'. We wish we had just gone straight into that and got everyone up dancing with us!
We also had a ceilidh band called The Jiggers who were really great. It's a tradition at the end of a Scottish wedding to have all of the guests form a huge circle around the bride and groom, they cross arms and hold hands and the song Loch Lomond plays.
It's so energetic, that was our favourite part of the day – it was the best send off and made us really emotional.
Words of Wedded Wisdom
Don't feel like you need to follow every tradition, you have so much to organise so don't overload yourself, try to think about which things will really matter most to you on the day. Sometimes you'll feel tired, stressed and in a state of decision overload – but just try to remember how fun it is too and why you're doing this.
Something we did was we both planned one element of the day for one another that was a surprise. It meant on the day itself we had both done something special for each other. Stuart hired the harpist to play Abba for me, and I hired a bagpiper to pipe us in to our wedding breakfast. It's so nice to have a little surprise on the day.
Our budget was £10,000 and we probably spent close to £15,000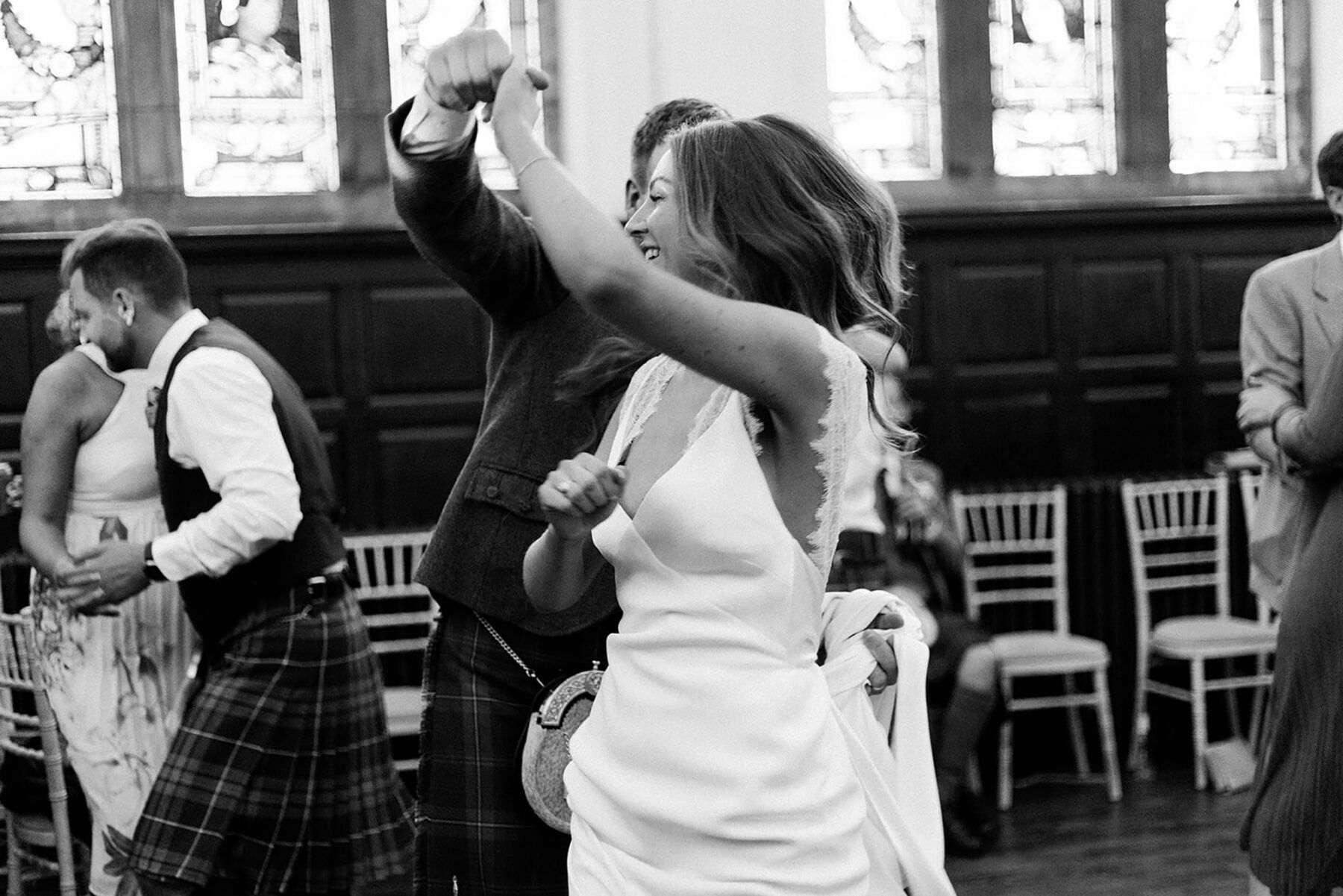 Explore our wedding directory