This beautiful modern wedding editorial was photographed at The Black Market wedding venue in Cork City, Ireland and features super cool, contemporary bridal gowns by designer brands, A La Robe and Maria Fekih.
These glorious images were submitted by the incredibly talented Gabi & Nessa Studio (formerly known as 'Petal & Twine'), who set out to create a scene where where old world romance collided with modern wedding day minimalism. I adore how they've done this – those magnificent 1930's inspired marcel waves in the bride's hair, and the light and luminous modern bridal makeup, with the statement white eye shadow. Absolute perfection. I fell in love with these images the moment I saw them and I hope you love them and find them super inspiring too.
You can find more beautiful editorials here on Love My Dress.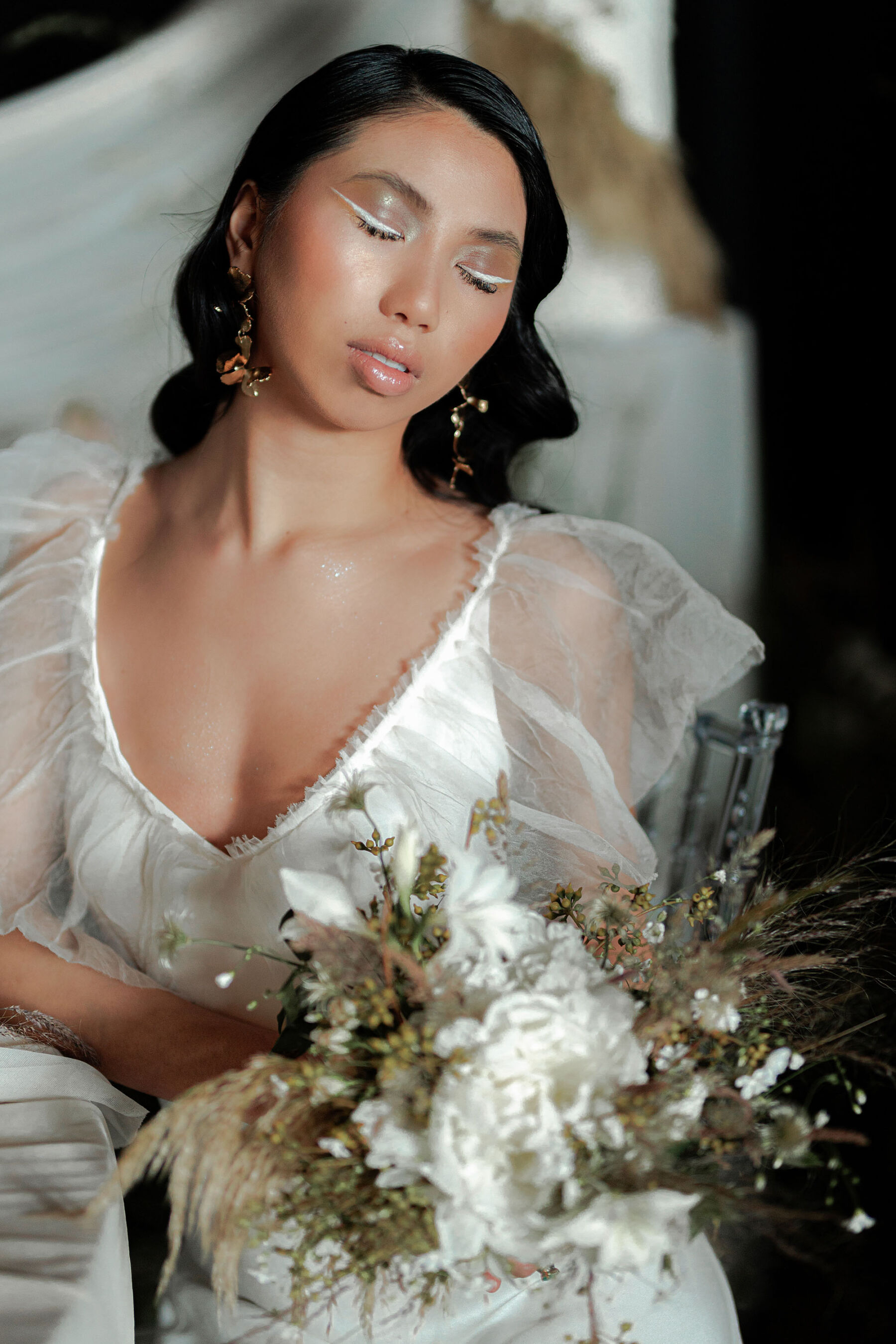 Minimalist Industrial Space
Encouraging every guest to take pride in being different, The Black Market in Cork City in Ireland, is a space that embodies sustainable change.
Minimalist industrial spaces are the perfect imaginative, transportive canvas for a modern couple getting married.
An unusual venue for a wedding, the high ceilings and dark extraordinary space can be transformed completely to tell a personal love story.
Creating a Modern, Personal Wedding Space
When it comes to ceremony and reception styling there are so many aspects to consider, so many options. It's easy to get overwhelmed but it's also one of the most exciting aspects of wedding planning with so much opportunity to let your taste, preferences and even lifestyle as a couple shine through. How you style your day is a creative expression of yourselves.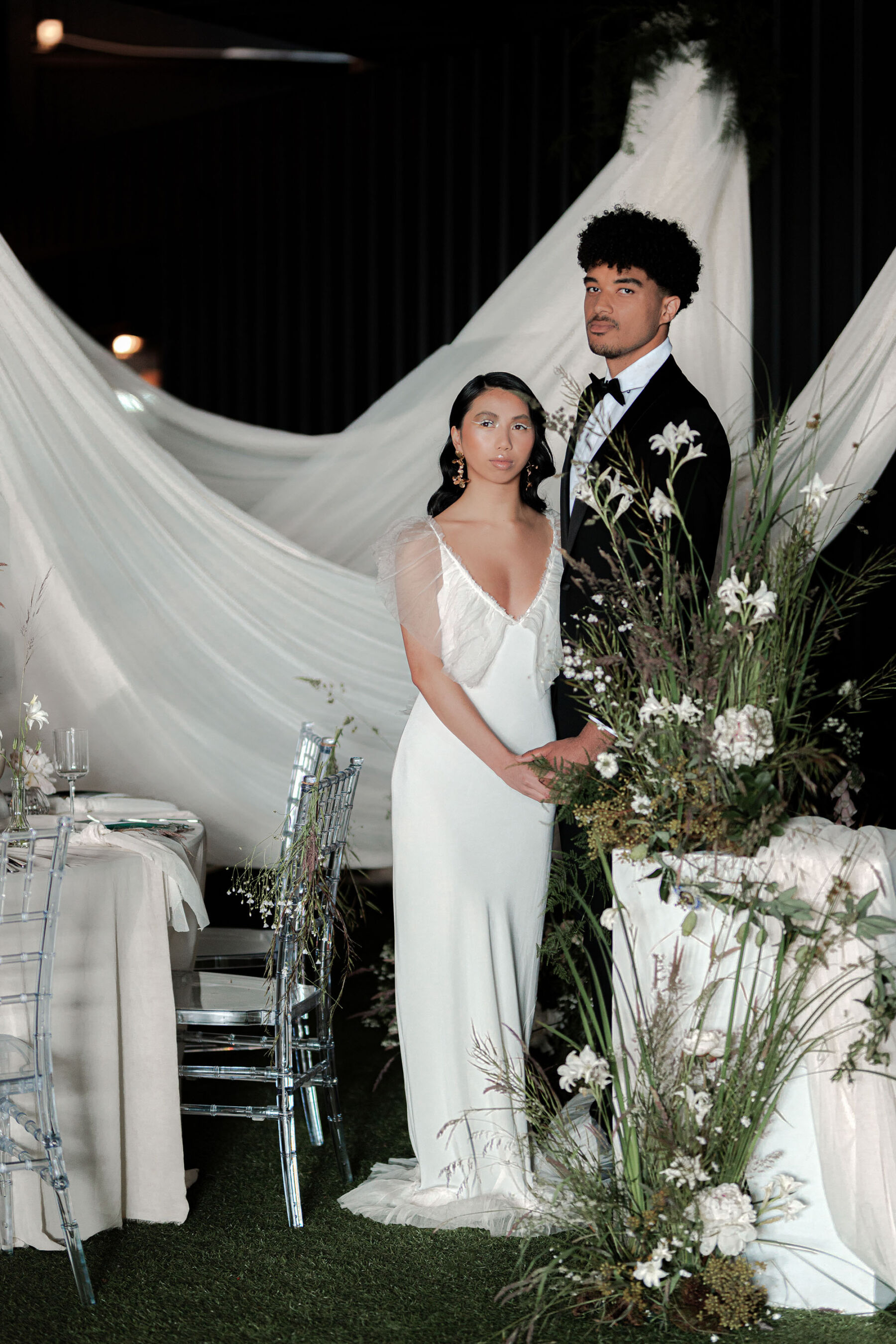 In the reception space, we incorporated  bespoke ceramics, elegant florals and floating materials suspended from high ceilings, cascading down onto the tablescape creating a warm, dream-like ambiance evoking nostalgia and romance.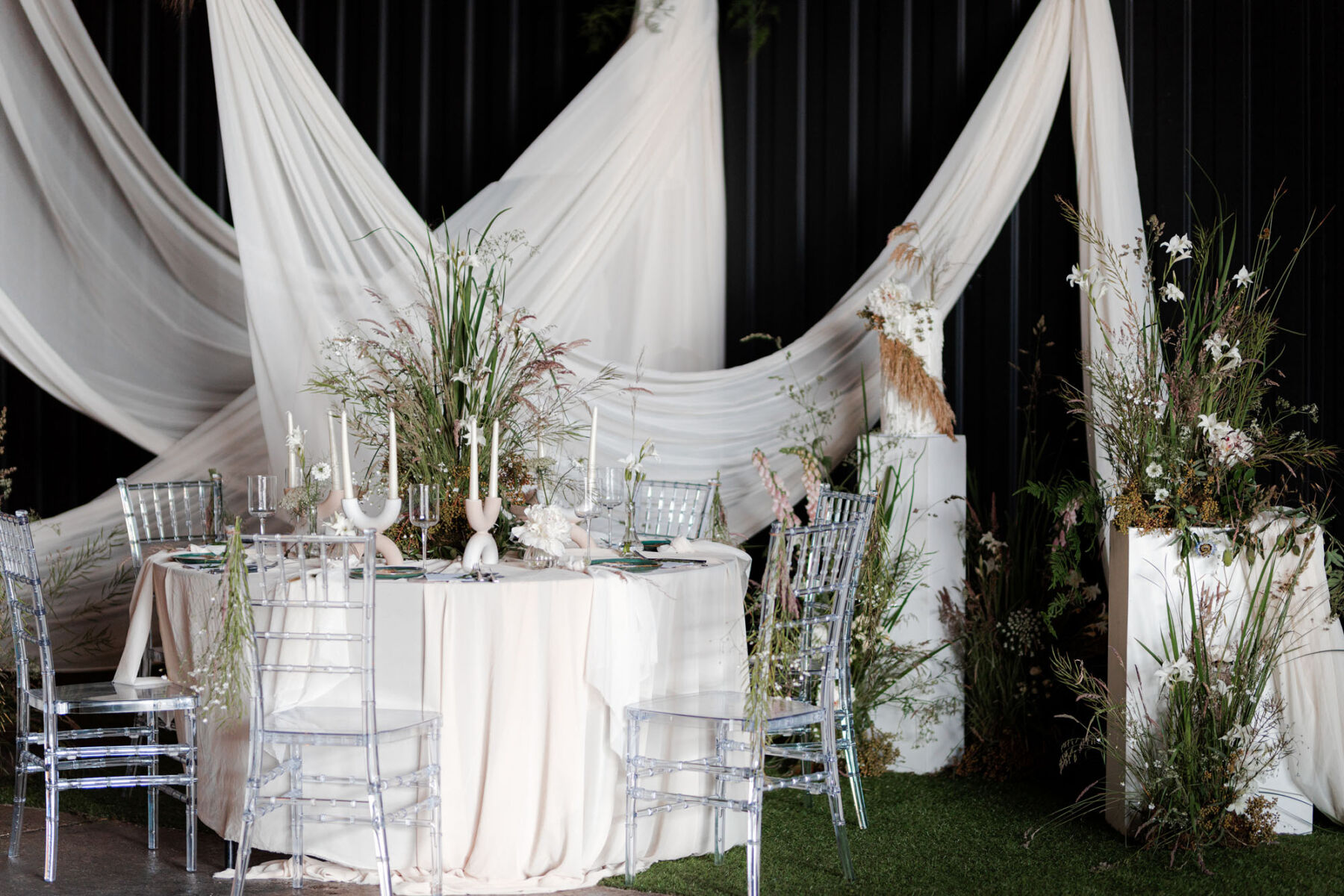 Layers of textural glassware adorned the tables, silk napkins draped from place settings, and transparent ghost chairs added an aura of mystery.
Even the modern wedding cake was designed to compliment and elevate each element of the reception set up.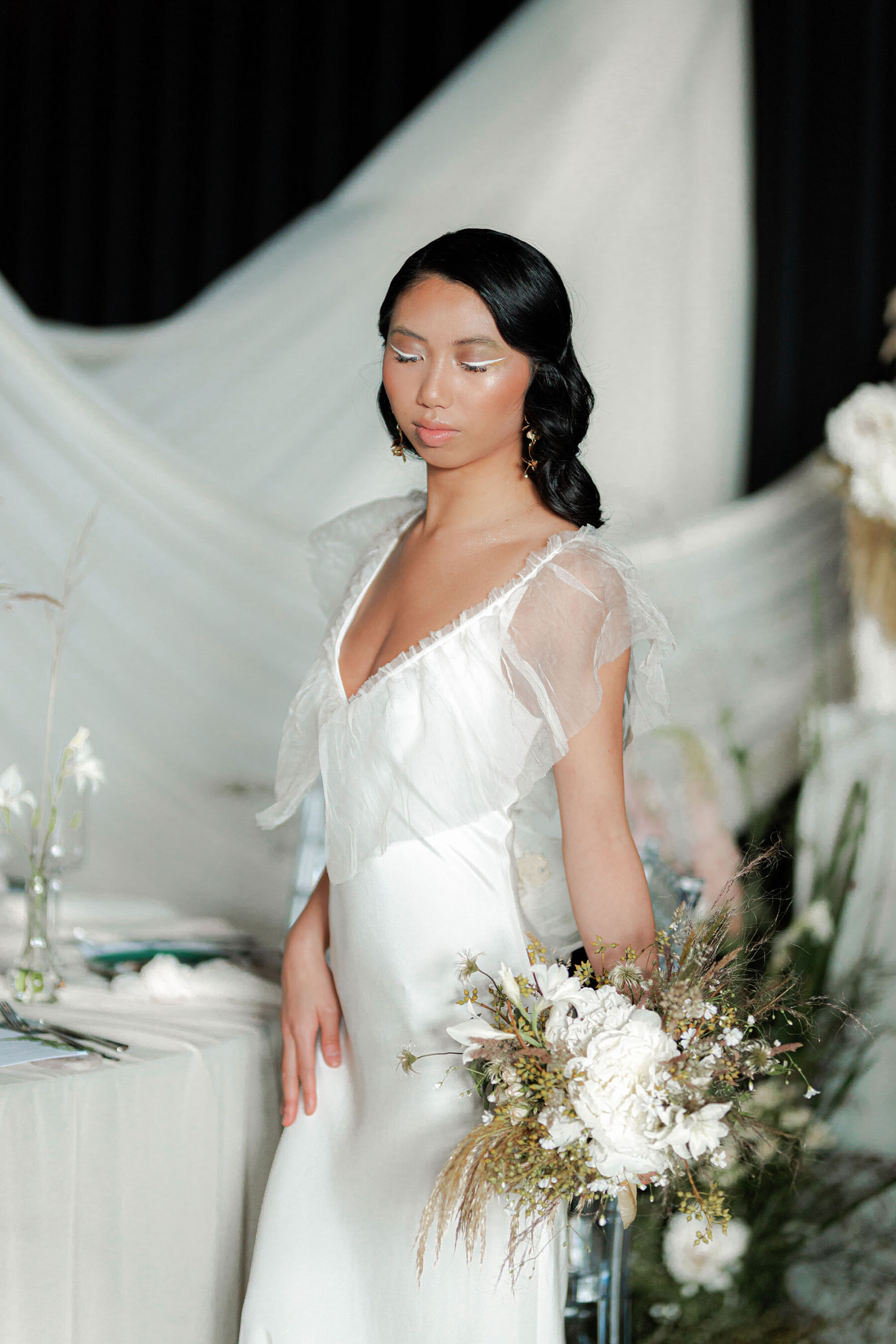 Modern Bridal Hair & Makeup
The Hair & Makeup Artist used a clean makeup palette to bring out the natural beauty of the bride. The hair stylist designed two hairstyles to accentuate the necklines and sleeves of both dresses. For the short dress she tied a ponytail to give the energetic flow created by the movement of the tassels.
For the long dress that has smooth fabric and dramatic sleeves, she created a hairstyle to match accordingly, a clean and tidy upper part and a wavy and lightweight lower part. Elegance was considered in all the styling.
A La Robe
For the bridal style, I created two different looks with dresses from bridal designers.
The 'Claire' gown by Paris-based A La Robe – a long and elegant dress with dramatic sleeves, which is matched with gold earrings  to show the delicate and elegant side of women.
Maria Fekih
The second look is the 'Tulla' dress by Copenhagen-based Maria Fekih.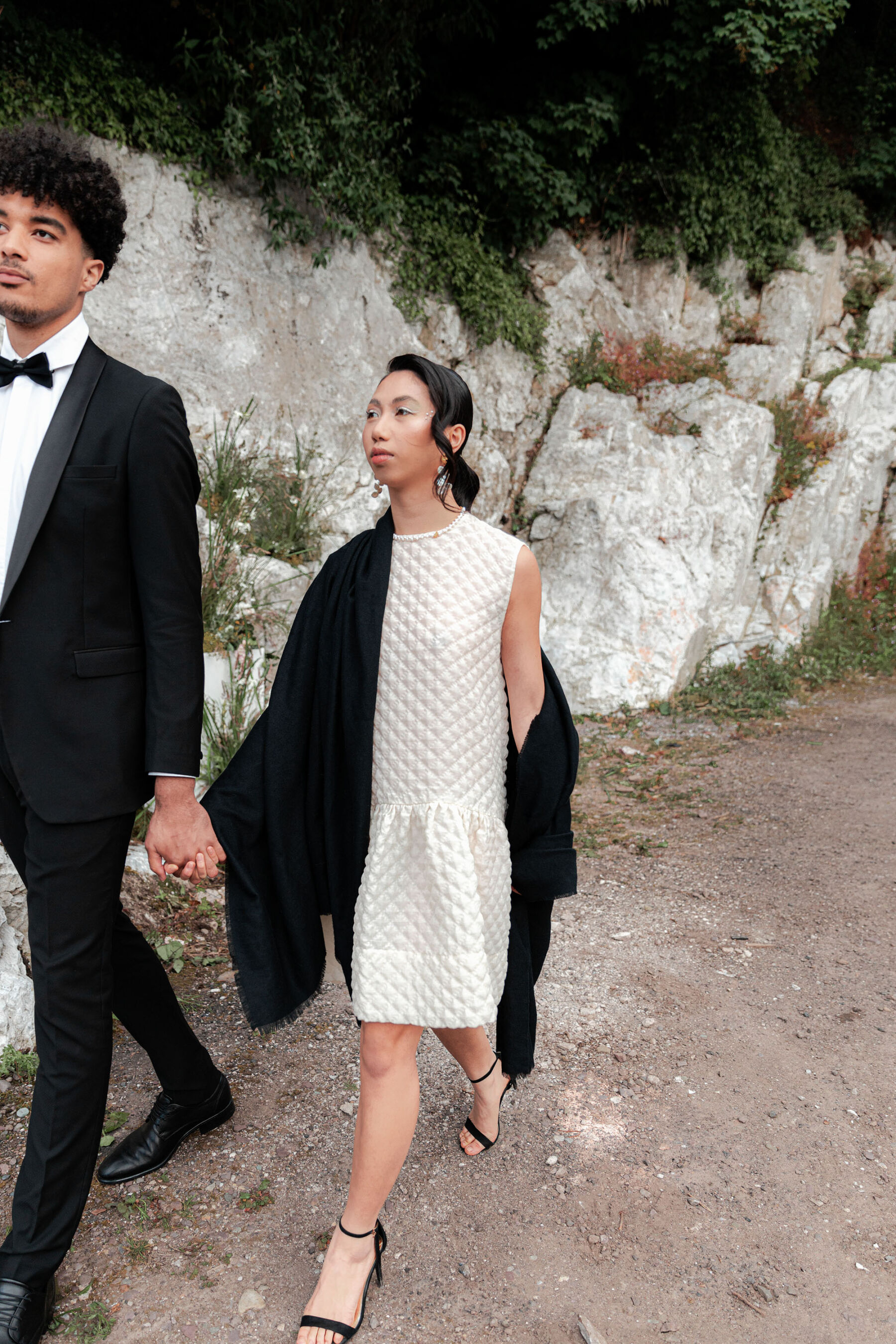 This is a knee-length, modern dress, which is worn with black and a pair of pearl earrings to reflect a luxury lifestyle.
Stationery & Details
Stationery, made by Finer Details, followed the idea of less is more.
We incorporated small details of rocks and florals to compliment elegant stationery. 
The photographer, Darius Jakubauskas, captured the refined details, different tones and unique moments in expressive and timeless imagery.
We carefully chose every supplier to craft each detail to perfection and reveal unique elements of wedding day beauty.