Okar is a 1 year old male English Setter. He is a cheerful, sociable but submissive lovely young English Setter. He is in the shelter we work with in North Spain. Previously, this poor young chap had spent two months on the street. The rescuers who helped him believe he came from Italy originally.
In the area where the rescuers live, it is common for hunters to bring dogs from Italy as samples to see if they are good for hunting. If they aren't, they just simply get rid of them, or release them onto the streets. In the two months he spent on the street, he had a rough time including being hit by a car. He was so scared, they had to catch him using a cage as he wouldn't approach them.
The first 15 days in the shelter, he was terrified and stayed in his kennel without moving. Little by little, he has gained confidence and is slowly revealing his lovely, cheerful personality. He gets on with all the dogs he meets in the shelter but if he's ever feeling overwhelmed, the poor boy reacts by lying down on his back with his belly up.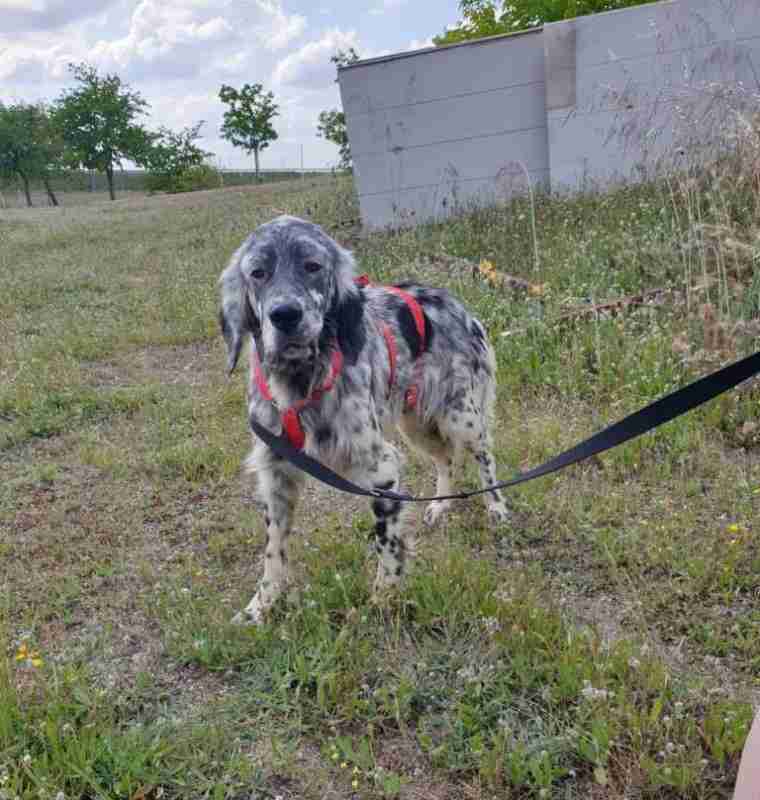 At the moment, he walks well on his lead but that could change in time as he settles more and gains more confidence. He loves toys and balls but he needs to be supervised as he destroys and eats them.
We believe he would be okay in a home with older children and other animals. We are looking for a home with another resident dog to help maintain his confidence.
Could you be the family who give Okar a forever home and help him flourish?
If you are interested in our lovely Okar, he is available at Setter Brittany Pointer Rescue. Have a look at our website for more details or email us if you would like to know more.
He is now in the north of Spain ready to travel to the UK but he did come from a Leish endemic area, and although negative, we advise monitoring him for Leish. Please read here for more info before applying.