Zoom, the popular video conferencing and collaboration platform, is gearing up for a very busy ahead. And that's OK, Because it'll be inviting AI from Meta's Llama 2, OpenAI, and Anthropic to help ease the workload as it launches its very own AI Companion.
That's right, it's time to bust out the old "[Company name] adds revolutionary AI to [Company product] in bid to revolutionize the industry!" template again. However, while at this point a popular app adopting AI is almost cliché, Zoom is apparently looking to "transcend" the hype around generative AI, making use of it only where it benefits its users most — throughout their day's work.
Zoom AI Companion: What is it?
Zoom's AI Companion is a virtual assistant to promote productivity and enhance performance for all of its users. It's part stenographer, part scribe, part secretary, and an automated assistant when it comes to gathering around as a group for a brainstorming session.
The new AI addition will be slowly integrated across the entire platform including Meetings, Team Chat, Phone, Email, Notes, and Whiteboard — all by spring 2024. Better still, Zoom's large language model (LLMs) will be available at no additional cost to those already paying for a Zoom Business subscription.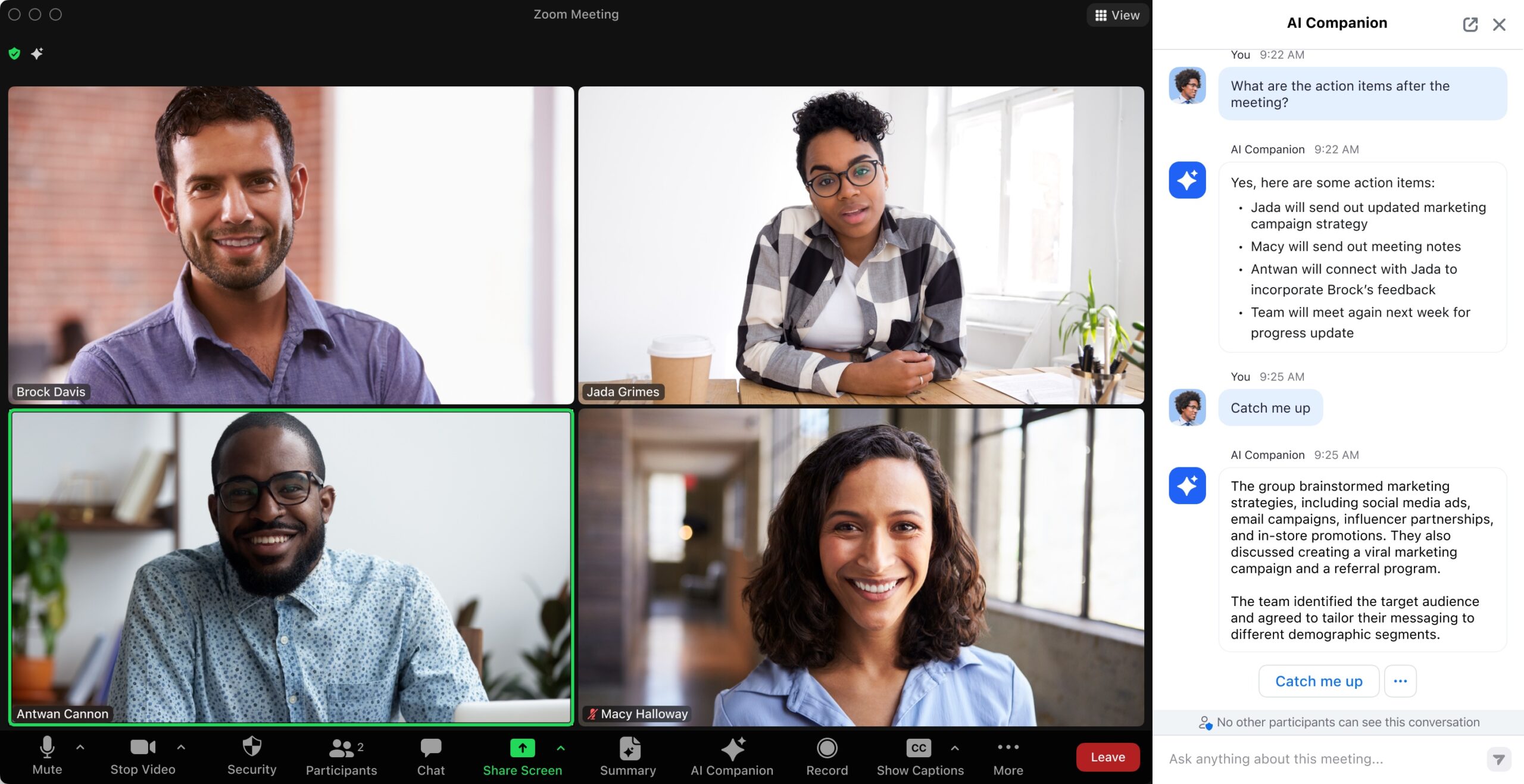 Zoom AI Companion: What can it do?
Once enabled, Zoom's AI becomes a persistent feature available to all within your workspace. Similarly to other LLMs (like Google Bard, Microsoft Bing, and ChatGPT) you'll be able to interact with Zoom's AI Companion using natural, conversational language for help in generating messages, organizing notes, or giving you the CliffNotes rundown on everything you need to stay on top of your day.
Take for example team meetings: Nothing is more disruptive to a team meeting than someone showing up late and holding things up while they play catchup. 
Thankfully, Zoom's new AI Companion is never late for a meeting and always happy to share its notes with others. Tardy team members can simply ask the chatbot about what they've missed so far through a discrete side panel and get up to speed without disrupting the flow of things.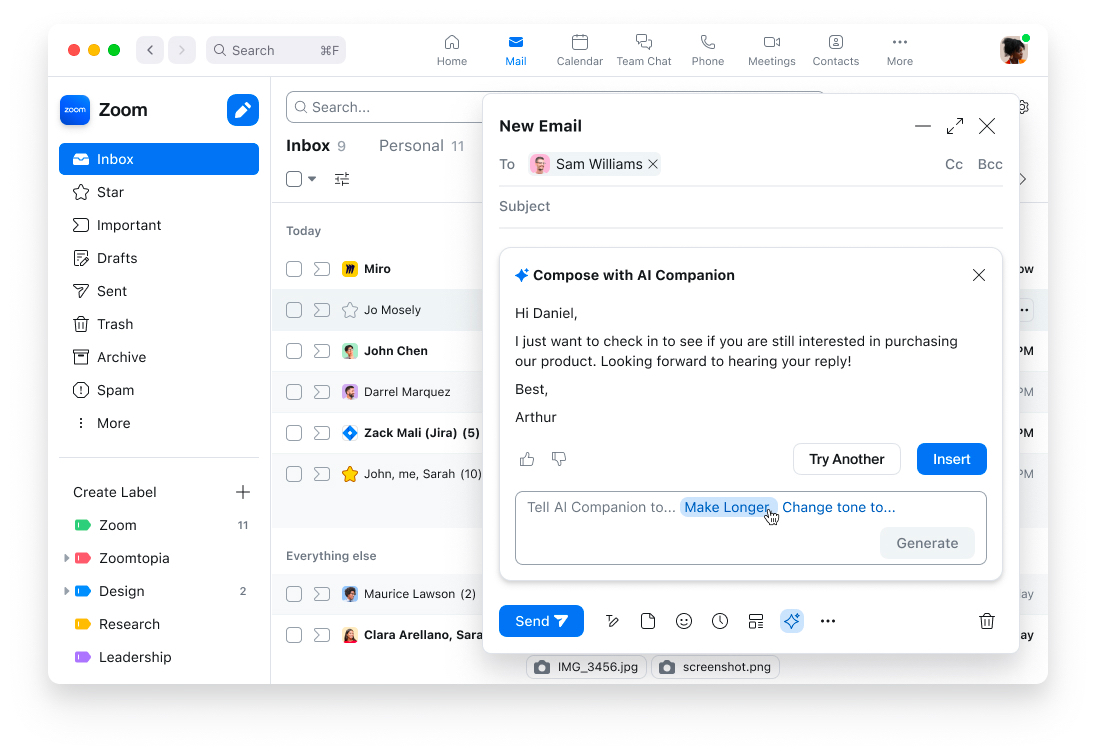 The AI will also be able to draft messages in Zoom Mail, save meeting minutes to Zoom Notes, and summarize SMS threads through Zoom Phone.
However, Zoom's new companion will stand out most when it comes to Zoom Whiteboard — becoming a vital member of brainstorming sessions through generating ideas from notes, sorting and categorizing information for easy lookup, and even eventually generating images and populating whiteboard templates.
Outlook
Zoom's AI companion is expected to launch in the coming weeks. Once again, this comes without any extra cost to existing Zoom customers, with a roadmap of updates planned throughout the rest of the year and stretching into the spring of 2024.
On paper, the Zoom AI Companion looks to be a lightweight blend of Google's Duet AI and ChatGPT — bringing similar functions to Zoom as found in the Google Workspace AI tools while still offering a conversational window to bounce ideas back and forth with the bot.
Plus, advanced AI assistance without paying a penny extra? That's a pretty great deal for Zoom members of all tiers.
For news, rumors, and updates on all things software and AI, follow Laptop Mag on Twitter, Facebook, and Flipboard for the latest word as it arrives.
Back to Ultrabook Laptops
Load more deals