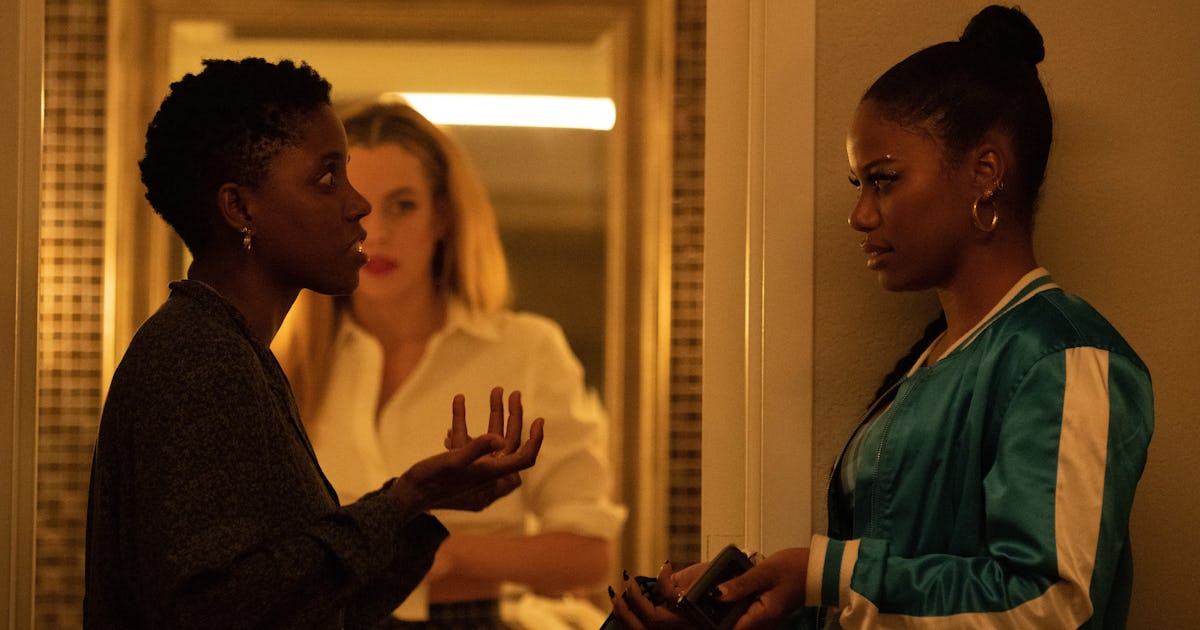 Janicza Bravo freely admits that she doesn't "have the constitution" to take part in social media. Yet here she is, releasing a film based on a Twitter thread. Sometimes, a story is just too good to pass up.
"The power of this story wasn't that it was on Twitter," Bravo tells Bustle of her film Zola, which is adapted from A'Ziah "Zola" King's viral 2015 Twitter thread about a two-day trip to Florida with a group of near-strangers. "Zola told an incredible story … That whole world was so juicy. And it just so happens that it was first told on Twitter."
Bravo directed and co-wrote the movie, working with Slave Play playwright Jeremy O. Harris to adapt the stranger-than-fiction tale. She took inspiration from directors who started in theatre and segued into film like Bob Fosse, John Cassavetes, and Rainer Werner Fassbinder, heightening her characters' emotions to their extremes. She thinks "in a proscenium," favoring wide shots that give actors space to do their best work. "Not having to cut their intentionality or emotions short, you really get the art of the performance in the scene," Bravo says. Regardless of if King's trip really happened as she says (it didn't), Bravo's emphasis on the characters' reactions and responses is what gives Zola its fantastical bravado.
Below, Bravo talks about bringing the original 148-tweet thread to life, her relationship with social media, and her hopes for the future of storytelling.
You and Jeremy O. Harris are both theatre people who branched out into film. If you could name one thing that you feel works better in film than it does in theatre, what would it be?
I'm always going to be a theatre-first girl, so I don't feel like I'm going to answer this question well. Just because I'm like, "Theatre is it, you guys." There is nothing that beats the live experience. But some of what you're asking also relates to how I feel about the Twitter thread, because for the people who connected to it when it first went live, it was happening in the moment. It was almost like a theatrical experience. They were an audience to a storyteller unspooling a narrative. When adapting it, I thought a lot about getting that electricity that happened with a performer and audience … How do you replicate that in the film space? The thing is, you can't. It's impossible. You're not going to get the same essence, because film is such a flat experience, whereas theatre or live experience has a 360-degree feeling. It's much more rounded.
The thing that I love about film, as opposed to theatre, is that once the film is released, it will be ostensibly the same movie experience for everyone, barring the sound going out or the reel malfunctioning … Of course, what happens on the other side of that is individual, but that part is thrilling, that there is so much control in what the end product is.
In what ways do you feel like not being on Twitter works in your favor as a filmmaker, in a time where social media dominates our culture?
I don't have the constitution for social media. That's why I'm not on it. It's not a political choice, and I'm not sure if it is even that sexy, but I just can't handle it. It's too busy for me. I've dipped a toe into Twitter, and I find it to be a little negative for me. I just don't need it. I can do that on my own. If I want to go into a dark place, I can just sit with myself and can travel there pretty easily without anyone else pushing me there. So, it might sound like a movement of sorts, but I just never got into it, and never thought to go there.
Also, I think when Twitter first started to take off — I have this clear memory of being at dinner with my husband at the time [Brett Gelman], who is an actor and comedian, and seven or eight other comedians, and they were all at the table on their phones with their heads down writing their tweets, and then showing each other their tweets in silence, and trying to best each other for the best or most "liked" tweet. I knew at that moment that it just wasn't for me.
As the stigma against sex workers slowly erodes, how do you think the movie will add to the current discourse about sex work?
I don't know if this movie has the power to change an entire dialogue that has been so set. However, with the sex workers in this film, I worked to imbue them with a good deal of dignity and heart. Since the film is so funny, I hope that this means that the conversation around sex work and sex trafficking is one that people feel they have more access to. The humor brings you closer to the story, whereas if this piece were more dramatic or morose, it would be easier for the audience to have an arm's length relationship to it. It's like, "That world exists over there, and I'm over here." I think that the comedy of it all actually gives you a front row seat.
What sorts of conversations about social media culture do you hope arise after the film is released?
I hope there are a few, but if there could be only one, I hope the fact that the story came from a 19-year-old Black woman, and was co-penned by a Black woman, was directed by a Black woman, and stars a Black woman, maybe tells our industry that we outta throw a little more shine on Black women.
This interview has been edited and condensed for clarity.