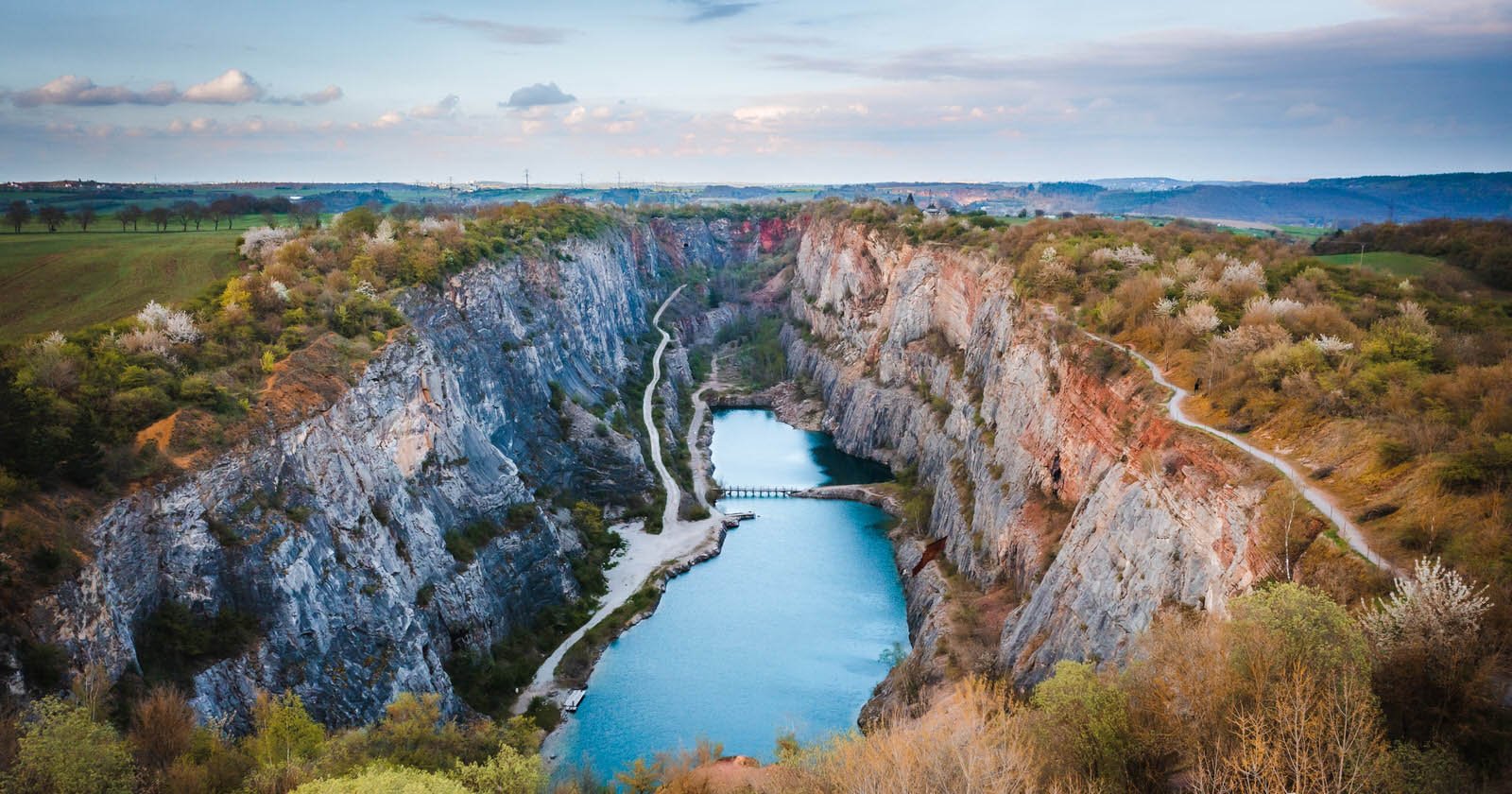 The ability to capture stunning aerial footage has been made possible by drones, which have gained popularity over the past decade. I remember flying some of the earliest commercial drones and the emphasis was on the flight time and features but not image quality. Being able to capture areal footage was exciting enough that the cameras didn't need to be particularly advanced to be impressive.
Full disclosure: This sponsored article is brought to you by K&F CONCEPT.
The quality of footage that drones can capture has steadily increased over time, but the technology still presents some challenges, particularly with regard to lighting conditions.
Professional drones (those costing many thousands of dollars) can lift a mirrorless camera and take advantage of the large sensors those cameras are equipped with.
Consumer drones focus on size and portability first, so they use relatively small sensors. These small sensors have more difficulty capturing footage with a wide dynamic range. As a result, it's easy to lose detail in the shadows, experience blown- out highlights, or have imagers that suffer from both problems.
Capturing footage in the perfect lighting conditions is only sometimes practical or possible. Often, especially on drones with fixed apertures, the sun's brightness can be so great that it's impossible to avoid overexposing the image, and ISO can only be lowered so much. Once this limit has been reached, it's impossible to prevent overexposure.
To compound issues, when shooting RAW video in LOG (like DJI's D-LOG) there's a minimum ISO requirement. In D-LOG that's ISO 400, which is a high level of sensitivity when there's bright sunlight.
Wedding videographers, real estate videographers, landscape photographers and many other drone creatives need to fly when and where the job demands. Often, this is in the middle of the day when the sun is high and harsh, and conditions are the absolute worst for the dynamic range capabilities of drone sensors.
The solution to these challenges is to use a neutral density (ND) filter. These simple but vital pieces of optical glass reduce incoming light without adding a color cast. ND filters come in various strengths to minimize incoming light, so shooting a scene at the proper ISO and aperture without blowing out all the highlights is possible. Neutral density filters help with dynamic range by reducing the highest brightness level of a scene, so you don't have to meter for the highlights and lose your shadows.
But choosing the right ND filter is not always straightforward. Since the amount of filtering necessary changes at different times of day, having a set of ND filters of various intensities allows a drone creator to pick the right amount of filtering for the brightness in a scene.
Reflections are an additional concern for those capturing footage from subjects with reflective surfaces, such as windows on buildings or bodies of water. Trying to Photoshop the reflections of from a real estate shot or an urban landscape shot is a nightmare. It's equally hard to enhance or remove reflections of objects on the surface of a body of water.
Creators know that it's better to fix problems in the real world than it is to fix them in post. For those trying to reduce reflections, circular polarizers filter out reflections. Anyone who has worn polarizing sunglasses knows the difference they make in visibility.
Screw a neutral density filter or circular polarizer onto your camera's lens, and you're good to go. Since a filter is a piece of optical glass that sits ahead of your lens, having a high-quality filter is vital to image quality.
For terrestrial creators, dealing with challenging lighting conditions is equally important but much easier. You can either stop down your scene to reduce incoming light or lower your ISO. But if your scene calls for the artistic look of a wide-open aperture, and you're already at ISO 100 or ISO 400 of D-LOG, things get more challenging,
The solution here is again to use an ND filter. The simple but vital pieces of optical glass reduce incoming light without adding a color cast, allowing for proper ISO and aperture without blowing out all the highlights.
A drone user can attach a neutral density filter to capture stunning footage and landscape without over or under-exposing the scene. The human eye can balance out light in a scene, but for a drone sensor, clouds can easily overexpose and turn into blobs of brightness. This can ruin a good landscape, turning clouds from interesting details into distracting objects.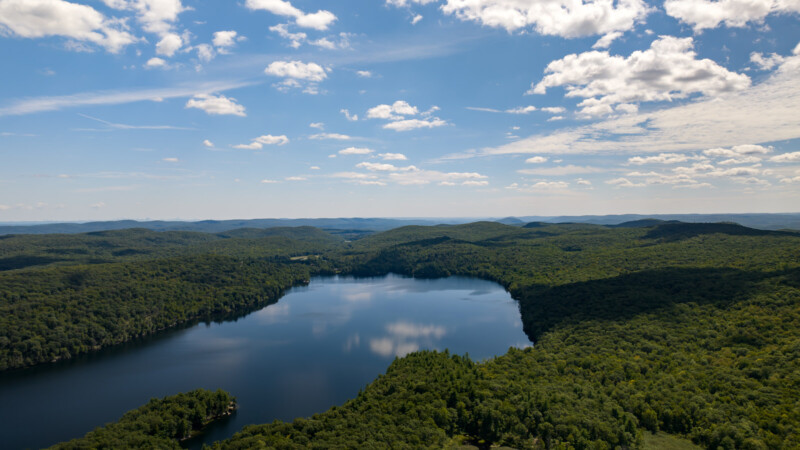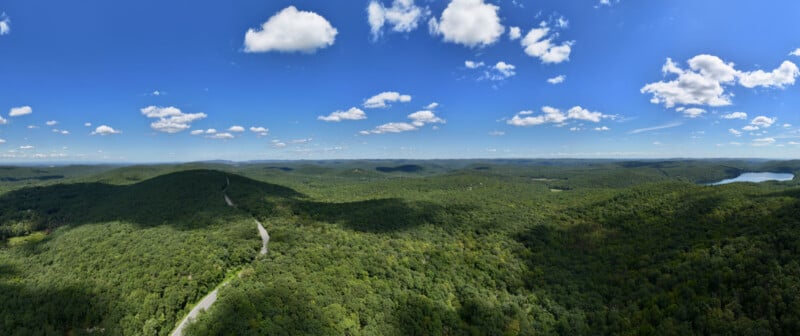 For drone users, it's just as easy to add a circular polarizer or ND filter as it is with ground-based creatives. Many current drones have removable protective glass filters mounted ahead of the lenses with a mount designed to swap out the glass protectors for more advanced optical filters.
In drones without an interchangeable filter mount, it's still possible to attach a filter in front of a lens.
Sight Unseen
Optical quality is particularly important in filters. The glass you put in front of your sensor modifies the light that hits your sensor, and you don't want to add aberrations to your images.
K&F CONCEPT is a manufacturer of award-winning filters, tripods, and other accessories. Having won the Red Dot Design Award and iF Design awards this year (and as an Amazon Best Seller), the quality and construction of K&F CONCEPT's products is superb.
K&F CONCEPT makes drone filters crafted from AGC optical glass, including circular polarizers to reduce reflected light. The company's high-end Nano-X PRO filters are the highest quality filters K&F makes and have a multi-layer coating that reduces flaring and ghosting while also preventing oil, dust, and moisture from sticking to the lenses.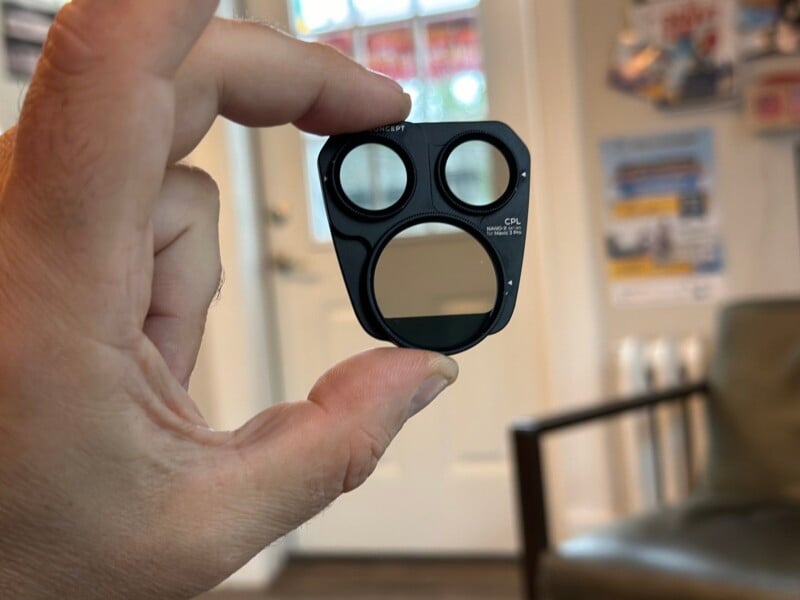 K&F CONCEPT has filters for a dozen types of drones, including single-lens drones like the Mavic 3 Classic and multi-lens drones like the Mavic 3 Pro and 3 Pro Cine. Filter installation is simple, and for most drones, all that's needed is to turn the installed lens covers to pop them off and then slide on a new filter.
They also offer variable neutral density filters, allowing a specific amount of light reduction to be dialed in precisely. Filters are tested to ensure they don't affect the performance of the camera's gimbal system, so there's no risk of the filters causing sluggish response to controller movements or poor performance when orienting the cameras.
Simply by replacing the glass covering of the Mavic with K&F CONCEPT ND filters, creators immediately get better tonality, color saturation, and improved details due to minimized over and underexposure.
A good set of ND filters elevates drone photography (pardon the pun) and allows for creative compositions impossible without them.
An ND filter is a must-have for any drone photographer or videographer who wants to capture high-quality footage. K&F CONCEPT's filters are some of the best on the market, and their range of filters is extensive, making it easy to find the right filter for your drone and for your camera. Investing in a good set of ND filters is the most important upgrade you can make in image quality, and it will allow you to capture stunning footage that would otherwise be impossible.
With individual filters costing between $19.99 to $31.99. K&F CONCEPT filters are available on Amazon, Kentfaith, B&H, and Adorama. The company also makes many filter sets for standard camera lenses to improve non-drone photo and video images.
---
Full disclosure: This sponsored article was brought to you by K&F CONCEPT.