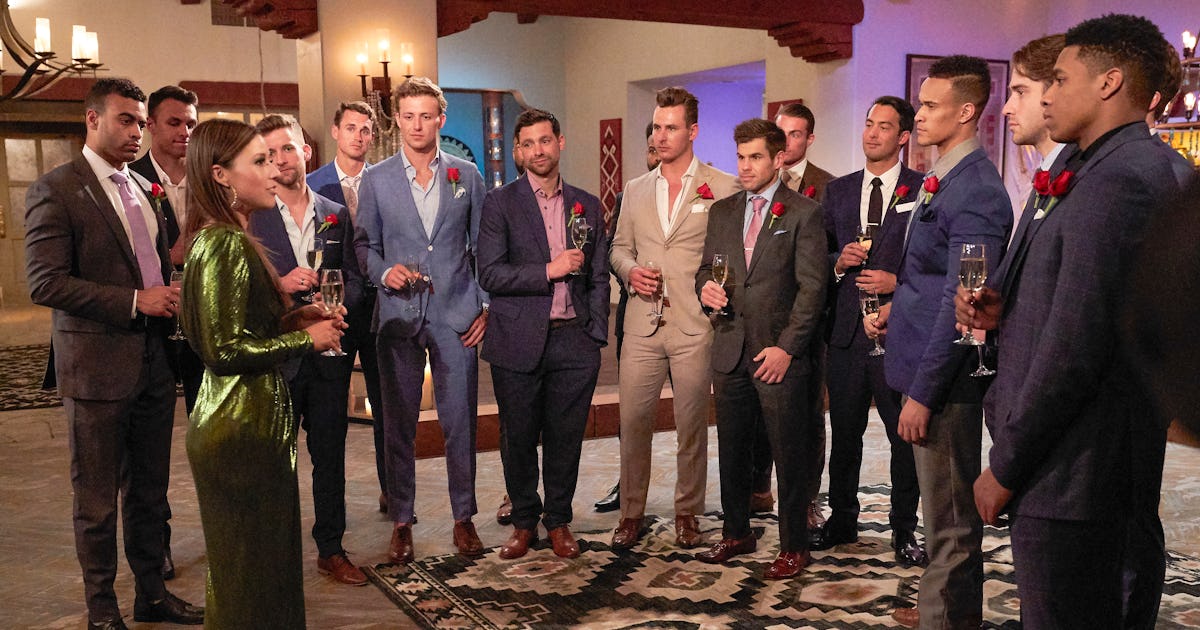 As Bachelorette Katie Thurston continues to whittle down her pool of contestants, speculation about who will win her final rose is ramping up. We don't for sure whether or not she gets engaged on the show (though there have been numerous unconfirmed reports that she does), but she recently told Entertainment Tonight that she's "very happy" with how things panned out. "Everything happens for a reason, and when you embrace that and let go of control then you find your happiness," she said. "I'm engaged to myself, that's what I've been saying for now." Armed with that information, eagle-eyed Bachelor Nation fans have spotted several clues about whom they believe Katie walks away with in the end.
One of the earliest theories to arise was that aspiring pilot John Hersey proposed in the finale, and that Katie herself had accidentally revealed they were still together. The evidence? She posted a May 14 Instagram photo taken at San Diego-area restaurant Duke's La Jolla — where John reportedly works as a bartender — with the wedding-themed caption, "Something borrowed. Something blue." As viewers now know, however, Katie sent John home during Week 3, so perhaps it was just a coincidence or she was visiting him as a friend.
Around the same time, Katie also posted that after spending a week in San Diego with several fellow Bachelor Nation stars, she wanted to move to the city (she currently lives in Seattle). Some fans thought the desire to relocate to San Diego could also be a potential spoiler for her season's winner. In addition to the since-eliminated John, Aaron, Andrew M., James, and Mike P. all live in Southern California and are still on the show.
A lot of attention has also been centered around Greg Grippo, who became an early frontrunner after earning Katie's first impression rose. In an interview with Us Weekly, Katie explained that what she loved about Greg is that "he was just true to himself," which she found "really endearing." Former Bachelorette Kaitlyn Bristowe also noted that the 28-year-old marketing sales representative "really stood out" to her and co-host Tayshia Adams. And after viewers spotted Katie and Greg both wearing a very similar-looking beaded bracelet following a recent group date, many were convinced that it's a sign he wins. (However, some users have noted that fellow contestant Hunter Montgomery appears to have a similar bracelet too.)
First impression rose winners do frequently make it far on the series: in the past, six former Bachelorettes awarded their first and final roses to the same person. But there are some other factors working against Greg, including that Bachelor Nation fan account @Bachelorteaspill posted a screenshot showing that Katie "liked" (and later "unliked") a shady Instagram post about his rumored acting aspirations. As a result, Greg's sister Samantha posted in a since-deleted comment that she was "really disappointed" in Katie for liking the post, even questioning how authentic she was in her mission to remove "toxicity and mean girls" from Matt James' Bachelor season.
After Bachelorette alum Blake Moynes arrived in the June 28 episode, rumors that he's the onw who makes it to the end of Katie's season also reached a fever pitch. Katie confirmed that she and Blake briefly DMd on Instagram before the show, and fans seem to believe that the Canadian wildlife manager has been dropping some not-so-subtle hints that he and Katie are together. For example, Blake has begun sharing quite a few cat pictures on Instagram in recent months, and as we learned from Connor B.'s limo entrance, Katie loves cats.
"It's OK to be a cat guy. Tell me why it's not," he captioned one recent post. On June 24, he also posed in a "Cat Daddy" tee with his pet Bear, noting that he was "just trying to even out the ratio" on dog-to-cat recognition. In fact, Blake has an entire Instagram Stories highlight section dedicated to his "#catdaddy" posts.
After appearing on Clare and Tayshia's joint Bachelorette season, Blake has made clear he's serious about finding love and wants to be engaged. He also said in his original ABC bio that he wants a partner who's "outdoorsy, beautiful, fun" and can put up with his "potty mouth." Katie ticks all of those boxes, but will Blake tick hers? We'll have to watch to find out for sure.