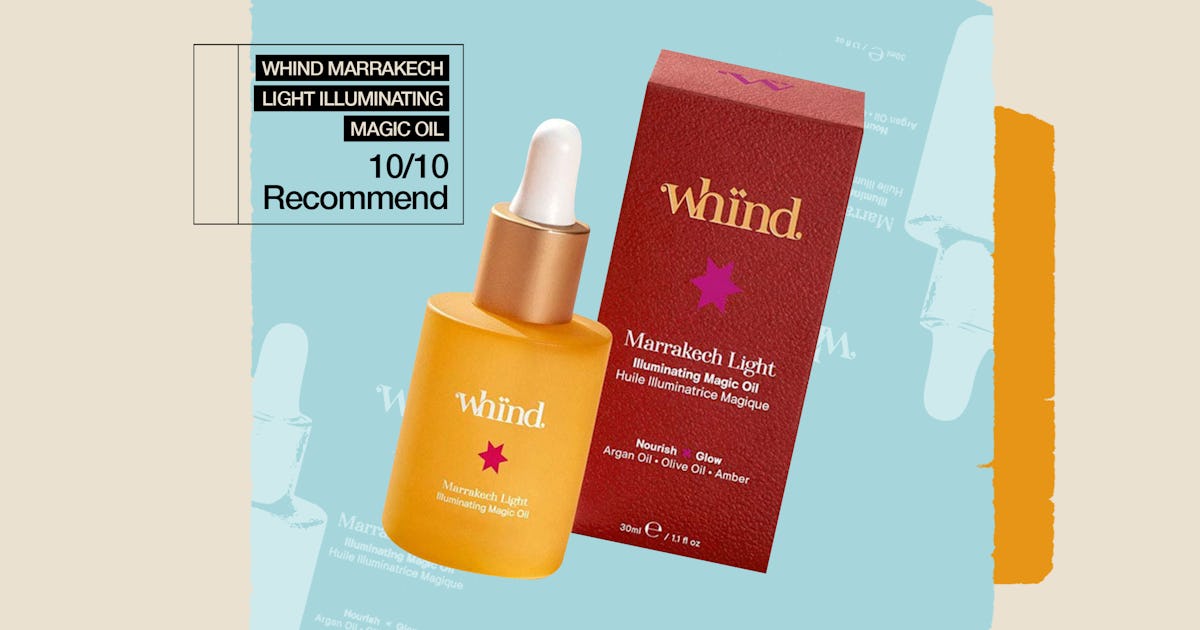 All I want is to always look like I've just applied my skin care routine — which means, ideally, that the dewy glow my face radiates right after layering on my serums and creams lasts all. day. long. That's not an easy feat, my friends. In my quest for the most dew-enriching beauty product, I've finally landed on a solid contender: the Whind Marrakech Light Illuminating Magic Oil.
I tend to prefer using face oils over creams as my moisturizer, mainly since they seem better at visibly drenching my skin with hydration. Slathering on a cream — while it's obviously hydrating — immediately covers up the glisten I get from my serums, and that's just not the vibe I'm going for.
But then I face the beauty conundrum of finding an oil that doesn't feel suffocating in the summer humidity. After testing dozens of products that have come across my desk, applying the Whind elixir onto my skin was like my version of when Indiana Jones chose the holy grail wisely in the last crusade.
We only include products that have been independently selected by Bustle's editorial team. However, we may receive a portion of sales if you purchase a product through a link in this article.
First Up: The Basics
Whind has only been around for a couple of months, and its skin care concoctions are all about what the brand calls "warm science." Founder Hind Sebti grew up in Morocco and started to miss the country's traditional beauty rituals — often done in hammams — once she moved to London. So, to harness the feeling of living in a sun-kissed climate, Sebti created a line of luxury formulas with plant-derived scents and textures that deliver the kind of radiance you get from being… kissed by the sun.
The Marakkech Light does this with a potent swirl of oils: argan, jojoba, sweet almond, apricot, prickly pear, meadowfoam, olive oil, and desert date, all of which are super-hydrating and nutrient-dense. But it's still lightweight and soaks instantly into your skin — so, as you're feeding your complexion a platter of vitamins, fatty acids, and antioxidants, you're not weighed down by the suffocating feeling many other oils can give you.
While you're definitely getting a solid dose of moisture, the Magic Oil also protects your skin from free radical damage — aka your complexion's ultimate antagonist that causes premature aging and weakens your protective barrier. So it's a handy multitasker.
Why I'm Obsessed
As a beauty editor, trying a product from a new brand is always a gamble: Either it's just meh compared to the hundreds of other formulas I've tested, or it impresses me. Whind's Marrakech Light did the latter. I think I gasped immediately after applying it.
First of all, the scent is transformative. When you drop some of the product into your hands, you get hit with a sensuous amber fragrance — which, somehow, magically gives off an aura of warmth. The brand recommends taking a moment to smell the oil before slathering it onto your face, which I gladly do (I'm not a fragrance-free product person, FWIW). Then I gently rub it onto my forehead, cheeks, chin, and neck, and am astonished by how quickly it sinks in. My skin looks extra glowy, and that visible hydration actually lasts.
I like to use the oil as my moisturizer, in lieu of face cream, and it's excelled at its skin-hydrating duty. But I also like to apply a couple of drops midday if my complexion feels a little parched or if I want a boost of dew — I just pat-pat-pat some in over my cheekbones and admire the grade A glow. Either way I use it, it's never greasy, which is a huge win for a face oil.
The TL;DR
Whether you're looking for a new moisturizer or are a die-hard face oil fanatic, Whind's Marrakesh Light Illuminating Magic Oil gets my enthusiastic seal of approval. It's really lightweight, soft, and packs a hydrating punch — and gives me that well-moisturized skin glow I've always sought after.
Studies referenced:
Poljsak, B. (2012). Free Radicals and Extrinsic Skin Aging. Dermatology Research and Practice. https://www.ncbi.nlm.nih.gov/pmc/articles/PMC3299230/