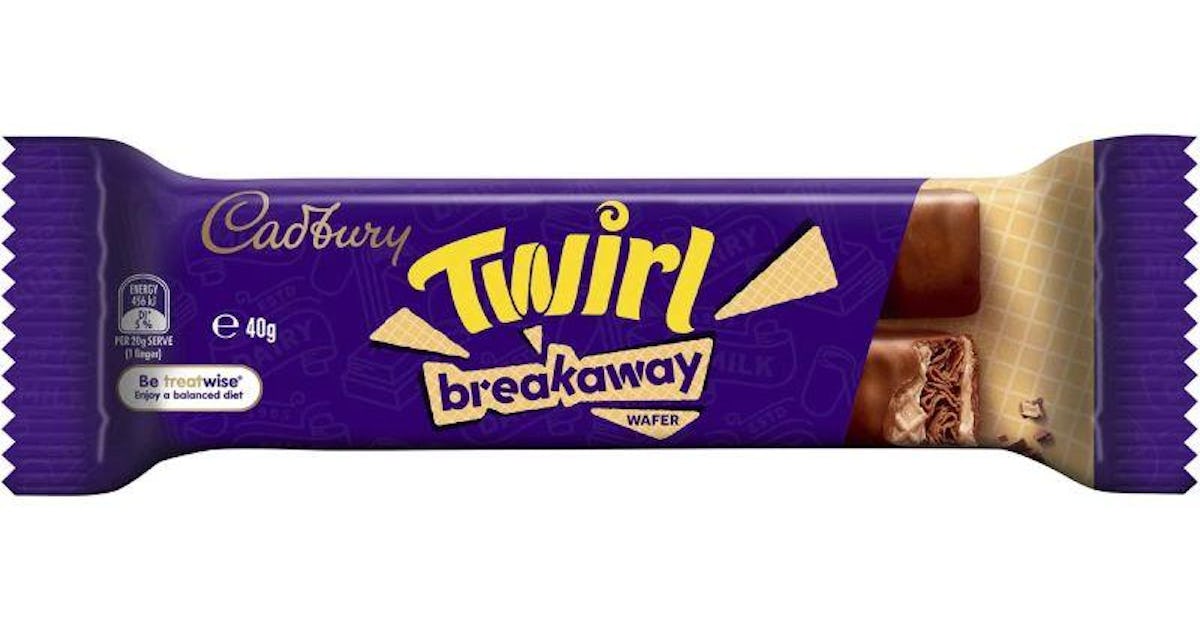 It isn't everyday that Cadbury comes up with a new creation, so naturally, I'm excited. Enter the Twirl Breakaway, which consists of two Flake bars sandwiched in-between two wafers, and covered in Cadbury's quintessential dairy milk chocolate. Sounds good, right? Those familiar with chocolate will definitely recognise this combo, though. There is a striking similarity to the treat formerly known as a Time Out bar. Bur more on that later.
First spotted at B&M stores across the country, Cadbury's Twirl Breakaway is available to buy now and costs £1.49, according to @treatsinstore. At the moment, it doesn't seem to be available from major supermarkets online, but that's not to say it's hiding on the physical shelves.
Almost as soon as Instagram food review accounts picked up on Cadbury's new creation, users begun to point out just how similar it was to the Time Out bar.
The original Time Out bar consisted of a ripple of milk chocolate between two wafers and was sold with the tagline: "the wafer break with a layer of Flake". Sadly, the bar was discontinued in 2016 after it was deemed the brand's least popular treats. Instead, the bar was replaced with a single-finger Time Out, which has smaller layers of chocolate in-between the wafer.
Cadbury's has since issued a statement that addresses the comments. "We can confirm they are not one and the same, how each of them are made is a secret though, known only to our brilliant chocolate makers," the brand ambiguously told Metro. So there you have it.