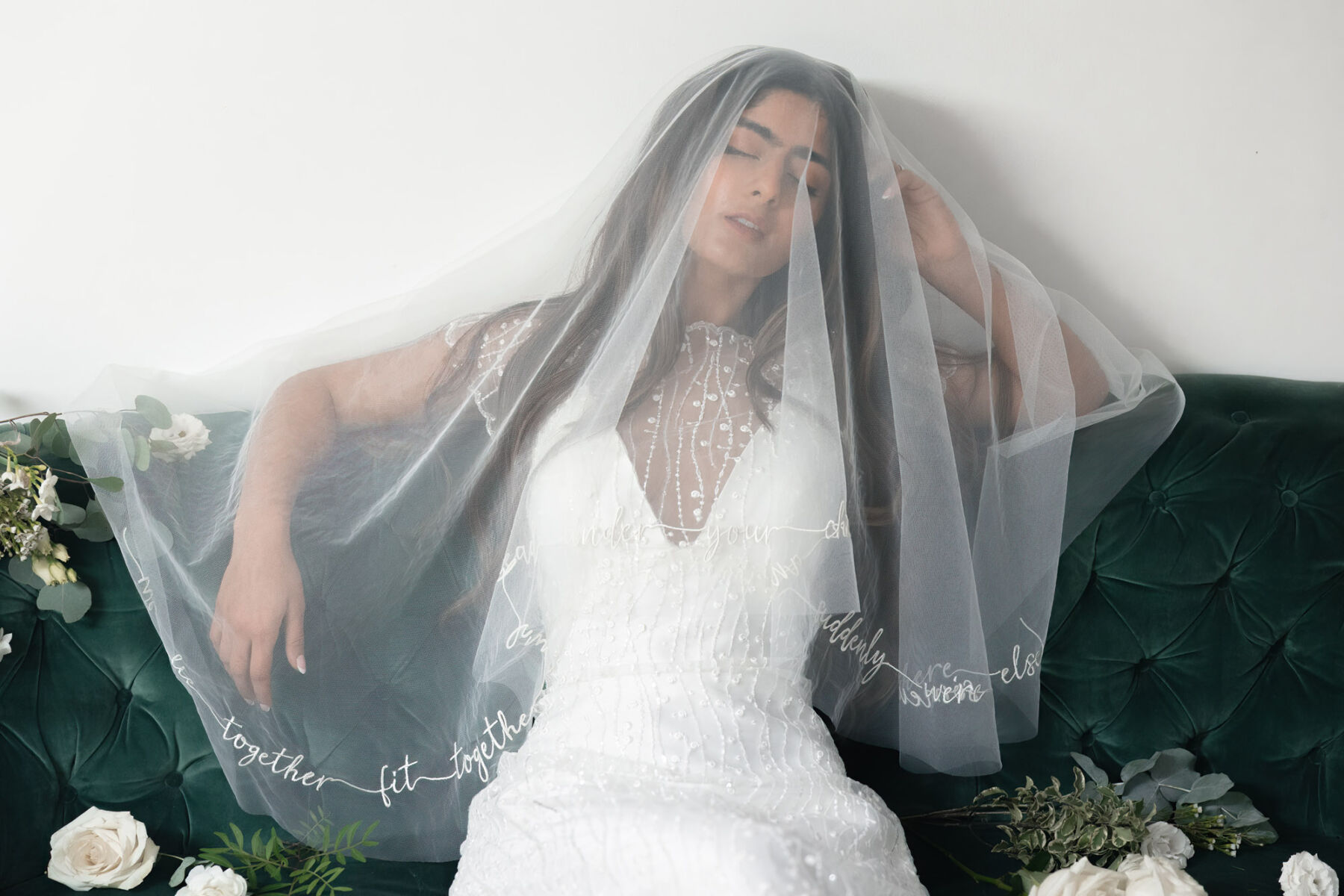 I was one of those brides who without question, knew that I'd never wear a veil. That was just a step too far for me – an outdated concept I'd feel silly doing. Or so I thought. I was lucky enough to visit a wonderful bridal boutique that encouraged me to pick up a veil and have a play as I was trying on gowns.
It was with plenty of hesitation that I slid the veil comb effortlessly into my messy up do hair on that spring day back in 2008, and witnessed the instant transformation of the silhouette staring back at me from the mirror. I was smitten. I recall seeking out the nearest thing to resemble an actual veil (a linen sheet?!)  back at home, and holding it towards the back of my head in an attempt to conjur that incredible feeling I felt when I first tried one on.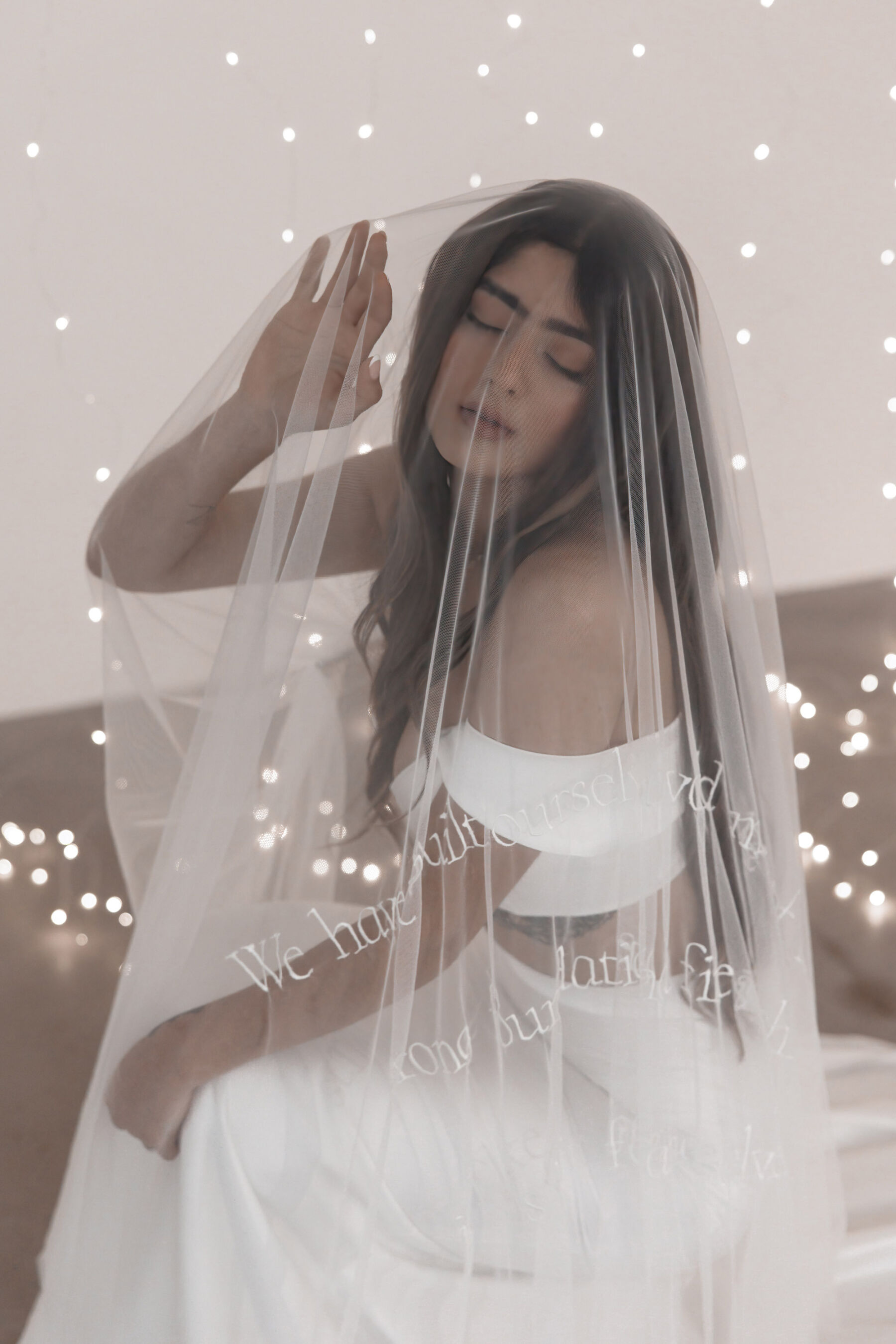 If you find yourself with similar apprehensive feelings to the ones I had about wedding veils prior to actually getting married, then I'm hoping today's article might help you change your mine. Not just by introducing you to some incredibly beautiful, handmade veils, but veils with exquisite poetry lovingly embroidered into the fabric.
I want to tell you all about Poetry Veils and I'd like to do that first, by introducing you to collaborative artists, veil maker Rebecca of Rebecca Anne Designs and writer Jen Feroze of Jackdaw Editorial.
How did the idea of a Poetry Veils collaboration come about?
Rebecca: It all started when Jen contacted me to discuss a collaboration idea of stitching poetry into veils. I immediately delved into her work online and was so drawn in by her talent, I fell in love with the idea of working alongside a poet.
My own wedding is in a couple of weeks' time so when our conversations became more serious earlier this year and Jen recommended that we trial the collaboration with a poem for myself and Jeremy, I was over the moon.
Jen: I've been a fan of Rebecca's work for a while, her exquisite attention to detail and the way she weaves together style and meaning is something very special. I was looking for a way to make personal love poetry into something of an heirloom piece, and Rebecca was the only choice!
I plucked up the courage to message her on Instagram and what followed has been a fab creative journey and a lovely new friendship!
What's the process involved in the creation of a poetry veil?
Jen: First we'll work on your poem. I'll send you a questionnaire that will give you the chance to reminisce on your relationship and share some special memories and moments with me. You can decide how you want your poem to feel, whether it should rhyme or not and all sorts of other details.
Then it's writing time! Once your poem has been perfected and approved, Rebecca takes the helm. She'll work with you on choice of script, layout and other elements to make something unique and truly beautiful.
Rebecca: Both the poem and the veil design will be as stress-free and collaborative as possible. I should just add, having been through the poem process with Jen myself, I can wholeheartedly recommend it. To get the best out of it, you need to be really open and willing to telling your story to Jen.
We thoroughly enjoyed reminiscing the milestones in our relationship and also the special small things and 'silly stuff' like the stories behind pet names for each other. She delicately wove our scribbled notes into the most meaningful poem and truly told our story through the medium of poetry. We were both really taken aback when we first read our poem – it was almost like Jen had known us throughout our relationship like an old friend.
How long does a beautiful wedding veil embroidered with poetry take to create?
Rebecca: Everything I create is bespoke so it's not always easy to answer this. However, I make and send veils 10 weeks before a bride's wedding date and the minimum lead time before this is 8 weeks giving me an 18 week lead time in total.
The time spent on a veil is hard to measure as I connect with my brides multiple times via emails or even zoom calls. They are always sent a veil design sketch along with a sample of their bespoke embroidery for their approval before I make the piece itself.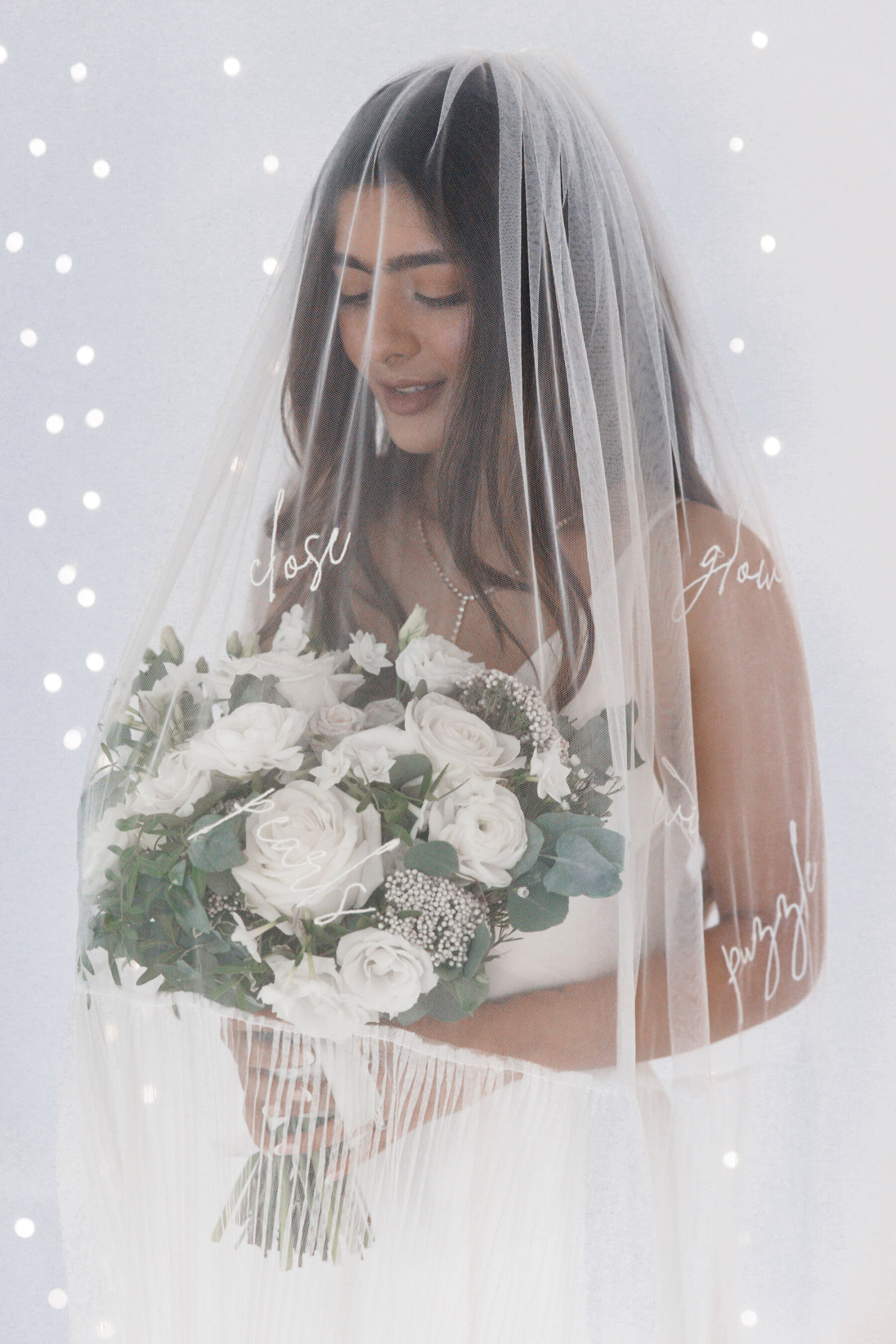 Embroidered veils are made in stages. They can range from a simple personalisation of just one main section made up of around 15,000 stitches and go up to perhaps 40 sections adding up to and over a quarter of a million stitches.
I am a perfectionist, so each section is quality checked before moving onto the next part to ensure that the finished product is to the very highest standard of luxury bridal. This can mean that just the embroidery part of a veil can take days – let alone the work prior to this and the completion of turning the artwork into a veil.
But I really don't mind it taking so long as after all it's a labour of love!
How much will an embroidered poetry veil cost?
A poetry veil starts at £525. This includes your completely bespoke poem and a short excerpt of it stitched into your veil. Anything is possible, design wise, so for more elaborate design elements or fuller verses included in the veil, prices will be bespoke.
As two creatives both involved in the world of weddings, what advice would you give to brides planning their weddings now?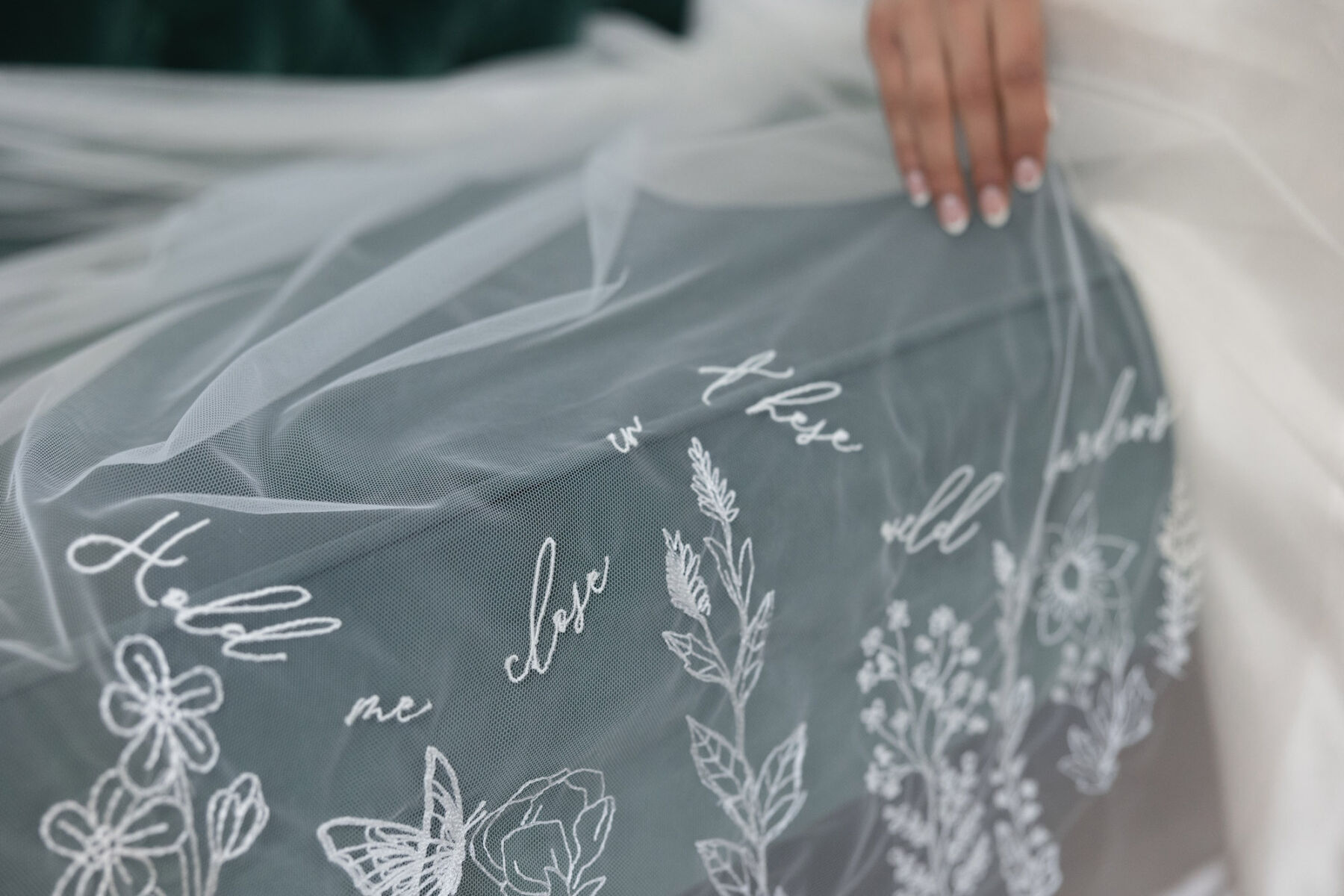 Jen: Planning a wedding takes time, effort and most importantly heart. You need to feel totally comfortable with everyone you choose to be on your team. Take time when choosing your suppliers. Find people who you genuinely click with, and select the person as well as the product or service they're providing.
Rebecca: Invest in the details –often these will become the memories that you treasure most. This day is all about celebrating love and your story as a couple. There are so many ways to weave this into your wedding day. What a lovely thing to do to work together on a poem and then surprise your other half with it stitched on your veil on the big day!
Any advice for those brides in two minds on whether to wear a wedding veil or not?
Rebecca: When else can you wear a veil? I think the traditional element of the veil being a necessary 'add on' has been turned upside down over the last few years and the veil is now a modern and versatile part of bridal styling.
The sleek finish of a contemporary veil is a far cry from its dramatically voluminous predecessors and being able to stamp your personality into its design really is the finishing touch.
I truly believe working 1:1 with a veil designer is already the ultimate bridal experience – to add on the option to also work with a poet is beyond special. I think the journey is just as special as the outcome – creating the most meaningful and precious heirloom piece.
Jen: I totally agree with Rebecca. Far from being old fashioned, choosing a veil nowadays speaks of taking tradition and making it your own. I honestly think a totally personal and stunningly designed veil encapsulates the idea of a modern heirloom – something that can be part of your life for generations.
Life is Too Short – Wear The Veil
Invest in an artful, emotional and absolutely unique, poetry veil, created with love by two talented designers who really care. A design statement to treasure for generations to come
No regrets.
For further information, visit rebeccaannedesigns.co.uk/poetryveils, email info@rebeccaannedesigns.co.uk or telephone 07837 – 682963.
And enjoy more content featuring Rebecca Anne Designs here on Love My Dress.