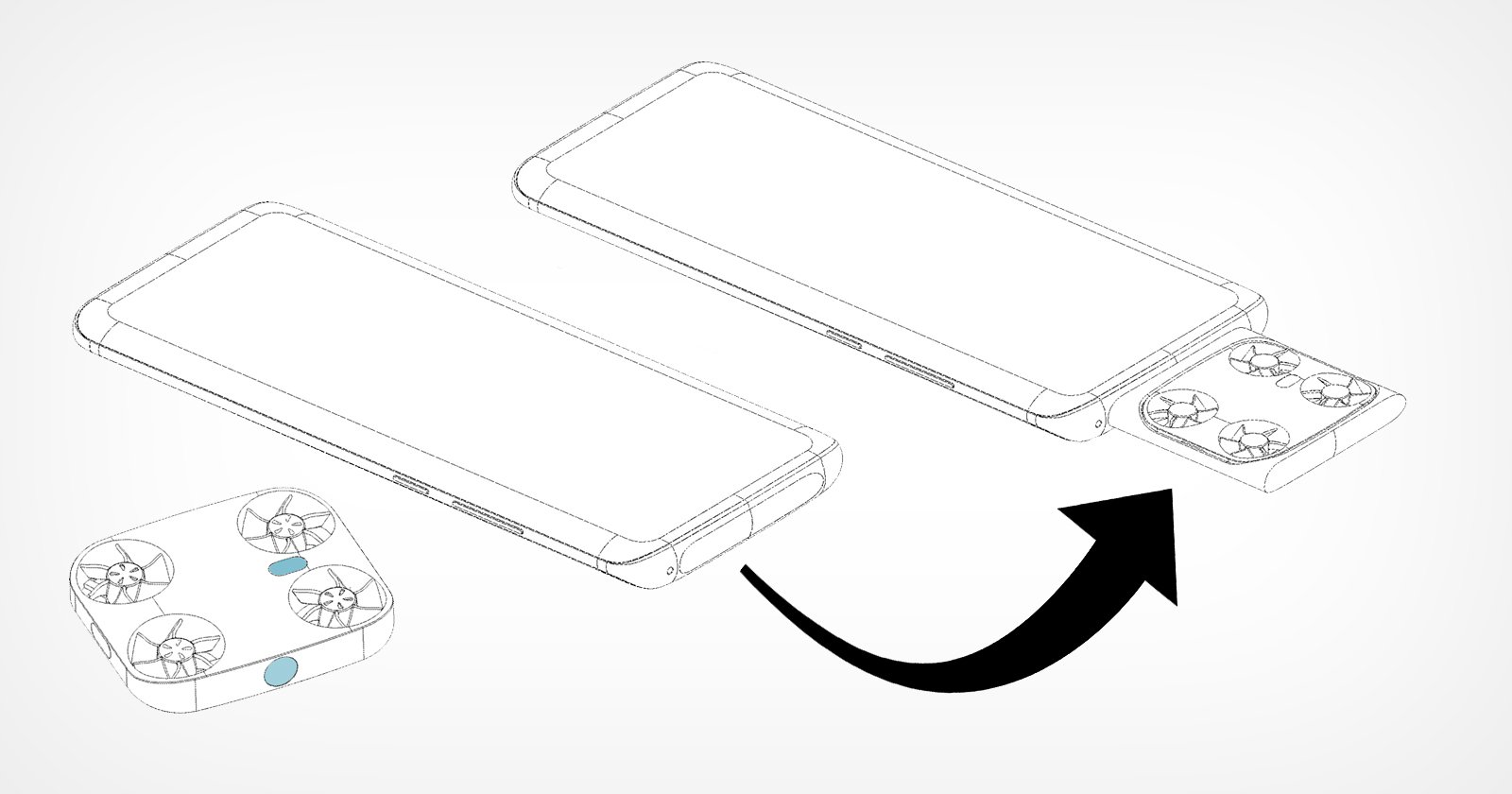 Vivo is reportedly developing a smartphone that includes a tiny quadcopter drone that slides out from the main body of the device, detaches, and can fly away to allow for better selfie photos.
According to patent information published publicly today and found by LetsGoDigital, the design describes what at first glance looks like a typical smartphone, but hides a small quadcopter drone with an integrated camera and battery that can be removed and flown separately to allow for aerial camera angles.
The patent describes a dual-camera system (one front-facing and one facing downwards) and three infrared proximity sensors that would theoretically allow the tiny drone some ability to keep itself from crashing into objects.
According to the report, the flying camera system can be slid out of the housing, removed entirely, and allow the smartphone owner to take photos from a greater distance. LetsGoDigital says that the patent describes the ability for the drone to change position or maintain position while shooting, and presumably the operation of the mini-drone takes place via the smartphone. While it is possible that the tiny flying camera would support gesture control, that is not mentioned as part of the documentation.
Tiny, portable flying cameras aren't new. The drone pictured below is called the Air Pix and is about the size of the palm of a hand. However, it is a separate device that is almost the size of a full smartphone. The idea of integrating a mini flying camera directly into a smartphone is wholly original to Vivo, though the disadvantages of such a design may outweigh the benefits.
For starters, the drone would have to be much smaller than even the Air Pix — which already sports abysmal reviews on Amazon — which means the motors that power the propellers are unlikely to be strong enough to withstand much wind. Even a light breeze may shake the camera enough to make any photos it takes blurry. Some kind of stabilization of the lens will likely be necessary to mitigate this.
Additionally, a large flying part like this is prone to damage or loss, which would be expensive to replace. It's unclear what would be exposed to the elements on the phone itself if the drone were to be lost as well since the port to hold the drone would be sizeable.
Vivo is, at least, thinking outside the box with this patent. While the publication of the patent at best shows the company is only in the very early stages of development, it remains to be seen if such a design is actually commercially viable.
---
Image credits: Mockup of Vivo smartphone and drone published courtesy of LetsGoDigital per usage guidelines.