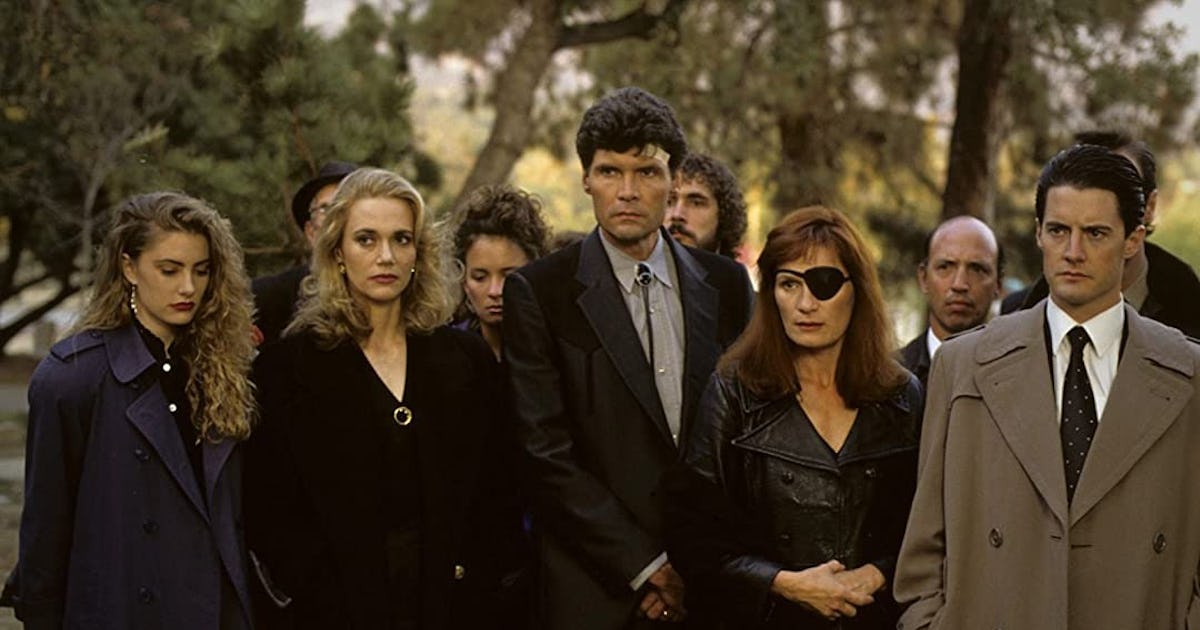 After spending so long social isolating in 2020 and 2021, it seems unlikely that anyone will be taking for granted the simple joy of watching a good TV show with their loved ones. All that said, being pleased to see your BFF doesn't make choosing what you're going to watch together any easier. Do you go true crime, reality TV, a documentary, a good old faithful, something new and out of your comfort zone? The options are endless, which is probably why you ended up here looking for recommendations.
The items you'll find below have been curated especially for the experience of watching Netflix with friends and family, so they're heavy on heartwarming vibes, plenty of laughs, and a moorish just-another-episode quality. Some are just one or two seasons deep (Firefly Lane, Never Have I Ever, The Baby-Sitters Club), while others offer you something a little heavier (i.e. Grey's Anatomy, which as of June 3, 2021 has aired an eye-watering 380 episodes). If that sounds like a lot to watch in person, then you can also try the app Netflix Party. The service syncs up your viewing so everyone gets to the same shocking hookup or big reveal at the same time even if you're watching on different devices. And there's a built-in chat window for you all to gasp in collectively. Enjoy.
Grey's Anatomy
While there's a ton of doctor dramas available to watch, this one leans far more heavily on the emotional entanglements and deep crushes of its characters. After all, it's the show that created Derek "McDreamy" Shepherd (Patrick Dempsey) and Mark "McSteamy" Sloan (Eric Dane). But at the heart of the series are the friendships between characters like Meredith Grey (Ellen Pompeo) and Cristina Yang (Sandra Oh) who were each other's ultimate "person." With 16 seasons currently available — the 17th season of the show is currently airing on ABC, and in May 2021 it was renewed for an 18th season — this show's got the same kind of staying power as your friendship with your own BFF.
Firefly Lane
Another book-to-Netflix-series is Firefly Lane, based on the New York Times best-selling novel written by Kristin Hannah. It chronicles the decades-long friendship between Tully (Katherine Heigl) and Kate (Sarah Chalke) and all its ups and downs. The friendship begins when they are just teens in the '70s and goes all the way through marriages and children and career changes. And then… something major happens that throws everything into disarray. Season 1 dropped on Netflix in February 2021, and a second season was confirmed in May of the same year.
The Unbreakable Kimmy Schmidt
Adjusting to life after escaping a doomsday cult bunker would be hard for anyone, but Kimmy (Ellie Kemper) is determined to live life anew. Moving to New York City with just a positive attitude and absolutely no knowledge of the real world, she quickly makes the Big Apple kinds of "friends" — bizarre landlady Lillian (Carol Kane), over-the-top roommate Titus (Tituss Burgess), and a boss with absolutely no boundaries (30 Rock's Jane Krakowski). The four-season show ended in 2019, but not before picking up 18 Emmy nominations.
Never Have I Ever
Created by The Office and The Mindy Project's Mindy Kaling, this show follows three awkward teens who aren't in the popular crew. The series stars Canadian actress Maitreyi Ramakrishnan as Devi in her first ever acting role, for which she received a Film Independent Spirit Awards nomination for Best Female Performance in a New Scripted Series. The second season lands on Netflix on July 15 so if you're into TV that is relatable, funny, and, at times, totally sweet, this could be the one for you.
Twin Peaks
There's a darkness in the woods, as the residents of the fictional town of Twin Peaks are about to find out. The bizarre murder of prom queen Laura Palmer turns the entire town upside down, with everyone's secrets tumbling out. From more standard Dallas-style conspiracy plots to buy up all the town's land for development, to messages from a woman whose log tells her things, the strange journey of FBI agent Dale Cooper (Sex and the City's Kyle MacLachlan) to solve the mystery leads to some truly surreal places.
Girlfriends
As TikTok has proclaimed, the 2000s are trendy again, so it's time to give this early '00s show a re-watch. Set in Los Angeles, the bonds between these characters are rock solid as they wade through relationship woes, work drama, and more. Plus, it never gets old watching Tracee Ellis Ross, Jill Marie Jones, Persia White, and Golden Brooks perform together, which fans of the show were lucky enough to see again in 2020 when the cast reunited to celebrate their 20 year anniversary. "We've grown up together, the four of us," Brooks said of their friendships, which also saw them reunite for an episode of Blackish. "We have come into our own. I have so many moments with each and every one of you that I can say, 'That made me a better person.'" With eight seasons to watch, this one will take you and your BFF a decent amount of time to get through.
New Girl
Epic bromances, fantastic 'shipping pairs, hilarious hijinks — that's everything you can expect from New Girl and more. Sure, the sitcom had a few weak moments in its seven-season run, but it's ultimately a touching tribute to the bonds of friendship between roommates (played by Zooey Deschanel, Jake Johnson, Max Greenfield, Lamorne Morris, and Hannah Simone) that will leave you with plenty of quotes and references to share with your own BFF. Douchebag jars for everyone!
Young & Hungry
If you spent your early 20s struggling through the city, running on no sleep, coffee, and bodega breakfast sandwiches, then Young & Hungry will take you right back to your early 20s. Gabi — played by Hannah Montana's Emily Osment, now all grown — and her BFF Sofia (Aimee Carrero) aren't totally put together, but that's what makes them so much more fun to watch as they try to hack it in San Francisco while working for a clueless tech billionaire called Josh Kaminski (played by Jonathan Sadowski). The show ran for 71 episodes over five seasons from 2014 to 2018, so there's plenty to get through.
The IT Crowd
In this show, imposter syndrome meets complete social ineptitude in the IT department of a major corporation in the UK. With 90% of their job consisting of asking people if they've turned their devices off and back on again, employees Roy (Bridesmaids' Chris O'Dowd) and Maurice (Richard Ayoade) have taken the slacker/overachiever route towards work shirking. This five-season fish-out-of-water comedy highlights the bond that unites so many work friends: trying to wiggle out of increasingly ludicrous situations in the office.
The Baby-Sitters Club
Based on the beloved '80s and '90s book series by Ann M. Martin, this Netflix show has been updated for our modern times. But even though the tweens in the show have a Gen Z look and cell phones (and Clueless' Alicia Silverstone is playing a mom), the show still stays close to the spirit of the novels. The first season dropped on Netflix in July 2020, and a second season has already been confirmed by the streaming site, which will finally feature fan-favorite book character Jessi Ramsey.
BoJack Horseman
All the glamour of Hollywoo (a hilarious name rebrand) held just at arm's length by former sitcom celebrity BoJack Horseman (voiced by Will Arnett) and the misfit group that accrues around him. As well as many, many celebrity cameos, Purely transactional roles like biographer, agent, or random hanger on slowly grow into real relationships over the six seasons as BoJack tries grappling with his past to become, if not a better person at least a less terrible one. If that sounds too grim, I'm leaving out the slapstick jokes and animal puns constantly unfolding in the background.
Reign
A show that highlights a truth everyone should've learned in high school: history is never boring. Though this four-season show takes plenty of creative liberties and adds a 2013 CW flair to events, this compelling account of the early life of Mary, Queen of Scots (Adelaide Kane) makes for a truly captivating series — and the show barely even touches on her tiff with first-cousin-once-removed, Queen Elizabeth I. Reign has more politics than all of the West Wing, more murders than an episode of Sons of Anarchy, and steamy sex scenes to rival Game of Thrones. The show ran for four seasons from 2013 to 2017, with 78 individual episodes of drama.
The Good Place
Who would've thought philosophy could be so goofy and fun? The Good Place follows a group of people who all died on the same day and make it to an idealized "Good Place." But when things aren't quite what they seem, the group must team up to save their afterlives. Kristen Bell stars, joined by William Jackson Harper, Jameela Jamil, Manny Jacinto, and Ted Danson. The four-season show was nominated for 12 Emmys during its 2016-2020 run, though took home no official gongs (whoever didn't give them the victory is definitely going to The Bad Place.)
Dead To Me
The ultimate act of friendship is definitely covering up a murder, right? I won't spoil who gets killed or how, but just know that Jen (Christina Applegate) and Judy (Linda Cardellini) become friends in the unlikeliest of ways. The series, which Netflix have already confirmed will end with Season 3, has picked up five Emmy nominations for Seasons 1 and 2, including simultaneous nominations in the Outstanding Lead Actress category for Applegate and Cardellini. The pair were both eventually beaten to the gong by Catherine O'Hara for her role as Moira Rose in Schitt's Creek.
Glee
The ultimate show for and by theater kids, Glee propelled the careers of talented up-and-coming actor/singers like Lea Michele, Darren Criss, Amber Riley, and more into mainstream Hollywood. The six-season series won six Emmys during its run, for everything from having the best guest stars and casting to sound mixing (an obvious one). It prided itself on a plot line filled with spontaneous dance/singing parties, which is pretty much a core requirement for some friendships. If that sounds like you and your pals, none of you will be able to stop yourselves from grabbing your finest hairbrush and joining in.
Reporting by Martha Sorren, Kelly Schremph and Danielle Burgos.
This article was originally published on