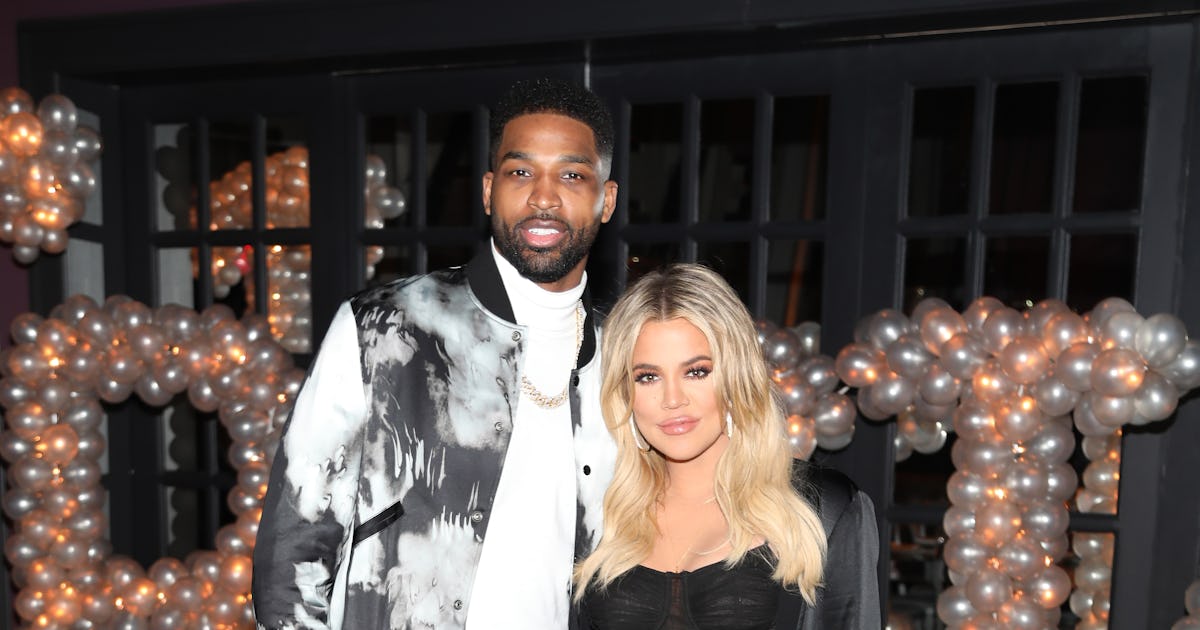 Khloé Kardashian celebrated her 37th birthday on Sunday, June 27, but one social media tribute didn't sit well with fans. "Happy birthday @khloekardashian," Tristan Thompson wrote on Instagram roughly one week after their reported split. "Thank you for being not just an amazing partner, mommy and best friend but also being the kindest, caring and most loving human being I've ever met."
The NBA star posted the mushy caption alongside a series of photos with Khloé, including one of the former couple sitting in the car with their daughter True. "Your love and spirit is contagious to all who've met you," Thompson continued, gushing over the Good American founder amid another round of cheating rumors. "Thank you for always being there for me and putting our family first. I love you so much. Have an amazing day."
People confirmed Kardashian and Thompson's breakup last week. "They are not together right now," a source told the magazine. "The ups and downs with Tristan were always very frustrating for Khloé. She has worked so hard to trust Tristan." Another source revealed that, despite the cheating allegations, the two are still on good terms and focused on doing "what's best for True."
According to Page Six, Khloé and Tristan reportedly ended their relationship after Instagram model Sydney Chase claimed in April that she hooked up with the athlete last fall. The news of their split surfaced shortly after reports that Thompson was spotted entering a room with three women at a Bel Air party on Friday, June 18. Per the outlet, he emerged from the room 30 minutes later looking "disheveled."
The latest round of cheating allegations has garnered a big reaction. In fact, many fans took to the comments of his post to share their thoughts. "You don't deserve her!" Instagram user @ferpaularuiz wrote. @sarah_marie83 echoed that sentiment, writing that Thompson "walked over her very blatantly." Others called for the athlete to leave the reality star alone. "Let this woman move on and live her life and be with someone who actually wants to commit to her," @michellereckmeyer commented.
But that was only some of the backlash. Some people came at Tristan for being selfish; others called the birthday tribute "ironic" and "laughable" considering his rumored behavior. "You ain't love nothin but yourself," @graceabovallelse wrote. "You don't love her cause if you did you wouldn't humiliate her the way you do," @sitaxoxo1212 wrote. @kris10sonswan pretty much said what we're all thinking: "This is one of those posts that we all assume would prob have made a better text."
Fortunately, Thompson's birthday tribute was just one of many that Khloé received on her special day. "You seriously are the most amazing magical person I know!" Kim Kardashian wrote alongside a carousel of photos on Instagram. "You have the biggest heart and you take care of everyone around you!" Kourtney Kardashian showed love for her sister on her Stories, posting memories stretching all the way back to their Kourtney and Khloé Take Miami days.
Kendall and Kylie Jenner also posted sweet messages to Khloé, and even True wrote her mom a card, which Khloé shared on her Instagram Stories. Kris Jenner also shared a lengthy caption for her "angel bunny." "You are one of the most remarkable human beings I've ever known and I'm so proud to be your mommy!!" she wrote. "You are everyone's ride or die and you love so hard. Thank you for being the most amazing daughter, mommy, sister and auntie."