We're live from Intel Innovations in San Jose, California, where Intel CEO Patrick Gelsinger discussed the future of Intel Silicon and proved he is not the next Messi. However, it got exciting when Acer CEO Jerry Kao joined him on stage to share the upcoming Acer Swift powered by the Intel Core Ultra chipset. 
Who doesn't love the sleek lines and lightweight styling of an Acer Swift laptop? During our review of the Acer Swift 5 (2022), we extolled its virtues, and it looks like this next generation is an even bigger leap.
Here's a quick look at what we saw during the demonstration.
Acer Swift Powered by Intel Core Ultra
During the demo of the new stylish thin Acer Swift with Intel Core Ultra inside, we saw them use a posed image of a ballerina to create an image of an Astronaut in front of a black hole. It used the base image as the framework in real-time, which took seconds.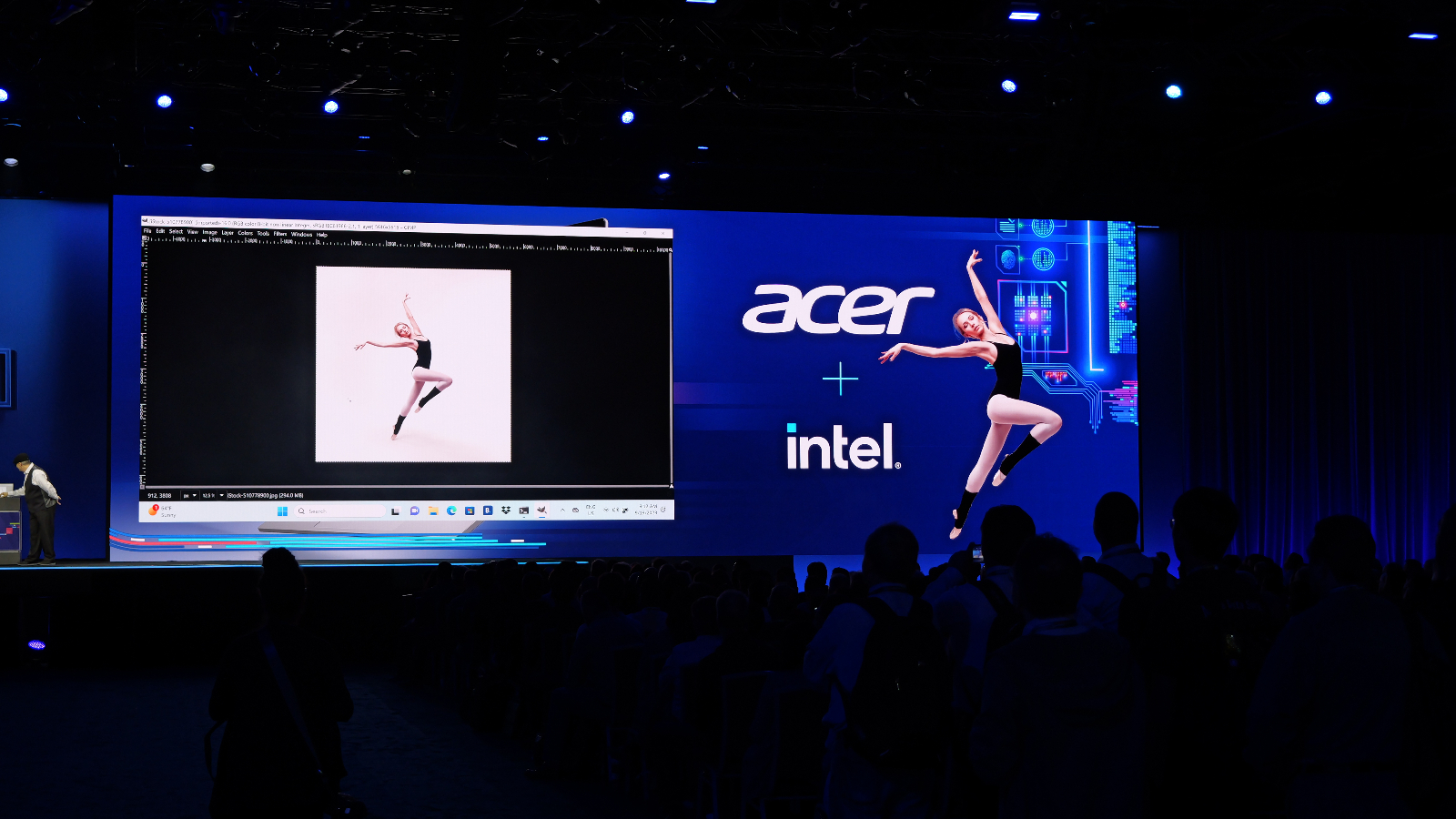 However, the caveat was that the motion was seamlessly added to the image, making it appear that the Astronaut was free-floating in space while the black hole churned in the background. It was a powerful statement, all done smoothly in seconds. 
This moment left me wondering which discrete GPU they used to power this work. We were then informed this was all the work of Intel's upcoming Core Ultra, which has an integrated ARC GPU and uses Intel's new NPU (neural processing unit) to make this magic happen in seconds without any noticeable lag in performance. 
If there was a rabbit out of the hat moment, this was it, but it also sends a signal to Apple, that they're coming to eat your lunch. If the new Swift can come close to MacBook Air or MacBook Pro battery life and performance while unplugged, this is every level of game-changing PC users have been waiting for. Having seen it with my own eyes, the performance is there, hidden behind the Acer Swift's lovely shell. It could challenge the MacBook Air and maybe put a scare into the once-bitten fruit from Cupertino. 
There will be more to come from Intel Innovation, and I will be here bringing it to you. 
Back to Ultrabook Laptops
Load more deals