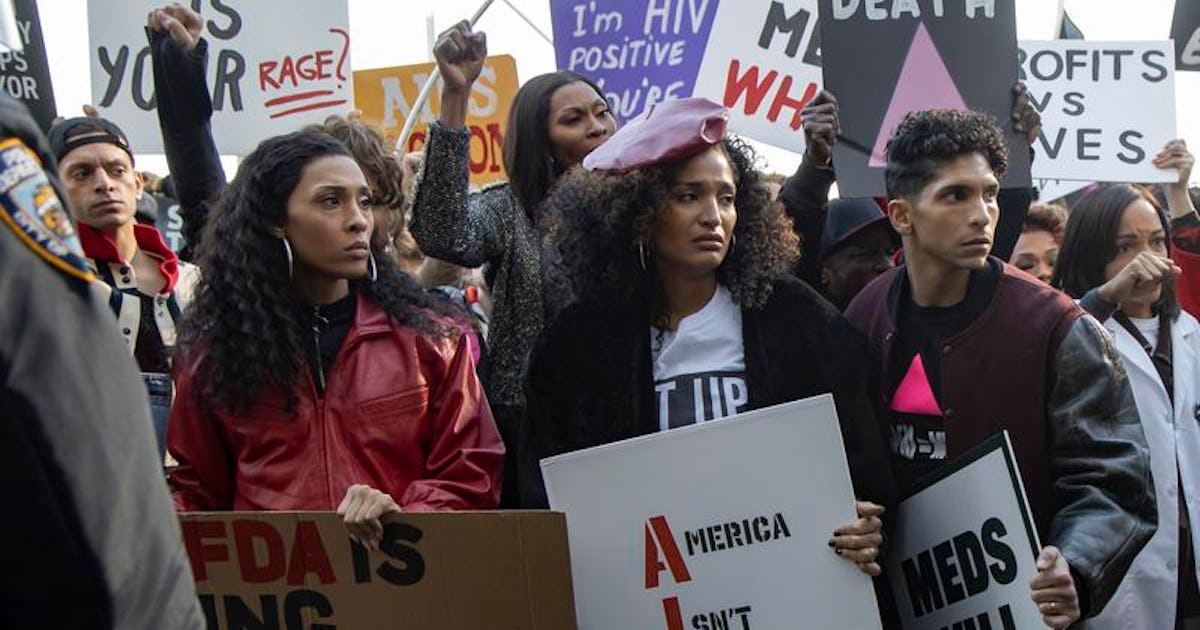 Spoilers ahead for the series finale of Pose. The Pose series finale ends with a very familiar New York image: four women strutting down the street in their finest looks and furs. They're headed to brunch, where they'll debrief about all their latest accomplishments and events. It's not Sex and the City, but the scene is certainly reminiscent of the show — quite directly, as they try to teach Elektra what a cosmopolitan is ("I'll have a real drink," she retorts).
It is, like the entirety of Pose, an even truer version of life in New York than the often idealistic '90s dramedy. After so many years of fighting for every small allowance in life, these women have earned a chance to celebrate themselves, each other, and their community. Though it's the series finale, we get a sense that this is not an ending but rather a day in the rest of their lives; we'll no longer follow these characters, but most of them will continue to live life to the fullest.
The finale makes sure to wrap up everyone's storyline: Lamar is killing it on the ballroom floor, Lulu is an accountant in First Manhattan's tax department, and Damon is living in Chicago with a boyfriend who owns dance studios that Damon is teaching in. Here's where we leave everyone else.
Elektra
Earlier in the season, Elektra got what she'd long been searching for: a steady, highly lucrative stream of income. After running a phone sex line for so many years, 1996 finds Elektra decked out in pearls, explaining how the "better option" of webcam interactions has allowed her to charge double. "That alone pays for my condo in Boca Raton," she brags at brunch. "Darlings, I was rich before, but now if I drop $1,000 in the street, I don't even bother wasting time to pick it up."
However, she's not just lavishing in a life of luxury: As Lulu and Blanca point out, Elektra quietly donates money to hospitals, drug treatment programs, and hormonal treatments and surgeries.
Papi and Angel
Angel and Papi are happily raising Berto, who's just started third grade by the final episode. Papi's agency has continued to grow, and Angel is loving stay-at-home motherhood. At the brunch date, she explains that she's also making moves to get back into modeling, with plans to be on a bottle of hairspray for thick, curly hair.
Pray Tell
In one of the saddest twists, Pray Tell dies from AIDS complications. Though Blanca and Judy worked hard to get him into the clinical trial — an opportunity that works wonders for his condition — he passes away after sharing his drugs with Ricky, lying to him that he had a "hook up" with the doctors for some extra pills. Much of the final episode deals with the fallout from his death, how the rest of the characters handle the news, and how it channels into their activism with ACT UP.
It wouldn't be Pray Tell if he didn't go out on a high note, after another incredible performance on the ballroom floor. When he dies, he seems to know it's coming, preparing his home and himself on his final night in solitude. It's a scene Billy Porter relished getting to shoot. "I remember on that day going in and it was a solo scene," he tells Bustle. "It was very difficult to say goodbye, but I said to the whole set, 'Listen, this is the death of Pray Tell, and the rebirth of Billy.' This role has made me feel reborn in ways I didn't even know I needed. And so I'm grateful for that."
Blanca
As Elektra proclaims, Blanca is now a "real, official nurse. Educated, graduated, and certified by the state." Elektra astutely adds that Blanca has always "found a way to monetize your annoyingly endless kindness for your fellow man." Indeed, she provides personal, loving talks to patients getting their HIV diagnoses while continuing to pay it forward as a grandmother in the House of Evangelista (who are "trophy-winning machines," according to Blanca).
Though her friends seem like they're too busy for the ballroom, we find out in the finale that this is at least partially a ruse to hide that Blanca is being awarded legendary status. And it wouldn't be Blanca's big night if she didn't find another opportunity to foster community: On her way out, she takes in another Evangelista and gives some encouraging words to a house down on their luck.