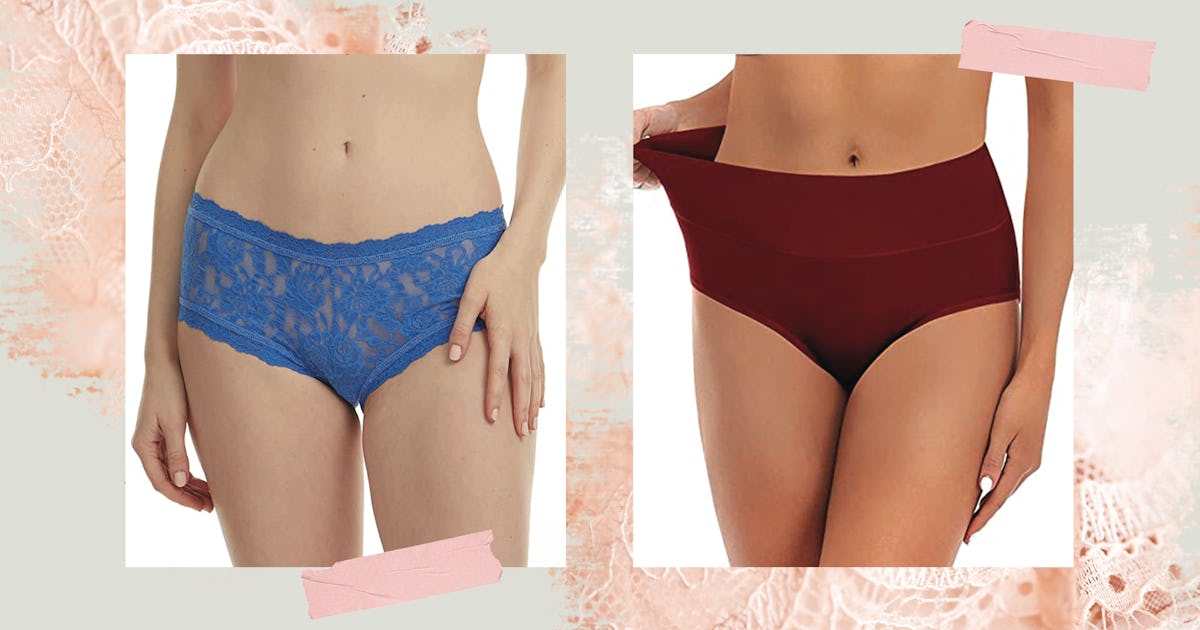 If you have a large behind, you might find that many panties bunch, ride up, or pinch. Luckily, the most comfortable underwear for big butts does exist — if you know where to look and what to look for. Whether it's Reddit users, celebrities, or Amazon reviewers, people with larger butts usually recommend pairs that have tons of coverage or very little at all. Most importantly, the pairs will be made from an extra-stretchy material so it adjusts to suit your body just right.
What To Look For In The Best Underwear For Curves
Stretch: Extra-stretchy underwear will likely be more comfortable for anybody, but especially for people with big butts. Ample elastic (usually around 5% or more of elastane, spandex, or a similar material) will ensure that instead of digging into your skin, the fabric expands and moves with you. It'll also prevent your undies from riding up. Finally, a seamless design is usually the least confining, since seams can feel pinchy if they're too tight.
Coverage: The right cut will differ depending on your personal preferences, but reviewers with bigger behinds tend to prefer underwear that's full coverage or very little coverage at all. Full-coverage underwear (like briefs or cheeky boyshorts) should have more than enough material for bigger butts, while thongs make coverage less of an issue, since your cheeks are supposed to be out. When in doubt, you can always size up — and most of these pairs below are offered in a wide range of size options.
Reviewer feedback: Finally, if you can't try a pair of underwear on first-hand, reviewer feedback is a lifesaver. Below each of these pairs, you'll find quotes from real reviewers — and some are even sourced from the recommendations of Reddit users and celebrities.
Shop The Best Underwear For Big Booties
In a hurry? Here are the top pairs.
1. The Fan-Favorite Underwear For Big Butts
With more than 62,000 reviews and an average rating of 4.6 stars, these high-waisted cotton briefs are clearly fan favorites for a huge range of customers — but those with big butts are especially pleased. Why? The cotton-spandex material is extremely stretchy as well as breathable, while the full-coverage design won't pinch or bind. Finally, the extra-wide waistband ensures that these panties stay put without rolling or riding up. You can get them in ample colors, and since they come in a five-pack, they're a great value, too.
One reviewer wrote: "These are so soft and comfy they are high rise and cover even the most voluptuous booties."
Available sizes: X-Small — 6X-Large
2. A Full-Coverage Pair Of High-Rise Hipsters
Full-coverage, high-waisted, and so dang comfortable, these hipsters from Bombas check all the boxes. They're constructed from a smooth cotton modal fabric that's soft and breathable. The fit is designed to hug you and your curves, and provide effortless coverage and comfort. Even better, the waistband actually stays in place. These undies are especially great for anyone looking for a higher-waist fit that'll hold you in.
One reviewer wrote: "These are like a hug for your bottom!"
Available sizes: X-Small — 2X
3. A 6-Pack Of Soft & Stretchy Thongs
If you're someone who typically opts for thongs during a workout, then you know that not all of them are made to withstand vigorous exercise. These Kalon thongs on the other hand are. They're made from a stretchy nylon-spandex blend with a needle knit design and mid-weight thickness, meaning they'll return to their original fit and shape wash after wash.
One reviewer wrote: "I'm 5'5″ 135lbs, big booty, love handles, hips, I'm usually a medium and that's what I ordered and they fit great. Seriously don't look any longer. Just order them! I will never buy another brand of thong."
Available sizes: X-Small — 4X-Large
4. Or These Stretchy High-Cut Briefs
These mid-waist briefs are similar to the fan-favorite pick in that they're stretchy, made from predominantly cotton, and have plenty of coverage for a no-budge fit. They've also earned an overall 4.4-star average rating from more than 23,000 reviewers and are sold in a pack of five for under $30. However, these come in more subtle colors without the decorative brief lines, so if you're looking for some simple, comfortable, big-butt-friendly everyday underwear, these are it.
One reviewer wrote: "These are the most comfortable underwear my big booty has ever been in. They come up to the belly button and do not feel tight around the band or in between my legs."
Available sizes: X-Small — 5X-Large
5. A Celebrity-Favorite Pair Of Seamless Panties
Commando panties have a surprising online reputation. According to a Hollywood costume designer, they're known as a top pick for famous people because they're thin, breathable, and frankly don't feel like you're wearing anything at all. Jennifer Lopez has also gone on the record to say that she wears and loves them. Since they have a four-way stretch stretchy and are laser-cut, they won't ride up or show through extremely thin fabrics, either.
One reviewer wrote: "Great product. Been searching for underwear that cover well and don't show lines. This is that product!"
Available sizes: X-Small — X-Large
6. A Lacey Pair That Is Famously Comfortable For Big Butts
Hanky Panky is another celebrity-loved brand, as well as a commonly-recommended option for big butts on Reddit. People love them because they come in so many different style options, including these Hanky Panky signature lace boyshorts, which (unlike many other full-coverage options) still fit into the category of sexy lingerie. They're made from nylon lace with a bit of spandex for stretch, and they have a cotton gusset to keep things breathable and sanitary. Reviewers are raving because they're beautiful, don't ride up, come in tons of colors, and won't cut off circulation in the legs. (Both the company and reviewers recommend hand-washing them.)
One reviewer wrote: "Love my Hanky Panky boy shorts in lace. They last forever, colors hold if hand-washed. Comfortable to wear and nice to look at. Lots of stretch so easy to put on but do not get baggy. Good coverage if full fanny."
7. A Thong That Tons Of Redditors (and Kim K.) Swear By
According to Reddit users, when you can't find anything that covers your butt, it's time to uncover it — intentionally. Thongs are one of the most commonly recommended solutions because if your panties are between your cheeks to begin with, you won't have to readjust them all day. The Hanky Panky original thong is an extremely popular option. It's made from mostly cotton, has a cute lace waistband that won't show lines, and it actually stays put. (This brand was actually the only one Kim Kardashian would wear when she stopped going commando.)
This pick only comes in one size, but you can also get the Hanky Panky plus-size thong, which is similar to the original, but features a fully-lace design and fits sizes 14 to 24.
One reviewer wrote: "I love these. They really stay put and the waistband lays flat, doesn't roll, regardless of what I'm wearing or doing. My favorite and I've had pairs for 5 years and they still look great!"
Available sizes: One size (4-14)
8. A More Affordable Alternative to Hanky Panky
If the price tag of the Hanky Panky underwear is off-putting, these cotton lace thongs are a great alternative. These come in a pack of six for under $20 (typically, that's how much one pair of Hanky Pankys will run you). The lace portion is stretchy and comfortable to accommodate bigger butts, and fans attest to no visible panty lines.
One reviewer wrote: "LOVE. Will be buying more. Super comfy and high quality. I always purchase hanky panky and pay $20 a pair, but these are almost the same level of quality and WAY more comfortable."
Available sizes: Small — 5X-Large
9. A Highly-Rated Silky Bikini Brief That's Surprisingly Affordable
With more than 8,500 reviews and an impressive 4.7-star average rating, these string bikini panties from Vanity Fair's Illumination line are big booty-approved. They're constructed from a nylon-spandex blend, have a soft and silky finish, and offer full coverage in the back. One reason why these panties are so highly-rated among fans is that they actually stay in place and do not ride up — a common underwear grievance for those with big butts. According to some reviewers, they even offer a subtle lift. Choose from 40 colors and patterns.
One reviewer wrote: "Been looking for a little bit sexier panty, but that still covers my butt and doesn't ride up in a tight pair of jeans. These panties fit the bill!"
10. The Fan-Favorite Thongs
As previously discussed, thongs are great for those with big butts because if there's no fabric there, it can't feel confining. That said, if you're not willing to spend $20 on a single thong, this five-pack of seamless thongs is a best-seller with over 58,000 reviews for a reason: They're made from a silky-smooth seamless fabric that's stretchy, breathable, and fits like a second skin — plus they're specifically designed to remain invisible underneath tight clothing. Get them in a huge range of different multipacks, from basic solids to eye-catching animal prints, florals, and neons. Some have even said they're comparable to the cult-favorite Lululemon panties!
One reviewer wrote: "I love the fabric and how stretchy they are yet still stay up. I have a bigger butt, smaller hips, and big thighs, but these are great! 10/10 recommend."
Available sizes: X-Small — XX-Large
How We Found The Most Comfortable Underwear For Big Butts
Stretch and coverage were top of mind when searching for the most comfortable underwear for big butts. We choose products made from stretchy materials like elastane or spandex because these fabric blends will be more comfortable and are less likely to slip down or ride up. We also factored in various personal preferences when it came to style and coverage. The options on this list either offer full coverage or very little coverage at all, which tends to be most comfortable for those with big butts. Lastly, reviewer feedback was largely taken into account. We also scoured blog posts, dug through Reddit threads, and read celebrity interviews to discover underwear that a lot of people with big butts swear by.
Other Related Articles
And, since it's swimsuit season check out this roundup of the best bikinis for big butts. Looking to find full-coverage options? We've combed through thousands of Amazon reviews, and these are teh best full-coverage underwear options.
This article was originally published on