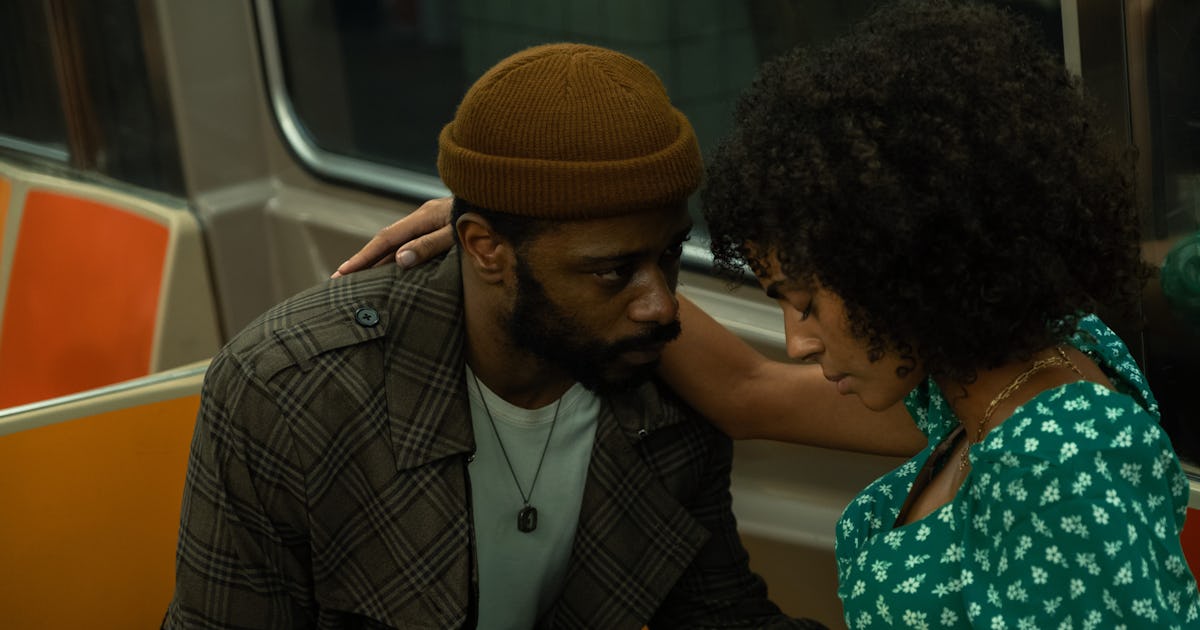 Based on Victor LaValle's 2017 novel of the same name, The Changeling on Apple TV+ follows a couple, Apollo and Emma (LaKeith Stanfield and Clark Backo, respectively) on their journey into parenthood. But shortly after welcoming their son, Brian, things get very weird for the young family.
The first three episodes dropped on Apple TV+ on Sept. 8, and they lay the ground for a disturbing journey to come. But if you want to peek ahead and find out how The Changeling book ends, you're in for a surprise — as against all odds, the grim story has a literal "happily ever after" ending.
But… how? Here's a brief summary of The Changeling's many twists and turns, if you don't mind knowing the ending ahead of time. Spoilers ahead for The Changeling book.
Early into Apollo and Emma's love story, Emma explains the presence of a red string on her wrist. A gift from a local woman in Brazil, she says, the bracelet will eventually fall apart and lead to the fulfillment of three wishes. Apollo cuts the bracelet and assures Emma that all the wishes will come true with him. He later learns that the first two wishes were to have a good husband and healthy child — and indeed, those both happen!
But months after giving birth to Brian, Emma feels different. She says she's receiving mysterious photos of Brian, and confides in her sister and midwife, Kim, that she doesn't feel like Brian is her baby. Eventually, she doesn't feel like Brian is a baby at all.
She seeks advice from mysterious message boards, and enacts a disturbing plan: disappearing without a trace after chaining up Apollo and killing Brian. (Or so it seems.) In the wake of losing his wife and son, Apollo holds Emma's old co-workers at the library hostage to find out where she went, to no avail. He serves a brief prison sentence, then attends a survivors' support group where he hears another woman talking the way Emma did before turning violent — the first sign that this is bigger than Emma alone.
Apollo then connects with a man from the group, William Wheeler, who confirms just that. After spending $70,000 on Apollo's rare copy of To Kill a Mockingbird, William tells Apollo that he knows where Emma is. With the help of his tech-minded friends, William has cut together footage of Emma leaving Manhattan by boat.
So Apollo and William take a boat trip to North Brother Island, a seemingly abandoned island on the East River. Only, it's not abandoned at all. Here, Apollo is captured by a group of women and learns that he's not the first man to come looking for his wife there. He also learns from the leader, Cal, that there's a powerful magic called glamour that can make fake things look real.
And that's what happened to Brian: he was kidnapped by the Norse Knudsen family (William is one of them!), which is obligated to give babies to a troll in Forest Hills, Queens. So when Emma thought Brian wasn't real, she was right — Apollo digs up Brian's grave and finds not a human body, but a bizarre creature that looks like a wasp's nest.
Apollo is then able to find Emma, who has been keeping watch over Brian from afar. Finally reunited, the parents are able to kill the troll and rescue their baby. After the dust has settled, Emma reveals that her third wish was for "a life full of adventure," which clearly has come true.