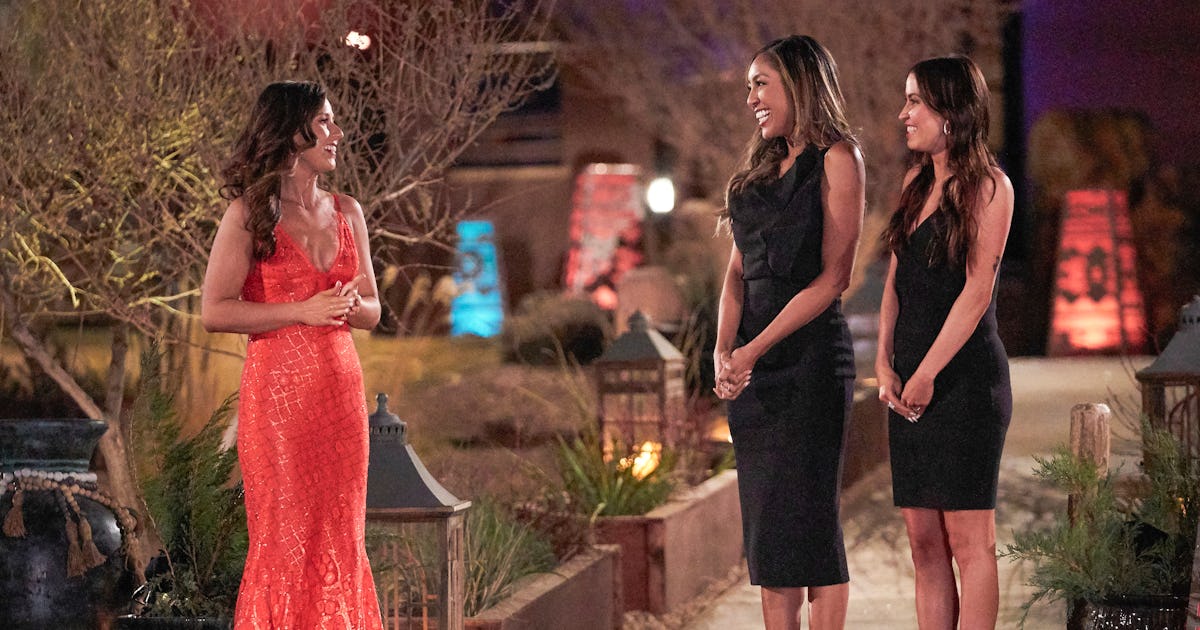 Night one of The Bachelorette is a sacred night in Bachelor Nation — a treasured two hours where fans crowd around their respective screens to root on the new lead, cast early votes about frontrunners, and roast the men who are clearly only going to stick around for a few weeks . As such, no premiere would be complete without following along with all the tweets and memes fired off throughout the show. People had plenty of thoughts about the new hosts, some odd wardrobe choices, and of course, hot takes about the contestants. Here are the biggest takeaways.
Tayshia & Kaitlyn Were A Hit
After Chris Harrison took a hiatus from the show amid last season's racism controversy, The Bachelor franchise handed the hosting duties over to two of the most beloved Bachelorettes in the show's history: Kaitlyn Bristowe and Tayshia Adams. Fans seem very down to have Kaitlyn and Tayshia steer the ship this season. "Watching tayshia and kaitlyn talk to katie is so nice like if I was the bachelorette I would so much rather talk to two women my own age than a guy who could be my dad oh my god lol," wrote one viewer.
Fans Already Have A Favorite Contestant
From the moment Greg Grippo stepped out of the limo, it became clear why he won the first impression rose. He managed to top off his endearingly nervous charm by gifting Katie a pasta necklace his niece made… I mean, come on.
People Didn't Love Connor's Cat Suit
Bachelorette contestants usually opt for a suit on night one, but every once in a while, contestants will opt for something a little more memorable. On Katie's season, that contestant was Connor, who stepped out of the limo in a cat suit. He got a kiss — staining Katie's face with his drawn-on whiskers in the process — but fans weren't as into the look.
…Or The Guy In The Box
The Bachelorette is no stranger to dramatic entrances, and one contestant decided to ditch the usual limo and arrive inside a large, gift-wrapped box, not revealing his identity until Katie found him inside much later.
Still, in spite of the new hosts, costumes, and human-sized boxes, the opening night of Katie's season was overall pretty devoid of drama — except for this one weird, unfounded interaction between Aaron and Cody. But if you've watched any season of the show, you know it's never smooth sailing for long. The season preview includes the usual tears, dramatic hallway shots, misleading ambulance footage, and even a shot of Katie seemingly quitting the season. Settle in!