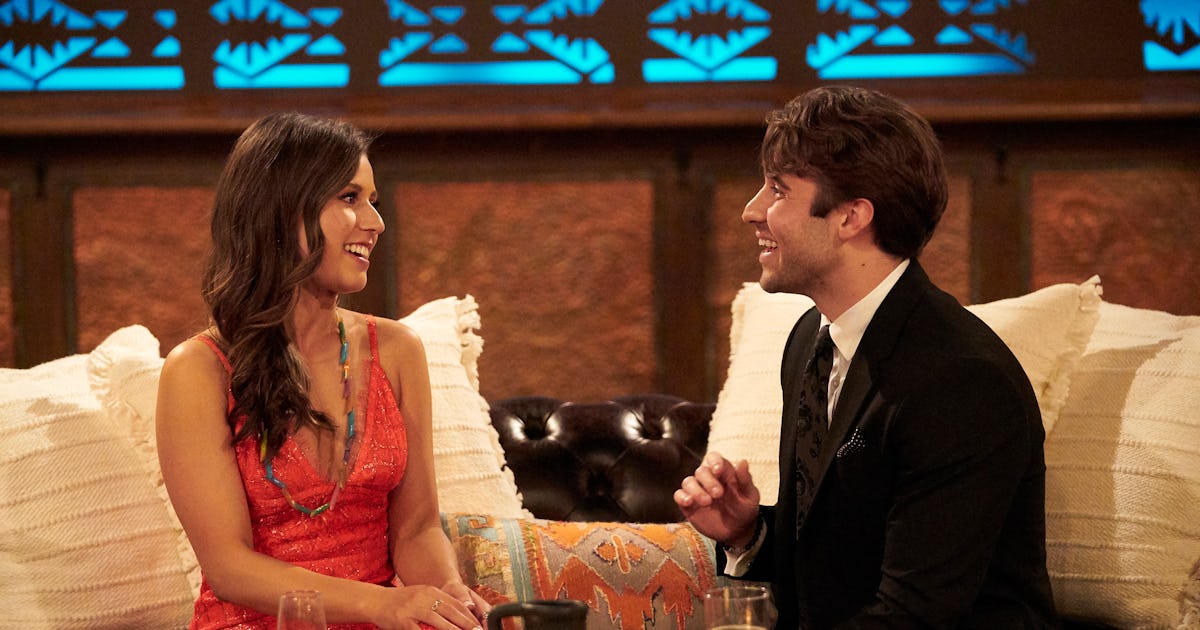 It's only the second week of season 17 of ABC's The Bachelorette, but fans already seem to have a favorite contender for Katie Thurston's heart, and since Greg Grippo got the coveted first date, it sounds like she agrees. During the date, fans took to Twitter to share memes and tweets with some fans loving and other fans completely dragging the duo's chemistry (or lack thereof).
Some fans appreciated how he wore his emotions on his sleeve. Others loved that Katie felt like she could be vulnerable and talk about the loss of her dad with him. However, outside of those intimate moments, there were also some questionable ones. For instance, when they made an outdoor toilet together. At the end of their first date, Katie and Greg sat on the bed of a truck as fireworks went off, and she hands him a rose. "The date was perfect," she said before leaning in for a kiss, but social media will always be the final judge of that. Here's what fans thought of Katie and Greg's camping date.
First, there was the interesting "romantic choice" of Greg showing off his outdoor abilities by showing his potential future wife he can, in fact, make a toilet out of a plastic bucket. And yes, they kissed on the toilet bucket.
And some fans just couldn't see Greg as the outdoor type (despite his flannel) and called him a "glamper." Meanwhile, other tweets called out The Bachelorette, blaming a "lack of budget" for the camping-themed date they've seen so many times before.
Some fans looked past the antics of the date and focused on Greg just being Greg, while others reminded Katie that he's from New Jersey and thought he was putting on a front (and probably that aforementioned flannel) just to impress her.
Other fans loved their matching outfits (like, really loved their matching outfits) and saw their choice of outerwear as a sign that they might be meant to be.
Judging by the sentiment of most fans, however, Greg can truly do no wrong, even when he's doing nothing at all.
That being said, if that relaxed and approachable attitude proves to be false, Bachelor Nation won't hesitate to come for him!