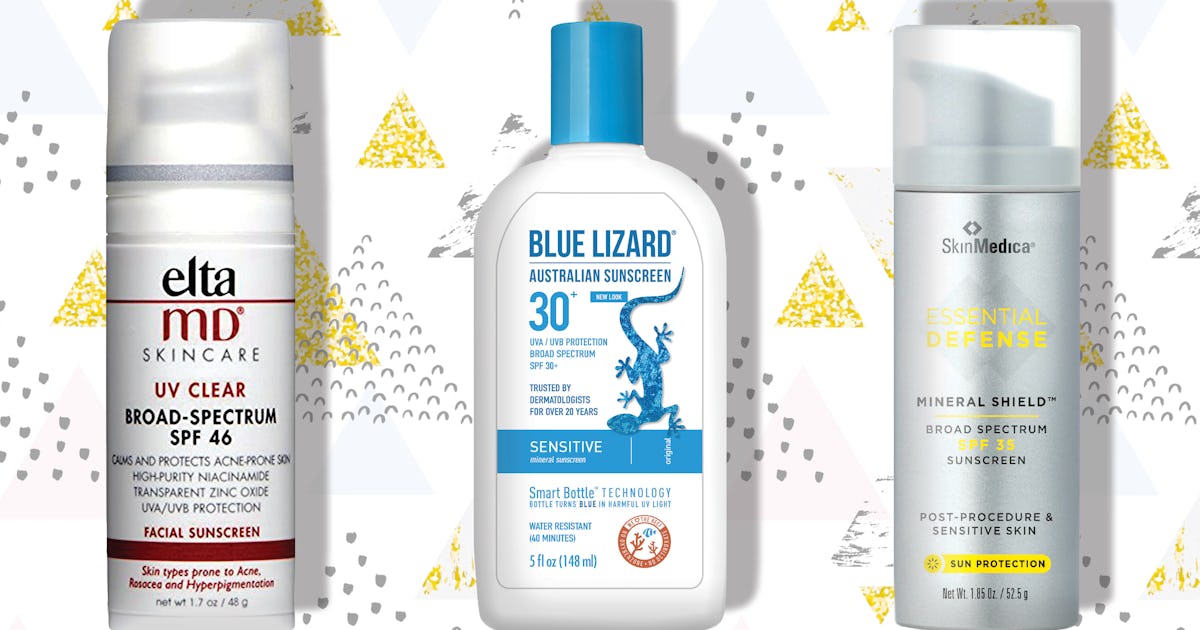 Sunscreen should be a part of everyone's morning beauty routines, but if you have rosacea-prone skin, it's even more crucial. Though there are many causes for rosacea flare-ups, sun exposure ranks high on that trigger list. Unfortunately, so can common ingredients found in skin-care products, which makes finding the best sunscreens for rosacea a more selective process than simply grabbing the first tube you see at the drugstore.
"Anyone will experience redness and burning if they aren't using proper sunblock, however, rosacea patients are more susceptible," confirms Jeanine Downie, M.D., of New Jersey-based Image Dermatology. While Dr. Downie notes that she recommends a sunscreen with a mix of physical and chemical filters for all of her patients, including those with rosacea, she also explains that it's important to test the formula first to make sure you don't experience irritation. "Test near and underneath your eye, and if it starts to itch or burn, chemical sunscreen is too strong for you."
If you find that only physical sunscreens work for you, Dr. Downie says that active ingredients like titanium dioxide and zinc oxide are what you'll want to look for in your SPF. If you can handle a mix of physical and chemical sunscreens, active ingredients octinoxate and octisalate are the chemical filters Dr. Downie likes best.
Additionally, to keep rosacea flare-ups at bay, the inactive ingredients in your sunscreen are just as important. In addition to avoiding typical irritants like alcohol, fragrance, and parabens, Dr. Downie also recommends avoiding mineral oils, which can clog your pores and cause breakouts. "Some of my favorite inactive ingredients [for rosacea] are glycerin, niacinamide, and dimethicone," Dr. Downie says of what you do want in your sunscreen. "Rosacea patients tend to have dry, irritated skin, and more hydration leads to better results for rosacea," she says. You can also pair your sunscreen with another hydrator like your usual serum or a moisturizer for rosacea.
If you haven't found an SPF that works for your skin yet, here are five of the best sunscreens for rosacea-prone skin types.