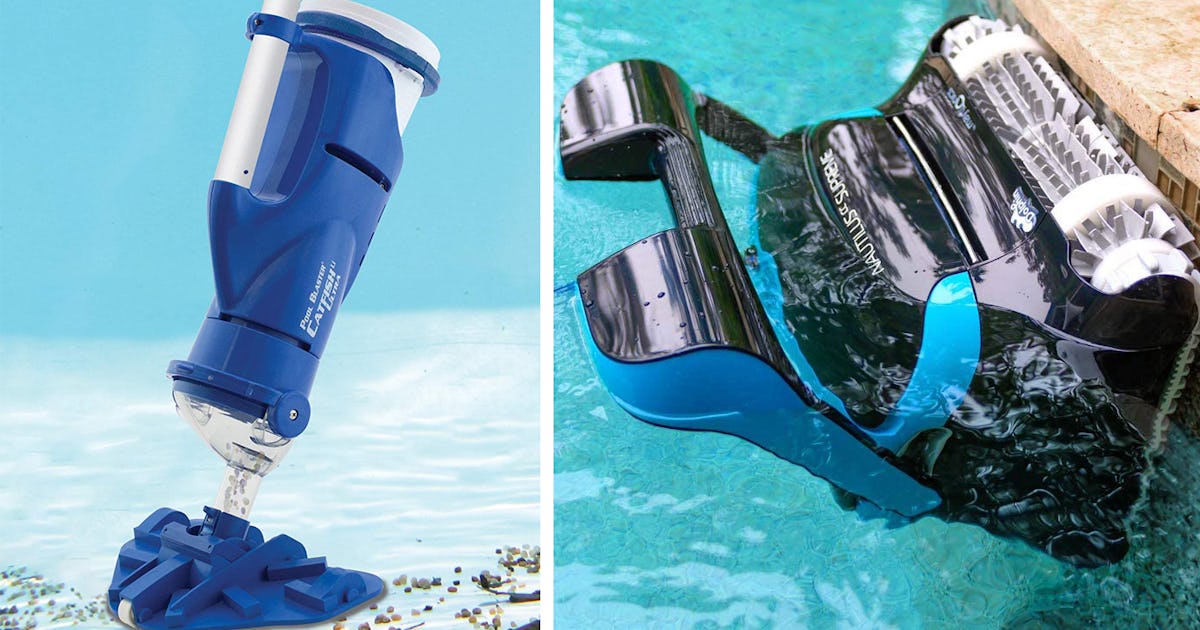 With the perks of a pool comes a good amount of cleanup, including pulling up annoying leaves and other debris from the bottom. To get the job done quickly, a pool vacuum can make the job easier than a basic pool skimmer. But, in order to ensure you have the best pool vacuum for your pool, consider both your type of pool and size, as well as whether an electric or robotic pool cleaner, or a pressure or suction model that connects to the skimmer in your pool is the best style for you.
Keep in mind that not every pool vacuum will work for every pool, and your pool's setup and design will dictate what's right for you. I've called out below which vacuums will work for in-ground versus above-ground pools, so pay mind as you shop.
When deciding between robotic or electric and suction or pressure vacuums, your pool will also come into play. Suction or pressure vacuum cleaners hook up to your pool's skimmer or suction port, and remove more bits of dirt from your pool and pumps it through that system. For that reason, they require a bit more setup, and usually involve a few extra hoses — which may be a factor if aesthetics are important to you. In contrast, a robotic or electric cleaner moves freely around your pool and collects dirt and debris into its own filter, which you'll then have to empty. These also tend to have a single cord that run to a power bank or outlet near your pool. I've also included one electric model on this list that requires a bit more attention to operate, but is completely cordless.
More high-tech features, like the ability to control your vacuum using Wi-Fi, are available if you're willing to spend more. But, enough talk: Here are the best pool vacuums for every budget and pool.
And, while you're here, check out some of the best pool loungers and floating pool lights to upgrade your newly clean pool.
1. A Standout Robotic Pool Vacuum, At A Price
Ideal pool length: 33 feet (though the cable does extend 50 feet, so slightly larger pools might be fine)
What pools this will work on: In-ground and above-ground
Vacuum type: Robotic/Electric
It's a pricier option, but this robotic vacuum is a fantastic hands-off way to clean your pool, and works on both above-ground and in-ground pools. Unlike others on this list which require a bit of effort to set up, this pool vac runs via an included power supply unit which gets its power from an outlet. The 50-foot cord gives you plenty of clearance for a standard home pool, and you can schedule it to clean the pool every day, every other day, or every third day. This comes with one filter basket that collects all of your debris, and can be easily removed to clean. And, while the manufacturer makes a few pricier robot vacuums, this model will provide most of the benefits of an automatic design, without a close-to-$1000 price tag.
According to one reviewer: "We have an issue when we open our pool with fine dirt and pine needles. We opened our pool, dropped this in and let it do its thing. The Dolphin cleaned our pool better than the manual vacuum and had no issues going up our slopes and walls. It caught everything – dirt, leaves, pine needles, feathers etc. We loved not having to worry about vacuuming and then backwashing the filter."
2. An Easy-To-Use Pool Vac That Works Like A Stick Vacuum
Ideal pool length: Any size
What pools this will work on: In-ground or above-ground
Vacuum type: Robotic/Electric
If you've been putting off investing in a pool vacuum because the setup seems convoluted, this is the vacuum you should buy. It functions similarly to a cordless stick vacuum, as it runs on a rechargeable lithium battery and comes with everything you'd need to use it. Simply connect the pole so you can maneuver it, and charge the battery. A simple push of a button will get the vacuum to begin suction as you move it around to the problem areas of your pool. This vacuum works on both in-ground and above-ground pools, and there's no maximum or minimum pool size you can use this with — the size of your cleaning job will dictate how often you have to charge it.
According to one reviewer: "So far I've liked everything about the pool cleaner. We have a large above-ground pool and it leaves the bottom and sides clean of sand, leaves, and more. It's easy to use, cleans the bottom in one pass, and the vacuum itself is easy to clean. The charge lasts for two-four cleanings."
3. A Pressure Pool Vacuum For In-Ground Pools
Ideal pool length: Up to 40 feet, according to reviewers
What pools this will work on: In-ground
Vacuum type: Suction/Pressure
This in-ground pool vacuum is a favorite with reviewers who describe it as super easy to install. Just attach the included hose to your pool's skimmer or filtration system. It then uses pressure to push the vacuum along the bottom of your pool on its own. It features four highly textured wheels that grip to the bottom and sides of your pool as it suctions up debris, and the triple-jet power allows it to move at a quick pace to get the job done fast. Plus, this vacuum has a 31-foot hose and a single filter bag that's easy to maneuver and clean.
According to one reviewer: "I love this thing. Used to have the 280 I think which was the older model. It didn't have as much suction power it seems like and also would get stuck sometimes. This one doesn't. Not sure if this had to do with the hose it came with as this one now has a larger diameter. My pool is way cleaner than it was before."
4. A Fun Suction Vacuum Designed For Above-Ground Pools
Ideal pool length: Any size
What pools this will work on: In-ground and above-ground
Vacuum type: Suction/Pressure
Though it can work in an in-ground pool, this vacuum was designed with above-ground pools of various sizes and shapes in mind. To use this, attach the hose directly to your pool's filtration system (it also comes with attachments so you can easily hook it up to a vacuum line), and it will pull debris and leaves directly into the hole at the bottom and through the hose, while the textured wheels allow it to move smoothly. This vacuum is pre-programmed to guide itself around your pool for quick and totally hands-free clean-up.
According to one reviewer: "I have been so used to cleaning my pool by walking around for hours with a skimmer, not really enjoying because I was working so much to keep it clean. Now… I get into a clean pool every time and enjoy cause it's always clean now. This is by far the best purchase I've made for the pool."
5. A Cheap Minimalist Vacuum That Works On Larger Leaves & Dirt
Ideal pool length: This can work on any size pool, though it does connect to a garden hose, so the length of your hose may determine this
What pools this will work on: In-ground and above-ground
Vacuum type: Suction/Pressure
For basic maintenance of your pool, a cheap pool vacuum like this could be just what you need, and it connects to your garden hose to power the eight suction nodules on the bottom which create mini jets that help direct leaves in your pool into the net. Reviewers are the first to report that the net is designed for larger leaves and debris, so if you're looking to pick up every last particle, a more expensive pool vacuum may be better for you. This vacuum has four wheels on the bottom that can move the vacuum in any direction, and you can use a basic pool net pole to pull out the vacuum and the contents. One important note: The pool net pole is not included, so a small upfront investment in one like this $35 telescoping pole is necessary to use it. That said, even with the vacuum and pole included, this is far and away one of the cheapest pool vacuums available.
Also, one hack worth sharing: Many reviewers also use panty hose as a replacement bag on this vacuum and find that it picks up many of the little particles that the original bag can't. Here's a set of those if you want to try it yourself.
According to one reviewer: "I've used it only once but was impressed how well it is made. Works well even though it is a pain to keep the hose and pole on the same side of the pole. I did get it to work well and it picks up a lot of debris so the five stars. I am happy with the purchase."
6. A Wall-Climbing Vacuum That's Great For In-Ground Pools
Ideal pool length: Up to 30 feet
What pools this will work on: In-ground (you can use this in above-ground pools if you purchase a separate adapter, though this will depend on your specific pool and many reviewers report that it is difficult to find the right adapter)
Vacuum type: Suction/Pressure
This pool vacuum attaches to the suction port or holes at the bottom of your existing pool skimmer, and doesn't require any extra equipment or upgrades if you use it on your in-ground pool. While this pool vacuum can be used with above-ground pools if you purchase a separate adapter, this will depend on your own specific pool. Ultimately, this vacuum really shines for in-ground pools and can be set up and ready to work in just 20 minutes. (In fact, many reviewers with above-ground pools contend that the wouldn't have purchased had they known they needed an adapter.) This suction pool vacuum can clean the floors and walls of your pool (though not stairs) in a breeze, and many reviewers claim that for the price, it can't be beat. Also, as far as installation goes, this helpful YouTube tutorial can guide you through the process.
According to one reviewer: "Our pool is next to a large pine tree that is constantly losing these little balls and it drives us crazy. I bought this and have had it running two consecutive days and it's made a huge difference. I walked out to the pool this morning and did not see one of those little balls. It's very effective and our pool looks impeccable. I highly recommend this item."
7. A Wi-Fi-Enabled Robot Vacuum That Pulls Out All The Stops
Ideal pool length: Up to 50 feet
What pools this will work on: In-ground
Vacuum type: Robotic/Electric
Okay, hear me out. This vacuum is a splurge, but if you're looking to outfit your pool with the top-of-the-line technology and willing to spend a bit more to have fun features like Wi-Fi compatibility so you can steer your vacuum around your pool from your phone, this is absolutely the one you should buy. From the same brand as the best overall vacuum on this list, the DOLPHIN Nautilus CC Supreme can scale walls, drive across floors, and clean steps. From the associated app, you can choose between three cleaning cycles (a basic clean, one for walls and the waterline, and a more intensive clean which runs for the longest time, 3.5 hours). You can also set schedules ahead of time, spot clean, and even steer your vacuum around your pool. Like other robotic pool vacuums, this one runs via a cord to electric power stored in the power box (which then charges via an outlet). This one comes with two different filters, one for larger leaves and debris, and one for sand, silt, and particles.
According to one reviewer: "Took a big risk and bought this. Cost me a lot but wow, this little guy is unreal. It does walls, steps, I even found it one day doing acrobatic moves! Almost did a flip! This is worth every penny. My liner has been spotless."