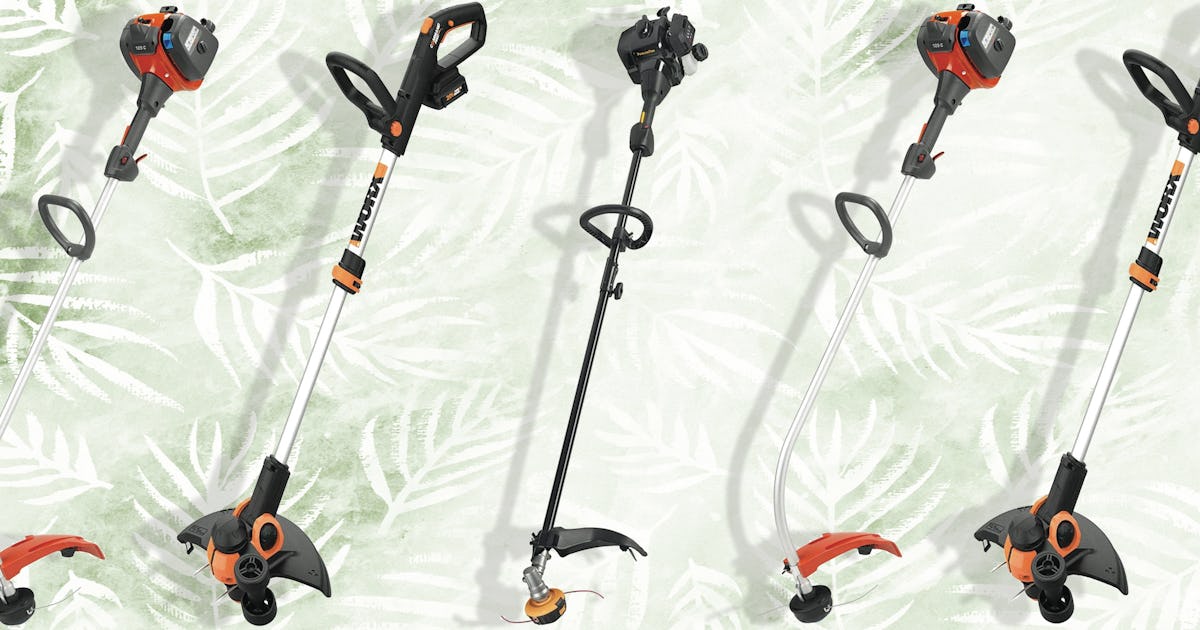 An easy-to-use weed wacker is great for keeping the edges and hard-to-reach areas of your lawn looking picture-perfect, and there are options for every budget and backyard. Whether you prefer a gas or electric model, the best weed wackers are ultra-lightweight to give you the right blend of power and portability for your yard. Ahead, you'll find the key specs and extra features to look for when choosing a weed wacker (also known as a string trimmer or weed eater.)
Power Source
If you want to go cordless, you have a choice between gas or battery power. Gas-powered weed wackers are usually more powerful than electric models, good for clearing heavy growth, and will run continuously if you keep adding fuel. On the other hand, they're heavier and louder than electric trimmers. Battery-operated weed wackers are more lightweight and quieter than their gas counterparts. However, they have a much shorter run time, with one battery generally lasting up to about 30 minutes. If you want to spend less money (and don't mind limited mobility), you can opt for a lightweight corded electric weed wacker.
Shaft
You also have a choice between straight and curved shafts. Straight-shaft weed wackers are comfortable for tall users and allow you to reach underneath shrubbery. Curved weed wackers are shorter and better balanced, which some may find more comfortable, but they're not as good for trimming under garden furniture and other obstacles.
Loading & Feeding
String trimmers use cutting line that needs to be loaded and fed, so most have features that make the reloading process easier. To feed the line while you're trimming, the best weed wackers have bump heads — which require a quick tap on the ground — or convenient auto-feed mechanisms.
And if you'd like to do more with one tool, some trimmers convert into edging tools or are attachment-compatible. With that in mind, scroll on for the best weed eaters on Amazon.
1. The Overall Best Battery-Powered
Weight: 10.2 pounds
Bump head with Rapid Reload feature
This 56-volt straight-shaft weed wacker boasts an impressive 92 rating from Consumer Reports with high marks for quick and clean trimming and edging. It comes with a 2.5 amp hour (Ah) battery, which lasts about 20 to 30 minutes on one charge, and features a high-efficiency brushless motor. The trimmer has a 15-inch cutting swath with variable speeds and a rapid reload head to quickly and easily load the cutting line. To feed the dual 0.095-inch line you'll just need to bump the head against the ground.
One helpful review: "[…] The battery lasts about 1/2 hour of continuous use. The trimmer is powerful enough to cut through tall grass with ease. I can cut my almost 1/3 acre lot with two and a half charges. Overall, I am very happy with the new trimmer. It is reasonably lightweight and well-balanced."
2. The Overall Best Gas-Powered
Weight: 14 pounds
Bump head with an easy-to-reload spool
The 28 cubic centimeters (cc), 2-cycle engine and 17-inch cutting swath of this gas-powered weed wacker can cut through thicker grass and weeds in no time. This trimmer runs on a mixture of unleaded gas and two-cycle oil, and you'll find mixing instructions in the manual. The trimmer head releases the 0.095-inch line with a simple tap on the ground, and the spool is easy to reload. Plus, the tool has a straight shaft that's compatible with six optional head attachments, including this brush cutter.
One helpful review: "This is an awesome weed trimmer. I liked how easy it is to wind the trimmer line and attach it to the trimmer. I also liked the torque the engine puts out. All in all this is a very good piece of machinery."
3. The Best Budget
Weight: 5.3 pounds
Automatic feed spool
While you won't be able to move as freely with this corded electric weed trimmer, it boasts an affordable price and lightweight design with helpful features that may be worth the tradeoff. It has a 6.5-amp motor, power drive transmission, and 14-inch cutting swath that work together to remove thick weeds. There's also a cord retention system that helps prevent accidental disconnection while you're working. Also great: The two-in-one weed wacker converts into an edging tool. For comfort, there's an adjustable handle and an extendable straight shaft. Plus, it automatically feeds the 0.065-inch line from a spool in the trimmer head so you can work continuously without bumping. The machine's versatility has earned it more than 4,400 five-star ratings from Amazon shoppers. You'll need to provide your own extension cord, and based on reviewers' feedback, a two-prong option will guarantee a good fit.
One helpful review: "I've always had gas trimmers until this. Very impressed with it so far. Surprised on how well it cuts. Lightweight and easy to use. No shoulder or back pain after using for extended periods. The wheel makes edging a breeze. Easier to store since it collapses down."
4. The Best Curved
Weight: 10 pounds
Bump head with an easy-to-reload spool
The curved shaft and adjustable handle of this gas-powered trimmer might be more comfortable to hold and maneuver for some folks. The 27 cc, 2-cycle engine runs on a mixture of unleaded gas and two-cycle oil, and the weed wacker comes with a 2.6-ounce bottle of oil to get you started. The trimmer also features a wide 17-inch cutting swath and dual-line bump head with 0.095-inch line.
One helpful review: "I've owned 2 of the 129c models. My first one is still running over 15 years now and my new one is just over 2. Best weedeater you will put in your hands for medium duty. Powerful and well built […]"
5. A Fan-Favorite String Trimmer With 12,000+ Reviews
Weight: 5.3 pounds
Automatic feed spool
This battery-operated weed wacker has earned over 8,000 perfect five-star ratings on Amazon. The trimmer comes with two 20-volt batteries, each with a run time of approximately 20 minutes, so you can swap one out for the other if tackling a big project. The straight shaft has an adjustable handle and a pivoting head that easily lets you switch between trimmer and edger functions. The head also tilts 90 degrees so you can trim hard-to-reach areas. There is a 12-inch cutting swath and a push-button automatic line feed. Also great: You get free spools of 0.065-inch line for life.
One helpful review: "[…] We have 3 1/2 acres and this amazing little guy tackles everything with ease. It's ridiculously light, and the battery lasts a good long time. That said, get the package that includes two batteries, because then you can tackle any area with both. The light weight makes any job easy, and the string just never jams. The feeder button works beautifully, and the new reels are cheap […]"