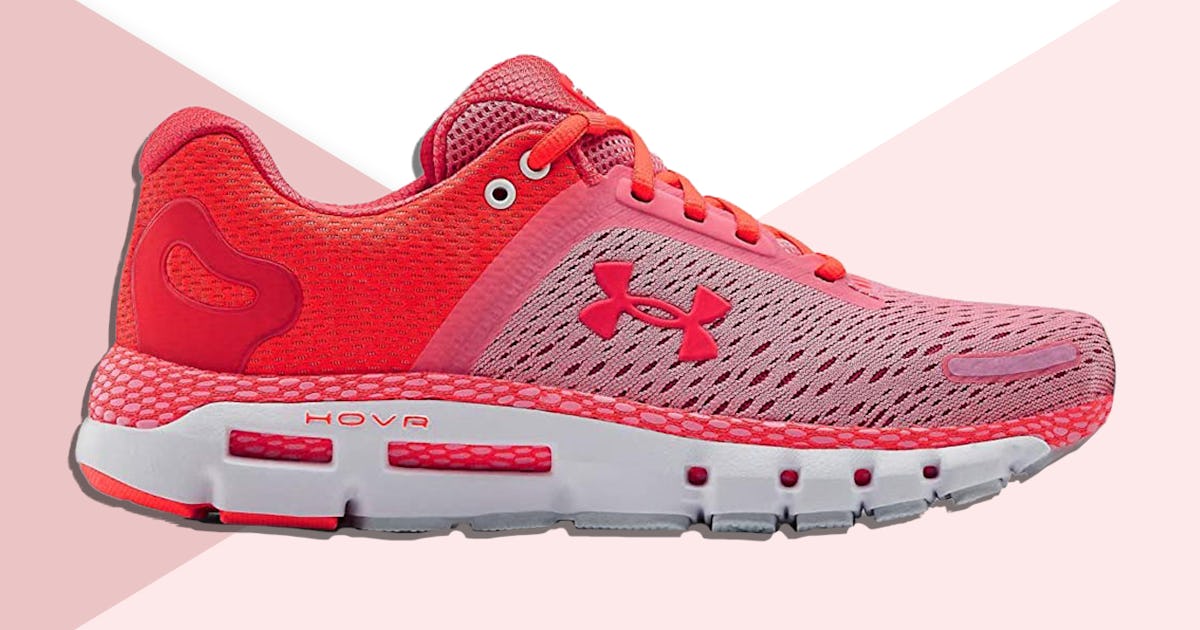 While runner favorites like Asics and Brooks have been making sneakers for decades, Under Armour launched footwear in 2006, and has been slowly earning their spot amongst the best running shoes. But, if you're shopping the brand, you'll notice a wide variety of shoes for different kinds of runners. The best Under Armour running shoes are all lightweight and have the flexible uppers, cushioned soles, and breathable designs, but the best pair for you should match your running style and needs.
Since a lot of this decision comes down to your running needs, keep them top of mind. A highly cushioned sole can provide the responsiveness you need if you'll be running on concrete, treadmills, or if you underpronate. Every shoe on this list offers a lightweight design coupled with Under Armour's signature Charged or HOVR cushionings, for superior support and energy return. But, first a bit more background.
Under Armour's Charged cushioning is one of their oldest designs, and is made of a responsive EVA foam that features a softer forefoot and a more firm heel. It's suitable for all runners, though it may be a bit too firm for runners who heel strike. In contrast, their HOVR cushioning launched in 2018 and was made in collaboration with Dow Chemical, in order to create a super durable foam made from olefin wax, as opposed to EVA foam. It's slightly more responsive than the Charged cushioning, but Under Armour's HOVR shoes also tend to be a bit more expensive.
As some research indicates that you can shave time off your mile with lighter shoes, every shoe on this list weighs in under 9 ounces. Depending on whether you run competitively, the specific weight differences may be important to your choice. I've called them out below each sneaker, so you can sift through the options.
Lastly, if measuring your progress or metrics appeals to you, keep your eye out for sneakers with Under Armour's MapMyRun technology, which allows you to track your cadence, stride length, and even your ground strike time from the associated app. Keep in mind that shoes with this tech tend to cost a bit more and be a bit heavier (thanks to the sensor outfitted in the midsole of the shoe).
This goes without saying, but your personal style will play a factor, as well. The best Under Armour running shoes for you will match your style and have a design that fits your needs. Keep scrolling, I've gathered some all-star picks up below.
1. These Affordable Cult-Favorite Sneakers In Wide Widths
Weight: 8.15 ounces
MapMyRun? No
When it comes to Under Armour sneakers, the Charged Assert 8 running shoe is one of the best deals you'll find. These running shoes have a little bit of everything: a flexible, mesh upper that breathes; a soft sock liner that forms to your foot; Under Armour's signature charged cushioning that is responsive and supportive; and a rubber outsole that gives you great traction. These do lack Under Armour's MapMyRun technology, so keep scrolling if you'd like this tech as many of the pairs below have it. But with both standard and wide sizes, 20 color choices, and more than 10,000 Amazon reviews, this basic pair of running shoes offers a lot of value for a reasonable price tag.
Available sizes: Women's 5 – 12 (standard and wide width)
Available colors: 20
2. The Best Lightweight Shoe
Weight: 7.9 ounces
MapMyRun? No
These lightweight running shoes are a popular choice and has the lowest weight of the sneakers on this list. Like the pair above, these are designed with a comfortable sock liner and Under Armour's signature cushioning, which has a hybrid midsole with a firm heel but softer cushioning at the balls of your feet. These also have an external heel cup that provides extra support with a breathable upper that's flexible. This pair won't give you access to the more high-tech features like Under Armour's MapMyRun technology, but it's a great lightweight pair that's less than $100, and comes in 10 different color combinations.
According to one runner: "They fit true to size and have a glove-like feel to them. Overall a good looking, supportive running shoe. Definitely recommend!"
Available sizes: Women's 5 – 13
Available colors: 10
3. A Runner Favorite With MapMyRun Tech
Just slightly heavier than the pair above, Under Armour's HOVR Sonic 3 running shoes come lauded by thousands of runners thanks to their distinctive cushioning, which holds its own against all manner of hard surface — concrete, treadmill, or pavement. A more structured plastic heel cup allows for the upper to be designed with a breathable mesh so your feet will stay cool as you run without sacrificing support. This comes with Under Armour's MapMyRun technology, which allows you to track your cadence, stride patterns, and other running metrics from the associated app, too.
According to one runner: "I absolutely love these shoes! They are extremely comfortable, have a great amount of cushion & are very light. I typically workout in total for 3 hours a day and am always on my feet. These shoes do not disappoint – after I take them off my feet are still happy!"
Available sizes: Women's 5 -12
Available colors: 10
4. A Slightly Heavier Sneaker With Plenty Of Support
These running shoes might be the heaviest shoes on this list (runners who race, beware), but these still fall just under 9 ounces, so they are hardly "heavy" in the traditional sense and the HOVR cushioning delivers great energy return. What you're really getting here with the extra weight is a bit more cushioning as well as MapMyRun technology. These also have a few other supportive features that make them worth your time. These are designed with a compression mesh upper that holds your feet but still allows the shoe to breathe. And, similar to other pairs on this list, these have an external cup that provides extra support on your heels.
According to one runner: "I walk or run at least 4-5 days and average 25-30 miles per week. Some of this is on the trails and some on the road. I only use these Under Armor Shoes for road running. For the faster runner who likes a lighter shoe, these probably aren't the right shoes. However, I'm not that runner. I'm the slower runner with feet problems who likes a shoe with padding and support. These aren't too heavy, more of a medium weight. The soles have plenty of rubber for cushioning."
Available sizes: Women's 5 – 12
Available colors: 12
5. The Best Trail Running Shoes
For trail running and muddy outdoor routes, Under Armour's Charged Bandit trail sneakers are a great investment, outfitted with deep treads to help you grip into gravel and dirt without slipping. With the same Charged cushioning you'll see on other pairs on this list, these running shoes also have a thick heel for added stability on rough terrain, and a high collar that gives you more coverage and support from the elements. This design features a comfortable sock liner for a snug fit, and a lightweight mesh upper that allows for airflow even if you're running outside in the heat. These basic trail sneakers are a great investment for outdoor runners — albeit without the high-tech tracking features.
According to one runner: "Great trail shoes. Quality made, extremely comfortable, perfect fit, great traction."
Available sizes: Women's 5 -12
Available colors: 4