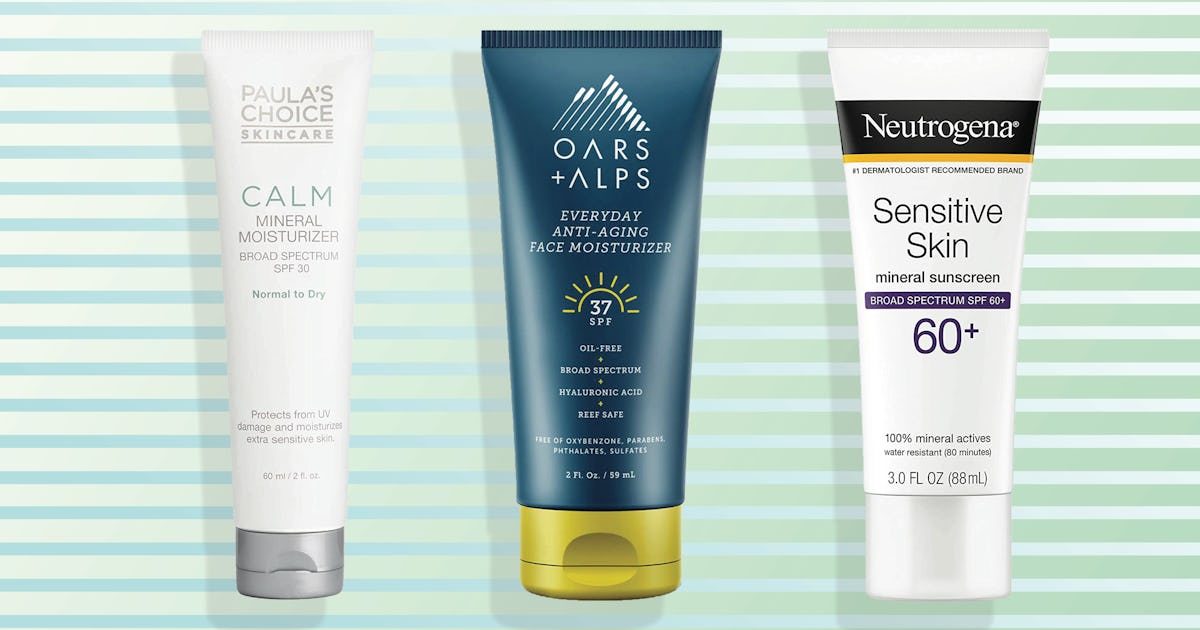 Polymorphous light eruption (aka PMLE) can be managed in a variety of ways, board-certified dermatologist Dr. Corey L. Hartman tells Bustle. One of those ways includes using sunscreen regularly to reduce the chance of future episodes. When it comes to choosing the best sunscreen for PMLE, Dr. Hartman says that "Mineral sunscreens are beneficial for PMLE since they spare organic ingredients and preservatives that can be irritating for some people, [but] in the end, any sunscreen, [mineral or chemical], works as long as it works for the person who's wearing it." The expert says the most important thing is that the sunscreen offers sufficient protection against UVA rays, and that you like it enough to use it consistently.
UVA rays can pass through window glass and are the cause of long-term skin damage such as discoloration, while UVB rays are blocked by window glass and are the primary cause of sunburns. The American Academy of Dermatology suggests always using a broad-spectrum sunscreen to protect against both UVA and UVB rays, and they also advise choosing one with an SPF of 30 or higher, and reapplying your sunscreen every two hours (or more frequently if you're swimming, heavily sweating, or have vigorously dried yourself off with a towel).
In addition to using sunscreen, Dr. Hartman says that that UV clothing, oral supplements like polypodium leucotomos and lycopene, antihistamines, and topical steroids are all involved in the management of PMLE, which, since it's a medical condition, should be managed by a board-certified dermatologist.
Read on for the best sunscreens for PMLE, including four picks from the expert.
1. The Doctor's Top Pick
"Vanicream SPF 50 sunscreen is a mineral-based product containing 12% zinc oxide [that] leaves no white cast on most skin tones and is designed to be used on even the most sensitive skin," Dr. Hartman says. Like all Vanicream products, which are designed with delicate, allergy-prone skin in mind, this sunscreen is free of dyes, fragrances, parabens, gluten, and other things that tend to irritate sensitive skin. It offers up to 80 minutes of water resistance, and can be used on both your face and body.
2. Another Expert-Approved Pick
Dr. Hartman says that "Paula's Choice Mineral Sunscreen combines zinc oxide and titanium dioxide in an elegant formulation that goes on light and feels great on skin." With ingredients like skin-smoothing dimethicone, antioxidant-rich green tea and licorice, soothing allantoin and chamomile, and hydrating aloe, this helps reduce redness, restore moisture, and generally make your skin feel comfortable. This is a good pick for general, everyday wear, but it's not ideal for beach and pool days, as it's not designed for swimming or sweating heavily. For that, choose one of the other sunscreens from this list.
3. Best Sheer Sunscreen, According To The Doctor
Some sheer sunscreens can feel sticky or contain a lot of drying alcohols, but the doctor-approved Blue Lizard Sheer Lotion Face SPF 50 has a really pleasant, elegant feel to it. Dr. Hartman explains, "This is a zinc oxide sheer face sunscreen lotion that dries clear and provides sheer mineral sun protection and blue light protection. It's formulated with a blend of hydrating hyaluronic acid, antioxidants, vitamin E, and shea butter to nourish and moisturize." It offers up to 80 minutes of water-resistant coverage, and is another fragrance-free option.
4. Best Moisturizer With Sunscreen, According To The Doctor
Dr. Hartman also likes this moisturizer/sunscreen duo from Oars + Alps. Though it's oil-free and non-greasy, he says it's a "great hybrid mineral-based sunscreen option for daily use [that] also contains antioxidants and moisturizing ingredients." Formulated with an SPF of 37, it's water resistant for up to 80 minutes and great for all skin types.
5. Best Budget-Friendly Sunscreen For PMLE
For an under-$10 pick that can be used on your face and body, pick up Neutrogena's Sensitive Skin Mineral Sunscreen. It's an oil-, dye- and fragrance-free sunscreen with an SPF of 60 and a water-resistant rating of up to 80 minutes. You can't really go wrong considering the versatility and the price!
Expert:
Dr. Corey L. Hartman, a board-certified dermatologist and founder of Skin Wellness Dermatology in Birmingham, AL.