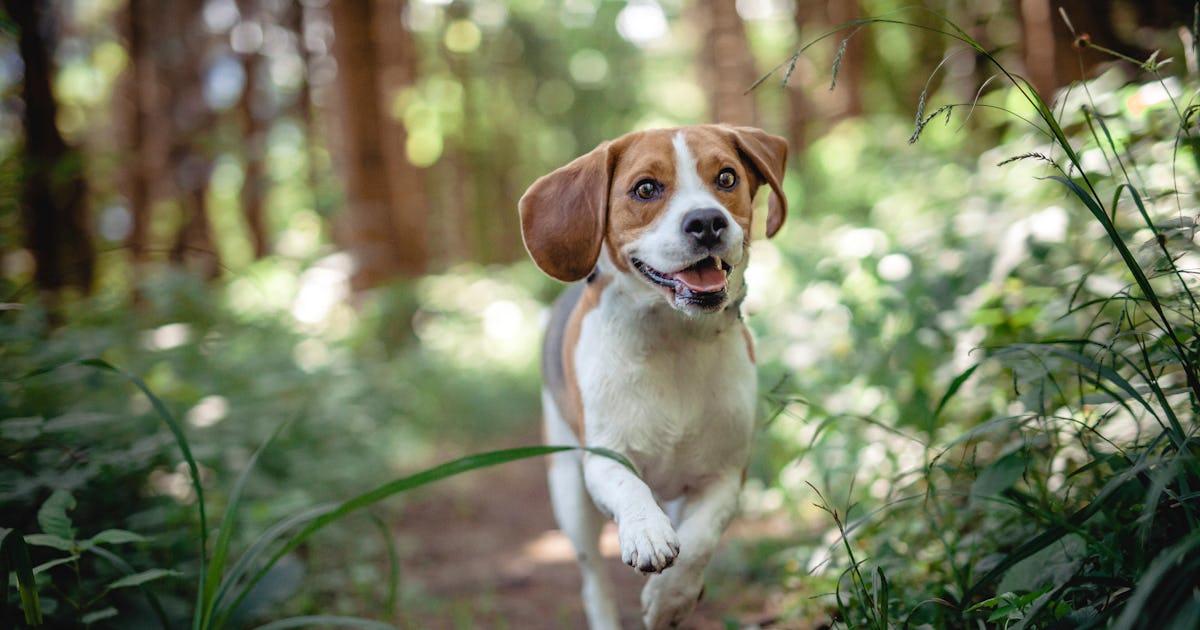 To keep your furry friend free from diseases and irritation when you go out, using one of the best tick repellents for dogs is essential. Fleas and ticks can cause major health problems and discomfort for your pet. In an interview with Bustle, Dr. Jennifer Coates, DVM, advisory board member for Pet News Daily, warns, "It can take just one tick bite to make a dog sick." Dr. Michelle Lugones, DVM, veterinarian at Best Friends Animal Society, recommends providing your dog with a tick repellent all year long to stave off tick-borne diseases, including Anaplasmosis, Ehrlichiosis, Lyme Disease, and Rocky Mountain Spotted Fever. She explains, "These diseases can be very serious, so preventing them is ideal."
While there are tons of different types of tick repellents out there, Dr. Coates explains, "Most tick repellants work by inhibiting the normal functioning of the tick's nervous system, leading to their death." Topical treatments are applied directly to your dog's skin — Dr. Coates points out that spot-on tick repellents can be easy to use, and Dr. Lugones adds that these topical products are "usually effective against other insects, as well." But you typically have to reapply topical products monthly, and, according to Dr. Coates, if you bathe your dog frequently, they might not be ideal.
For the longest-lasting protection, tick repellent collars are a convenient prevention method. Dr. Coates explains that "some of the newer tick collars can last for three, six, or eight months." Dr. Lugones describes, "Sprays are usually short acting, and their effectiveness may be limited based on how well they are applied" — but they can be convenient for killing ticks on household surfaces, such as dog beds. One method that won't work for keeping ticks away from your dog? Essential oils, which Dr. Lugones claims are "ineffective and can be dangerous to use on and around pets."
Dr. Lugones reminds pet owners that while tick preventatives are "very safe when the instructions are followed, side effects are always possible," so always look at the instructions very closely. And don't ever use cat tick repellents on your dog, or vice versa — Dr. Lugones writes, "They aren't safe to use on species they weren't designed for, and if they are, a pet could end up in the emergency room in serious condition."
In a hurry? These are the best tick repellents for dogs:
1. The Best Collar Tick Repellent: SOBAKEN Flea and Tick Collar For Dogs
2. The Best Spot-On Treatment: Adams Plus Flea & Tick Spot-On For Dogs
3. The Best Tick Repellent Spray For Your Home: Adams Flea and Tick Home Spray
4. A Dog Bandana That Repels Ticks: Insect Shield Bandana
Both Dr. Coates and Dr. Lugones agree that you should always consult your veterinarian to make sure that you choose a tick repellent that suits your dog's specific needs. But if you want to get to browsing options while you wait on that vet appointment, below you'll find some of the top tick repellents that Amazon has to offer.
Experts:
Dr. Jennifer Coates, DVM, who serves on the advisory board for Pet News Daily
Dr. Michelle Lugones, DVM, veterinarian at Best Friends Animal Society