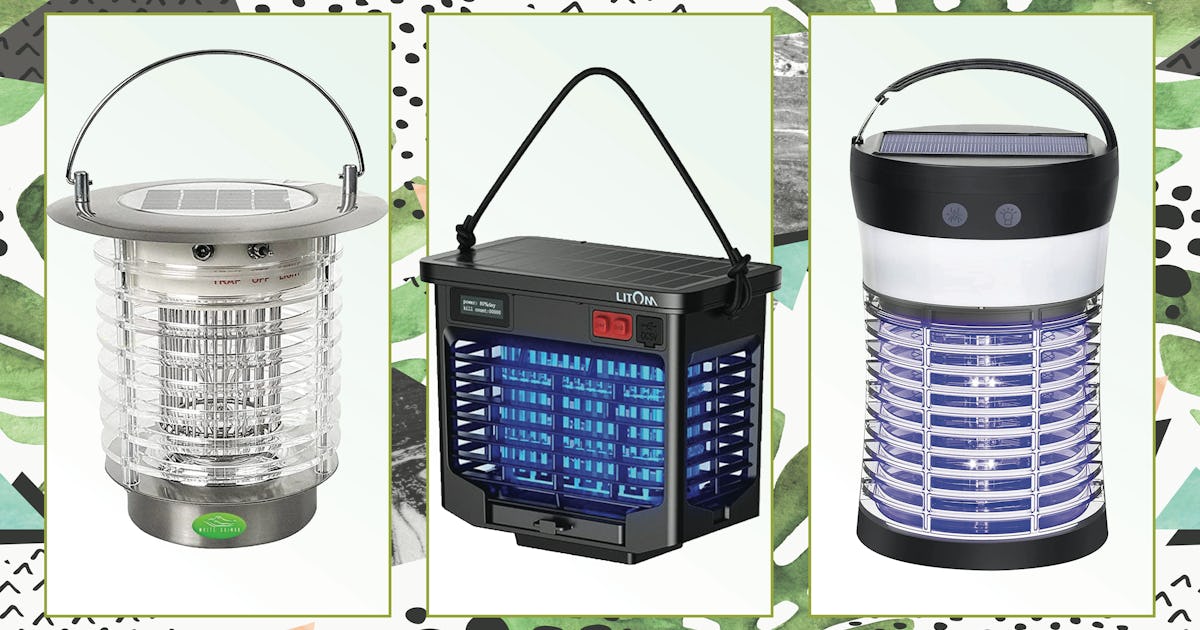 If you're looking to keep your porch, campsite, or home bug-free without stressing about wires or batteries, look to the best solar-powered bug zappers. Top-rated bug zappers are fitted with a safety guard and have a high enough voltage to get rid of insects — 1,000 volts should be fine for most scenarios, but lower voltage options can still offer minor pest control. Most bug zappers use a UV light to attract bugs, but some come with scented mosquito attractant instead to specifically target mosquitos. Either way, bug zappers can shock you if you accidentally touch the electric grid, so look for a bug zapper fitted with a cage for protection. If you have children or pets at home, you may want to hang the zapper out of reach regardless.
Battery life and charge time are always considerations when shopping for a solar-powered device, too. For bug zappers, it's ideal to get a full charge with a day's worth of sunlight or less, and the battery should last all night on that charge. If a full day of direct sunlight isn't always realistic for you, make sure your bug zapper comes with alternative charging methods like a charging cable. If you're planning on traveling with your bug zapper, consider additional features like a solar lantern function or SOS signal which could be handy for camping, and a hanging ring which will make the zapper easier to carry or strap to your travel backpack.
Finally, before you make a purchase, it's important to think about whether a bug zapper is truly the best tool for your needs. If you're trying to get rid of mosquitos, know that they account for just 4.1% to 6.4% of bugs killed by bug zappers, and many of the bugs that are eliminated by these devices may be harmless. Some researchers even warn that the number of beneficial insects killed by bug zappers could upset your local ecosystem. To protect yourself against mosquitos, a mosquito repellant device, spray, or yard treatment might be more targeted and effective.
That said, if you think a solar bug zapper makes sense for your needs, I've combed Amazon for the best solar-powered options.
1. A Portable Solar Powered Bug Zapper
With a firm hanging ring that doubles as a handle, this compact bug zapper by Diotem is a great pick for campers, backpackers, and anyone who wants the option to hang or carry their bug zapper. Hold it like a lantern, hang it in your tent, set it on a table, or strap it to your backpack. A cage protects your fingers from touching the electric grid.
This bug zapper is also multi-functional. Turn on the UV light to attract bugs to the powerful 3,500-volt zapper. Turn on the white light (and choose between three brightness settings) to use it as a lantern or flashlight. It also has an SOS signal in case of emergency. Depending on which setting you're using, the device can last up to 10 hours on a single charge. It includes solar panels for charging during the day but if you don't get enough light, it has a USB-C port so you can utilize a car outlet or portable charger — though you'll need to buy a charging cable that's compatible with USB-C and whatever you're using to charge separately.
The solar zapper's IP66 waterproof construction can withstand getting wet from light rain, spills, and anything up to powerful jets of water but it can't be immersed in water. So be careful around pools or other bodies of water, but feel free to rinse it under the sink when it's safely turned off.
According to one reviewer: "It's PORTABLE, lightweight and it works killing pesky bugs. We live in Florida and are sometimes on the porch or down by the water. It's so nice to be able to carry this with us. I really like the fact that it's solar-powered on top of being able to charge it with USB. The light option is bright, too."
2. A Solar Powered Bug Zapper Specially Designed To Attract Mosquitos
The solar bug zapper from Litom offers multiple charging options and multiple insect attractant options for maximum functionality. For those mainly concerned with mosquitos, you can turn off the UV light to avoid attracting beneficial insects and rely solely on the scented mosquito attractant included in the device. If other pests are bothering you, you can use both the UV light and the mosquito attractant. With 800 volts, there should be enough electricity to zap most pests, but a guard helps protect your hands. (The mosquito attractant will need to be replaced every three weeks or so as the scent eventually wears off.)
The large solar panel on the top of the device is strong enough to keep this consistently charged to work without pause as long as it gets some sunlight throughout the day. During overcast days, however, you can charge it with the included USB cable in just a couple of hours. The digital display shows you how much battery life is left so you never have to guess. It also shows you which mode you've set it to. The all-day mode zaps bugs all day long (seriously, it charges while it works so it can last indefinitely) while the night mode turns on automatically at night and then turns itself off during the day.
According to one reviewer: "Large zapping area with all 4 sides open to maximum coverage. Can be hung, mounted or staked on the ground. All accessories are included. It's solar powered and weather proof, making it virtually maintenance free! Just let it do its thing, which is to recharge by the day and kill mosquitos and bugs by the night! Awesome. It has LCD screen with total kill count! It's like a video game! Love it. It also displays the remaining battery level."
3. A Bug Zapper That Can Last 40 Hours On A Charge
This stainless steel solar-powered bug zapper by White Kaiman boasts a 3,000-volt zapper and a 40-hour battery life. 3,000 volts is more than enough to handle any pests you're dealing with. If you use it as a bug zapper alone (without the white light turned on), you'll enjoy that full 40 hours of battery life. If you use it as a lantern as well, the actual battery life will be a little less but still more than enough to get you through a night or two between charges.
When you do need to charge it, it takes just five hours of sun exposure to get a full charge. Even in less sunny climates, you can still get enough of a charge to get through a night as long as you get a couple of hours of light. During darker months, though, there is an AC outlet power cord that comes with this so you can plug it in when you need to.
It's also a great design for those looking for a zapper they can put out in the yard and forget about. It's water-resistant enough to handle some rainy days and a light sensor on the top automatically triggers it to on at night and off during the day. Aside from clearing out the bug trap now and then, you won't really have to pay much attention to it, and the guard should help keep your fingers safe.
According to one reviewer: "This machine is great because we don't have to plug it in. We can hear it working each night in the front and back yard. It makes a loud popping sound as it obliterates the insect. Love the solar feature, don't have to mess with it. The lizards have figured out it doesn't zap during the day so they can eat the bugs it killed the night before."